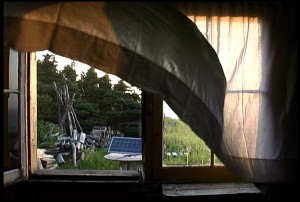 The Gallery at BFI Southbank, London, SE1 5 December 2008 – 1 February 2009
Private view: Thursday 4 December, 6.30-9pm www.bfi.org.uk/gallery
'There are many different types of reaction; some of my films have caused riots, fights, and all kinds of things.' – Michael Snow

Michael Snow is renowned as a pioneering, award-winning filmmaker, influencing artists and filmmakers such as Bill Viola, Dan Graham, Wim Wenders and Paul McCarthy. With a career spanning six decades, he has been described as a giant of the avant-garde world. Among Canada's most important living artists, and now in his 80th year, he is best known for Wavelength (1967), one of the most influential experimental films ever made. Snow has pioneered the use of video and expanded film and continues to push the limits of filmmaking; this December an exhibition of Michael Snow's work opens in the Gallery at BFI Southbank. The show is accompanied by screenings of his seminal film work in the cinemas, some of which will be introduced by Snow himself.
Born in Toronto in 1929, Snow's career has included music, sound installations, sculpture, photo-works, holography and painting as well as filmmaking. He had his first solo exhibition in 1957 and since then his work has appeared in exhibitions across Europe, North America and South America. Yes Snow Show is the first UK exhibition solely dedicated to Snow's moving image work for a gallery context, and brings together a number of works previously unseen in Britain. Among the work on show is Solar Breath (Northern Caryatids) 2002, an unaltered recording of a natural phenomenon – the subject is a window with invisible wind making the curtains billow forward and sucking back, an event described by Snow as 'pure solar magic'. Most of the works on show are recent with the exception of very early experimental video piece, Observer made in 1974.
In 2004 the Sorbonne in Paris awarded him an honorary doctorate; the last artist to receive this award was Pablo Picasso.
MICHAEL SNOW IN CONVERSATION Sat 6 Dec 18:10 NFT3.Tickets £5
Michael Snow will be in discussion with BFI Head of Exhibitions Elisabetta Fabrizi and Chris Meigh Andrews, artist and academic.
FILM SCREENINGS:
La Région Centrale, 1971, Dir. Michael Snow, 180 min
Friday 5 December, 19:00 NFT 3, with introduction by Michael Snow. Tickets £5
Triage, 2004, Dir. Michael Snow and Carl Brown, 30 min
+ A Casing Shelved, 1970, Dir. Michael Snow, 40 min
. Sat 6 Dec, 20:30 NFT3, with performance by Michael Snow. Tickets £5
WVLNT (Wavelength for Those Who Don't Have the Time. Originally 45 Minutes.
Now 15!) 1966-7/2003,
Dir. Michael Snow, 15 min (on loop)
Sun 7 Dec, 12:00-18:00, Studio. FREE
Wavelength (1966/67), 45 min
+ One Second in Montreal (1969, B/W silent), 26 min
Wed 7 Jan 18:20 NFT2
Wavelength (1966/67), 45 min
+ discussion
Thu 15 Jan 18:10 NFT3
See you later/Au revoir (1990), 18 min
+ back and forth (1968/69), 53 min
Fri 16 Jan 18:10 NFT3
REVERBERLIN (2007) DVD, 55 min
+ The Living Room (2000), 20 min
Sun 18 Jan 18:20 NFT2
Presents (1981), 90 min
Sat 24 Jan 18:20 NFT2
Categories
Tags