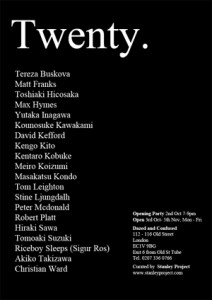 Twenty. 3rd October- 5th November 2008 Opening Party- 2nd October, 7-9pm
Curated by Stanley Project www.stanleyproject.com
Taking as its nucleus many of the artists previously showing at the hugely successful 'Tech-Mac-Mayacom' in Tokyo in the summer of 2007, 'Twenty.' includes some of the most cutting edge and successful young artists currently working in London and Tokyo. Many of the artists have shown extensively in the UK and abroad and this exhibition seeks to represent the very best Art being produced now.

The exhibition brings together twenty European and Japanese artists all
dealing with melancholic and melodramatic subject matter in their own idiosyncratic
way. Each artist has been specially invited to create wall based work exploring themes of aspiration and displacement through the use of theatricality, the hyper real and popular cultural references. Although underpinned by important and profound ideas, all the works share a strong inclusive visual impact. The works are to be enjoyed and contemplated, digested over time.
Working with Dazed and Confused provides a fantastic and unique opportunity to create a relationship with a company renowned for its critical overview of all aspects of fashion, art and culture. Just as the world of fashion seeks to constantly widen its parameters and look for new voices, successful art must also seek to invite new influences and directions. Hopefully in doing this 'Twenty' will serve as an innovative and rewarding exhibition for both Dazed and Confused and the artists involved.
Artists
Tereza Buskova,Matt Franks,Toshiaki Hicosaka,Max Hymes,Yutaka Inagawa,Kounosuke Kawakami,
David Kefford ,Kengo Kito,Kentaro Kobuke,Meiro Koizumi,Masakatsu Kondo,Tom Leighton,Stine Ljungdalh,Peter Mcdonald,Robert Platt,Hiraki Sawa,Tomoaki Suzuki,Riceboy Sleeps,Akiko Takizawa,
Christian Ward
Categories
Tags