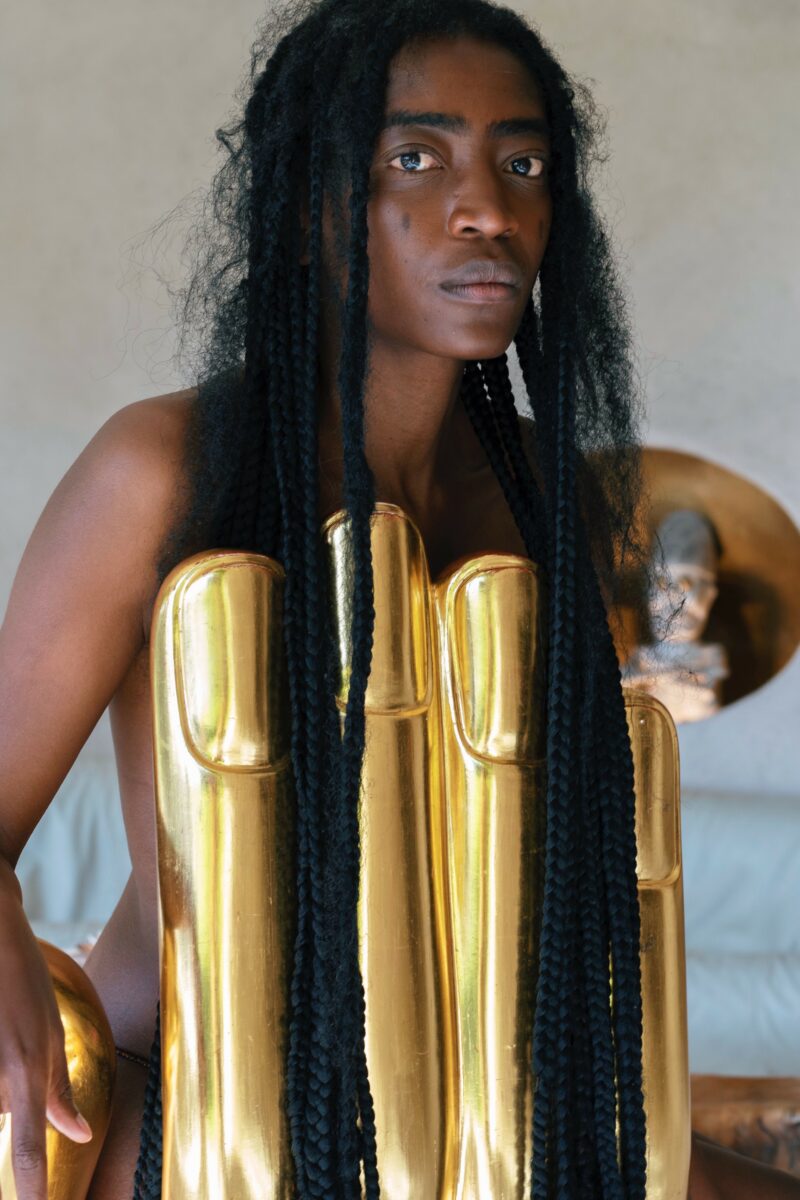 Velma Rosai subconsciously transmits her thoughts and ideas through painting; by tapping into this frequency, she is able to work in partnership with the universe. Rosai is a visual artist born and bred in Nairobi, Kenya, where she creates vibrant pulsing paintings with a myriad of visual elements that enable her to explore African narratives, new and old, as well as mythical histories that inform her exploration into art, fashion, spirituality, and overall creativity. Rosai is a child of nature and the stars and stays in tune with these elements that provide her with further understanding of herself and the natural world, seen, unseen, and undiscovered, in which we live.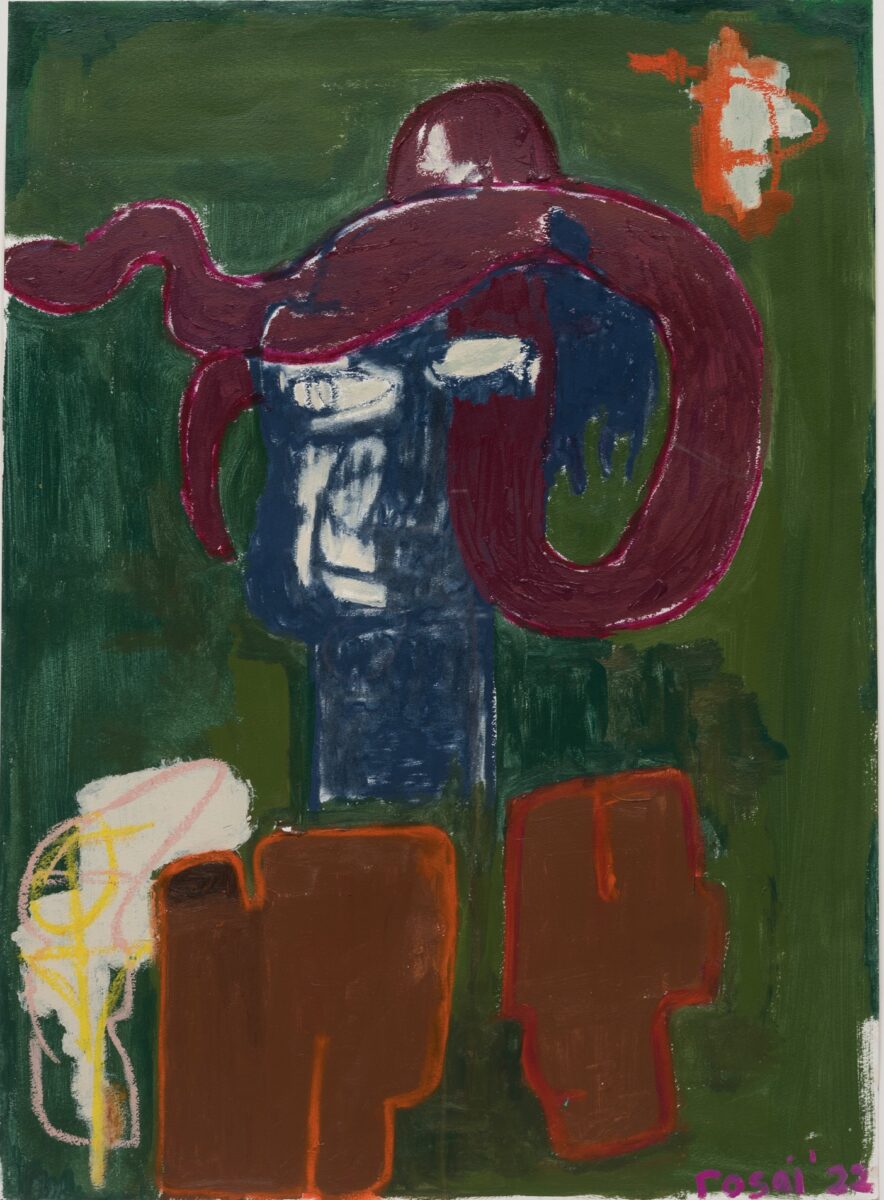 Phillip Edward Spradley: Your landscapes are meant to uncover the truths and elements of the seen and unseen worlds. In your observations, what are a few consistent elements that oscillate between these two spaces?
Velma Rosai: MYSTERY.
LIFE AND THE UNIVERSE IS MYSTERIOUS. ALL THESE SACRED GEOMETRIES THAT EXIST TO COMMUNICATE THE GRAND MYSTERY.
THE UNSEEN, EVEN MORE MYSTERIOUS I WOULD THINK!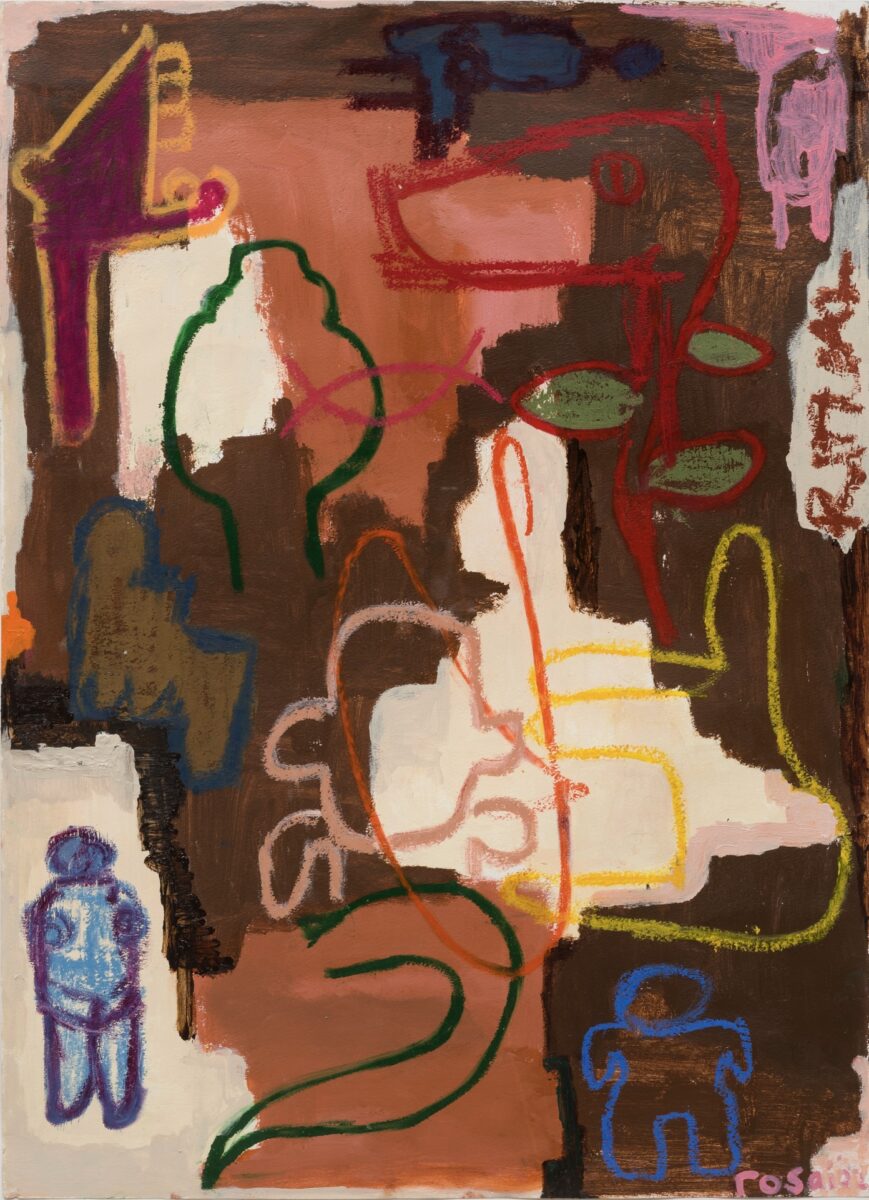 P.E.S: How do you get in touch with your spirituality? Are there rituals and necessary steps driven by our emotions, belief systems, experiences, and instincts that allow us to enter creative space, or is it more of a naturalistic state?
V.R: SILENCE.
FOR ITS IN THE QUIET MOMENTS THAT I SEEK GUIDANCE AND HEAR THE MESSAGES JUST FOR ME. THERE ARE SOME MOMENTS WHEN I AM PAINTING…I REALLY DON'T KNOW THE NEXT DIRECTION THE PIECE IS MEANT TO TAKE, IT'S TRULY LIKE A GAME OF CHESS. WHEN YOU MAKE A CERTAIN MARK, IT CHANGES THE WHOLE PIECE.
SILENCE ALLOWS FOR INTUITION AND I APPLY IT TO MY DAILY ROUTINE AS WELL.
I ALSO LOVE STRANGENESS, HIGH STRANGENESS. IT MOTIVATES ME CREATIVELY.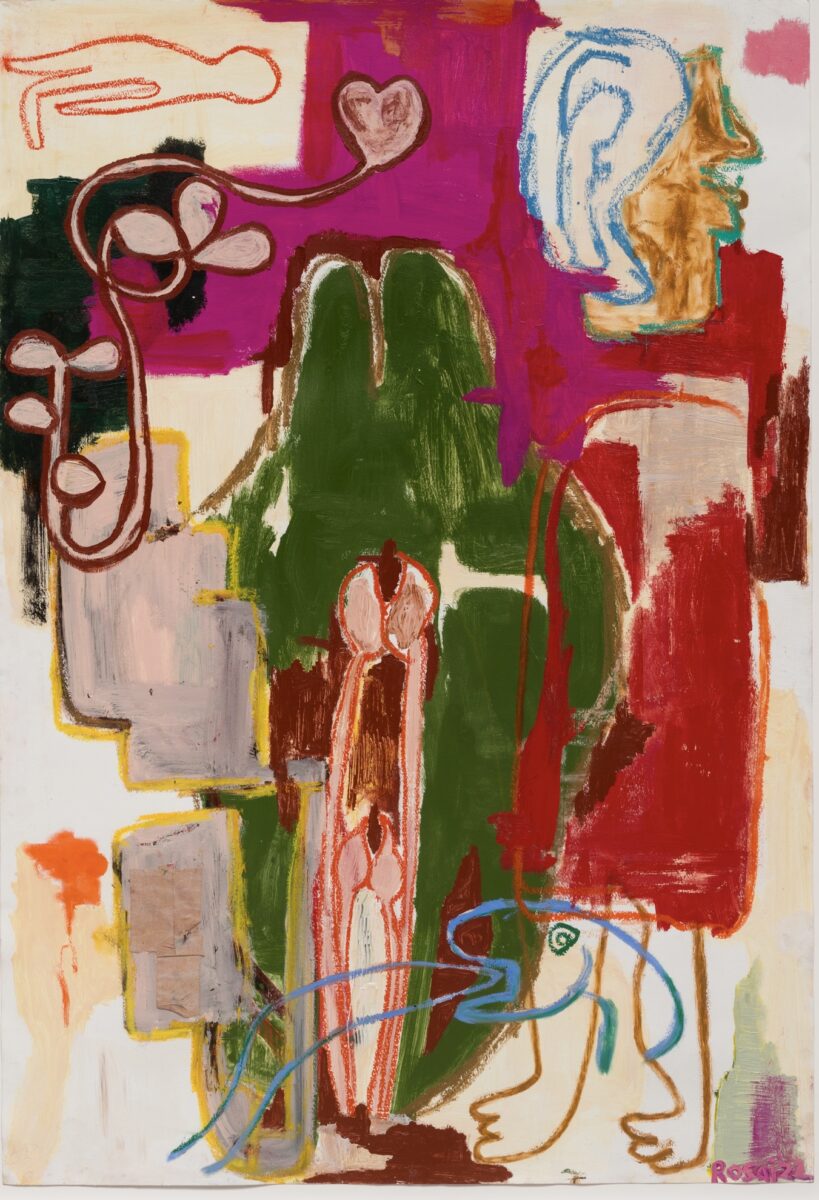 P.E.S: You work within a realm of openness and unfettered artistic motivation responsible for the line, weight, form, and color that you utilize. This freedom of creativity is paired with conscious socio-political interests in African heritage and a woman's bodily life. How did you find that painting is the best way to communicate these interests?
V.R: THIS IS SO VERY TRUE, I APPROACH MY PAINTINGS WITH AN AFRICAN SENSIBILITY
AS THIS IS WHERE I AM MAINLY BASED. THE CONTINENT IS A SOURCE OF RICH RESONANT MYTHS WHICH GIVES ME THE SPACE TO UNRAVEL, REMEMBER AND PERHAPS VISUALLY COERCE AN UNDERSTANDING OF THE INTERSECTIONALITY OF THE UNWORLDLY AND MY FEMALE BEING. I AM ALSO INFLUENCED WITH HOW, I OCCUPY SPACE AS A WOMAN… THE WOMAN IS A POWERFUL BEING AND THEREFORE MORE SUSCEPTIBLE TO THE OTHERWORLDLY AND THE SIXTH SENSE WHEN SHE LISTENS HARD ENOUGH (IN STILLNESS).
SO PAINTING CATALYZES THE UNFOLDING OF MULTIPLE DIMENSIONS ON A SINGLE SURFACE
PAINTING GIVES ME PURPOSE AND A CHANCE TO SORT THROUGH MY JUMBLED THOUGHTS.
IT'S MEDITATIVE.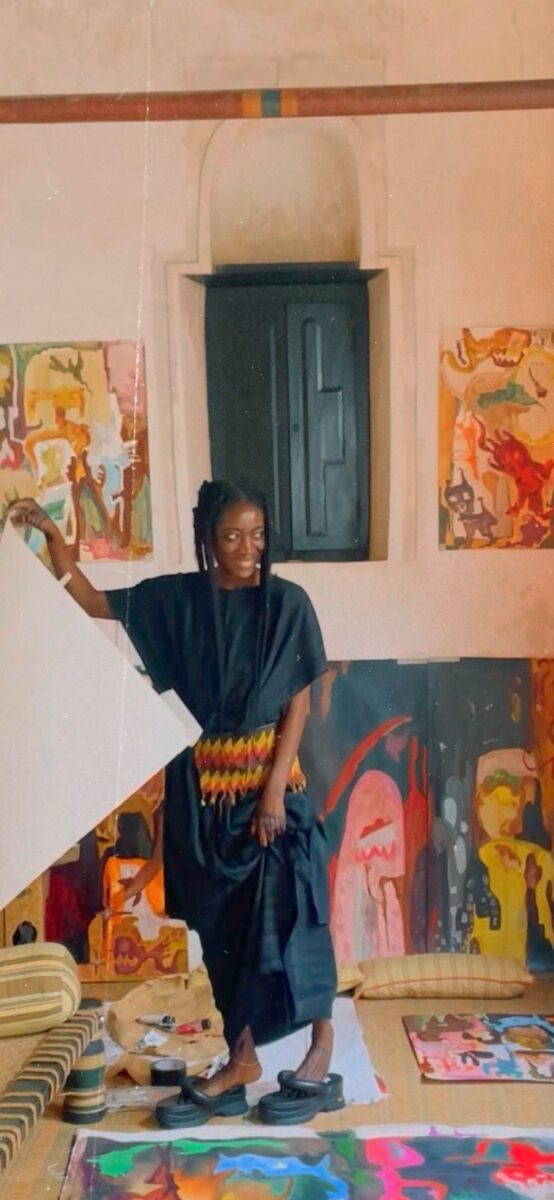 P.E.S: There is a method of isolation, that is, a meditative state that you practice, in order to listen to your thoughts, body, and what the world is trying to tell you. Do you sometimes find difficulty in transferring these thoughts and feelings into a physical form on a flat surface? Does the co-merging of painter and painting take a lot of energy from you, or does it energize you?
V.R: SOMETIMES I KNOW EXACTLY WHAT I WANT TO SAY AND I CAN FINISH A PAINTING IN A DAY. SOMETIMES I FEEL LIKE I'M NOT SO CONFIDENT AND THE PAINTING WILL NOT TRANSFER WELL FROM MY MIND TO THE SURFACE. AND THIS IS WHEN I BECOME OBSESSIVE TRYING TO MAKE THE PIECE WORK, THEN I END UP MUDDLING THE WHOLE THING WHEN I SHOULD HAVE JUST LEFT THE PAINTING ALONE RETURN TO IT LATER.
PHILIP GUSTON SAID.."IN THE BEGINNING THE CANVAS IS EMPTY AND YOU CAN DO ALMOST ANYTHING AND IT'S THE MOST FRIGHTENING EXPERIENCE YOU HAVE TO GET THE WHITE OUT OF THE WAY…'
P.E.S: Do you travel a great deal for your work and inspiration? What do you look for, and what ends up finding you on your visits? Can you share any recent or previously impactful examples?
V.R: I MOSTLY WORK IN LAMU OLD TOWN, AND OLD AND HISTORIC PORT CITY PLACE HAS BEEN AROUND SINCE THE 12TH CENTURY WITH MOST OF THE ARCHITECTURE PRESERVED SINCE CONCEPTION. SO THERE IS A TANGIBLE ANCIENT FEELING THAT SURROUNDS YOU, IT'S IN THE AIR. THE SPIRITUAL STORIES FROM THE LOCALS ARE ENDLESS AND MY WORK IS GREATLY INSPIRED FROM THESE TALES. LAMU OLD TOWN HAS A WAY OF KEEPING YOU, THERE'S SOMETHING THERE FOR SURE. BEING IN THE DESERTS OF WADI RUM AND PASSAGES OF PETRA IN JORDAN IN ONE OF MY TRIPS WAS THE SAME FEELING, AN ANCIENT EXISTENCE SURROUNDS YOU.
IT IS TRULY MAGNIFICENT.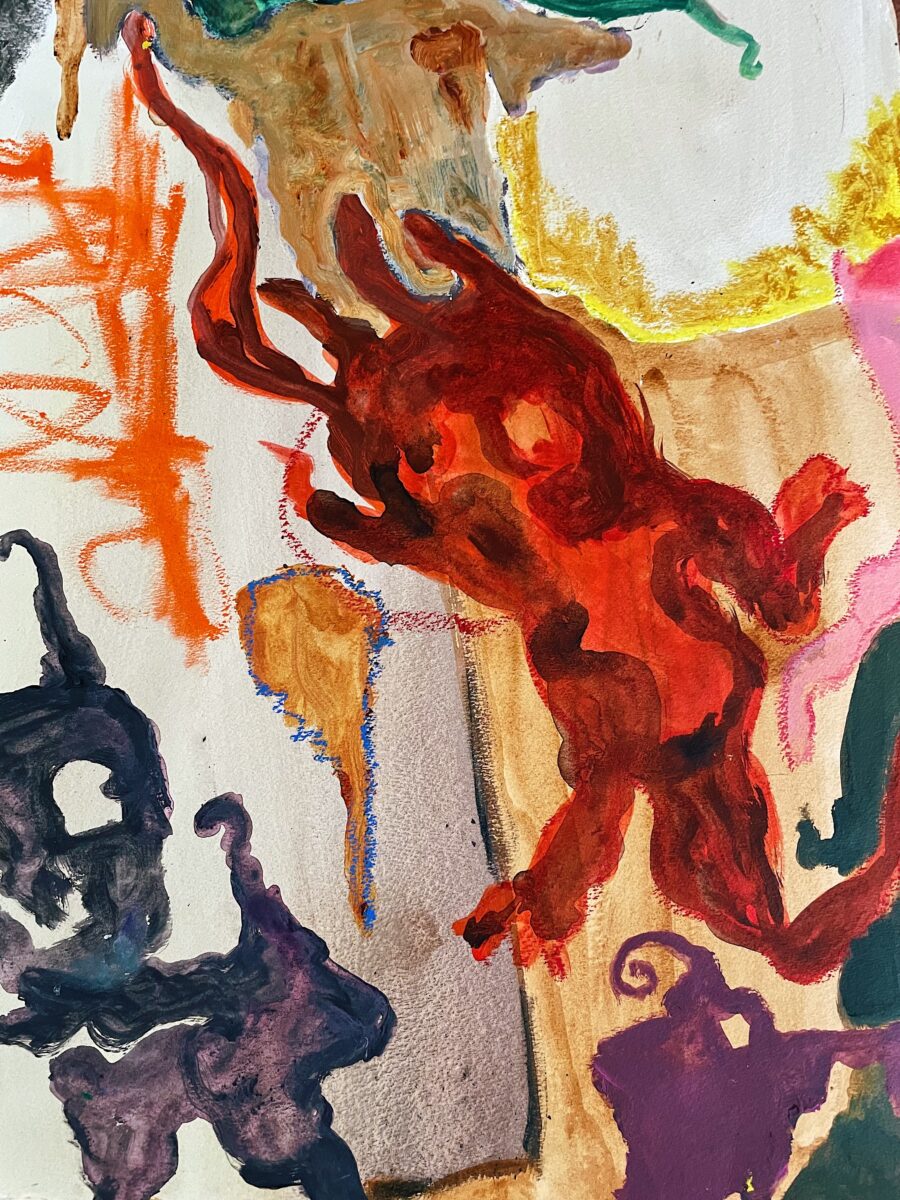 P.E.S: A strong source of motivation is your interest in mythologies and the divine. What have you encountered in your recent explorations of information that you have found enlightening or confirming?
V.R: THIS MIGHT SOUND STRANGE BUT I DO TALK TO MY PAINTING SURFACES WHETHER IT BE CANVASES OR PAPER AND ASK THEM TO GUIDE ME ON THE MARK MAKING. I WILL TELL YOU THAT I HAVE SOME PIECES WHERE A MARK THAT LOOKS INTENTIONAL…THE PIECE DID BY ITSELF, OTHERS CALL IT ACCICIDENAL, BUT TO ME IT IS EXACTLY WHAT THE PAINTING WAS MEANT TO BE, BECAUSE I ASKED THIS OF IT.
P.E.S: Your artwork ties interpretation to your personal story. Can you talk about what formally distinguishes your way of working and medium from what you've done previously to express yourself?
V.R: I'M A VISUAL ARTIST SO I DABBLE IN AUTOBIOGRAPHICAL PHOTOGRAPHY AND AMATEUR FILM. ANYTHING THAT SERVES AS AN OUTLET FOR CREATIVE EXPRESSION. AND NOW I'M WORKING AND ADDING THE MEDIUM OF PAINTING. I SOMETIMES MARRY AND SYNTHESIZING ALL 3, MORE SO WHEN I DOCUMENT MYSELF OR COLLABORATING WITH PHOTOGRAPHERS TO DOCUMENT MY WORK…ALL THE MEDIUMS WORK IN TANDEM WITH EACH OTHER…NO MEDIUM IS EXCLUSIVE TO THE OTHER.
AS ARTISTS WE ARE MADE OF ELEMENTS WHICH CANNOT BE IDENTIFIED, THE ALCHEMY IS COMPLETE.
P.E.S: What is the context through which you would like your work to be read? What is the discourse, if any, in which you want to participate or have already found yourself participating?
V.R: I SEE MY PAINTINGS AS SPIRIT CHARTS AND I SIMPLY WANT THE AUDIENCE TO FEEL SOMETHING SPIRITUAL AND POWERFUL WHEN ENCOUNTERING MY WORK. I DON'T WANT MY WORK TO BE DEAD ONCE YOU LEAVE ITS PRESENCE. I WANT TO MAKE WORK WITH STAYING POWER…WORK THAT WILL MAKE YOU TUNE IN AND WILL LINGER ON YOUR MIND FOR A WHILE.
WHEN SOMETHING DIVINE ABOUT THE VISUAL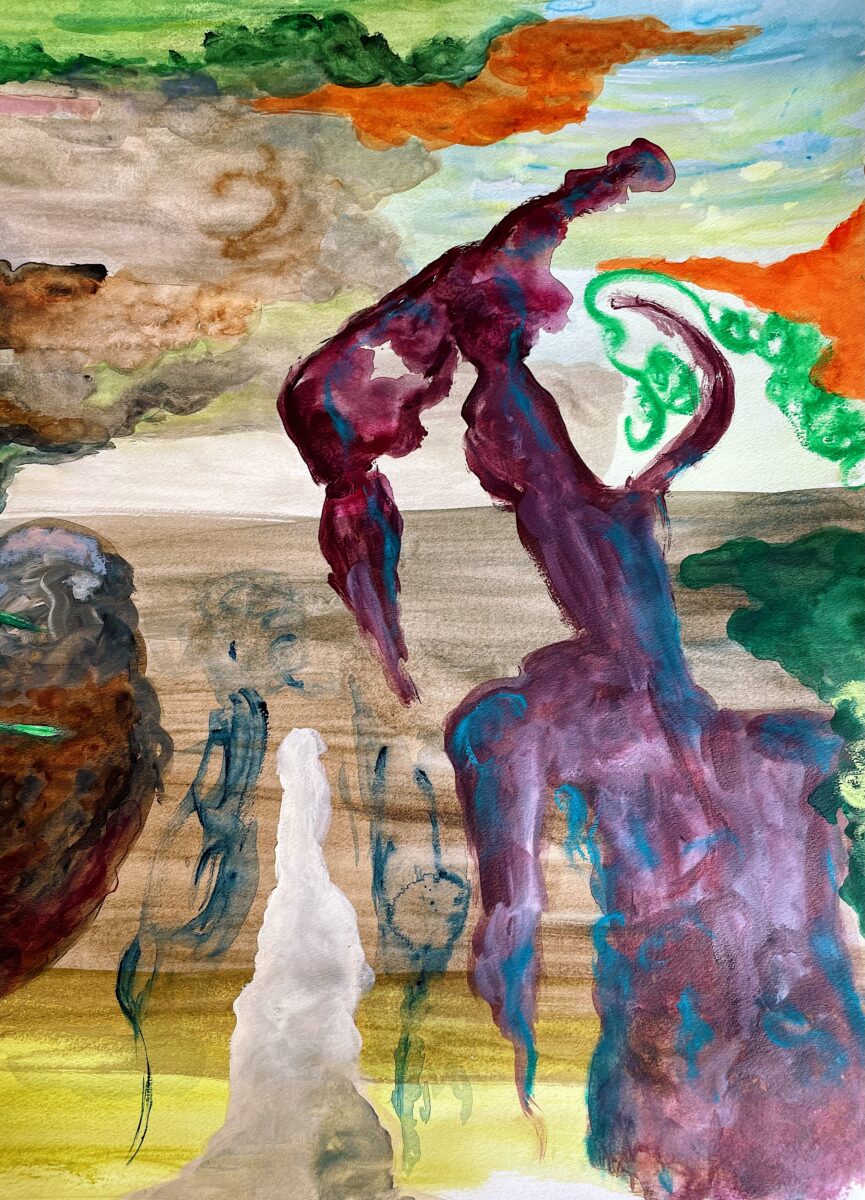 To learn more about Velma Rosai, follow her on Instagram at @velma.rosai
Categories
Tags