Sri Lankan born, Delhi based interdisciplinary artist Raki Nikahetiya recently sat down with art historian, writer and curator Hector Campbell to discuss his experiences as a migrant artist, his eclectic mix of previous career paths, forging an art practice later in life and his upcoming solo exhibition 'Another Life' at Bikaner House, New Delhi, which opens May 12th.
Hector Campbell: Having been born in Sri Lanka the same year as the earlier insurgencies against the government by the Tamil Tigers, you grew up in Austria where your family had settled after escaping the subsequent civil war. Such upheaval at a young age must have left a lasting impact? And did you have any early experiences with art that proved memorable?
Raki Nikahetiya: Our move to Austria was an unexpected rupture, it was a strange new world and fitting in was not easy at first. However, in the early few months, we lived with a family friend near Vienna. She collected art, her home full of oil paintings and remarkable abstract artworks that I still remember vividly. I especially remember an old darkened oil painting depicting horseback riders out on a countryside hunt and a huge painting of a mesmerising futuristic industrial landscape. I was also suddenly surrounded by religious icons, church tapestries, antiques, pottery, framed illustrations and furniture, much of which I saw on Saturdays at the local flea market, as well as colourful 90's billboards and plenty of incredible Jugendstil Viennese architecture.
H.C: After studying economics in Vienna you had a long and varied career outside of art, including roles as a photojournalist, in international development at the United Nations, and in trade development and environmental conservation at The Zoological Society of London. Are there parts of these previous career chapters that continue to inform or influence your artistic practice?
R.N: They definitely still do. A combination of complete chance and personal interest led me down many different avenues, from hotel kitchens to serving in Viennese cafes, from working in a warehouse to a job in journalism covering economics and migrant issues, from policy level work supporting trade development in East Africa and Mongolia to marine conservation programmes with coastal communities in the Far East. Looking back, I wouldn't have done it any other way, as my many previous careers and life experiences all gave me access to different roles, responsibilities, identities, cultures, thoughts, ideas and ways of seeing. They all provided me with the fuel I needed to focus fully on creating art.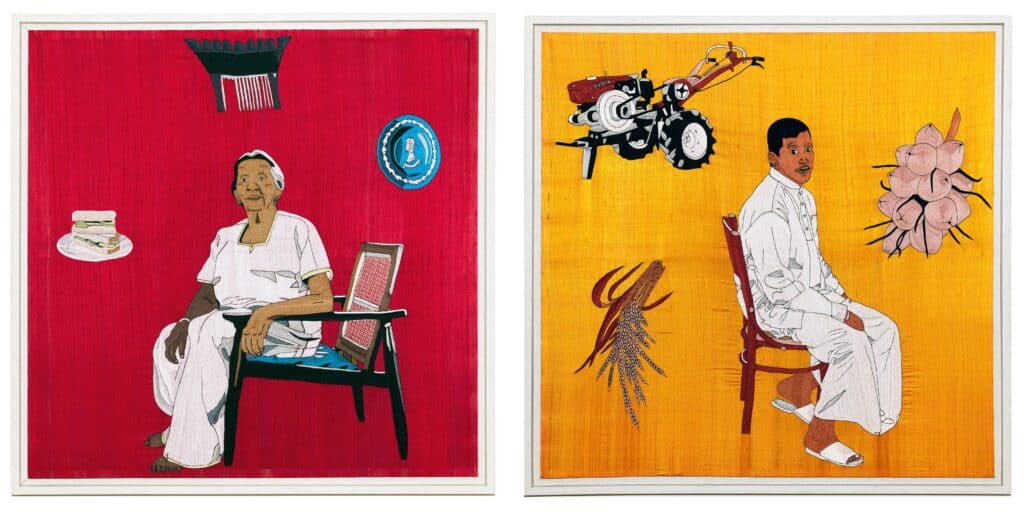 H.C: So towards the end of the 2010s, you decided to dedicate yourself full time to art-making, and even enrolled on the Foundation course at London's prestigious Slade School of Fine Art. What triggered this progression, at what some would consider a later stage in life? And how did you develop as an artist during your time at the Slade?
RN: Growing up as a South Asian kid, becoming an artist isn't considered a usual or suitable career path, and I was always primed to do something more 'professional'. During all of those aforementioned jobs and opportunities, I always kept living and working with the feeling that something was off. I found meaning in my work, but I wasn't myself. I was photographing whenever I could, for myself or as side-projects, as well as sketching and writing down ideas for art projects which remained unrealized. While living in London I would spend hours at museums and galleries, visiting exhibitions in my spare time, and more and more I realised that art-making might be my true happy place. So with the support of my wife, my biggest champion, I took the leap into the unknown.
Before I began at the Slade I was mainly focused on black and white documentary photography. During that foundation course, fellow artists, friends, tutors and mentors pushed me and my thinking in new and productive directions. That time was also very process-oriented, which was new to me, as until then my work was mostly conceptual. I had to unlearn many things and revert to that untainted thinking of a child.
The art world can be a strange place when you are new to the game, full of glass ceilings, weird lingo and unexpectedly conservative beliefs about what art is and what an art career should look like. The discipline and experience I gained from my previous jobs, and from my time at the Slade, ultimately gave me the confidence to experiment, explore and push boundaries. Now, I combine these two schools of thought into interdisciplinary work that is a mix of both conceptual and process-oriented. The conceptual side leads me to start a project, and the process helps me to resolve it.
H.C: You mention your idiosyncratic interdisciplinary art practice, often working across multiple mediums including photography, digital and physical painting, textiles and embroidery, as well as more scientifically engaged experiments. Are there any overarching ideas or interests that unite each area of your artistic output?
RN: My work focuses on identity, alienation and belonging in the 21st century, from my position as an artist with a migrant background. I am interested in human nature, its duality and our species' quest to understand and make sense of the world around us. I like to question our man-made concepts of what is 'real', 'right' and 'true'. I like to think that my artwork exists at the intersection of classical visual art, process-oriented abstraction, traditional handicrafts and scientific exploration.
Humans, as a migratory species, evolved by sharing knowledge and by employing the most advanced skills of the collective to realise ideas. I am using that same method to find the most suitable processes and tools to express, discover and explore the fundamental questions in my practice.
H.C: In your series A Simpler Life, recently on display at ArtBuzz India, you reinterpret old family photographs and associated heirlooms into vibrant, pop-art-esque, digital paintings, which in turn are translated into textile embroideries by traditional artisan weavers. Could you describe the conceptual ideas that underpin this particular body of work? And how did you adjust to working in close collaboration with those craftspeople?
RN: That series started with a single photograph, a portrait of my mother taken in the 80s, that I found in an old family photo album. I realised I wanted to recall memories of her and of that time when we still lived in Sri Lanka. I began by repainting the photograph, first in acrylics and then digitally, the latter being a new revelation. While I was painting I tried to tap into my memories and kept visualising different colours and objects when looking at the photograph, physical manifestations of the people close to us. These figures from our past define the paths we take, some of them are here to stay and some are no longer able to accompany us. But at all times, when I think of them, they exist in colours and the objects they leave behind are forever woven into my memory. Therefore, I started pushing this idea of association, asking myself what colours and items came to mind when thinking of other family members.
Ultimately, I finished a series of twenty portraits, all of my nearest and dearest from the period before moving to Austria. However, after the artworks were printed they looked interesting but didn't feel complete. I set them aside, and a few months later came across some small embroidery pieces my mother had made when I was a baby. After some research, I discovered that this was a traditional storytelling technique from Kandy, where I was born. It was the perfect fit, a uniquely 21st-century immortalisation of heritage that mirrors my ancestors weaving personal heirlooms, family insignias or aide-mémoires of a complex time.
I work with a wonderful team of embroidery artisans in Kolkata, and it took us over a year and a half to process right. To produce a single artwork takes about half a year. Painting, selecting and dyeing the fabric, tracing the figures with chalk on the fabric, selecting each individual thread colour and deciding with embroidery technique to use. When working with highly skilled artisans, the final embroidery is never exactly like the painting. And while I'm a perfectionist in my work, it took time until I understood that this is OK. Memory behaves in the same way, it's beautifully imperfect.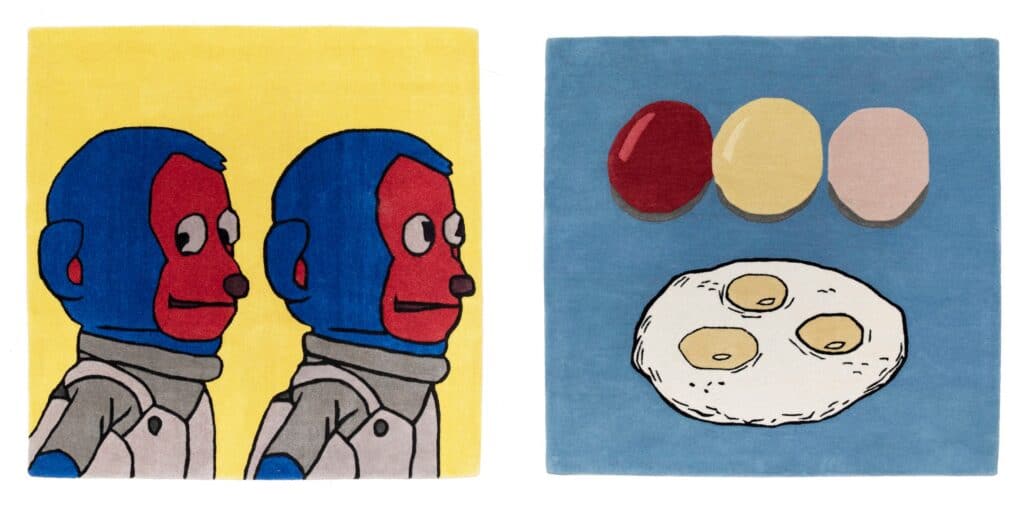 H.C: Another ongoing series, V.I.R.A.L, sees much-shared memes transformed into tufted carpets, again following a preparatory process of digital painting. What initially drew you to such subject matter? Is this series in some way a reaction to the recent pandemic-plagued period of online-only art experiences?
RN: Similar to A Simpler Life, V.I.R.A.L started with a single image. I love memes and have been collecting them in an online photo album for years. They have the power to convey a message or feeling in an instant, can create or divide opinions, and at the same time have no material worth. One meme can be copied and recycled many times by many different people, of all different backgrounds and ideologies. Each person projects their own narrative, feelings, humour, interpretation of reality, values and truth onto it. Multiplying, mass communicating and spreading it through the world wide web. The perfect and simplest tool for a species of storytellers.
I wanted to investigate an individual meme, to attempt to better understand it, so I started to repaint it digitally as I had with A Simpler Life. To start, I copied them exactly, including keeping any associated text, but I began to realise that they meant more to me with all meaning and text removed. I became obsessed and painted almost two hundred memes. Again, the printouts of the digital paintings didn't do it for me. I tried to resolve it and the more I tried the more I failed. So I set them aside for some months until I found myself in a carpet shop in Kochi, India, and came across a bright carpet covered with many figures and shapes. Eureka!
The form of a carpet fit perfectly, as historically the victor of a battle, a ruler, or a person of rank would use weaving in the form of tapestries to tell a story, and similar to modern-day memes, this story would be told from a single perspective. I believed that the labour intensity and cost of producing such a piece of art propaganda would add value and ultimately, significance, to such stories, making them 'real'. I also enjoyed the concept of combining these two elements, the removal of any visible text or meaning from the meme, and then their further removal from the immaterial digital sphere to make them physical, with intrinsic material worth, through an ancient artisanal process. I intend V.I.R.A.L to be an ongoing series, perhaps chronologically capturing the zeitgeist of each year by its ten most impactful memes.
H.C: In May you will be exhibiting extracts from two photographic series, In Carnations and Possibilities, at Rotterdam Photo's 2022 XL edition. The former explores the history and heritage of the carnation flower through abstracted monochromatic negatives, while the latter pays homage to the prolific possible combinations of a standard 3x3x3 Rubik's Cube. Could you tell us a little more about these two specific bodies of work?
RN: Both of those series, although different in appearance, have three common traits. They are photographic negatives, focus on commonly known objects and question human beliefs or belief systems.
In Carnations is about the carnation flower. Carnations are linked to multiple human belief systems, and a single blossom, depending on its colour, may embody a wide spectrum of expressions, including birth, gratitude, failure, fortune, sexuality and mourning. They have been, and remain, all things to all people. In monochromatic negatives, however, the colour of the blossom vanishes and any associated symbolism disappears. The flower is deconstructed, becoming an abstract landscape against which we can pin new meanings, visions, images, interpretations or nothing at all.
Possibilities is about the humble Rubik's cube, and its 43 quintillion possible combinations. That's a higher number than galaxies in the observable universe, yet the popular puzzle can be solved in less than ten seconds if you know how. These photographic negatives, therefore, reflect on individual and collective choice, the power of action, and what impact these choices or actions have. I want to question why we accept and often desire one supreme outcome when in reality there exists a multitude of possibilities.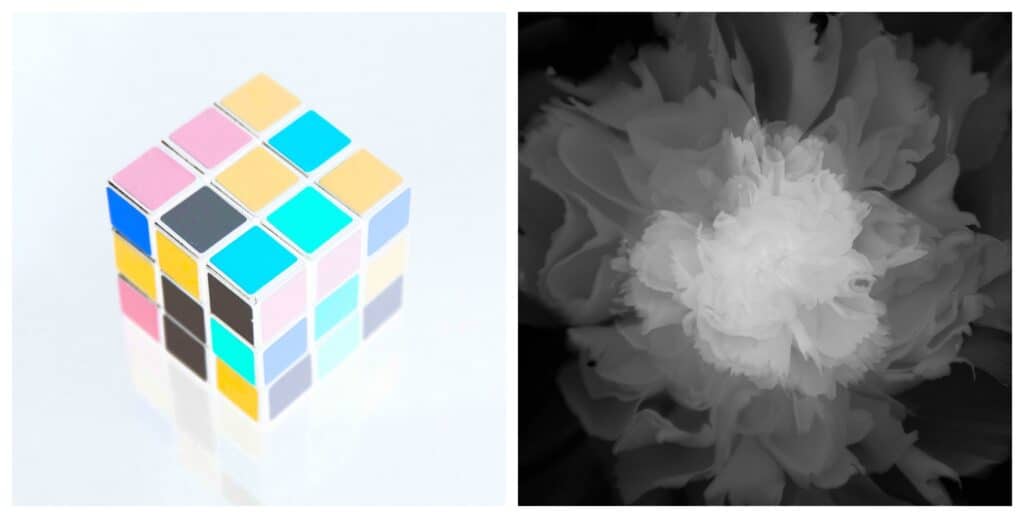 H.C: Finally, your upcoming solo exhibition Another Life, at Bikaner House in New Delhi, introduces a new series of embroideries similar to A Simpler Life but focuses on your upbringing in Austria and employs the tuch material traditionally used in Austrian garment production. How else does this new series differ from A Simpler Life? And could you share any further information about the upcoming exhibition?
RN: Another Life, translated to Ein Anderes Leben in German, is a new series of twelve large-scale embroidery portraits exploring my youth growing up in Vienna. It also includes my largest artwork to date, the twelfth and final piece which measures 2.5m x 2.5m and includes all thirty-two objects from the eleven other individual portraits, my own personal 'Black Box' perhaps.
This series further explores those ideas of memory and identity, and ventures into the realm of migration and a search for belonging. Instead of portraying relatives, I depict my 'chosen family', those figures who taught me a new language, provided a new home, provided safety or a sense of newfound kinship. Similar to A Simpler Life I start with archival photographs, painting portraits in acrylic to match each character with their colour, before shifting to digital painting and matching items with individuals. However, here the people are more like icons, they stay in silhouette backed by their associated colour before my mind conjures up a conveyor belt of objects linked to my memories of those portrayed, some heart-warming, some sad, some plain absurd. Rather than what migrants take with them when they move, I wanted to reflect on those new objects that become part of one's identity in an unfamiliar realm. Items imbued with their own time, place, feeling, context, value, consciousness or memory.
I work with my same team of artisans but employ different techniques for these works, such as Aari, Applique? and Zardozi embroidery techniques. For me, each artwork is a woven memory, embedded with a narrative of an existence left behind before it starts somewhere anew, intertwining traditions, bridging continents and ways of being.
Raki Nikahetiya's debut solo exhibition 'Another Life' at Bikaner House, New Delhi, opens Wednesday, May 12th and runs until May 15th. The exhibition is curated by Srinivas Aditya Mopidevi, organised by the Austrian Embassy in New Delhi, sponsored by the Austrian Cultural Forum and accompanied by a curatorial statement from Dr Gretchen Simms.
Rotterdam Photo 2022 XL Edition opens Wednesday, May 18th (6:30pm-9pm) and runs until Sunday, May 22nd at Willemsplein 85, 3016 DR Rotterdam.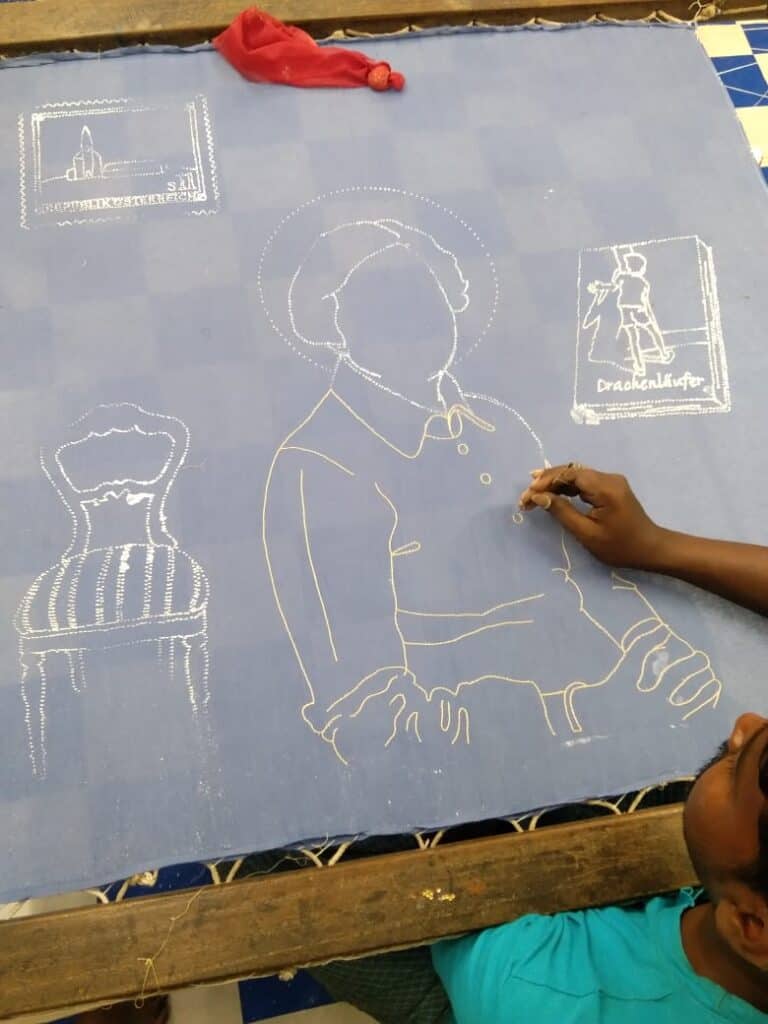 Categories
Tags