African conservation charity Tusk and Westbrook Gallery have got together to create The Tusk Gorilla Trail at Covent Garden – 15 gorilla sculptures placed throughout the historic Piazza and streets of London's Covent Garden for you to see for free throughout the Summer. One of the gorilla sculptures an amazing flower-covered gorilla was created by Rankin and FAD managed to grab a few words with him about the project.
You just created a sculpture of a gorilla covered in flowers, why a gorilla?  
The gorilla was for the Tusk Gorilla Trail. It's Adam Ennis's campaign for the preservation of gorillas in Africa. Eventually, after the Gorillaz have been exhibited in the Covent Garden area, they will be auctioned off for sale to support charities in the region.
Can people see it IRL? 
Yes, you can see mine in Covent Garden, it's right outside the chief station in the offices of Shaftesbury.
The flowers look amazingly realistic on the gorilla how did you achieve the effect? 
I took photographs of flowers, then we meticulously cut each of them out in recycled paper and stuck them onto the gorilla by hand. All of the flowers are from photographs taken in the studio. 
Any plans for more sculptures? 
Definitley, I love them so much it would be great to create more, I have been experimenting with 3D-printed sculptures from photographs and the results are mind-blowing.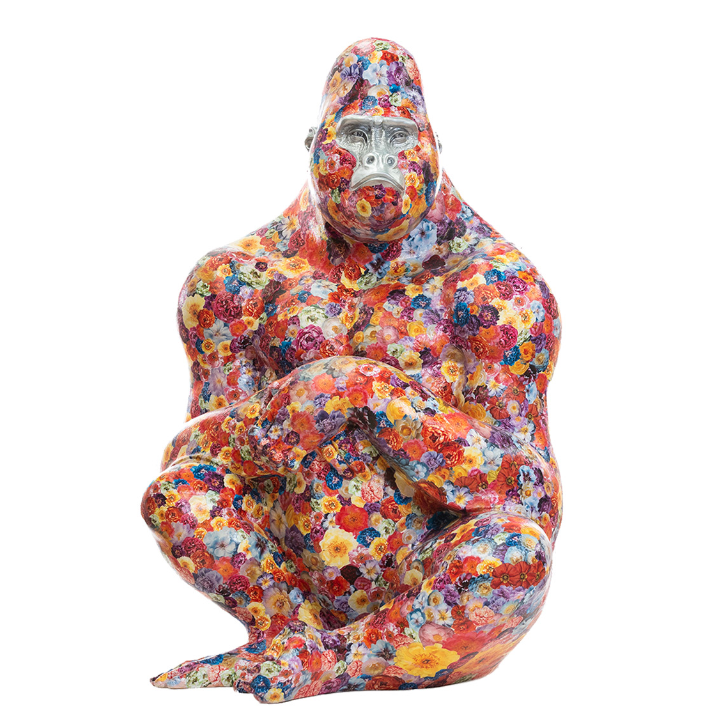 As well as Rankin's gorilla The Rolling Stones guitarist and Tusk ambassador Ronnie Wood and his wife the producer Sally Wood; English actor and comedian John Cleese and wife the designer Jen Cleese; British artist Chila Burman; Printmaker Adam Dant; Tusk ambassadors actress Jemma Powell and husband musician Jack Savoretti; Restaurant Petersham Nurseries by artist Hayden Kays; former army helicopter pilot, wildlife artist and Tusk ambassador Hannah Shergold as well as artists Barnaby Barford, Mr Jago, Gordon Cheung, Mauro Perucchetti and Nick Gentry. You can find all the gorillas using this illustrated map.
The gorilla sculptures will go to auction this autumn, with 100% of sale proceeds going directly to support Tusk's conservation projects in Africa. To register your interest in advance contact Tusk on 01747 831005 or info@tusk.org
About Tusk
For more than 30 years, Tusk has worked to accelerate the impact of African-driven conservation. Since its formation, Tusk has boosted an impressive range of successful conservation projects across more than 20 countries. These initiatives have not only increased vital protection for more than 40 different threatened species, but have also contributed to poverty reduction through sustainable development and education amongst rural communities living alongside wildlife. Tusk partners with the most effective local organisations, investing in their in-depth knowledge and expertise. By supporting and nurturing their conservation programmes, Tusk helps to accelerate growth from an innovative idea to a scalable solution. The charity, which has Prince William as its Royal Patron, has invested over $100m into African conservation since its founding in 1990.
Categories
Tags