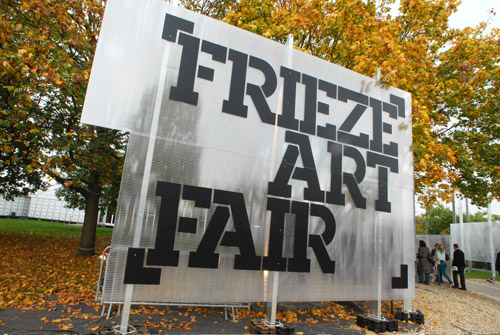 Frieze London celebrates 20 years this October with a dynamic programme of special projects, partnerships and events that demonstrate London's appeal as a vibrant cultural destination. Frieze Week, an extended programme of cultural events will run in conjunction with the fairs from 9-15 October at galleries, institutions, and artist-led spaces throughout the city.
Today, Frieze  unveiled initial details of the 20th-anniversary edition of Frieze London and the 11th edition of Frieze Masters.
Frieze London and Frieze Masters are supported by global lead partner Deutsche Bank for the 20th consecutive year. To celebrate two decades of a shared commitment to artistic excellence, Deutsche Bank will present a collaboration with British artist Yinka Shonibare CBE RA, whose work examines race and the construction of cultural identity.
Our 20th anniversary celebrations are an opportunity to reflect on the incredible journey that both the fair and London's cultural community have taken over the past two decades. With its rich history, diverse communities, and thriving arts scene, London is a place where ideas are exchanged and innovation happens, and this year's participating galleries attest to the continued vitality of the city. Over the past two decades Frieze London has played a pivotal role in shaping the city's arts ecosystem, and we look forward to both captivating and challenging audiences for many years to come.

Eva Langret, Director of Frieze London
FRIEZE LONDON
With over 160 leading galleries spanning 40 countries, Frieze London 2023 is the most international edition of the fair to date. In keeping with its 20-year history, the fair features a core contingent of London-based exhibitors, with 59 operating spaces in the city. These include some of the city's defining galleries: Arcadia Missa, Carlos/Ishikawa, Sadie Coles HQ, Pilar Corrias, Thomas Dane Gallery, Alison Jacques, Lisson Gallery, Kate MacGarry, Victoria Miro, Modern Art, Maureen Paley, and White Cube.
Major international exhibitors include Galerie Gisela Capitain, Gagosian, Hauser & Wirth, Xavier Hufkens, Taka Ishii Gallery, David Kordansky Gallery, Kukje Gallery, Matthew Marks Gallery, Pace Gallery, Thaddaeus Ropac, Esther Schipper, Sprüth Magers, David Zwirner and more. This year sees the return of a number of exhibitors, alongside a selection of first-time participants: Tanya Bonakdar Gallery, Contemporary Fine Arts, Massimo De Carlo, Ginny on Frederick, Gordon Robichaux, Harlesden High Street, Heidi, HOA, Taro Nasu, Parker Gallery and Nicola Vassell Gallery, amongst others.
ARTIST-TO-ARTIST
Marking the 20th anniversary, Artist-to-Artist draws on Frieze London's longstanding tradition of artist-led programming. The section sees eight world-renowned artists, whose work has defined the contemporary art landscape over the past two decades, propose a counterpart for a solo exhibition at the fair. Each of the selectors is well known for their support of other artists, with Artist-to-Artist highlighting their roles as advocates by introducing new voices to the fair. Featured presentations comprise Deborah Anzinger proposed by Simone Leigh (Nicola Vassell); Mark Barker proposed by Wolfgang Tillmans (Shahin Zarinbal); Ayoung Kim proposed by Haegue Yang (Gallery Hyundai); Fabian Knecht proposed by Olafur Eliasson (alexander levy); Simonette Quamina proposed by Alvaro Barrington; Vanessa Raw proposed by Tracey Emin CBE RA (Carl Freedman Gallery); Wantanee Siripattananuntakul proposed by Rirkrit Tiravanija (Gallery Ver); and Carlos Villa proposed by Anthea Hamilton (Silverlens).
FOCUS
Focus, the critically acclaimed section for galleries formed in or after 2011, returns this year advised by Angelina Volk (Emalin, London), Piotr Drewko (Wschód, Warsaw) and Cédric Fauq (Chief Curator at CAPC Musée d'art Contemporain, Bordeaux). Featuring 34 exhibitors from across 18 countries and foregrounding discovery, galleries participating in Focus are required to show solo or dual-artist exhibitions by today's emerging talent. This year's section includes presentations by Larry Achiampong (Copperfield), Débora Delmar (Llano), Mattia Guarnera-MacCarthy and Hamed Maiye (Harlesden High Street), Josèfa Ntjam (Nicoletti), Jack O'Brien (Ginny on Frederick) and Jordan Strafer (Heidi and Hot Wheels).
EDITIONS
Editions features a selection of limited-edition artworks created by leading international artists at affordable prices, making the world of collecting accessible to new audiences. Participants in the sector include Borch Editions (Copenhagen), Cristea Roberts Gallery (London), Knust Kunz Gallery Editions (Munich), Paragon (London) and STPI Gallery (Singapore).
FRIEZE MASTERS
With over 130 participating galleries and led by Nathan Clements-Gillespie, Frieze Masters brings together six millennia of art — from rare antiquities to Old Master paintings to 20th century masterpieces — creating a destination where visitors can discover art history anew.
The fair features a cohort of major international galleries including Colnaghi, Galerie Eric Coatelem, De Jonckheere, Simon C. Dickinson, Peter Finer, Gagosian, Richard Green, Johnny Van Haeften, Hakgojae Gallery, Peter Harrington, Hauser & Wirth, Gallery Hyundai, Annely Juda Fine Art, Pace Gallery, Sarti Gallery, Skarstedt, Sprüth Magers, Craig Starr Gallery, Axel Vervoordt, Waddington Custot and Offer Waterman.
The fair will also showcase a selection of specialist dealers; these include rare and antiquarian book sellers Stéphane Clavreuil Rare Books, Daniel Crouch Rare Books, Dr. Jörn Günther Rare Books and Shapero Rare Books / Shapero Modern; ancient art experts David Aaron, Ariadne, ArtAncient and Rupert Wace; Gisèle Croës s.a., who focus on early Asian art; illuminated medieval manuscripts specialists Les Enluminures; antique arms and armour experts Peter Finer; antique silver specialists Koopman Rare Art; and leading Renaissance pottery dealer Raccanello & Leprince, amongst others. The line-up also includes first-time participants including Charles Beddington, James Cohan, Sadie Coles HQ, Lawrie Shabibi, Kate MacGarry, Nonaka-Hill, Jack Shainman Gallery and White Cube.
MODERN WOMEN
2023 sees the introduction of Modern Women, a new themed section steered by Camille Morineau (Co-founder of AWARE – Archive of Women Artists, Research and Exhibitions) and the non-profit organisation AWARE. Dedicated to solo exhibitions by women artists, Modern Women places a special focus on works created between 1880 and 1980, a pivotal period for women's rights and feminism. Featured artists include Tarsila do Amaral (Almeida & Dale Art Gallery), Anna-Eva Bergman and Germaine Richier (Perrotin), Lisetta Carmi (Ciaccia Levi and Galleria Martini & Ronchetti), Émilie Charmy (Galerie Bernard Bouche), Kangja Jung (Arario Gallery), Maria Lai (M77), Vera Molnár (Vintage Galéria), Faith Ringgold (ACA Galleries), Paule Vézelay (England & Co) and Ethel Walker (Piano Nobile).
STUDIO
Also new this year is Studio, curated by Sheena Wagstaff (Leonard A Lauder Chair of Modern and Contemporary Art at The Metropolitan Museum of Art, New York until 2022). Its focus is the artist's place of making, where the spark of invention becomes manifest as an object. It features singular international artists – Maggi Hambling, Mona Hatoum, Lucia Laguna, Arlene Shechet, Hyun-Sook Song – who dig deep into past culture to inform and reinvigorate their practice. Integral to each presentation are archival images and objects, accumulated over decades in an artist's workroom, invoking their creative lifeline, and the spirit of the studio as an ever-changing, living space.
SPOTLIGHT
Curated for the first time by Valerie Cassel Oliver (Sydney and Frances Lewis Family Curator of Modernn and Contemporary Art at the Virginia Museum of Fine Arts), the celebrated section returns with solo presentations of 20th-century artists, emphasising under-appreciated work dating from the 1950s to 1970s. In addition to showcasing new research into overlooked figures from across the world, Spotlight also provides a platform for significant early work from established artists. This year's featured artists include Rose Finn-Kelcey, Maren Hassinger, Zenzaburo Kojima, Anna Mark, Mehdi Moutashar, I Gusti Ayu Kadek Murniasih, Gianni Piacentino, Simona Runcan, Ethel Schwabacher and Toshiko
Takaezu, among others.
STAND OUT
Stand Out returns for the third consecutive year steered by Luke Syson (Director and Marlay Curator of the Fitzwilliam Museum, Cambridge). The curated section challenges traditional hierarchies of media, which are largely obsolete in contemporary art — here, artworks once dismissed as 'decorative' are meaningfully re-examined and reclaimed. This year, Syson's section explores the myriad ways in which colour is key to the aesthetic of art objects and sculpture. Galleries participating in Stand Out include
Friedman Benda, Prahlad Bubbar, Galerie Chenel, Gisèle Croës s.a., Peter Finer, Sam Fogg, James Graham-Stewart, Guild Gallery, Koopman Rare Art, Lullo Pampoulides, Ronald Phillips, Raccanello & Leprince, Adrian Sassoon, Rose Uniacke and Axel Vervoordt.
Frieze London, 11th-15th October, Regents Park frieze.com/fairs/frieze-london
Categories
Tags