Art Basel Week 2023 kicks off on Monday 12th June – FAD has chosen 5 Fairs to see during Art Basel Week 2023. They include 3 art fairs, a book fair and a design fair. From 19 exhibitors to 284 there's a  fair to suit everyone we suggest you do the lot one each day then circle back for the weekend. – have FUN 
Liste Art fair 12th – 18th June 2023
88 galleries from 35 countries for the 2023 edition of the fair. Of the selected galleries, 20 are exhibiting for the first time at Liste Art Fair Basel and on Liste Showtime, including Blue Velvet Projects, Zurich; diez, Amsterdam; E.A. Shared Space, Tbilisi; PHD Group, Hong Kong; Regards, Chicago; Schiefe Zähne, Berlin; Theta, New York; and wanda, Warsaw/Understructures, Kyiv.
A total of 66 solo and 18 group presentations will be on view, as well as two joint booths. The presented artists are outstanding representatives of their generation and represent the latest developments and tendencies in contemporary art. The fair will be held in Hall 1.1 of Messe Basel .
Whistlers", an exhibition curated by Sarah Johanna Theurer on the theme of sustainability, will be on display in the interstitial spaces of the fair. Works by Geocinema (Solveig Qu Suess & Asia Bazdyrieva), Holly Herndon & Mat Dryhurst, Invernomuto, Davi Pontes & Wallace Ferreira and Tomoko Sauvage will be shown. The exhibition is supported by the Kulturstiftung Basel H. Geiger | KBH.G and Samsung.
Sarah Johanna Theurer is a curator focusing on time-based art practices and techno-social entanglements. Her work at Haus der Kunst in Munich ranges from new commissions by emerging artists to live events and symposia to historical surveys and retrospectives. She previously worked at the 9th Berlin Biennale and the transmediale festival in Berlin. She sometimes acts as a dramaturg, writes on sonic and visual arts, and frequently publishes in catalogues and magazines.
The circular fair architecture by the Belgian architecture firm OFFICE Kersten Geers David Van Severen i.c.w. Richard Venlet will be extended this year with sustainable signage produced in collaboration with the graphic design agency FONDAZIONE Europe.
Liste has become an Active Member of the Gallery Climate Coalition (GCC)
Liste Art Fair Basel, Messe Basel, Hall 1.1, Maulbeerstrasse / corner Riehenring 113 4058 Basel MORE: liste.ch
June Art Fair 12th–18th 2023
June Art Fair will present 19 galleries from ten countries at Riehenstrasse 90B in Basel, a concrete bunker transformed into a gallery by Pritzker Prize-winning architecture firm Herzog & de Meuron.
June is a gallery-led art fair and exhibition platform with open format that has taken place annually since 2019. It was founded by galleries as an alternative, intergenerational fair week experience that welcomes a connoisseur and new audiences alike.
June Art Fair, Riehenstrasse 90B, 4058 Basel MORE: june-art-fair.com
I Never Read, Art Book Fair Basel, 14th – 17th June 2023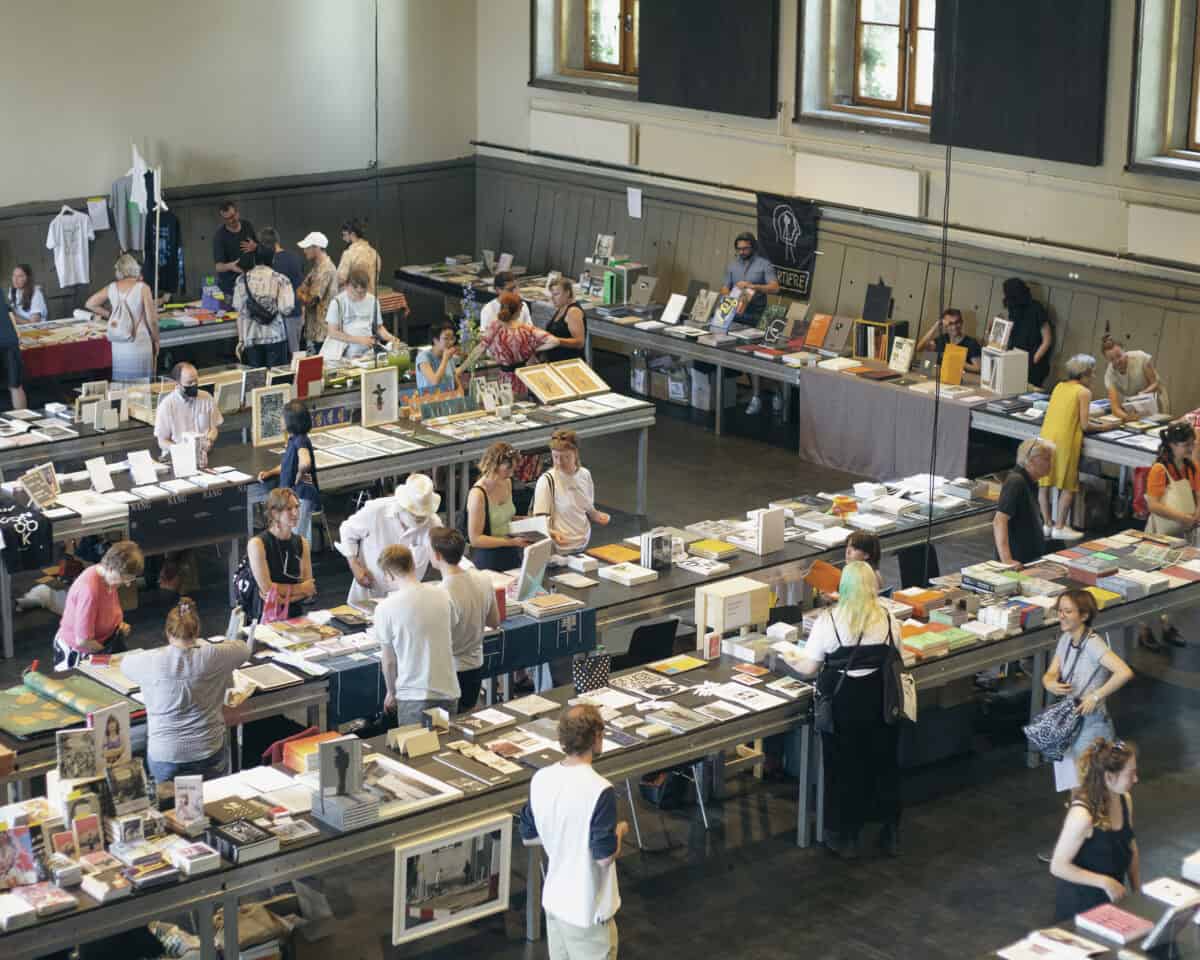 I Never Read, will present more than 70 exhibitors from 18 nations in addition to the Reithalle, the extensive outdoor space of the Kaserne will also be used for the event. I Never Read, will use a flexible display system, mobile carts (wheeled carts like those normally used in plant stores). As the trolleys are on wheels, exhibitors can decide on their own location and also change it during the course of the fair.
Book-signings, book presentations, DJ sets and party– Numerous artists will be present for book signings and book presentations. At the opening on Wednesday at 6pm the Launch will be celebrated with the signing of Florence Jung's new publication Post-Music which is published by Edition Taube. Post-Music is a musical genre that consists of talking about music much more than producing music. Hécatombe is a
publishing house and a drawing team in one, dedicated to drawing and its narrative possibilities. At the booth of the Cartoonmuseum Basel, the Geneva-based collective will present their new publication on June 14th and 15th, both at 6 pm. The end of the fair will be celebrated on Saturday with Tristesse at Club Moon.
GRASSI 10000 and I Never Read, GRASSI 10000 is a platform that promotes ideas of work and uniforms by selecting basic materials from the archive of the company, which has been producing workwear since 1925, and making them the basis of collaborative formats. Together with I Never Read, this has resulted in a small collection of her own, which can be purchased at the fair.
Stools by Elena Meneghini– Matching the movable shelf carts, designer Elena Meneghini from Milan creates camping stools that invite visitors to linger in comfort and style.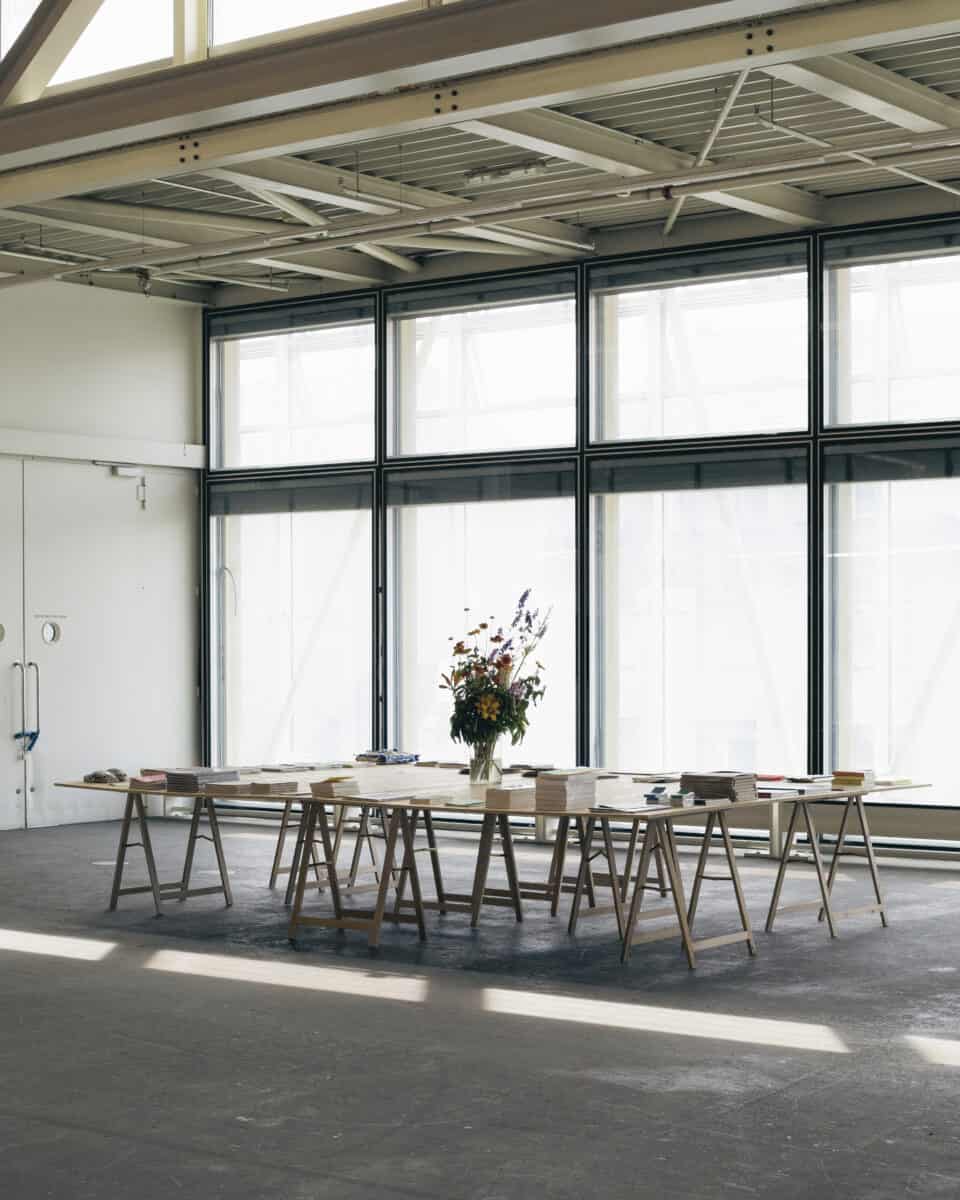 Library and Special Guest at Liste Art Fair Basel – As a guest appearance at this year's Liste Art Fair Basel, I Never Read, together with the Liste exhibitors and artists, is putting together a library. As a collaborative concept and through book sharing, the library is a sustainable and democratic space for gallery owners and visitors to contribute to a more open and inclusive art world, where inspiration and knowledge are freely available to all.
I Never Read, Art Book Fair, Kaserne Basel, Klybeckstrasse 1b, CH-4057 Basel.
MORE: ineverread.com
Art Basel Basel, 12th – 18th 2023
For its 2023 edition in Basel, Art Basel will bring together 284 leading international galleries to present the highest quality artworks across all media – from painting and sculpture to photography and digital works – by artists ranging from early-twentieth-century Modern pioneers to contemporary practitioners. A strong line-up of galleries from across Europe will be joined by new and returning exhibitors from around the world.
The 2023 edition of Art Basel in Basel will feature 21 first-time participants, including three galleries entering directly into the main Galleries sector of the show: blank projects from Cape Town, Empty Gallery from Hong Kong and Offer Waterman from London. 18 galleries will join the fair for the first time in the Feature and Statements sectors.
Messeplatz– Art Basel will also stage a site-specific presentation by Moroccan, Swiss-based sculptor and installation artist Latifa Echakhch on the city's Messeplatz, curated by Samuel Leuenberger, Curator for Parcours, Art Basel's sector for site-specific works. Echakhch, who represented Switzerland at the 59th Venice Biennale in 2022, has a long tradition of working with deconstructed stages – the symbol of wreckage and ruins – to uncover the hope and possibilities that lie within them. A sprawling superstructure situated in the Messeplatz will act as the backdrop for a series of live concerts and performances organized in collaboration with Luc Meier, Director of La Becque Artist Residency. The musical acts interrogate the fundamentals of sound and music-making as a shared experience between the artist and the audience. Beyond the performances, the various islands and stage settings will be available for the public to sing, recite poetry, share knowledge, or simply come to rest.
Galleries The show's main sector will feature 240 of the world's leading galleries, showcasing painting, sculpture, drawing, installation, photography, video, digital, and editioned works of the highest quality. Blank projects from Cape Town, Empty Gallery from Hong Kong, and Offer Waterman from London will join the fair for the first time, while the show welcomes back Galeria Dawid Radziszewski from Warsaw, who previously participated in the Galleries sector with a joint booth in 2021, and Gallery Hyundai from Seoul, returning to the show after a hiatus.
Nine galleries that previously have exhibited in Feature or Statements will graduate into the main sector, showcasing the full range of their program, including: Clearing with exhibition spaces in Brussels, Beverly Hills, and New York; Croy Nielsen from Vienna; Hamiltons from London; Jan Kaps from Cologne; Galerie Knoell from Basel; mor charpentier with exhibition spaces in Bogotá and Paris; Galleria Lorcan O'Neill Roma with exhibition spaces in Rome and Venice; Deborah Schamoni from Munich; and Galerie Barbara Thumm from Berlin.
Feature Now focusing uniquely on art-historical projects, the sector will feature curated presentations from 16 galleries, including 8 first-time exhibitors. Highlights from the sector include a re-staging of Colette Lumiere's 1977 performance 'sleep,' presented by Company Gallery; an immersive project by Brazilian artist Ana Amorim from 1991, presented by Millan and shown internationally for the first time; Jamel Shabazz's street photography from the 1980s, presented by Galerie Bene Taschen; and a survey of works on paper spanning from 1915 to 1979 by artist Sonia Delaunay, presented by Galerie Zlotowski. For the full list of exhibitors in Feature, please visit artbasel.com/basel/feature.
Statements Dedicated to emerging artists from across the globe, this year Statements will feature 18 solo presentations and welcome 10 new entries. Highlights from the sector include an immersive sculptural-video installation titled 'Rare Tilt' by Chinese artist Stella Zhong, presented by Chapter NY; and a series of new sculptures by the American sculptor and performer Gordon Hall, presented by newcomer Hua International. Additional highlights include an immersive installation by Georgian artist Tolia Astakhishvili, presented by newcomer LC Queisser; and SMAC Art Gallery's presentation of a new, never-before-seen work by South African artist Bonolo Kavula, known for her monumental, intricate tapestry work. For the full list of exhibitors in Statements, please visit artbasel.com/basel/statements.
The 24th Annual Baloise Art Prize, comprising a cash prize of CHF 30,000 per winner, will be awarded to up to two artists exhibiting in Statements, with recipients to be announced at Art Basel's media reception. In addition, the Baloise Group will acquire works by the selected artists to donate to two leading European museums, which will hold solo exhibitions of the artists' works.
Unlimited is Art Basel's pioneering exhibition platform for projects that transcend the classical art fair stand, including large-scale sculptures and paintings, video projections, installations, and live performances. 76 projects have been selected by the Art Basel Selection Committee and Unlimited is?curated by Giovanni Carmine. For the most part, these projects are being shown for the first time at Art Basel. Displayed in a 16,000-square-meter hall, contemporary works and historical projects in this sector are exhibited and sold under optimal conditions.
The Parcours sector at Art Basel is a distinctive showcase of site-specific installations, sculptures, interventions, and performances situated in public spaces and historic sites throughout the city of Basel. Curated by a guest curator, Parcours encourages a deeper engagement between the artworks and the urban environment, inviting visitors to explore the city's rich cultural and architectural heritage while encountering thought-provoking contemporary art pieces that create new dialogues and perspectives.
Edition Spread across both floors of Hall 2, the sector will feature 10 leading galleries in the field of prints and editioned works: Borch Editions, Cristea Roberts Gallery, Gemini G.E.L., knust kunz gallery editions, Carolina Nitsch, Paragon, René Schmitt, Susan Sheehan Gallery, STPI, and Two Palms. Cristea Roberts Gallery will showcase 'Connections' by Anni Albers on the Spotlight wall facing the Rundhof.
Art Basel Basel, Messe Basel, Messeplatz 10, 4058 Basel. MORE: artbasel.com/basel
Design Miami/Basel, 12th – 18th 2023
 

 

View this post on Instagram

 
Design Miami/ Basel will feature 26 galleries for its 17th edition which returns to its iconic Swiss location at Basel's Messeplatz. This special edition of Design Miami/ Basel will reflect on the fair's history as a meeting place for the world's leading collectible design galleries. The 2023 event will be presented in a new, focused format, designed to celebrate many of the galleries that have established – and continue to build – the market for collectible design as we know it today, including new entries to Design Miami/
Basel's gallery program from Galerie Gastou (Paris) and Foreign Agent (Lausanne).
Design Miami/ Basel, Hall 1 Süd, Messe Basel. MORE: designmiami.com/basel-2023
Categories
Tags