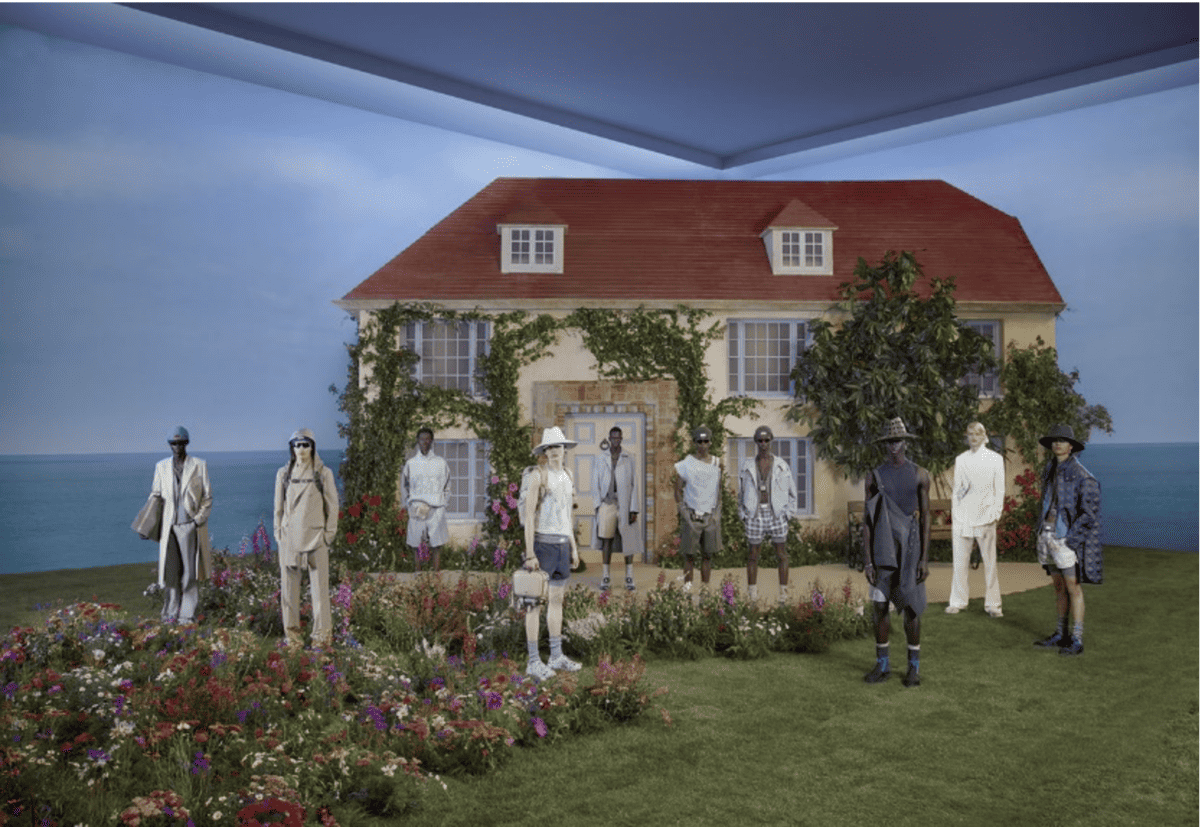 This autumn a major exhibition exploring the Bloomsbury group through fashion will open at Charleston.
Bring No Clothes: Bloomsbury and Fashion is the first major exhibition to explore the fashion of the Bloomsbury group, and how the 20th-century cultural collective still impacts global style over 100 years on. Curated by writer Charlie Porter, the exhibition spotlights the relationship that radical figures such as Virginia Woolf, Duncan Grant and Vanessa Bell had with clothing while celebrating 21st-century fashion designers who have found inspiration in Bloomsbury art and life.
The exhibition Bring No Clothes: Bloomsbury and Fashion is kindly supported by Christian Dior Couture. The Bloomsbury group was a loose collective of artists, writers and thinkers, first formed in London at the beginning of the 20th century. Bring No Clothes: Bloomsbury and Fashion will use original garments, archival objects, paintings, photography, manuscripts and spoken word to examine how the Bloomsbury group explored a liberated sexuality, feminism, queerness and pacifism, helping to set the foundations for how we dress today.
The Bloomsbury group engaged with fashion in dynamic ways, from philosophical thinking to radical dressing. Bring No Clothes uses garments to shed new light on their lives, as well as bring insight into how we dress today. By mixing together the past with the present, I hope the show will encourage visitors to reconsider their future relationship with fashion.

Charlie Porter
Developed from extensive research, the exhibition in Charleston's large new gallery space focuses on six protagonists: Virginia Woolf, Vanessa Bell, Duncan Grant, E.M. Forster, John Maynard Keynes and Lady Ottoline Morrell. The title comes from a letter by Virginia Woolf to T.S. Eliot in 1920, inviting him to stay: "Please bring no clothes: we live in a state of utmost simplicity". Such words were often used by Woolf and Bell, signifying their break from traditional society.
The exhibition will present many previously unseen items, including necklaces worn by Woolf and Bell in an iconic 1896 photograph with their sister Stella Duckworth; looks from the wardrobe of Bloomsbury patron Lady Ottoline Morrell; a bag, hand-embroidered by Vanessa Bell, which belonged to Virginia Woolf; a first edition of Woolf's 1928 novel Orlando, inscribed to her then lover Vita Sackville-West; and the manuscript for a pioneering essay from 1888 by the painter and critic Roger Fry titled, 'Shall we wear top hats?'.
Fashion from contemporary designers, including designs by Kim Jones from his Fendi Spring-Summer 2021 Women's show inspired by Virginia Woolf, and from his Dior Spring-Summer 2023 Men's collection inspired by Duncan Grant, will be woven through the exhibition. The legacy of the group will be explored in designs by Erdem, Christopher Bailey for Burberry, and Comme des Garçons pieces on the theme of Woolf's Orlando, designed by Rei Kawakubo for the catwalk and the Vienna Opera House. Meanwhile, Charleston itself will be seen as a fashion source, with a series of photographs by Tim Walker for Italian Vogue, shot in and around the house.
The exhibition will also highlight a new generation of designers, such as LVMH Prize winner S.S. Daley, who takes inspiration from the characters created by E.M. Forster; Jawara Alleyne, who will install a new work modelled on Vanessa Bell's use of safety pins in her dressing; and Ella Boucht, who uses tailoring to reimagine gender. There will also be a focus on the role of fashion in Bloomsbury portraiture, particularly mid-20th century works by Bell and Grant, many previously unseen, and an examination of the queer coding of clothes in Grant's portraits.
Bring No Clothes: Bloomsbury and Fashion,13th September 2023–7th January 2024 FREE–£12.50
charleston.org.uk
About
Bring No Clothes: Bloomsbury and Fashion is curated by the writer and critic Charlie Porter. Charlie writes for titles such as the Financial Times, where he was previously men's fashion critic, New York Times, i-D and Luncheon. He has worked at The Guardian, British GQ, Fantastic Man and The Times. His most recent book is What Artists Wear, published by Penguin, and he was a juror for the Turner Prize in 2019.
 

Categories
Tags