DMINTI presents two feminist icons, artists, and activists, Judy Chicago and Nadya Tolokonnikova (founding member of Pussy Riot and Unicorn DAO), collaborating for the first time in a historic participatory project 'What if Women Ruled the World.'
Recognizing a shared passion to inspire all those who share feminist values to come together and make their voices heard at this urgent time for women's rights, the artists took Chicago's inspiring banner, 'What if Women Ruled the World', which was created in collaboration with Maria Grazia Chiuri for the Dior Spring Summer 2020 Haute Couture show, as its source for a new revolutionary blockchain-enabled call-and-response. The artists invite allies from around the world to share their ideas and participate in the creation of an NFT artwork and jointly create a global Web3 community supporting gender rights.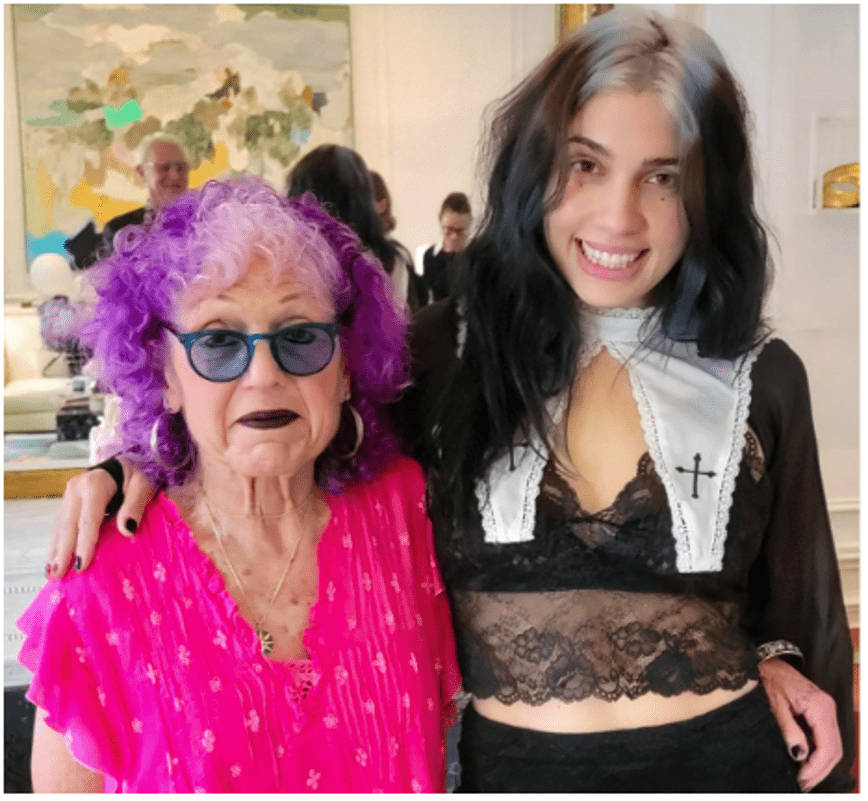 Judy Chicago and Nadya Tolokonnikova will kick-off the project with an event Thursday, December 1st, 2022, 6-8pm, at the ICA Miami, during Art Basel Miami Beach, featuring a live conversation with the artists at 7pm.
The conversation will be live-streamed and presented in the DMINTI metaverse for global access. The project then launches with an invitation to the public to join the artists' efforts and participate by contributing their own responses to the eleven questions of 'What if Women Ruled the World.' Selections from the responses will become the material for the creation of the largest gender rights focused NFT, with shared ownership by all participants. The project will continue to evolve through programming on the DMINTI metaverse and IRL international projects. 
 

 

View this post on Instagram

 
Judy Chicago stated: 
As we watch the gains of the last 50 years being pushed back, Nadya and I have come together to invite people all over the world to think collectively about how to reclaim our world, our humanity, and our planet.
Nadya Tolokonnikova remarked:
Feminist role models and leaders are needed now more than ever, we build on the legacy of the women who fought for our rights. I hope we can inspire more people to speak up for the feminist cause and take action to not ask politely for our rights, but to demand it.
Judy Chicago and Nadya Tolokonnikova:  WHAT IF WOMEN RULED THE WORLD  Launching Thursday, December 1st, 2022, ICA Miami and Live-Streamed on DMINTI.com
Watch a trailer from the artists' video produced by Shifting Vision and directed by Giulia Magno here. 
About the artists
Judy Chicago (born Judith Sylvia Cohen, 1939, Chicago, Il) is one of the most influential artists of our century,  an author, feminist, educator and intellectual, and a 2022 inductee into the National Women's Hall of Fame. Over the course of her six-decade career, social and environmental justice have been the driving force behind some of her most important projects as she continues to fight for equality in the art world for women and other marginalized artists and the protection of all living creatures. Over the years, male curators, and critics, who favored artwork created in the vein of the male-centered art historical canon, often overlooked her work. Rather than backing down, Chicago took on the challenge of changing these attitudes in the art world through the founding of the first Feminist Art Program at Fresno State, CA; the creation of her epic work, The Dinner Party, which sought to counter the erasure of women's history; and the development of a K-12 "Dinner Party" curriculum. In subsequent projects and bodies of work, she has addressed the prescient issues of birth and creation in the Birth Project, the construct of masculinity in PowerPlay, the horrors of genocide in the Holocaust Project, and most recently, the subject of mortality and its relation to the destruction of our planet in The End: A Meditation on Death and Extinction. Chicago took the fashion world by storm with her collaboration with Dior and its creative director Maria Grazia Chiuri for the Spring 2020 haute couture show in Paris. Chicago's career retrospective opened to rave reviews in August 2021 at the de Young Museum in San Francisco. In celebration of her retrospective, Chicago unveiled her largest Smoke Sculpture to date, Forever de Young, seen by more than 35,000 people worldwide. The author of fifteen books, Chicago wrote her definitive memoir, The Flowering, published in July 2021 by Thames & Hudson and cited as one of the best books of the year. The award-winning newsmagazine show CBS Sunday Morning recently profiled Chicago.  https://judychicago.com
Nadya Tolokonnikova (born November 7, 1989, Norilsk, Siberia, Russia) is a conceptual artist, musician, author, activist and the founding member of Pussy Riot, a global feminist protest art movement. Today, hundreds of people identify as a part of the Pussy Riot community. Pussy Riot joined the NFT community in early 2021, co-founder of UnicornDAO, instrumental in raising over $7m with UkraineDAO, a PleasrDAO member, and a supporter of a stronger female representation in the NFT space. 
Tolokonnikova attended Moscow University and received an Honorary Doctor of Fine Arts Degree from Rhode Island School of Design, 2019. She has had numerous museum and gallery exhibitions worldwide, including: "Empowerment", Kunstmuseum Wolfsburg, Germany, 2022-2023;  "Inside Pussy Riot", Saatchi Gallery, London, U.K, 2017; "Zero Tolerance," MoMA, New York, 2014; "Take Liberty", The Museum of Contemporary Art, Oslo, Norway, 2014; and collaborations and public projects including a performance for Banksy's "Dismaland" exhibition, 2015; "Speech Itself – Pen America" with Jenny Holzer, Rockefeller Center, NY, 2022.
DMINTI  DMINTI partners with leading artists and cultural luminaries to best express their vision through the most advanced digital technology and Web3 resources. In DMINTI's metaverse, innovative programs such as Metaverse Mondays connect artists and cultural institutions to global and multi-generational audiences.  DMINTI is dedicated to strong educational initiatives and has become a leader offering live cultural, highly curated experiences in the metaverse. 
DMINTI has produced projects with artists: Ricci Albenda, Sarah Meyohas, Brendan Murphy, and David Salle; and new projects for fall 2022 with Josephine Meckseper and a collaboration by Judy Chicago and Nadya Tolokonnikova. DMINTI Founders: Shalom Meckenzie, Jennifer Stockman, Dominique Lévy, Christopher Jones, Carola Jain. Advisors & Partners: Hani Rashid, Mark Lemley, Franklin Leonard, Ran Neuner.  dminti.com
Shifting Vision is an art production firm working with established contemporary artists on new artworks and films about art. Their approach with each artist is unique, as concept and craft demand equal consideration for any project to reach its full potential. Deeply rooted in collaboration, their passion is providing artists with the technological tools to develop innovative artworks that push the boundaries of conventional forms. They accompany artists from the incubator stage to the exhibitions and value key, long-term relationships with leading arts organizations for the displays and sales of new artworks. They are thrilled to collaborate on this project with Chicago, Tolokonnikova, DMINTI, and Dior.  www.shiftingvision.org
Categories
Tags