Identified as 'one to watch' at this year's London Art Fair, featured in the Financial Times and with work already in the collection of Charles Saatchi and a decorative mural commissioned by Brad Pitt at Chateau Miravel, Marie-Elisabeth Merlin's (b.1968) debut London solo show – Mondes Hypothétiques – is hotly anticipated. This collection of 12 new paintings by the French artist, explores human and animal migration and the power of nature.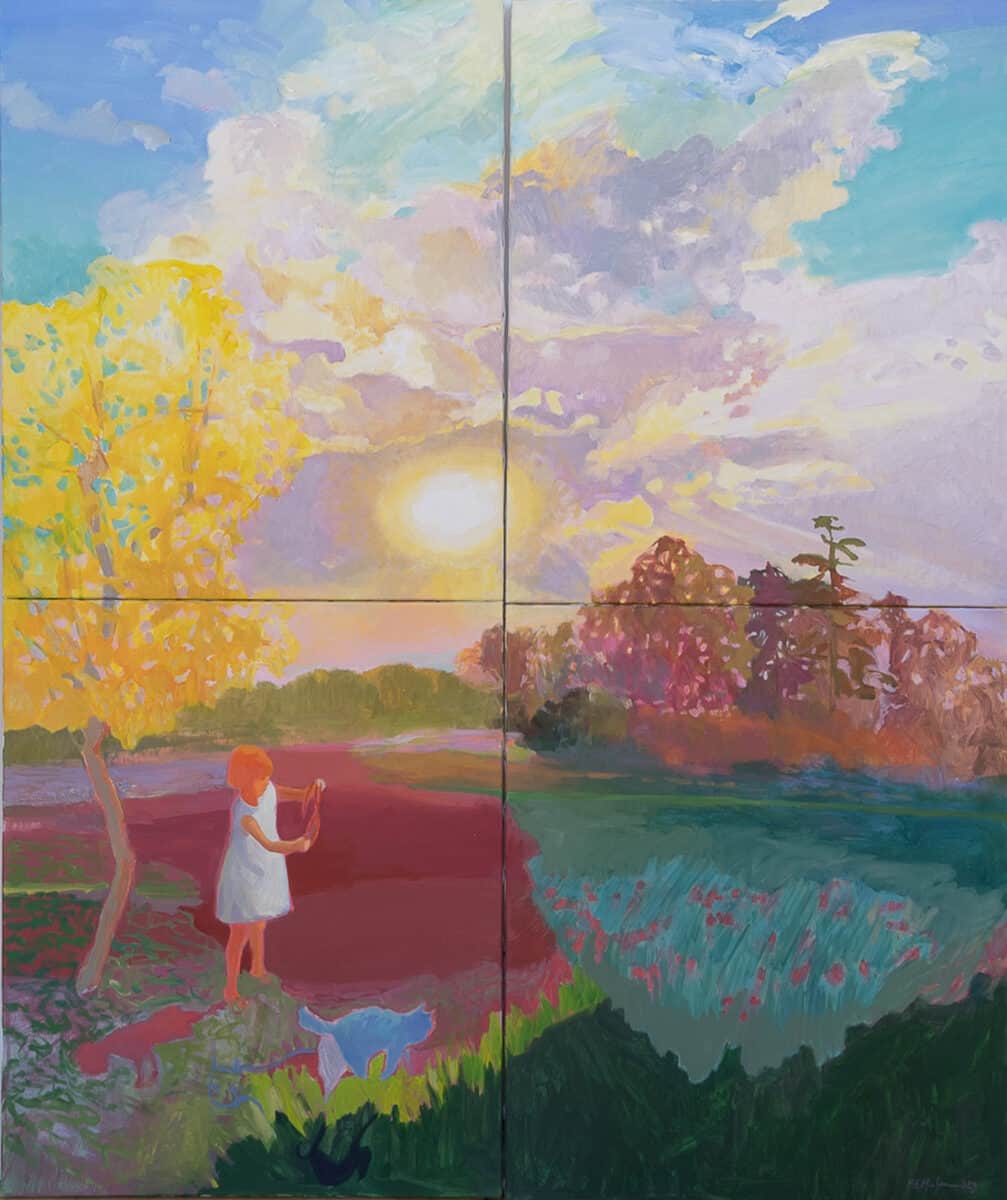 As a child, my imagination mixed with the tales and legends I read with a passion, and the reality I looked at… There are often several stories in a single painting… shadows cast on the ground become characters in their own right.

Marie Elisabeth Merlin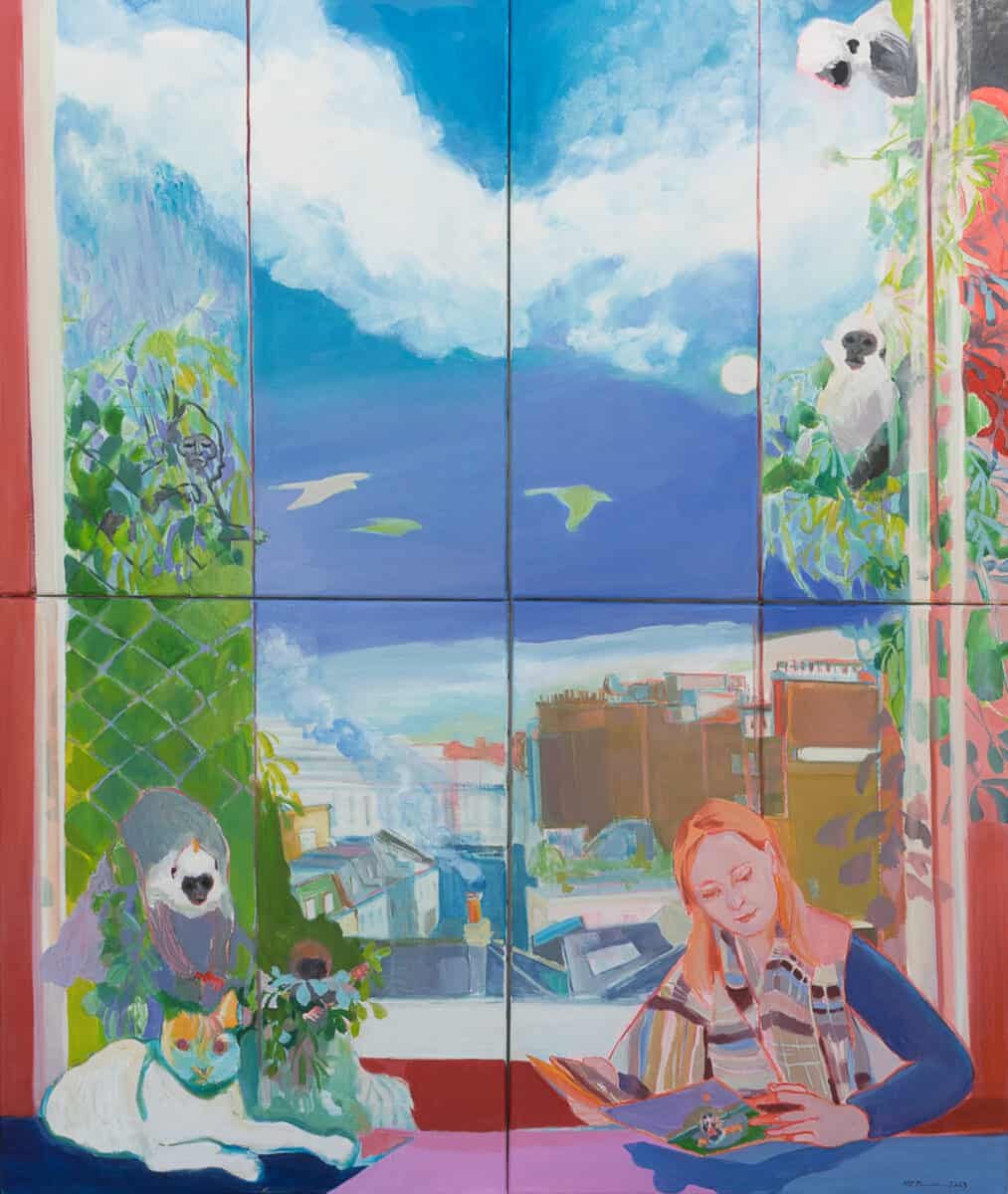 Drawing inspiration from the New Figuration movement, Merlin has rigorously stuck to figurative painting for the past 30 years, working in opposition to the fashionable conceptual tastes of her formative years as an artist. She remembers being called 'old fashioned' and was told there would be no future for her style, but she persevered. 
Wolves, symbolic of womanhood, family, pack mentality and survival instincts, commonly feature, as do indolent monkeys. Another recurring theme is displacement and environmental transformation; human pleasure-seekers find themselves lost in worlds overtaken by tropical plants and displaced animals; apes run riot in west London; dens of vice are transformed into riotous canine caves. Merlin's work does not shy away from the damage we've inflicted on nature but offers hope in the face of chaos.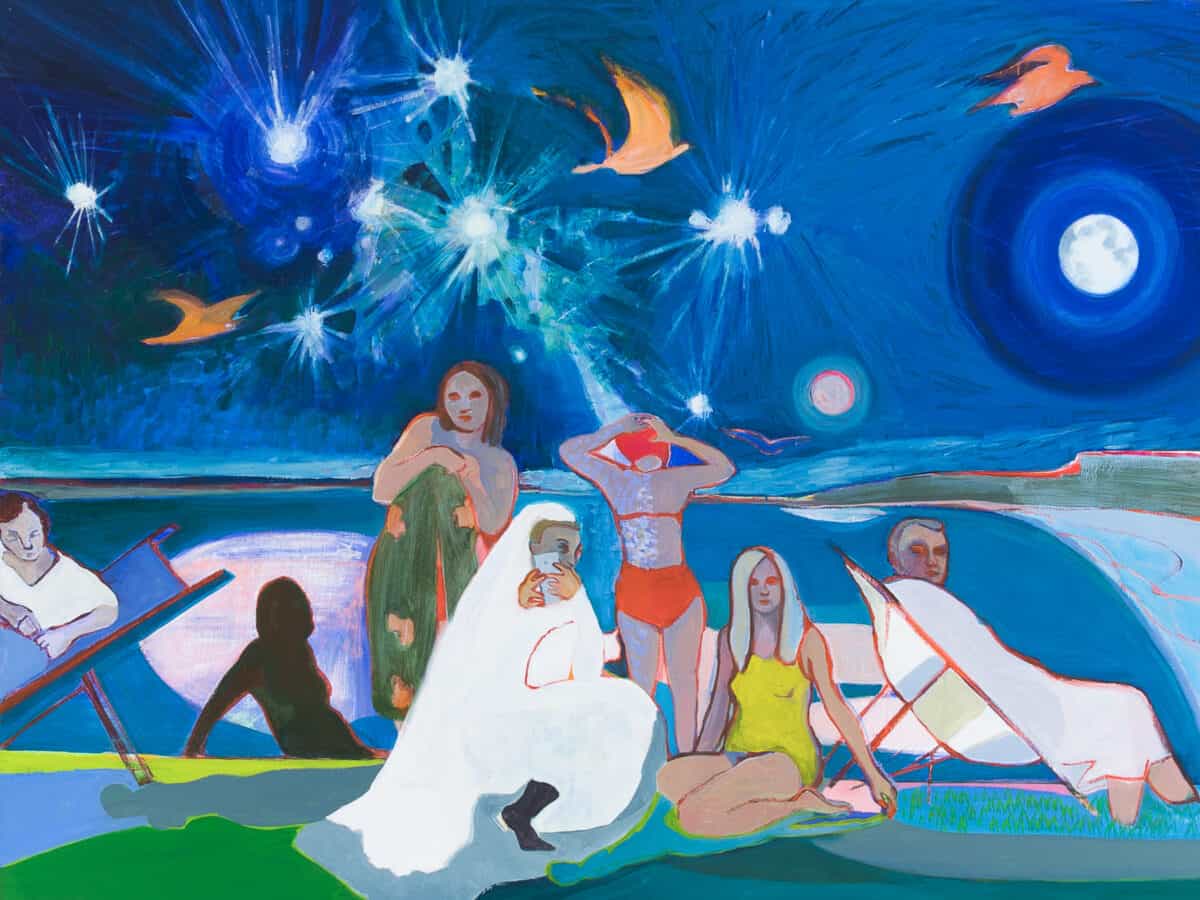 In my painting the animal and natural world is there and surprises us, looks at us, questions us. It puts things in the right place, affirms beauty, asks questions about the respect of the natural world, about our need to dominate and control our environment, our impatience, our dismay and our responsibility – it is not threatening even if it seems cruel or terrifying. It is also about our wonder and passage through invented landscapes, our presence and the relationships we have with them. It is the world (natural and not) and life – life and death.
TIN MAN ART represents Marie Elisabeth Merlin and founder James Elwes has curated this exhibition. He comments:
Emerging from under the radar to new critical acclaim in the international scene, into a market now seemingly fixated on figuration, Merlin stands out with an imaginative edge that reminds us that there is more to art than aesthetic escape. Her paintings contain joy with bite. They contain powerful beauty and invoke her own resilience and independent, witty mind
Marie-Elisabeth Merlin, Mondes Hypothétiques, 31st May – 4th June 2023, TIN MAN ART, 4 Cromwell Place, London SW7 2JE
About the artist
Marie Elisabeth Merlin (born 1968) Aix-en-Provence-based artist Merlin's vibrant work captures both the real and the ethereal. Her dreamlike, visionary painting speaks of both joy and disaster, bringing to the fore environmental concerns, the feminine spirit, family psychology and geographic displacement. Merlin's paintings conjure a world that is both marvellous and frightening. She combines cultures, environments and creatures in paint which evoke feelings of innocence and tenderness tinged with foreboding. Her work reminds us of the damage we have wrought on the world and its inhabitants. Movement, circulation and migration are central. Figuration and abstraction mix as she renders complex narratives where we can ponder love and loss in an immeasurable landscape. Merlin is represented by TIN MAN ART.
Categories
Tags