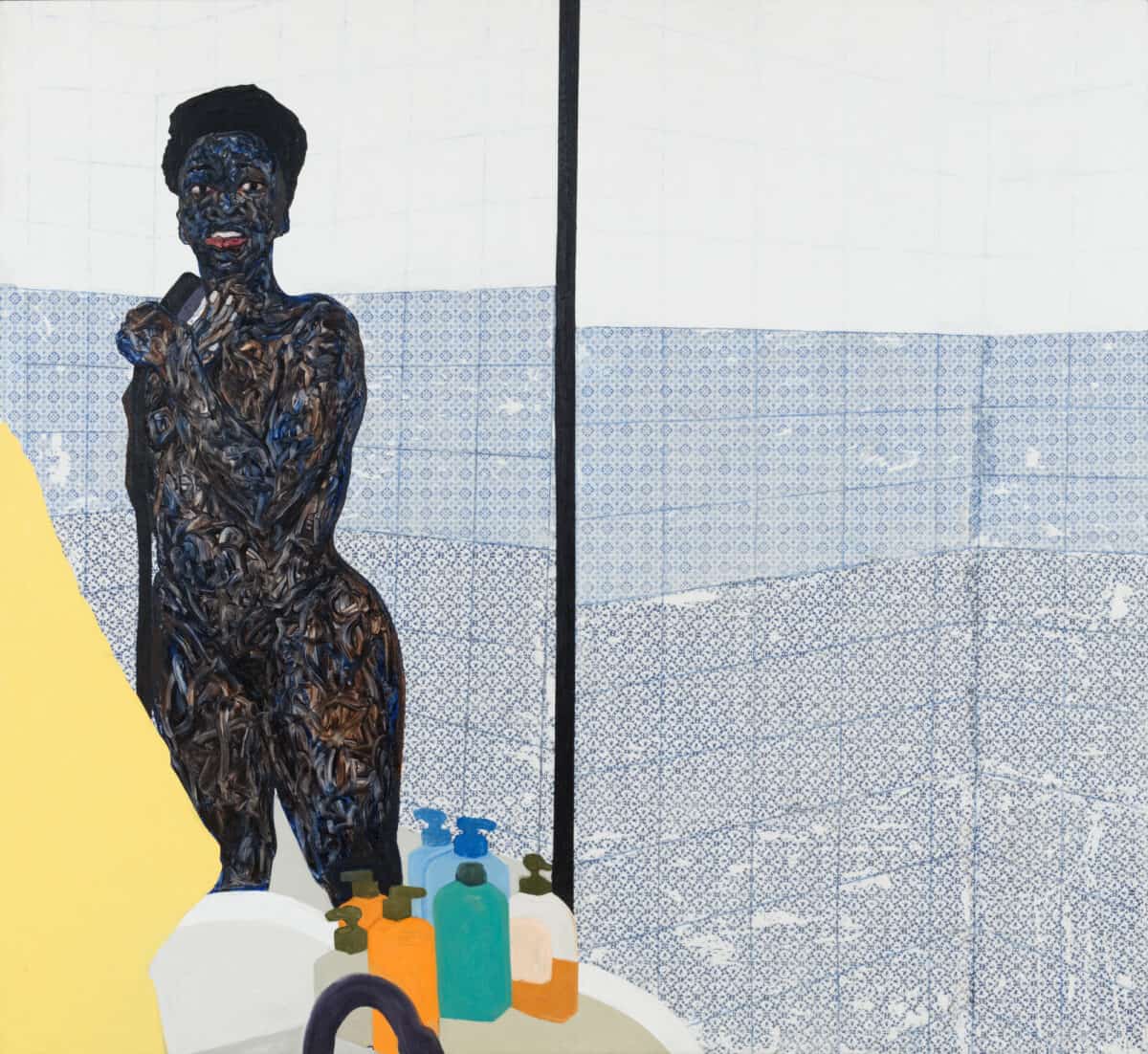 Following Amoako Boafo's debut solo exhibition at Gagosian in New York this past March, Gagosian has announced that an extension of that presentation will travel to the artist's new space, dot.ateliers in Accra.
Sharing the same title as his Gagosian presentation, what could possibly go wrong, if we tell it like it is, the upcoming exhibition will include paintings first shown in New York, with the addition of new portraits.
Boafo, artist and founder of dot.ateliers, noted,
It was great showing my work in New York. Equally important for me is the opportunity to have the works experienced in this space and by the people who inspired and informed this body of work, the domesticity and familiarity of it all. This is also the first major exhibition since our opening last December.
Asserting their presence and identity, Boafo's subjects return the gaze of the viewer, conveying the artist's interest in charisma and individuality. Painted by the artist with his fingertips, the figures occupy domestic interiors, their casual grace reinforced by the settings' familiarity.
Boafo opened dot.ateliers in December 2022 to strengthen and advance the cultural ecosystem of Accra. Housed in a three-story structure designed by architect David Adjaye, dot.ateliers features a gallery, studios, an art library, and a café, and offers exhibitions and residencies that encourage creative expression and experimentation.
Andrew Fabricant, chief operating officer of Gagosian, commented,
We were thrilled to partner with Amoako on his very first New York exhibition earlier this year. His new work was incredibly well received and we are excited to help him realize a second iteration of that exhibition at his space in Accra. He has played a critical role in the development of a dynamic art scene in Ghana, and what he has built with David Adjaye is nothing short of remarkable. For Gagosian's first engagement in Africa, we could think of no better partner than Amoako and dot.ateliers
AMOAKO BOAFO, what could possibly go wrong, if we tell it like it is, May 25–July 6, 2023 dot.ateliers
About the artist
Amoako Boafo was born in 1984 in Accra, where he lives and works. Collections include Baltimore Museum of Art; Hessel Museum of Art, Bard College, Annandale-on-Hudson, NY; Solomon R. Guggenheim Museum, New York; Hirshhorn Museum and Sculpture Garden, Washington, DC; Los Angeles County Museum of Art; Minneapolis Institute of Art; Rubell Family Collection, Miami; Fondation Louis Vuitton, Paris; Albertina, Vienna; Leopold Museum, Vienna; Aïshti Foundation, Beirut; and Longlati Foundation, Shanghai. Exhibitions include Re-Masculinity, Brazil House, Accra (2018); Rubell Museum, Miami (2019); and Soul of Black Folks, Museum of the African Diaspora, San Francisco (2021–22, traveled to Contemporary Arts Museum Houston, 2022; will travel to Seattle Art Museum, 2023, and Denver Art Museum, 2023–24). Boafo was awarded the Walter Koschatzky Kunstpreis in 2017 and STRABAG Artaward International in 2019.
Categories
Tags