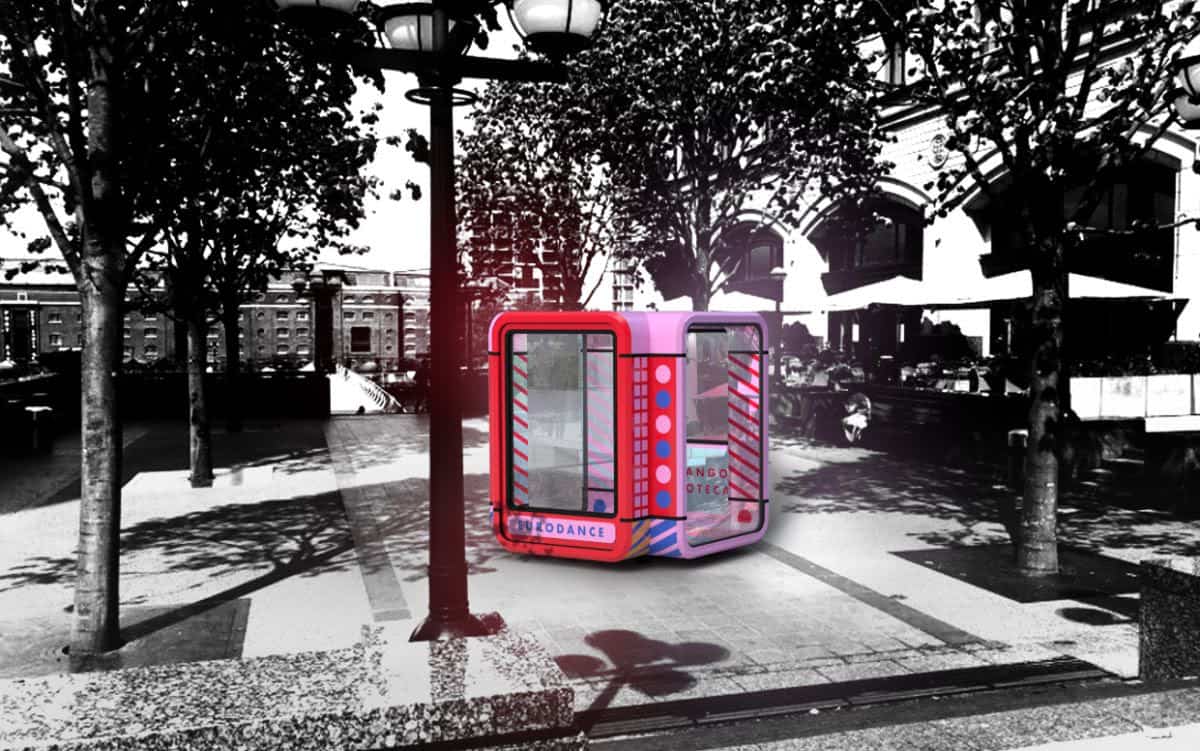 Multidisciplinary artist Annie Nicholson, aka the Fandangoe Kid, believes in the power of art to tackle difficult conversations around mental health. Her latest project, Fandangoe DISCOTECA, invites the public to dance in a micro-kiosk as part of a joyful art installation. Alongside the kiosk, a series of 'Grief Raves' will activate a similar idea at different locations while on tour. 
The project is supported in part through National Lottery Community Funding and will open in Canary Wharf from 26th-30th July 2023.
Covid grief and climate angst
Moved by a desire to help people deal with grief and angst caused by Covid-19, Brexit and the climate crisis, Nicholson wants to create a space where the public can shake out grief and unravel their climate angst.
Nicholson is collaborating with The Loss Project, K67 Berlin and Street Soundsystem to realise this ambitious public art project. The kiosk is a refurbished K67 kiosk, a modernist design gem associated with ad hoc post-Soviet spaces – chip stalls, newspaper stands, student cafes, shelters – which evokes a legacy of European unity and collaboration. Saša Mächtig, now in his 80s, has expressed his delight about the project and intends to partake when possible. 
For Annie, the transformative power of dance has been important for her personally.
After my sister died,

I felt it was a direct line to her. Songs are really sensory to me and Sonia. If I play some of these tracks now, I'm transported right back to that time – there's a real comfort in that.

During times of grief or anxiety, it can be difficult to find joy. But dancefloors bring people together in powerful ways, and allow people to process complex feelings in a physical way. "The dance floor has been a space of silence and safety as I have navigated the many great losses and painful grief in my life throughout the past decade, and having successfully installed public realm projects around grief and mental health over the past two years, we have noticed a distinct change in how people wish to connect and come together. There is an overwhelming need to shake out your grief physically right now.

– Annie Nicholson, aka the Fandangoe Kid
Revitalising a design legacy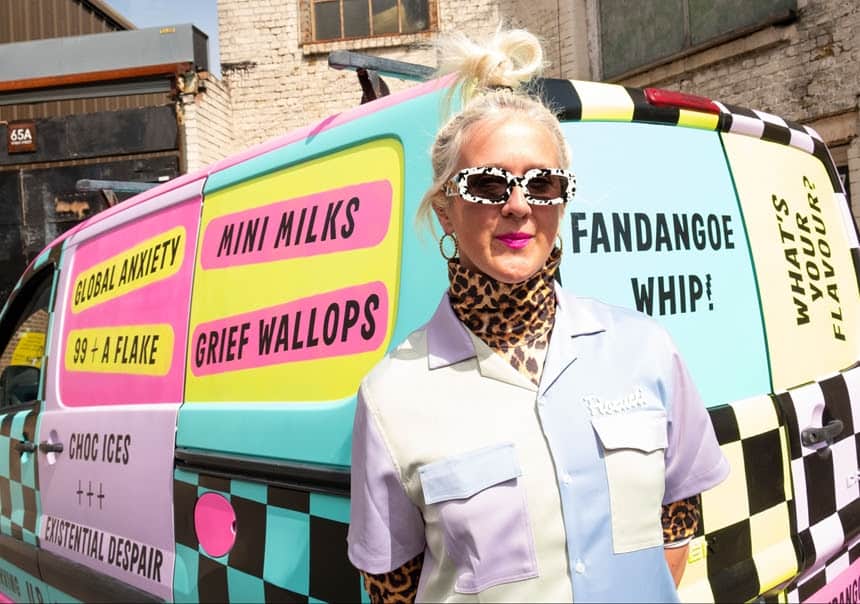 Stretching from Poland, Japan, New Zealand, Kenya, Iraq, the former Soviet Union, and the United States, the K67 kiosk is a gem of modernist design that has travelled all around the world. 
Conceived by Slovenian designer Saša J. Mächtig over 50 years ago, this simple modular unit was created at a time when designers were excited by the potential of mass production. Since then, the K67 kiosk has been readily adapted for numerous functions: retail, ticket booths, cafes, fast food and other necessities of public space.
The kiosk has been celebrated by magazines and museums alike and is part of the permanent collection of MoMA, New York. Nicholson is returning to the storied K67 kiosk to tackle contemporary conversations around mental health. Following extensive grief experienced during the Covid-19 pandemic, fears sparked by Brexit and looming anxieties around the climate crisis, Fandangoe DISCOTECA transforms the storied kiosk into a mini-disco, inviting the public to shake off grief and anxiety in an ad hoc communal space.
Programming
Fandangoe DISCOTECA and Grief Raves will feature as part of Festival 14 at Canary Wharf. Their programme, curated by Carly Attridge of The Loss Project, includes a range of therapeutic workshops, events and activities delivered by local practitioners and invites the public to enjoy music, meet other people and contribute to a collective playlist as well as being able to access other resources online.
Events include: The flagship workshop is a grief rave hosted by Annie Nicholson, Carly Attridge of The Loss Project and StreetSoundSystemThe Shoopery is a series of music, games and movement to overcome anxiety, fear and doubt
A range of movement and dance-based workshops
Live music including bands and DJs, Special guest workshops from exciting people- line up to be announced in May 2023
Different artists, including Paul Gorman, Lara Haworth and Raissa Pardini have been invited to create playlists, and there will also be access to the archive of Grief Mixtapes from Soho Radio (Available here: sohoradiolondon.com/the+grief+mixtape.
Fandangoe DISCOTECA: 26th-30th July: Canary Wharf, London & September 2023: Berlin closing party – Grief Raves: 1st May: Culture Weston, Weston-super-Mare & 24th -27th August: Greenbelt Festival – An updated schedule can be found online: fandangoekid.com/the-fandangoe-discoteca
About
The Fandangoe Kid (Annie Nicholson) is a multidisciplinary artist, who makes work predominantly for the public realm. Her practice seeks to create platforms for dialogue on the complexities of life, death and the human condition. Her practice has been documented for the past year by BBC World Service in a broadcast released in November 2022. The artist has recently developed The Hope Exchange as part of London Design Festival's 20th anniversary, a permanent space for Londoners to escape their hectic lives. She runs a regular radio show called The Grief Mixtape on Soho Radio and her book Tender Hearted Bold Moves is available to buy, published by Rough Trade Books. She has several permanent installations in London and her work has been documented by Channel 4, BBC, and Creative Review. Her made to wear pieces have appeared at the BAFTAs and inside Vogue Italia and her debut film Into Your Light was screened at Tate Modern and on Manhattan Bridge.Website: www.thefandangoekid.com
Instagram: @fandangoekid
Twitter: @fandangoekid
Kiosk K67 is a modular space system by the Slovenian architect and designer Saša J. Mächtig. K67 was designed as a flexible multi-purpose structure that can be used in manifold variations and configurations and can almost be expanded endlessly.With its smooth plastic shell, mostly in bright primary colours, the kiosk has shaped the streetscape of many urban centres in Eastern European countries since the 1960s. In the 1970s, a first-generation K67 was added to the collection of the Museum of Modern Art (MOMA) in New York. In 2018, MOMA included a K67 kiosk in the exhibition "Toward a Concrete Utopia: Architecture in Yugoslavia, 1948–1980". In the same year, we were able to place our first completely restored K67 kiosk in Berlin Kreuzberg. Under the name KIOSKI, it is quite popular as a café and snack bar but also as a design attraction in the city centre of Berlin. K67 Berlin aims to track down historical K67 kiosks, renovate them and bring them back to city life. k67.berlin/
The Loss Project
Loss is a universal experience that will affect us all at some point in our lives. We have never lived through such a pertinent time where loss has been propelled to the forefront of our minds. Many communities are still facing significant and multiple losses of loved ones, income, connections, and community to the detriment of mental health and wellbeing. The Loss Project, founded by Carly Attridge, supports communities with grief and loss in all its forms. We use creative practice, movement, and nature as ways to help people to acknowledge, explore and process their experiences and support wellbeing. We're on a mission to challenge the status quo and to host life affirming spaces that give people the tools and confidence to journey through grief. Our expansive work includes on and offline programmes, training and workshops, and creative projects, such as our work with the Fandangoe Kid. The Loss Project was recognised for its work during the pandemic in the Social Enterprise UK Roll of Honours 2020, and Carly was included in the UMI Social Entrepreneurship Index Awards 2022. thelossproject.com
Street Soundsystem
Street Soundsystem is run by the inimitable Nick Garcia, who knows how to create spaces for healing and togetherness via music, like no other.His self made and carefully crafted soundsystem travels around London every week, pitching up at a new location each time, gathering a crowd who now come from far and wide to play vinyl, tapes and CDs and share stories. Crucially, every event is free and accessible to all and delivered with love and care.
Categories
Tags