Tabish Khan the @LondonArtCritic picks his top exhibitions to see right now, this week it's all about work to see outdoors. Each one comes with a concise review to help you decide whether it's for you. Those looking for indoor exhibitions should check out his top exhibitions to see in early August, where all but one are still open to visit.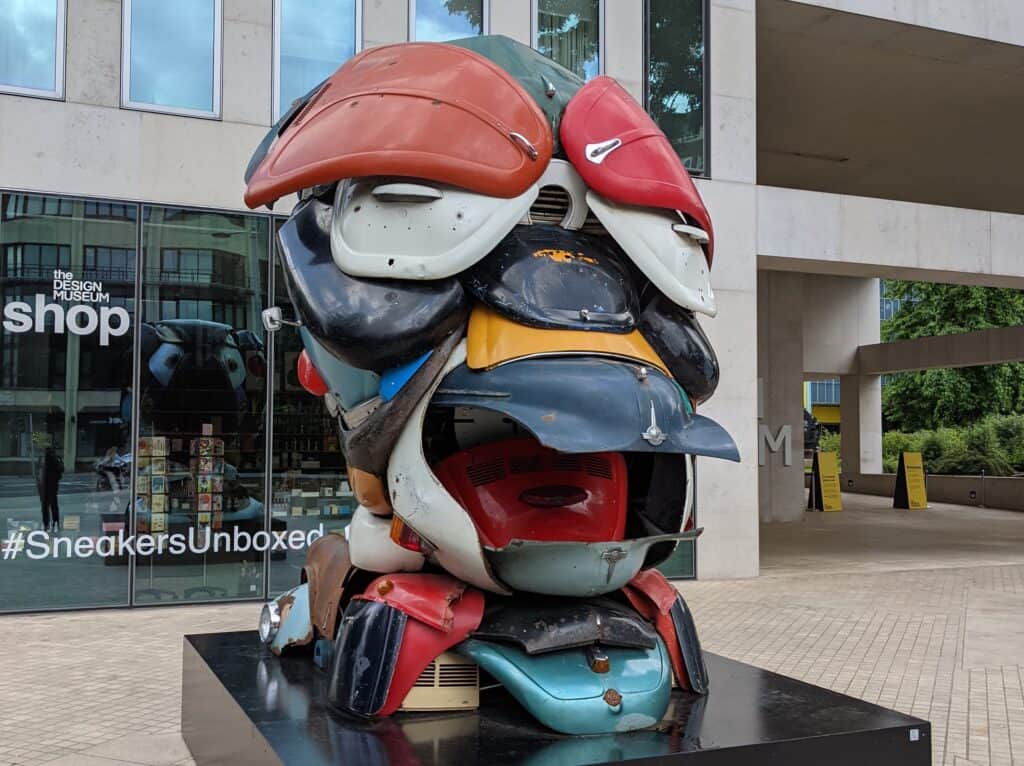 Kensington and Chelsea Art Week public art trail
Uplifting neon messages by Lauren Baker, a head made out of car parts by Zak Ove outside Design Museum and a colourful pleasure garden by Baker & Borowski outside Earl's Court station. Kensington and Chelsea art week may be over but the public art trail across the borough is still on view – for full transparency it's important to note I was on this year's selection committee. Plus the wider Kensington and Chelsea festival is ongoing and will be featuring Luke Jerram's stunning recreation of the moon. Until 31 August.
Dodge @ Somerset House
Everybody loves a go on some Dodgems to take them back to their childhood. This version in the Somerset House courtyard has an arty twist with the bar and booths designed in Yinka Ilori's trademark colourful style and Anna Meredith has teamed up with Nick Ryan to create an interactive sound piece that reacts to the dodgems striking each other. Until 22 August.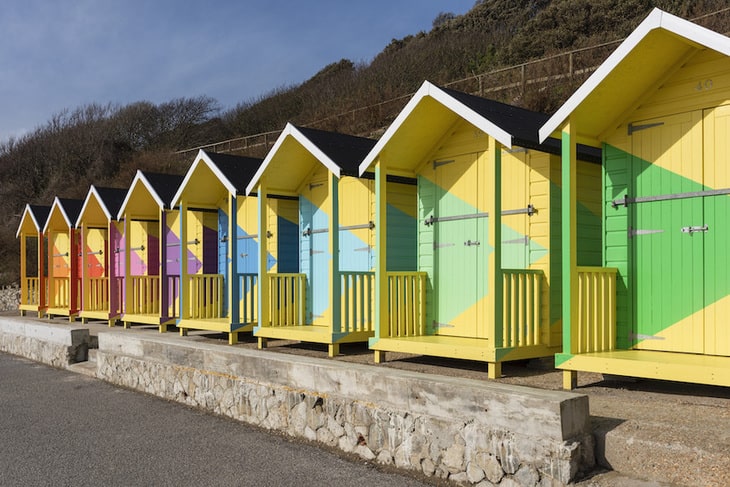 Folkestone Triennial: The Plot
This year's triennial returns with some excellent highlights including a virtual reality work by Shezad Dawood that looks at overfishing where where we become a squid like creature exploring the ocean, a lantern on top of the Islamic Centre to bring attention to this important building in Folkestone and Rana Begum's colourful painting of the beach huts to bring some colour to the seafront. As Folkestone retains works from each triennial visitors also get to see previous works including the colourful houses by Richard Woods and the Antony Gormley statue that may only be visited at low tide. Until 2 November.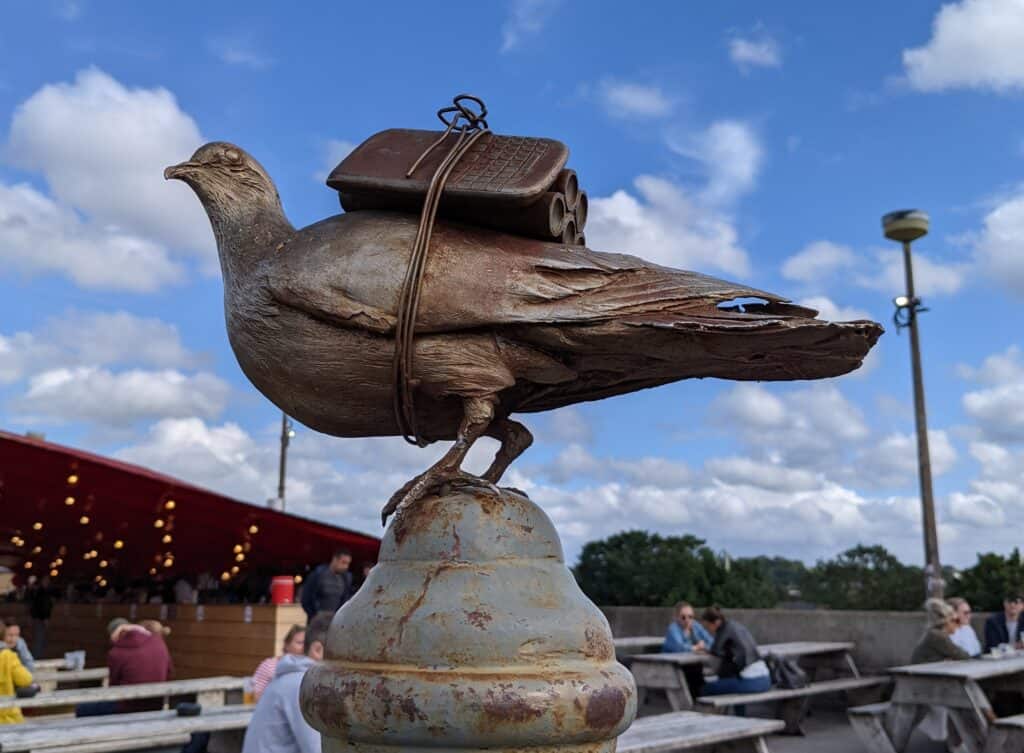 Bold Tendencies 2021: Arcadia
Back again for another year of placing art on top of a multi-storey car park in Peckham the Bold Tendencies artworks includes a colourful slide with eyes by Harold Offeh and a work by Andy Holden that you have look at through a telescope as it's situated on the roof of the Peckham library. A favourite of mine is Adel Abdessemed's pigeon strapped with a phone and dynamite noting the culture of fear we live in. Plus the chance to eat and drink at the fantastic Frank's cafe is a great bonus. Until 12 September.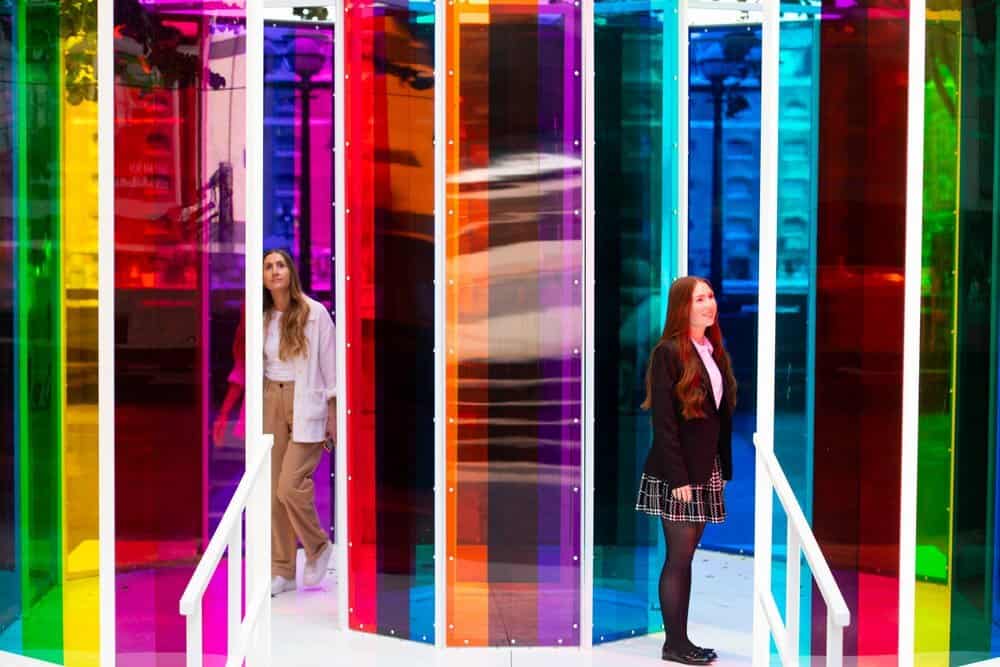 Summer Lights @ Canary Wharf
After years of successful incarnations of light art works after dark as part of Winter Lights, the Canary Wharf estate now has some colourful work to see during daylight hours. There's a colourful walk in prism by Liz West, we can sit at the Sun pavilion by Morag Myerscough and Aphra Shemza's Augmented Reality work that let's us listen to the sound of the nearby water. It's great to see Canary Wharf bursting with colour this summer. Until 21 August.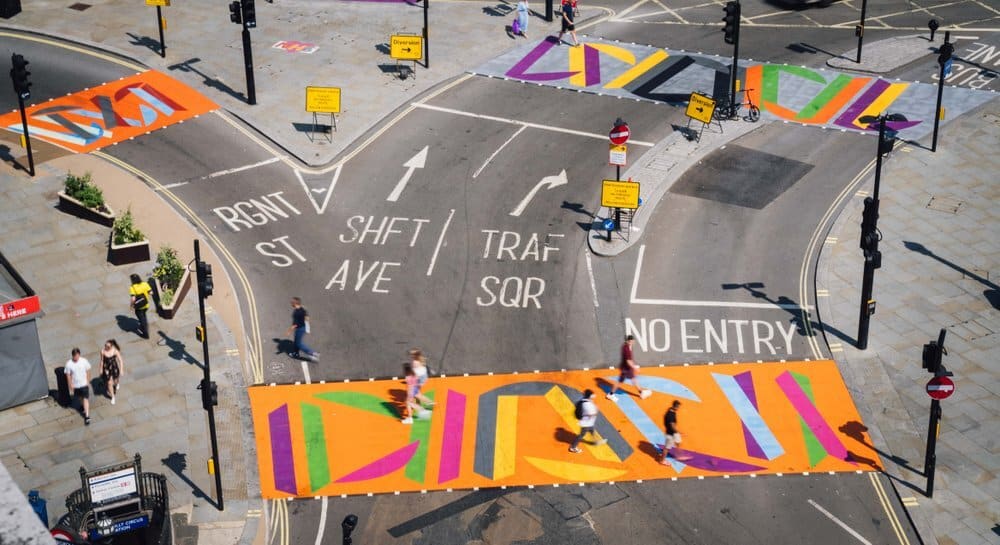 Piccadilly Art Takeover
Piccadilly and the area around Piccadilly Circus just got a lot more colourful with a series of flags and some jazzy pedestrian crossings designed by Royal Academician Vanessa Jackson. It's a simple concept that brightens up one of London's busiest areas and welcomes visitors back to one of London's art hubs. Until 31 August.
KCAW & Bold Tendencies images copyright Tabish Khan, Summer Lights photo: David Parry/PA Wire. All other images courtesy and copyright the specific initiative.
Categories
Tags