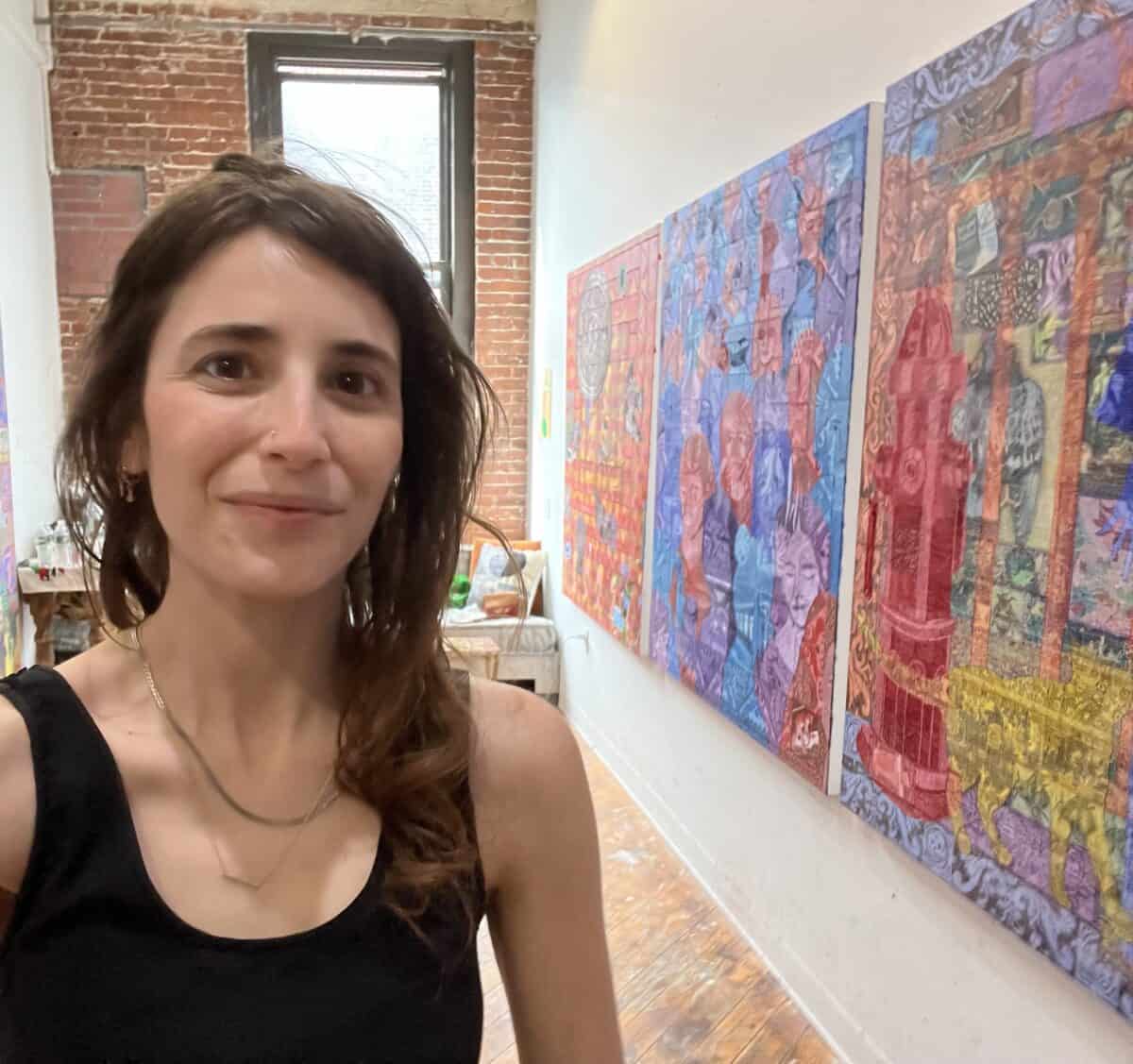 Talia Levitt is a Brooklyn-born and based artist who creates complex, diaristic paintings using a variety of inventive methods to apply acrylic. Reminiscent of 17th Century Dutch painting, which depicted a diversity of objects, Levitt incorporates similar themes and elements such as flowers, fruit, candles, skulls, as well as utilitarian tools and objects such as gears, pencils, books, and clothes. Levitt employs the use of these objects to highlight life cycles that are birth, growth, family, menstruation, love, loss and death.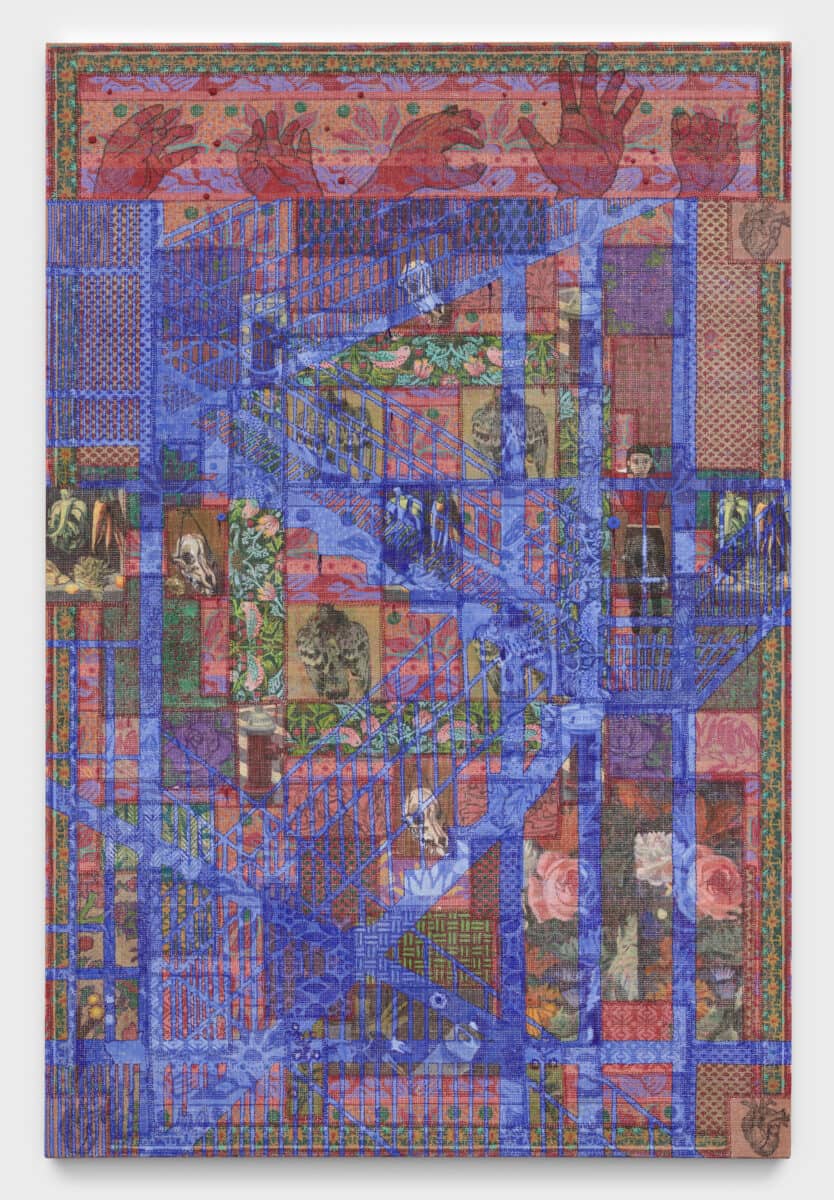 The distressing of the canvas through scraping and the cast objects of acrylic paint skins provide illusions of material, process and depth that draw viewers further into the work. Levitt's materiality is straightforward, it is the meticulous application of paint that provides allurement.
Levitt trained as an illustrator at The Rhode Island School of Design where she received her Bachlors in Fine Arts and focused on painting at Hunter College, NY, where she received her Masters in Fine Arts.
Her exhibition 'Schmatta' is open at Rachel Uffner Gallery on May 6th and runs through June 17th
Phillip Edward Spradley: Can you please describe what 'Schmatta' is and how you are connected to it?
Talia Levitt: Schmatta is the yiddish word for 'rag'. The Garment industry in the Lower East Side was referred to as 'the schmatta industry' by Eastern European Jewish immigrants in the early 20th century because the majority of workers in those factories and sweatshops were Jewish. As a Jewish, fourth generation New Yorker, I have become interested in learning about the mostly young, female workers who composed the largest industry in New York around the time that my ancestors moved here.
The term, 'schmatta', may also be used to refer to a children's blanket- which especially resonates because I like to think of the paintings as imbued with a certain tenderness and care that a child may associate with their schmatta. Additionally, a child's blanket is presumably dragged all over the floor, stained with the whereabouts of its owner. My paintings keep track of time similarly, but perhaps more literally, or illustratively.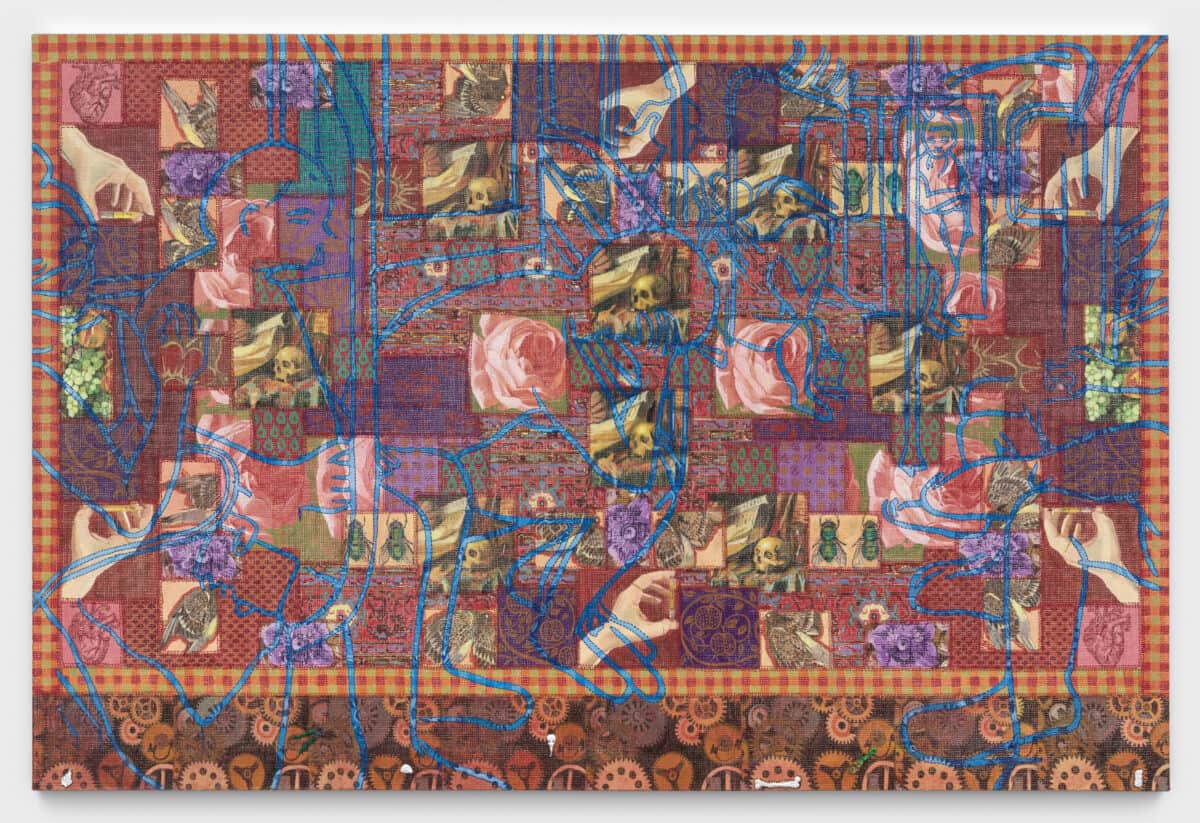 Like thread, acrylic paint is completely malleable. With this knowledge and your being highly dexterous with a paintbrush, you are able to bend the paint to your will and create Trompe-l'œil quilted canvas. Can you elaborate on your own relationship with textiles?
Sure! My mom taught me how to sew as a child, and we actually still collaborate on fashion projects together. She learned to sew from my nana, who made military uniforms in the garment district during WW2. On the other side of the family, my gramps was raised above his parent's laundromat in Bushwick, where he also worked with his brothers. So I guess, cloth is in my blood…
What I love more specifically about old fabrics and quilts though, is that the aesthetic of them can communicate a broad sense of nostalgia and comfort. Therefore, the employment of quilts as a scaffolding for the paintings can ease the viewer into deeper, sometimes darker historical and sociological conversations.
Your works are a mixture of still-life painting and tapestry. Your application of paint and mark making are meticulous and provide depth and density that can be examined thoroughly as the paint invokes different processes than they were actually made. What are sustained methods that you employ?
I invent or research different paint applications as I've needed to mimic various surfaces. For example, I initially began scraping my paintings with a knife and straight edge in 2019 at Skowhegan, when trying to paint the screen door of my studio. I thought that there has to be a better way for me to describe this than painting every individual line of the screen with a tiny brush… Painting has always been a 'necessity is the mother of invention' kind of experience.
Now, I employ methods like, piping paint out of the corner of a zip lock bag (like icing a cake) to mimic stitching, or I'll use casts that are typically used for chefs to make gummies or chocolates in order to create buttons, gemstones and bones to embellish the paintings.
Lastly, collecting has always been a part of my process, and by that I mean, amassing books, rocks, shells, patterns etc to reference in the work as well as regularly seeing art in galleries for excitement and inspiration.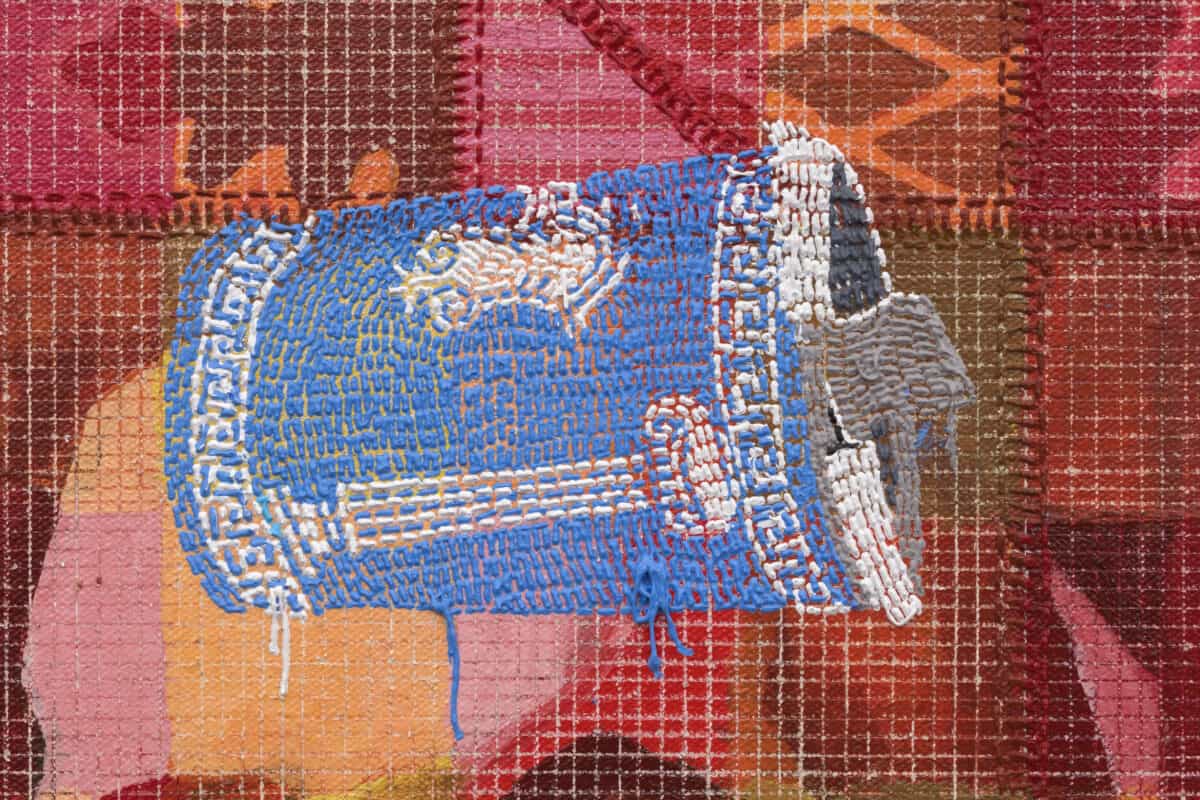 You have a consistent color palette. Your canvases are rich with a variety of blues and reds. What draws you to these specific hues and in what ways are they significant?
For the show, Schmatta, that is currently up at Rachel Uffner, I heavily utilized blue and orange in reference to the official colors of New York State (the show has New York threads which I can go into later on). I'm also interested in other common references to blue and red, such as 3-D glasses, which is apt because illusion is vital to my work. But generally I'm attracted to contrasting color pallets because of the distinction it creates between the foreground (in my case, the narrative silhouettes) and background- it can keep the eyes buzzing.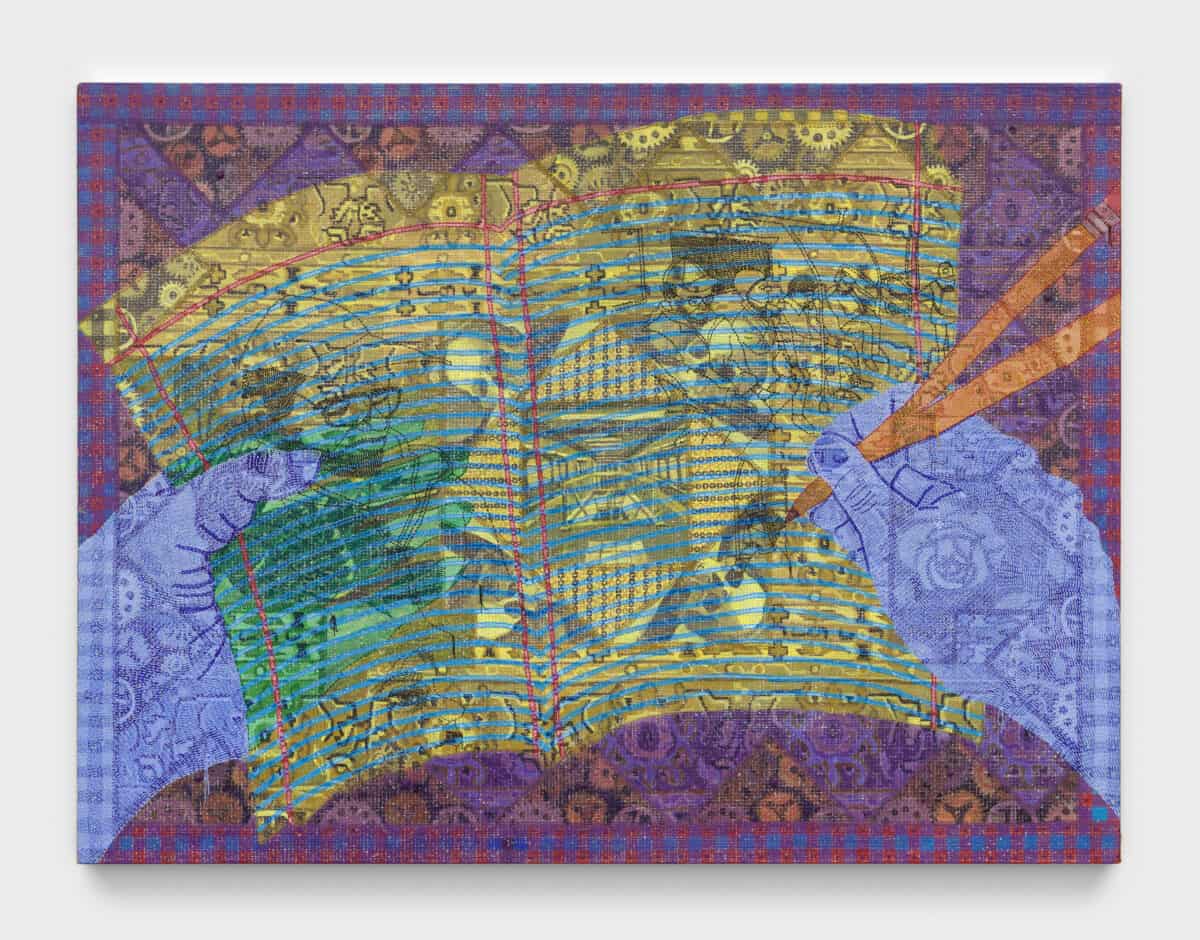 Some of your paintings have a nearly perfect bilateral symmetry, like an inkblot, can you share the ideas and decisions making in creating these particular paintings?
I love this question as it's a perfect segue from the use of illusion. While at first glance some of the paintings may look symmetrical, as you said, none of them actually are. Sometimes, I will mirror 'patches' of the 'quilt' on two or four sides of a canvas, but never all of the 'patches'. I'm interested in how the narrative imagery atop the background can also negate or further enforce the perception of symmetry. For example, the narrative silhouettes are never symmetrical, yet the paintings can still appear as such because of the background. It's a sneaky game I play with the viewer, that will hopefully entice them into a closer experience looking, as they will find more inconsistencies the longer they stay with an image.
Eyes are also a prominent recurring theme in your paintings and provide another layer of engagement. Are these eyes portals for us to gaze into or windows for the painting to look out at us?
Both. Eyes are also easy to project into emotionally. Hopefully they assist to establish a relationship between myself, the art, and the viewer.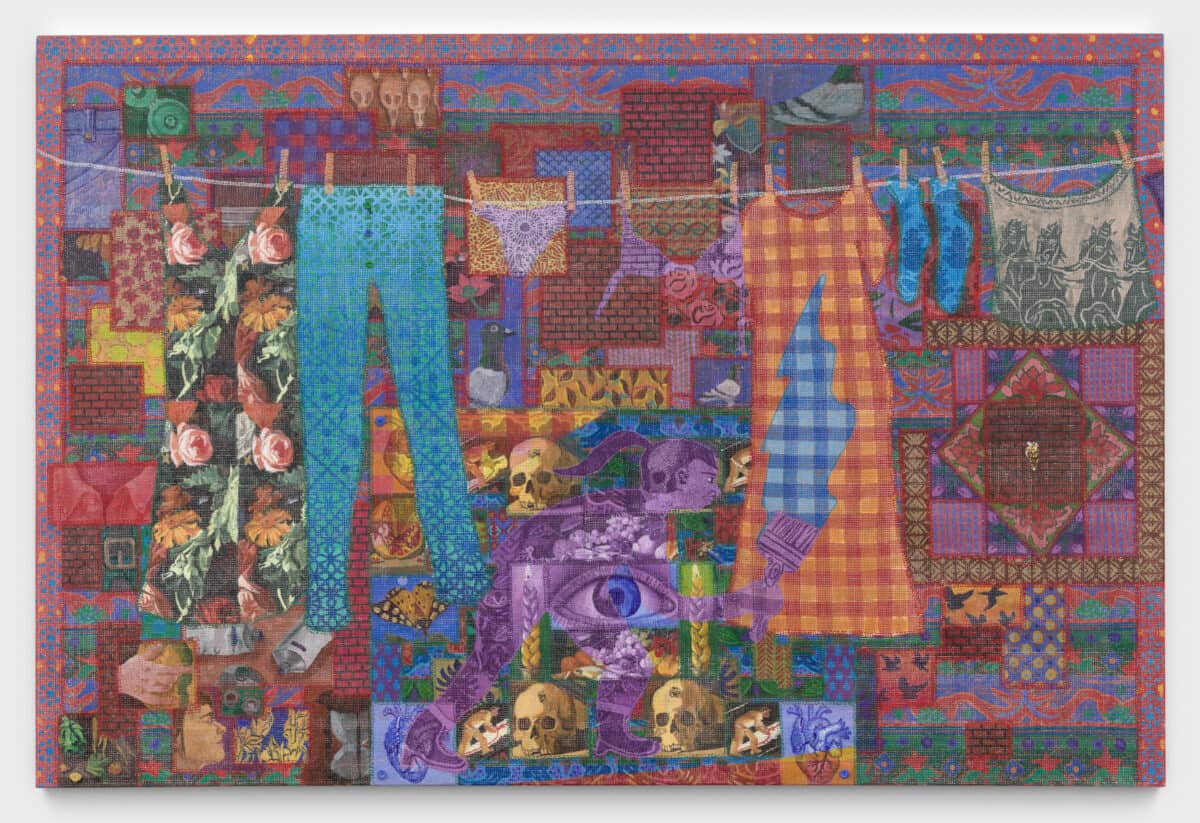 Your work explores the concepts of femininity. Nature and the body are constant themes. You have featured the moon along with IUDs, references to blood, as well as eggs and seashells. What universal truths do you want viewers to take from your work?
There Isn't necessarily a universal truth that I am trying to express as much as universal experiences or emotions that I'm trying to elicit, like comfort, empathy and allure. I want the paintings to evoke the type of person or friend that I want to be- kind, mischievous, clever, empathetic, generous. Ideally, the paintings could help the viewer feel less alone as well as immersed in the experience of looking.
I also want the paintings to give the impression that the viewer is looking at something which is deeply cared for and felt, so that they feel they are experiencing something special.
I know that's a lot to ask of still images, but…I can aspire.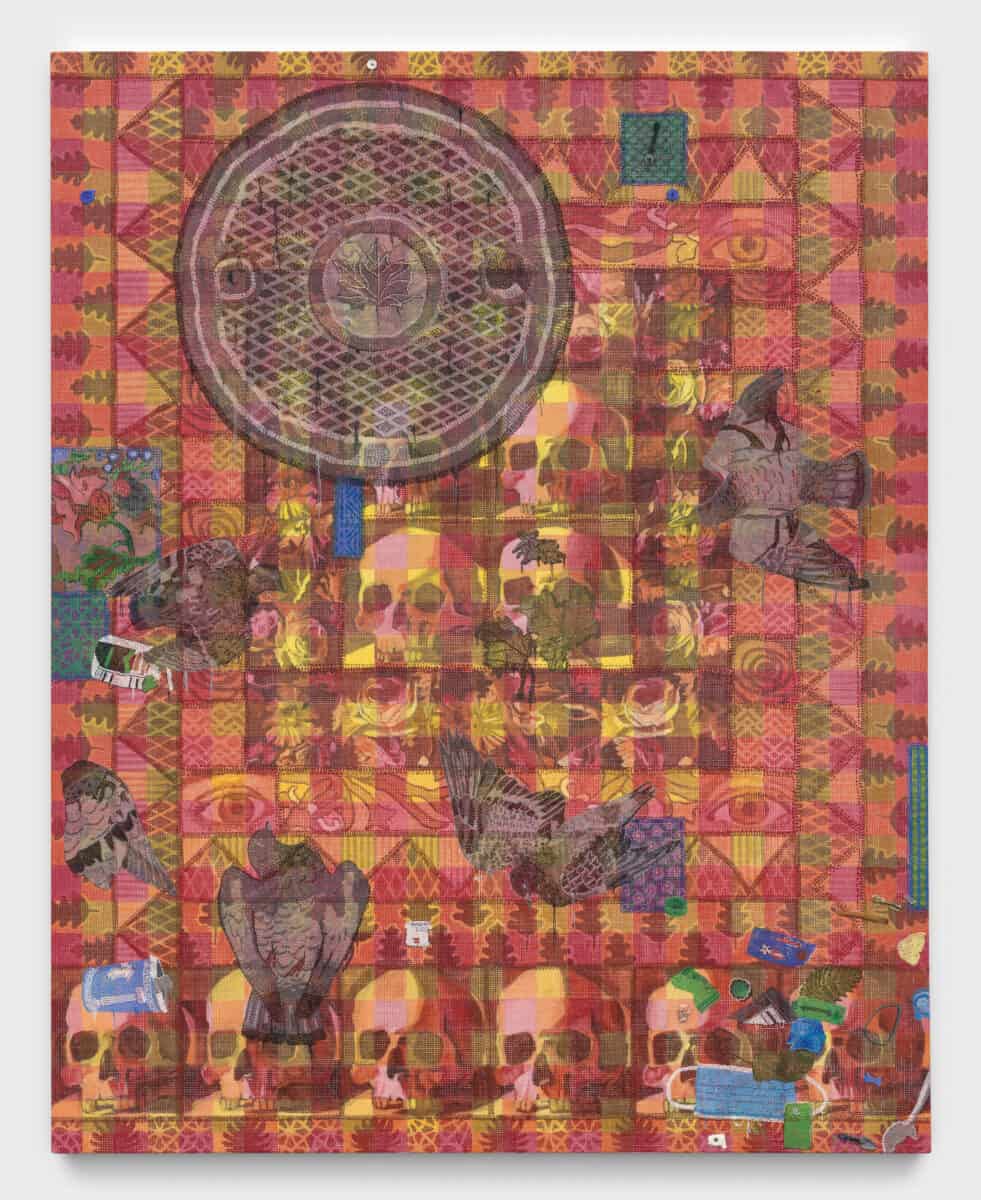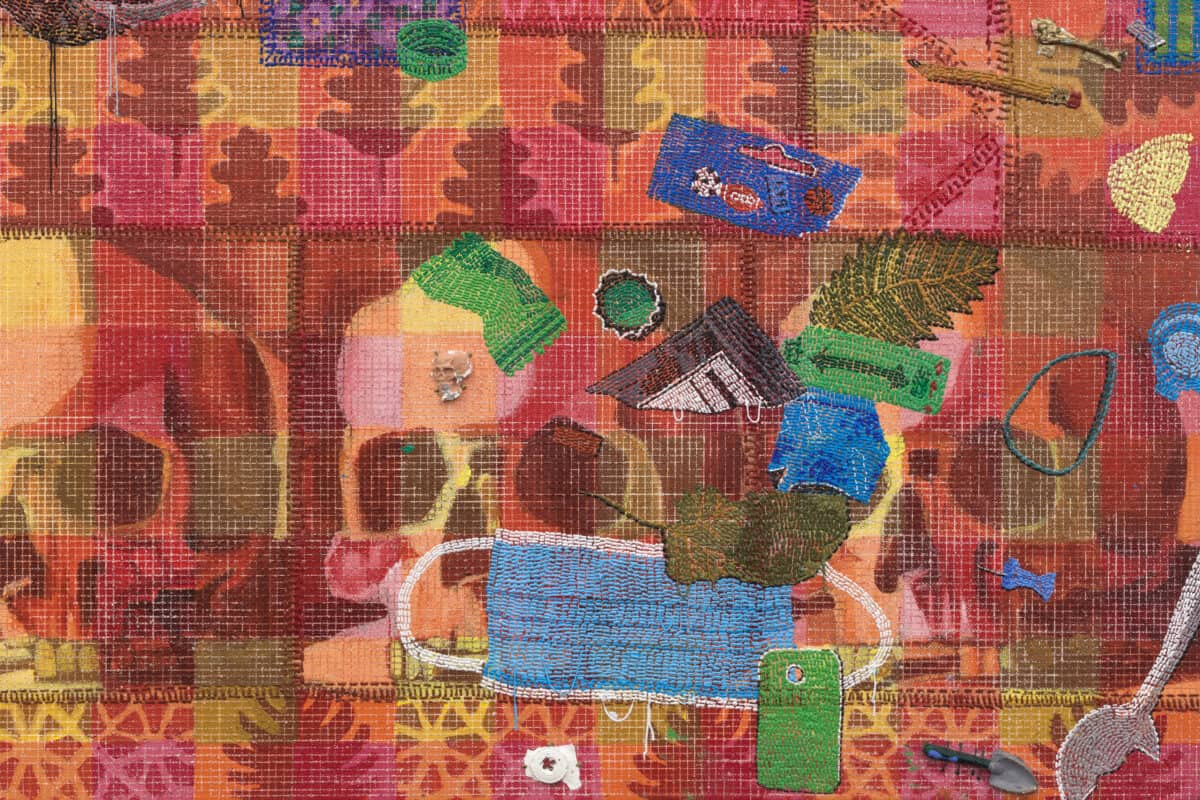 Do you employ socio-political research and history when conceiving your paintings or are the ideas focused on the contemporary space and time within our society?
Again, both. For my show, Schmatta, at Rachel Uffner, I did much research into the garment industry in NYC to provide context and content for the work but also to help me to connect with my roots. The painting ?23-29 Washington Place, Greenwich Village for example, is an ode to the workers who perished in the Triangle Shirtwaist Factory fire, which, in 1911 was the largest workplace fire in New York City on record at the time.
It is perhaps more important though, that viewers can relate to or feel for the work in this time. I do not rely on the public to have specific knowledge of New York history or the golden age of Dutch still life painting, for example, but rather hope that there is enough universality and contemporaneity in the work that viewers are able to identify with. References to the pandemic, for example, are littered throughout my newest works, as are common American objects, foods, trash and depictions of everyday urban experiences, like riding the subway or waiting in a crowd.
The process of finding the silhouette narrative amongst the busyness of the quilted backgrounds, harkens to a modern experience of looking, as we are bombarded with more imagery and information than ever. It can be all the more difficult to find clarity and purpose amongst so much chaos. Lastly, the way that I mediate the paint is contemporary as it blurs the line between truth and fiction and capitalizes on the new potential of and inventions in acrylics.
Follow Talia Levitt on Instagram at @tallevitt and learn more about her exhibition 'Schmatta' by visiting Rachel Uffner Gallery.
Categories
Tags