Sahara Longe is an oil painter who was born and is currently based in London, UK. Classically trained as a painter, Longe's works nod on Old Masters' subject matters as well as their methods. She approaches a canvas with all the training and discipline from painting and drawing live figures, while reinventing the identities of the prominent figures in central positions of power to reflect not only her personal background but the contemporary world.
Her works are sympathetic as the figures are engaged with familiar social settings and interactions of street and party scenes, yet they are slightly at distance because of the elegant and austere positioning.
Using a soft touch and rich bright colors, Longe is able to capture the attention of an audience and transport them to a place of recognition and longing. The flat color blocking is enhanced by the simple and purposeful brush strokes. Longe is able to take phenomena within nature and human interaction and make it more beautiful.
Longe's solo exhibition at Timothy Taylor Gallery, New Shapes, opened on June 2nd and runs through July 8th, 2023. This is her first solo exhibition with the gallery.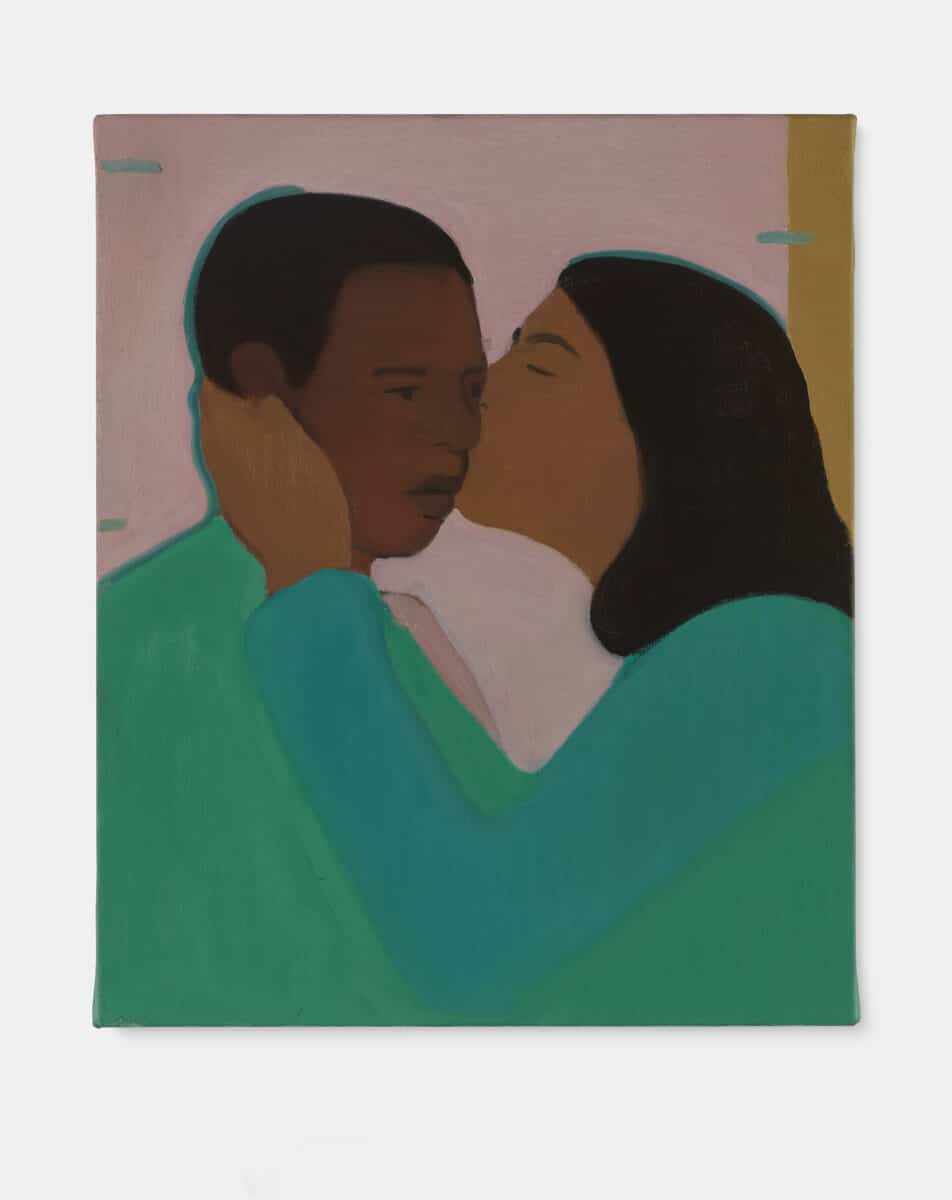 Phillip Edward Spradley: Can you elaborate on the choice of your exhibition title, New Shapes?
Sahara Longe: This past year I've used a much more flatter style. I found when I got rid of intense brushstrokes and highlights and other modeling techniques that guide the eye around the painting, I was left with an image that didn't flow in the way I liked. I was looking at lots of German expressionists and Fauvist paintings and how they used angles and shapes as a tool and so it sort of began from looking at that and developed into my own thing. The new shapes I use are basically a device to move the eye around the painting and so I thought the title made sense!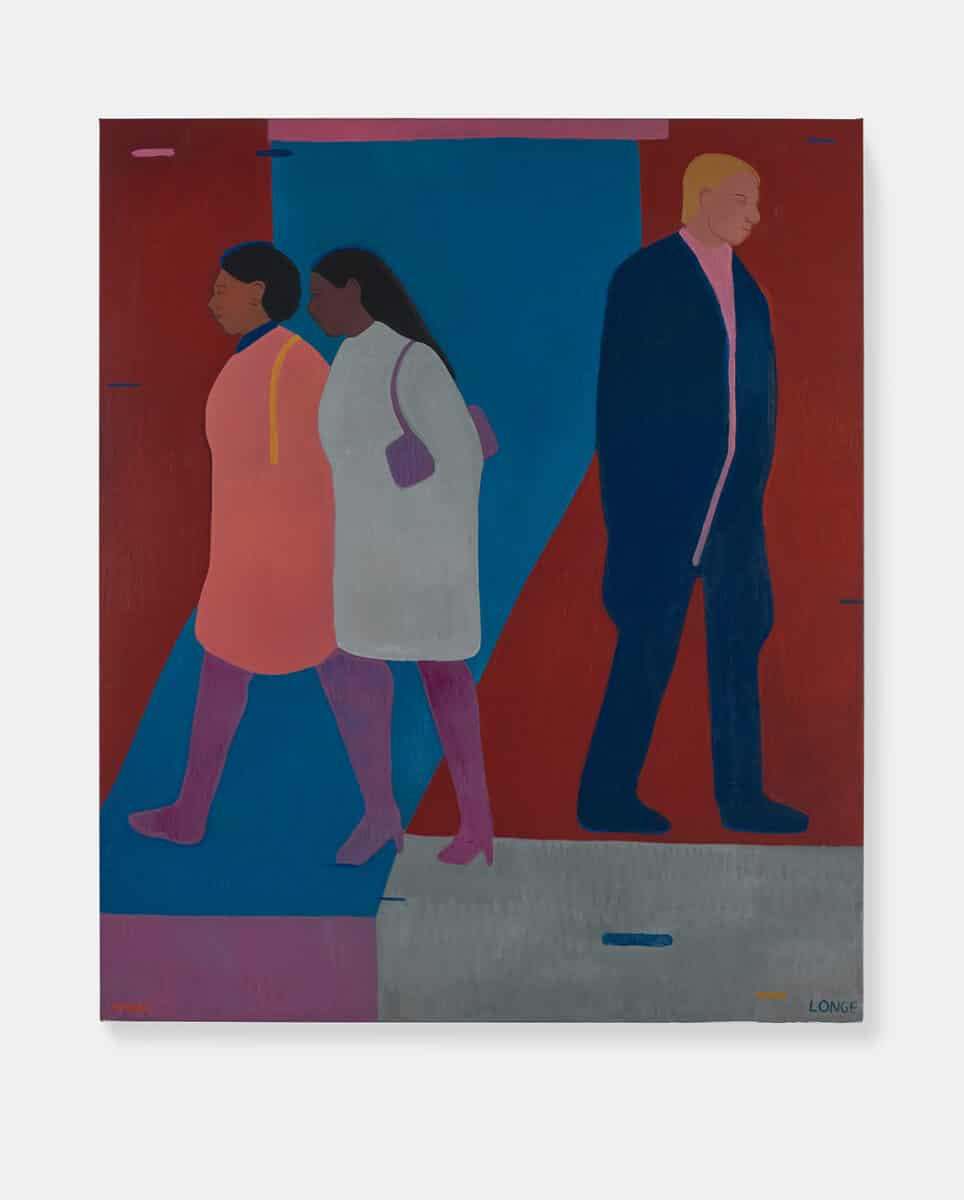 P.E.S: You start with a color, and that color will determine the scenes you create. Paintings are slowly pieced together. There is no sketch or smaller drawings made, you bring your vision directly to the canvas. What direction do you then take to develop the figure?
S.L: I'm very impatient so when I get excited about a painting I immediately stretch a canvas and paint directly. Most of the time this goes horribly wrong so the first few layers of paint are extremely thin and I use a lot of turpentine to create washes of colour. I then scrape back or wipe down the canvas, this allowed me to move things around. The figures are slowly carved out of these thin layers of colour and when I know I've got a fixed composition I start painting more thickly and with a medium that adds a richness to the pigment.
Also, sometimes the colour combinations I come up with are dreadful so it gives me time to change my mind. It's not the best process but I find even when I use preliminary sketches half-way through I've changed my mind. I use a mirror and myself to get the poses off the figures but also photos Ive taken of people, mostly my sister.
P.E.S: Your work varies in scale, but a majority of your paintings are life-sized, some even more so, did you make an effort to work in this scale or did it come naturally as you are working in portraying the body?
S.L: I really enjoy painting large scale, but to get there it took a really long time as it's very physical and feels like you're taking on something monstrous. It took a few years to get very confident and I think my first large scale painting took a year and a half to complete just because I was very slow and the whole thing was very overwhelming at times. I think when a figure is life sized I relate to it more and there's something more engrossing about the whole thing.
P.E.S: Do you imagine a majority of the stories and scenarios or are you consciously influenced and look towards moments of interactions from your life?
S.L: Most of my inspiration comes from just everyday things or stories people have told me and imagining those scenarios. I sometimes just like catching the general feeling of the story, so the painting itself is not very realistic but I hope it captures the situation. My backgrounds are normally quite abstract and I try to get a feel of the place through colour and shape. A lot of the time I come up with a rough idea of what I want and then over the weeks I paint it, but the composition changes a lot.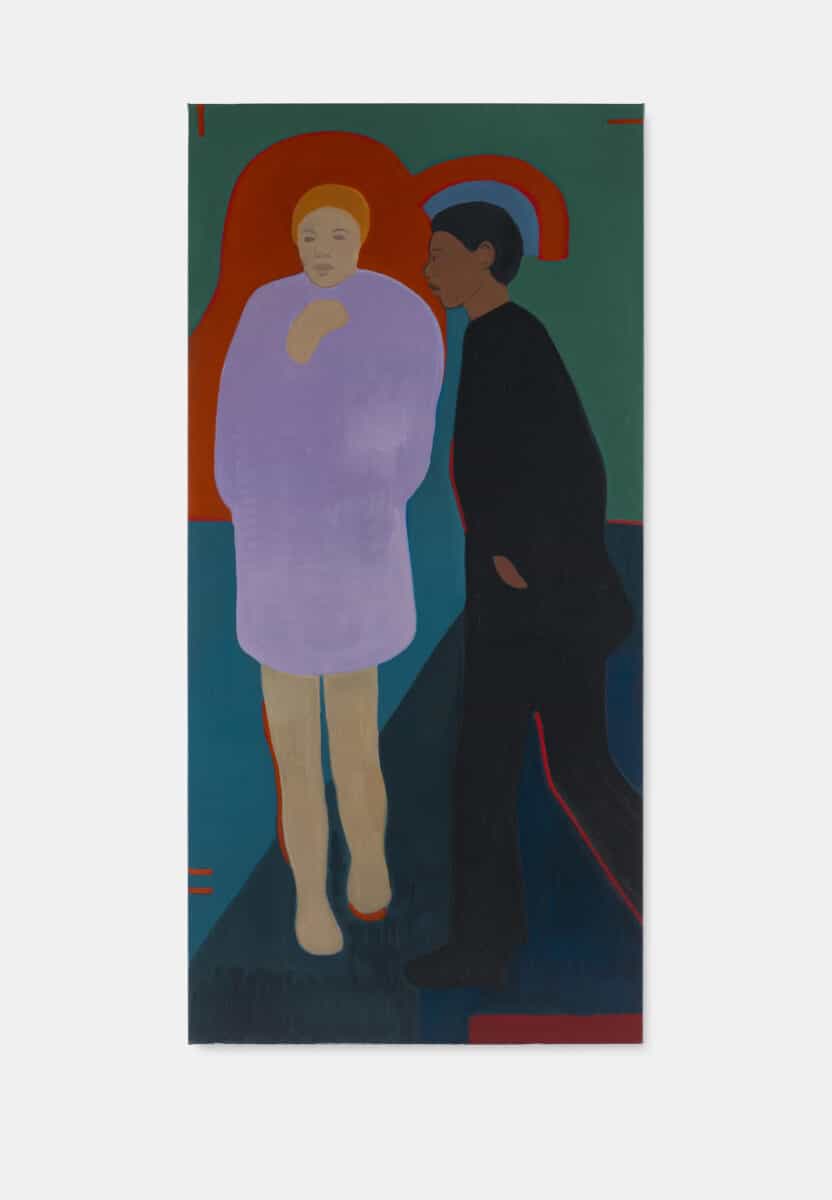 P.E.S: Are you in the habit of working on multiple canvas simultaneously and how do you know when to walk away from a work, is there a signafier to stop?
S.L: I work on lots of things at the same time because the medium I use is very slow drying – sometimes things can take weeks to dry. Having a constant rotation also gives me time to think about the next steps of the painting, soften it down a bit and change it. I do a lot of glazing so the canvas also has to be very dry before I go over it again. I also like having the works unfinished for long periods as sometimes I can't seem to get something right for weeks and then a couple of months later I come back to it and it suddenly clicks.
P.E.S: Your figures have contained expressions, no outwardly emotion can be deciphered. Are you embedding emotions within the figures while you're painting? If so, do you believe the feelings oscillate between joyous and somber, or are they eclectic in their portrayals?
S.L: Yes, whenever I paint a face I try to climb right inside it, I sometimes find myself making a sort of angry face when I'm painting someone angry which is a bit strange, but it does help.
P.E.S: You were classically trained to be a painter and you've studied and copied the work of Old Masters. Old Masters can be a very 'serious' subject as it deals heavily in tradition and heavy on technique. Where do you find your humor and does your work hold a place for it?
S.L: I think there was a lot of seriousness in Old Master paintings, but also bits of humour and messages subtly hidden and I've always enjoyed looking for these details in paintings. I sometimes disguise myself in a painting and I think I got this from looking at Velasquez's painting, The Surrender of Breda, where he hid a self-portrait of himself the left hand side in the crowd of soldiers and looks out to the viewer with this wonderful gaze that has always stuck with me.
P.E.S: In what ways do you think of your character's presence within a space overtime, is there a reoccurring figure or personality that you have throughout your work?
S.L: I sometimes sneak myself to the sides or hidden behind someone, but there are many characters I've invented that come back again and again. There's one in particular-a slightly annoyed looking woman who pokes her head in from the side and then there is a bald man who is always getting on with his business no matter what's going on in the scene.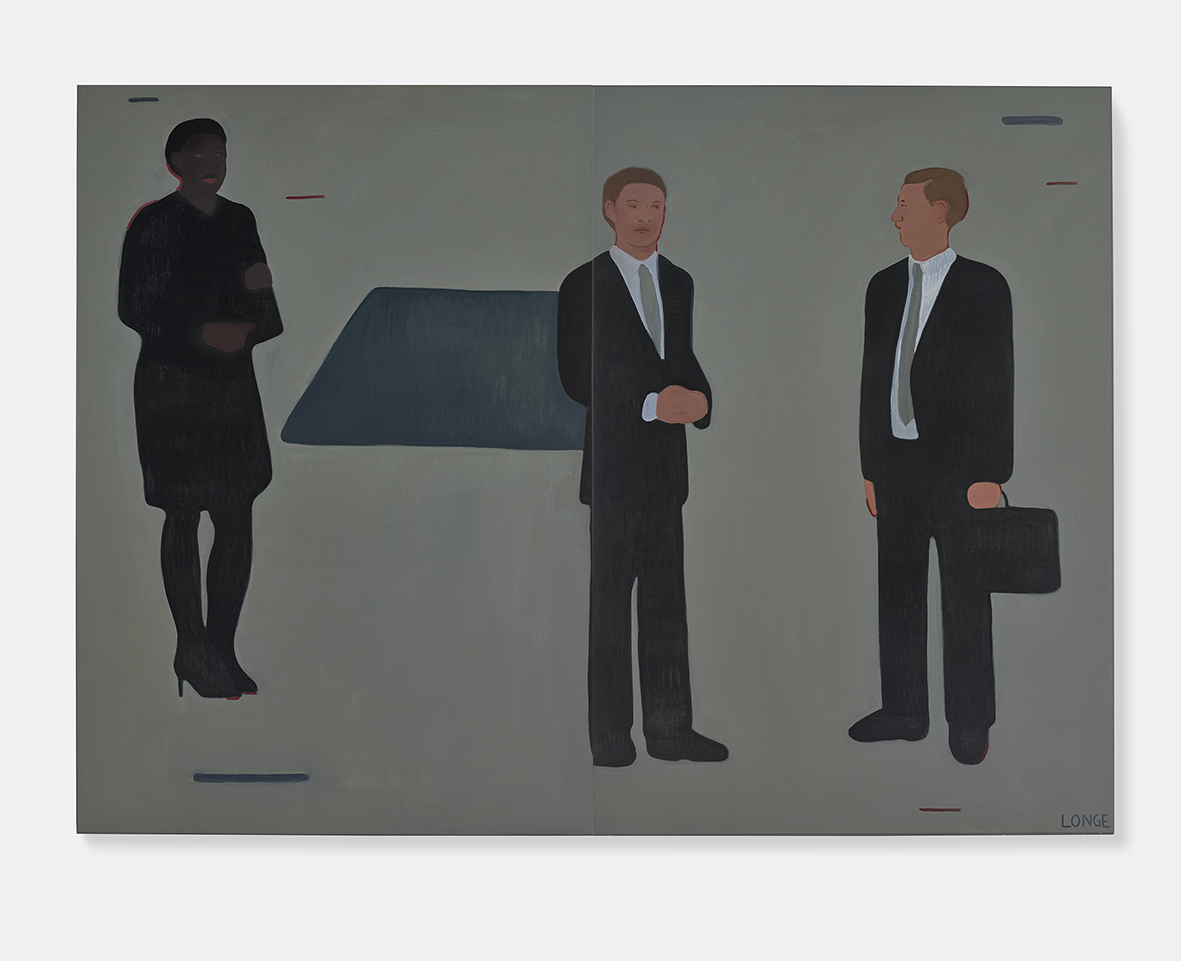 P.E.S: Can you share what you are currently looking at and investigating, whether it is art or other?
S.L: I'm currently experimenting with different canvas types and grounds which is fun and impacts the painting enormously. I used to paint on Jute but have now moved back to oil primed Linen which is what I used back when I was at school and I'm really enjoying it! I had a few goes with raw canvas and plain old sized canvas, but the absorption of paint is a bit too much for me as I like to paint very thick and richly – so that's been a bit of a battle.
To learn more about Sahara Longe follow on Instagram at @saharalonge
Sahara Longe New Shapes – through July 8th, 2023 Timothy Taylor
Categories
Tags