Brooklyn-based art writer Vittoria Benzine owes her entire existence to this line of work. She was quite literally created for it. In this instance, she owes gallery coverage for getting her outdoors, into New York City neighborhoods of varying flavors and familiarities. As the week crawled on and Benzine crawled up Manhattan, she noticed a brewing affinity for abstractions — maybe something happening in the scene, or maybe just one of those weeks where you see what you need. Read on to find out what you glean from her latest must-see roundup of shows on view now. Each comes with a concise review to decide if it's for you. A few from her latest expeditions remain on view too.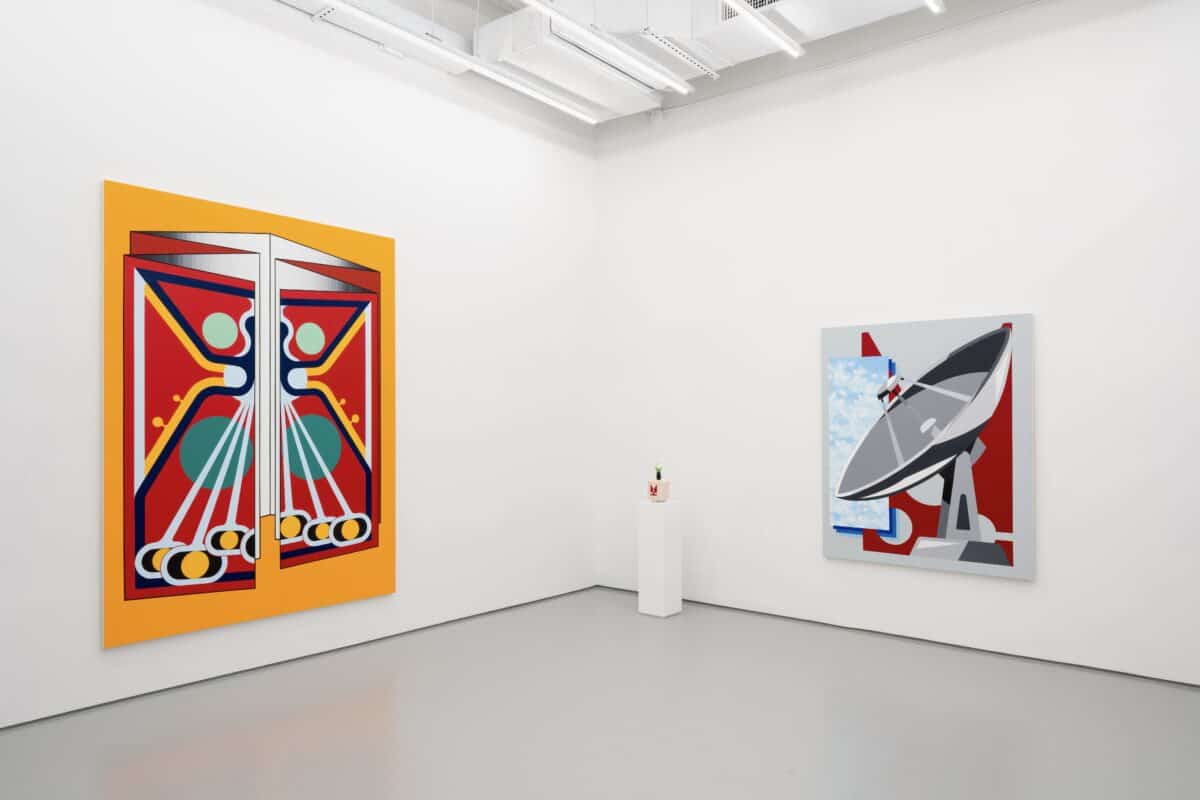 Igory Deiana's first solo show in his new hometown honors the fact that every angel is also a demon, alongside the artist's own wild origin story — running away from home in Italy so young, joining California's creative movements, and working under Barry McGee. This show, his first solo in a long time, has high impact paintings, sculptures, and meticulous graphite drawings culminating eight years of conceptual development, complete with a coming out story. But how do we know it's truly charged? Three days ago I was checking what comes up when you Google me, and found myself staring at a portrait taken in Riverside Park three years back, draped in a shard of Black Tourmaline. I remembered buying that stone, the way it felt smacking my sternum as I walked down stairs. The next day, on the floor stage left of this photo, I found an actual facsimile of that pendant. Looks like it's made of plastic, but I still get the message. Crazy angels, huh? Through May 13.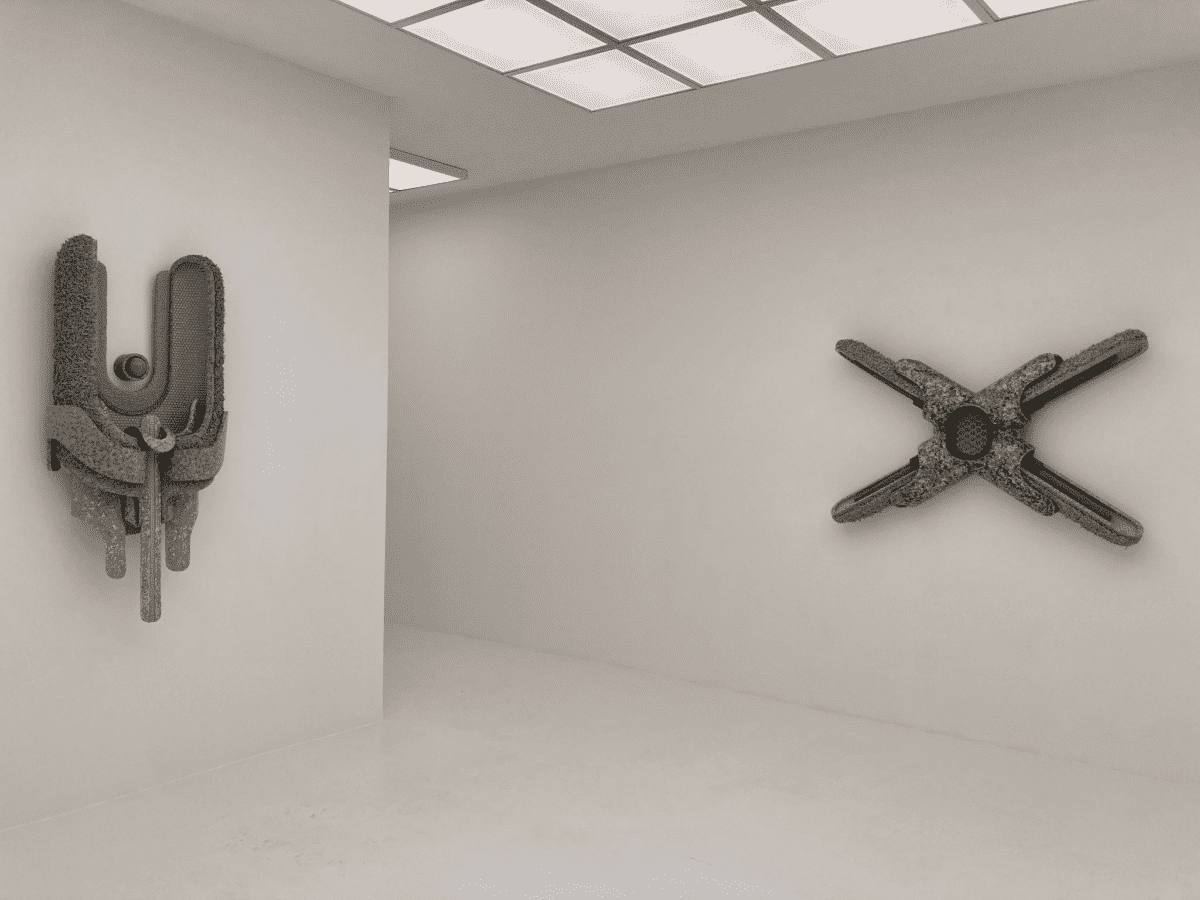 I do my best not to be a fake fan of chaos, but a craving for external order influences my attraction to the headspace where art and equations intersect. Luke Libera Moore summarizes his latest solo show at Lower East Side Ashes/Ashes with simple arithmetic: abstraction divided by utility = ritual. "We perform rituals to push back against the unknowable — to keep the void at bay," Libera Moore writes in the exhibition's accompanying text. Familiar elements like water bottle caps and curtain drawstrings become foreign again when twisted into these sublime shapes and paired with details like well-placed gazing balls. The gallery itself feels like a portal, but I got lulled into a real trance by one motorized, scroll shaped work in the back room that makes a soothing, sort of wooden rolling noise. There's more dangerous kicks than order, but sound is simpler. Through May 21.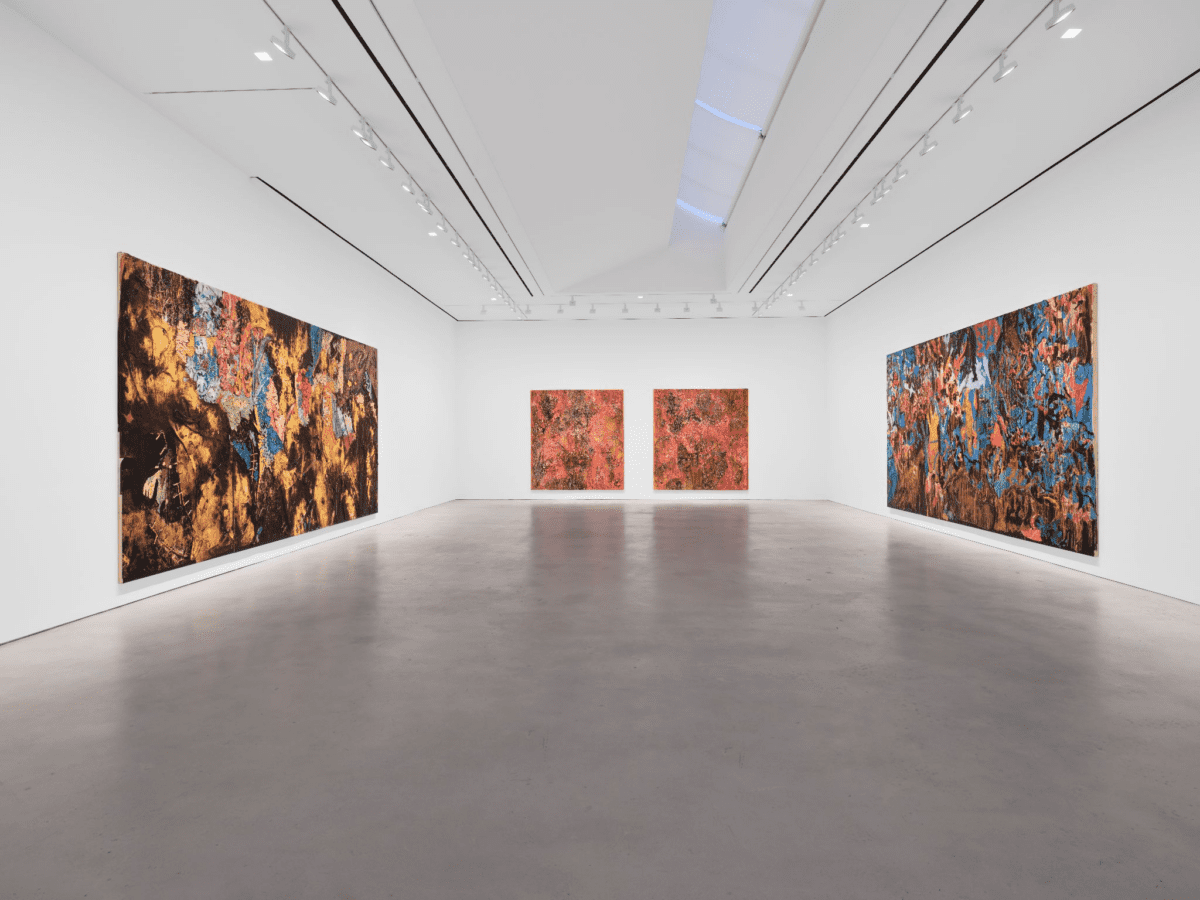 Just before EXPO CHICAGO I had the pleasure of previewing this show led by the artist, the legend, the obelisk himself to celebrate Bradford's first New York presentation since 2015 — and Hauser & Wirth's first time asking a single artist to take over all three floors at their Chelsea flagship. "You Don't Have To Tell Me Twice," I can now literally imagine Bradford's voice answering. He's brought that conviction to life across sweeping, political "social abstractions" inspired by real estate and tapestries alongside vintage footage from his L.A. upbringing and a dramatic, loaded death drop portrait. It's a personal, unparalleled spectacle replete with texture and Bradford's critical balance between gravity and humor. More than museum, it's mega-gallery quality. Through July 28.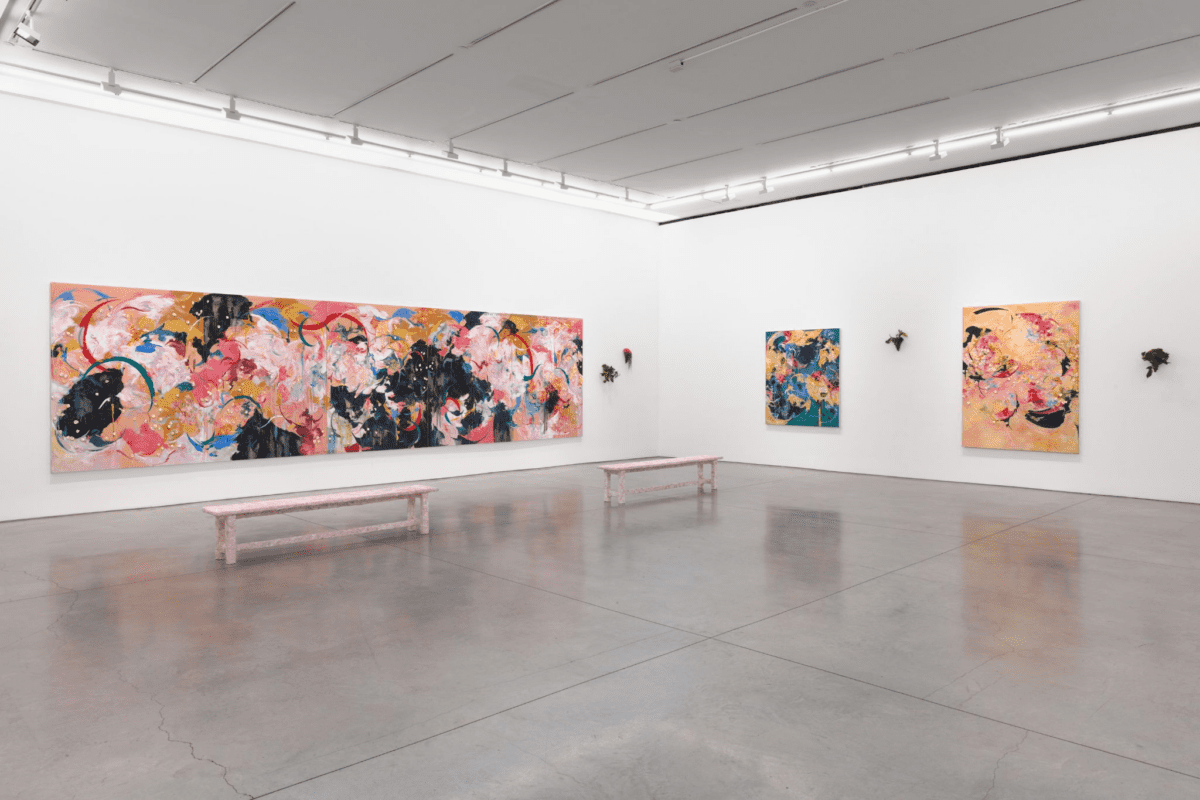 Speaking of a land far away, I was at this show's opening and now it's nearly time to close. Pleasure remains radical, though. Last December I asked a filmmaker I know about the visual artists she foresaw taking flight soon, and she introduced me to London-based painter Michaela Yearwood-Dan. The floral abstractionist's sprawling second solo show with Marianne Boesky spreads across four galleries, featuring her largest works to date, creating intentional space for "queer community, abundance, and joy" and concluding with a mural Yearwood-Dan painted on site, activated with sumptuous sounds and scents on opening night — a flower really coming to light. Just one week left to catch this extravaganza of oils, pastel, paper, and ceramics in full bloom. Through May 6.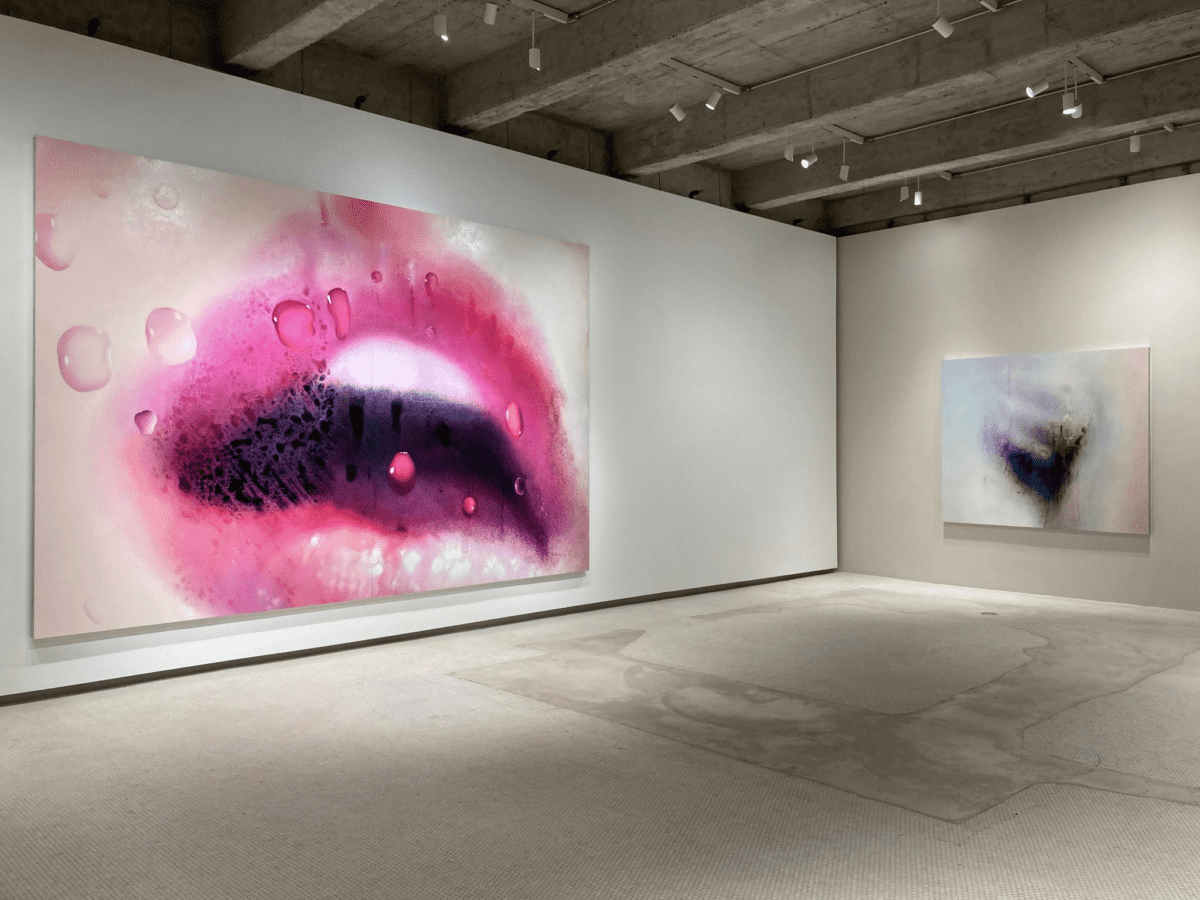 A disconnect persists between what society says it wants, and the behaviors it affirms. Sex is everywhere yet people are repressed. It's all 'we love female rage' until you're screaming on the subway platform. 'Amor fati' falls apart once you need them to live for you. And 'pussy power' shows its nuance as you're staring at the water fountains in Minter's three-story show at LGDR on the Upper East Side — her first since Pretty/Dirty was at the Brooklyn Museum in 2016 — and realizing that if those aren't pearls getting sucked up a canal, they're certainly made to look like it. Uncomfortable or titillated, it's not your fault. Society has been fudging the whole time. Fortunately, Minter intervenes with seductive mouth paintings, functional water fountains, and her first-ever portraits to celebrate the fact that human beings can enjoy each other so much. Through June 3.
Categories
Tags