The 10th edition of EXPO CHICAGO opened yesterday on the scenic Navy Pier to impeccable summer weather. 170 galleries from 36 cities in 90 countries currently line the looming Festival Hall's four 'avenues' and more numerous 'streets' across five sections: the mainstage commercial galleries of course, but also an area devoted to books, special exhibitions, and an Exposure section to create a greater platform for rising art dealerships. Vielmetter has the most coveted real estate in the house, greeting guests upon arrival with a colorful, multi tiered arrangement of sculptures and paintings.
They're surrounded, though, by EXPO's Profile section, where selected galleries let a single artist shine. From fair standard group showcases to more focused presentations, Brooklyn-based art writer Vittoria Benzine stretched her kratom high all the way from breakfast through dinner to bring you our favorite booths to see while EXPO is on view through Sunday.
Galerie Richard (Paris)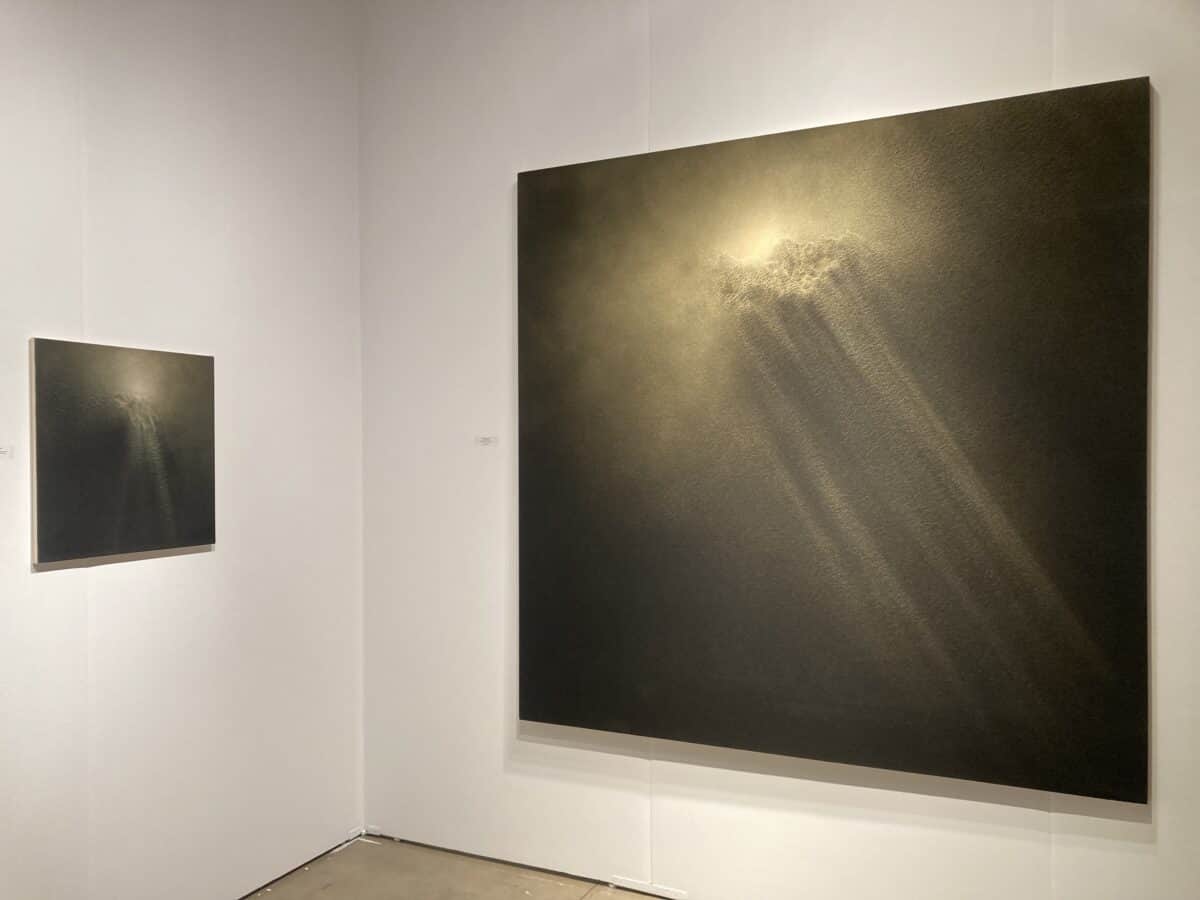 Photo by Vittoria Benzine.
Maybe it's an art fair thing, or maybe it's Chicago, or just this year, but EXPO is a colorful affair — allowing moments of contemplation to actually stand out. Ranging from the massive to the medium scale, this Profile presentation of iridescent, overcast artworks in acrylic, sumi ink, and mica on cotton canvas by Japanese artist Kiyoshi Nakagami all draw the viewer in quite close, as if they were the most minute works on view. Nakagami made waves when he launched the series over a decade ago. This presentation shares pieces from those early days through the present. Together they play with light, feel like they're made of light itself, and reveal new meditations with each step.
Mindy Solomon (Miami)
Photo courtesy of Mindy Solomon.
Material-based gallerist Mindy Solomon curated eight disparate artists conversant with the African diaspora across crafts for this presentation she correctly compared to "a symphony." Anything with angel wings will grab my eyeballs right off the bat, but it didn't look like I was alone — this booth bustled with people straight through the Vernissage, even while Chance the Rapper participated in the opening day's Keynote not far away at the fair's Dialogues panel section. Even the booth's functional chairs are part of the art, crafted from authentic, repurposed baskets made in Malawi. 
Fridman Gallery (NY)
Photo courtesy of Fridman Gallery.
Over in EXPO's Exposure section, downtown Manhattan-based Ilya Fridman has curated a wide-ranging group show called "Encoded Memory" exploring the mental machination of remembering across different media. We're not just talking paintings and digital art, though both appear — they also fit alongside 3D printed masks of Chelsea Manning's face envisioned from DNA she donated straight out of jail, and hauntingly pretty watercolors calling out J. Marion Sims, the noted "Father of Gynecology" (yeesh) who experimented on slaves (far worse than yeesh.) It's aesthetically appealing and incredibly powerful — the strongest features of this eponymous program in full.
Richard Heller (Los Angeles)
Photo by Vittoria Benzine.
Go hard or go home. That is admittedly the vibe out here on the Third Coast, where the same song and dance and smoke and mirrors that earns praise won't cut it quite like it might in The Big Apple or Tinsel Town. Richard Heller is up to the challenge — the gallery actually booked two full-scale booths in EXPO's central selling section, one right across from the other. The first features a solid spread of their roster artists, but the other is a focused, gallery-quality show titled "Are You Still Watching?" by Laure Mary-Cougnias that's stunning, surreal and symbolically saturated at once.
Catherine Couturier Gallery (Houston)
Photo by Vittoria Benzine, street style by Erika Maschmeyer
As the lights went up to usher excited guests out of the Vernissage last night, fashionable crowds still thronged Catherine Couturier Gallery to enquire after this technicolor lineup of maximalist photos from Chicago-based Patty Carroll's ongoing series "Anonymous Women," honoring the fraught relationship between feminine energy and domesticity. The series here spans six years in her career — it's just as fun to look for developments in Carroll's eye over time while exploring her endless detail as it is to stand still and watch how, through the crowd, life really does imitate art. 
EXPO CHICAGO, THE INTERNATIONAL EXPOSITION OF CONTEMPORARY & MODERN ART, 13–16 APRIL 2023
Categories
Tags