Serpentine to present, Third World: The Bottom Dimension, an exhibition, a video game and web3 tokens powered by Tezos.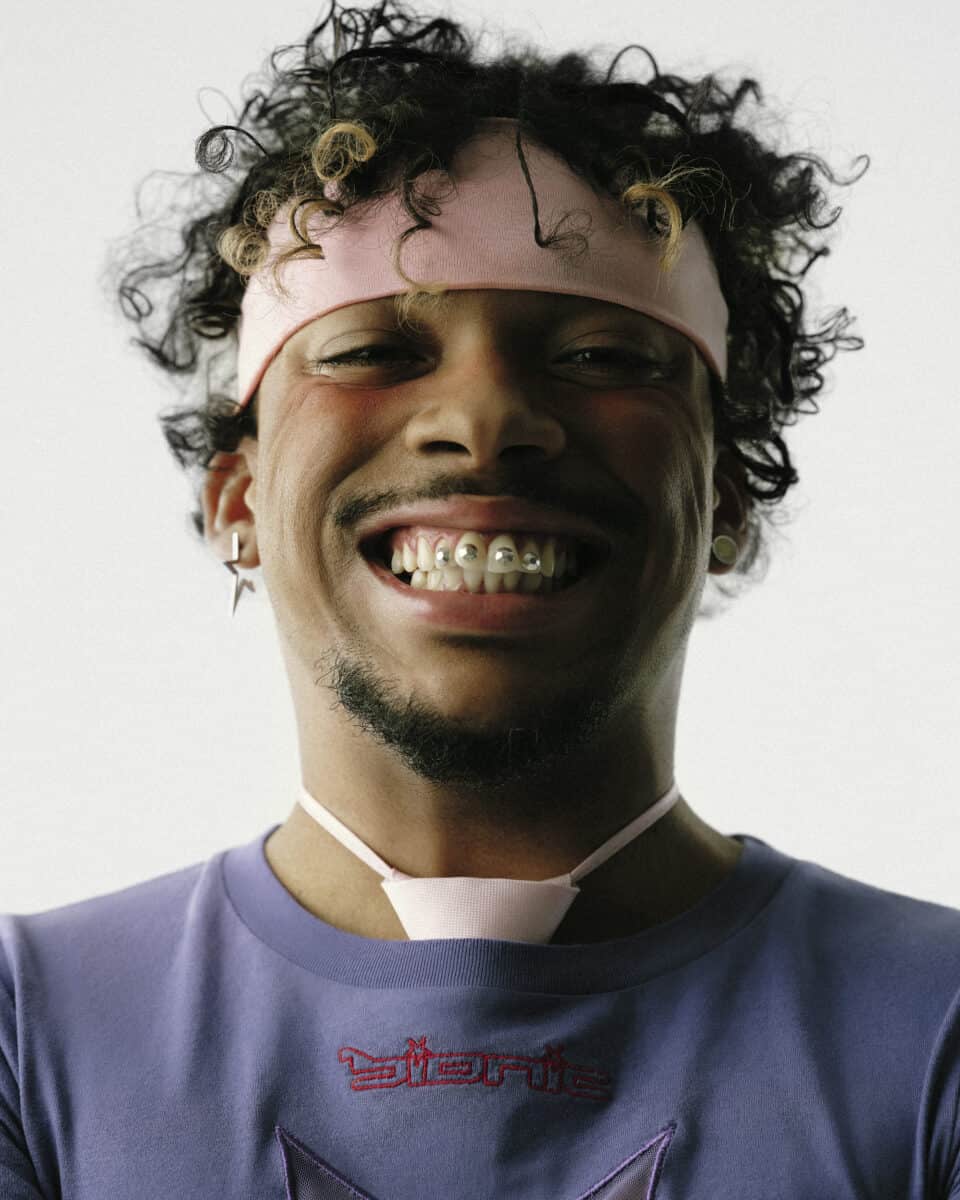 The project is conceptualised by Brazilian artist Gabriel Massan in collaboration with invited interdisciplinary artists Castiel Vitorino Brasileiro, Novíssimo Edgar, and vocalist and music producer LYZZA.  
Presented at Serpentine North from 23rd June to 22nd October 2023, the exhibition will extend the ideas that have driven the creation and development of the mirroring video game. It will offer audiences an opportunity to play the game in a communal setting around site-specific set design, sculptures, sounds and films.
Through the lenses of decoloniality, queerness and decentralisation, Third World will challenge us to rethink the ways in which we understand and orient ourselves in the world. Central themes include ancestral knowledge, healing, ecological awareness, transmutation, and agency. 
I want to create the experience of walking through possibilities and memories of life and narrative… A work that people can walk inside. The project is a meta-simulation about warped perspectives and an exercise in terms. It's a critique of a concept that persists in the everyday, more related to our own geographies rather than territories that truly exist.  People are too invested in the idea of systems being something that are impossible to redefine. 'Third World' signifies a stratified structure; which 'level' of the world are you on? How does this relate to access, connection and maintain Western control over market representation and value?  I call attention to this structure; 'Third World'; a burden that was given, and itself a fabrication, to allow us to reimagine and rewrite. These divisions of the world and these terms were based on fictional, human concepts that define and decentre the larger part of the world as 'periphery'.  

Gabriel Massan
Third World: The Bottom Dimension emerges from Massan's interest in technological, social and economic decentralisation and includes participatory digitaltokens powered by Tezos. Players can record 'memories' of their own actions as they play the game, and by minting this record (or snapshot) on the blockchain, build a public archive of multiple perspectives and actions. In addition, a limited-edition collection will bring together Massan, their collaborators and a wider community of web3 artists. 
Third World: The Bottom Dimension, is a dynamic commission powered by Tezos that brings pioneering digital artist Gabriel Massan and their collaborators to the forefront of gaming and cultural communities. Massan's project not only demonstrates an iterative process in terms of our relationship with the artist – supporting development of concept, game, then exhibition, but also how work like this can exist and engage across fields, building new connections between artists and society. 

Bettina Korek, CEO and Hans Ulrich Obrist, Artistic Director 
GAME
Alongside Massan's digital sculptures, textures, concept and narrative development, the game will feature artistic contributions by Castiel Vitorino Brasileiro, Novíssimo Edgar, sound design by LYZZA, and work from Masako Hirano, Marchino Manga, Ralph McCoy, Carlos Minozzi, Iraj Montasham, Alexandre Pina, and Sweet Baby Inc. 
Across interconnected but distinct episodes set across different dimensions, geographies and timescales, the game will invite players to think about ideas of transformation. 'FUNFUN', an agent deployed to the 'Third World' by a resource extraction organisation and 'BUBURU' feature as playable characters.  
As the player navigates the disorienting virtual environments of Igba Tingbo and Sòfo, they not only encounter new lifeforms, languages, and ways of knowing, but a growing state of reckoning with their own actions.  
Expanding Massan's practice of 'fictional archaeology', the game is a fantastical simulation that investigates the converging landscapes and post-colonial complexities of contemporary Brazil and beyond. The?project explores the concept of 'game-as-platform' and the role of a public arts institution in nurturing a constellation of diverse perspectives. 
Each level or "episode' in the game is conceptualised by a featured artist, in collaboration with Massan, bringing themes central to their practice to build on the lore of Third World.  
With Igba Tingbo, Castiel Vitorino Brasileiro explores themes of memory, healing and transmutation.  
In Sòfo, Novíssimo Edgar addresses violence, desertification and ecological balance.  
EXHIBITION 
The exhibition will offer visitors an opportunity to experience the ideas, emotions and mechanics of the video game in a hybrid physical-virtual setting and in community with others.  
Echoing the unique shifting sense of time in the game, and the inherent interactivity of games as a medium, the exhibition will feature sound, light and visuals to create a tactile, reverberant, and dynamic setting. Visitors will be invited to play the game in disorienting game rooms, seated inside Massan's stations. 
Designed in collaboration with Furmaan Ahmed, with  work from artists Castiel Vitorino Brasileiro, Novíssimo Edgar, LYZZA, and more, the space will change in response to visitors' actions making each visit to the exhibition unique.  
The events programme will include Twitch sessions, performances, talks and playtesting events.   
The project continues Serpentine Arts Technologies'commitment to experimenting with the role that the art field can play in the development of advanced technologies such as video games, blockchain and AI, and understanding their impact on culture and society. This is achieved through the commissioning and production of ambitious artist-led projects, and a research and development programme that includes Future Art Ecosystems and R&D Labs to prototype protocols and strategies for the future of art and advanced technologies. 
Serpentine Arts Technologies
The project is curated and produced by Serpentine Arts Technologies led by Tamar Clarke-Brown (Curator, Commissions), Kay Watson (Head of Arts Technologies) and Róisín McVeigh (Associate Producer), with Eva Jaeger (Curator), Victoria Ivanova (Strategic Lead) and Alex Boyes (Producer), with the exhibition alongside Sarah Hamed (Assistant Exhibitions Curator) and Halime Özdemir (Production Manager).
The programmeproposes critical and interdisciplinary perspectives on advanced technologies through artistic interventions, challenging and reshaping the role that technologies can play in culture and society. 
The foundation of Serpentine Arts Technologies' programme is in an evolving R&D Platform that nurtures innovation for future art ecologies by securing a crucial institutional space for pragmatic interventions and necessary risk-taking at the intersection of art, science and technology. This is achieved through dedicated research  labs (Blockchain  Lab , Creative  AI Lab , Legal Lab, Synthetic Ecologies Lab), orientation and knowledge-sharing with the wider sector through Future Art Ecosystems, and co-facilitation of a national Creative R&D Working Group.  
Tezos is a pioneering Proof of Stake blockchain, redefining what it means to hold and exchange value in a digitally connected world. A self-upgradable and energy-efficient Proof of Stake blockchain with a proven track record, Tezos seamlessly adopts tomorrow's innovations without network disruptions today. For more information, please visit www.tezos.com 
About the Artists 
Gabriel Massan (b. 1996, Brazil) is a multidisciplinary digital artist. Combining storytelling and world-building techniques, Massan creates digital worlds and sculptures that alternatively simulate and narrate situations of inequality within the Black-Indigenous Latin American experience. Working across 3D animation, digital sculpting and painting, single-player games, NFT's, and virtual and augmented reality experiences, the artist investigates notions of strangeness and ignorance in how the 'Third World' is imagined. Gabriel was a 2019 resident at the ETOPIA – Centre for Art & Technology, invited artist of the 2020 "IMS Convida" at the Instituto Moreira Salles (IMS), Circa x Dazed 'Class of 2021' Selected Artist, contributor of the "Rotten TV "online research platform supported by "The British Council Digital Collaboration Fund", 2022 The Photographers' Gallery "Open Space" Commission artist and 2022 X Museum's "X Art District (XAD) Selected Artist. Recent exhibitions include: 'WORLDBUILDING: Gaming and Art in the Digital Age' (Julia Stoschek Collection: Dusseldorf, 2022); 'Canon!' (Frieze No.9 Cork Street, 2022) and 'Possible Agreements', (Mendes Wood DM, 2022). 

Castiel Vitorino Brasileiro (b. 1996, Brazil) is a visual artist, writer, and psychologist with a master's degree in Clinical Psychology, and who belongs to an AfroBantu family lineage. Her works include photography, video making, dancing, painting, and installation (temples). With her artistic and academic practice, Castiel is interested in studying the principle of Transmutation as an unavoidable destiny. For this, she dribbles, incorporates, and immerses herself in the Bantu ontology, embracing healing [cura] as a perishable moment of freedom. Currently, Castiel studies and builds interspecific spirituality and ancestry. 

Novíssimo Edgar (b.1993. Brazil) is a 'multi-artist', a rapper, poet and creator of upcycled masks and costumes, Novíssimo appeared in the Brazilian urban scene in 2018 with his debut album "Ultrassom". As a compulsive creator, he has made books, performances, drawings, installations, games, drawings and NFTs, producing work that speaks to freedom, as a speculative exercise committed to an urgent futurism, passing through various supports and segments of metalanguage and transmedia research. 

LYZZA (b. 1999, Brazil) is a producer and vocalist who has always been keen on mocking boundaries. Carving a space for herself in Electronic Music since her 2017 EP 'Powerplay,' LYZZA has since traversed the sonic world showing her artistic potency, with multiple collaborations ranging from Showstudio and Mugler to producing for billboard-nominated songstress Eme1 Mathlouthi. In recent years, LYZZA has been widely hailed as one of electronic music's most promising young avant-pop producers. 

Project influences include Saidiya Hartman's 'critical fabulation' and Paulo Freire's 'radical pedagogy', which encourage praxis, the process of taking action, as a liberating tool. The social practice of 'aquilombar', as explored in its expanded sense by Brazilian academics Beatriz Nascimento as an anti-racist, space-making methodology, also serves as a source of inspiration. 
Further artists to be announced. 
GABRIEL MASSAN & COLLABORATORS – THIRD WORLD: THE BOTTOM DIMENSION, Serpentine North
23rd June – 22th October 2023
Categories
Tags