Billed as 'the most comprehensive graffiti and street art exhibition to ever open in the UK', the Saatchi Gallery's 'Beyond the Streets London' exhibition goes beyond the graffiti and the street art label, exploring musical genres such as Hip Hop, Punk and rave, and the art and fashion born of the music. Curated by graffiti historian Roger Gastman, 'Beyond the Streets London' examines the form of personal artistic expression known as street art, and examines its musical and political roots, featuring musicians who moonlighted as artists, as well as artists, musicians, icons and provocateurs who started out in the graffiti communities of London, New York, LA, Amsterdam and Paris, and often gravitated towards studio practice and the more traditional environs of the contemporary art world, including Basquiat, Massive Attack, Beastie Boys, Fab 5 Freddy and Obey.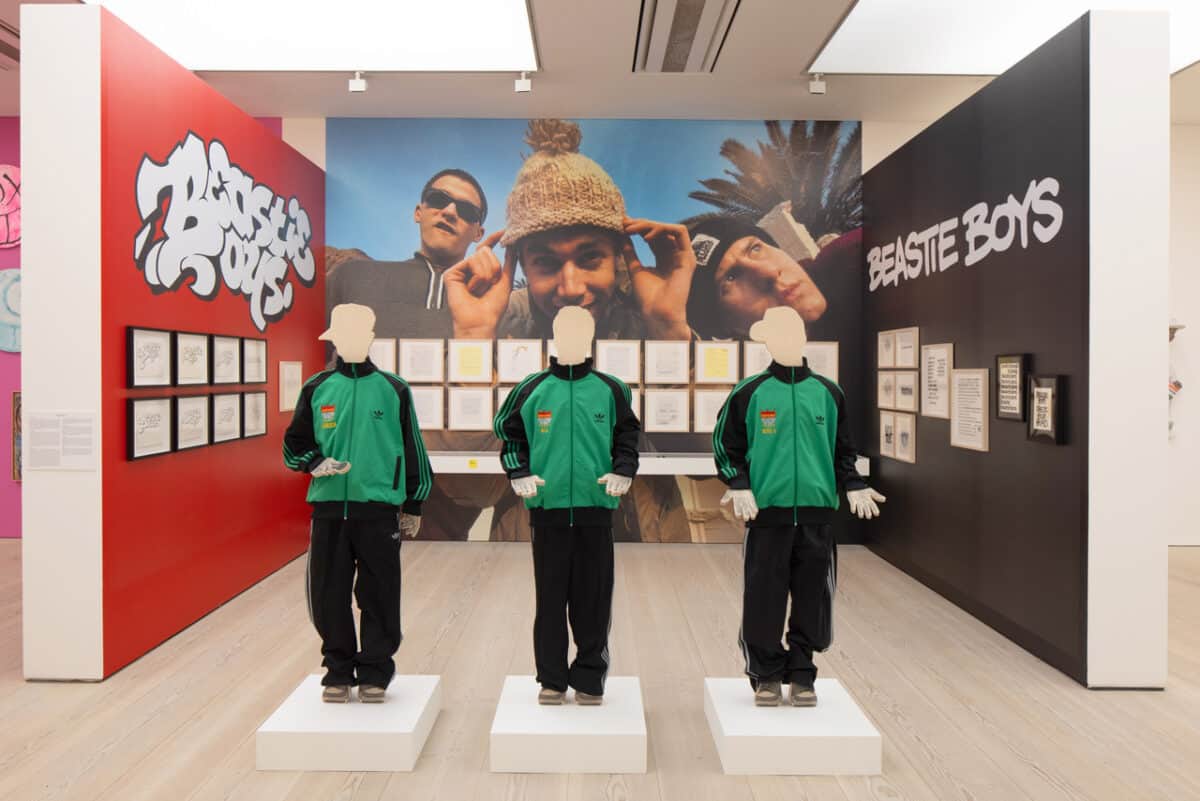 Taking over 3 floors of London's iconic Saatchi gallery, the exhibition features graffiti art, murals, street art, paintings, sculpture, installation, ephemera, archival fashion, music, photography, advertising and video art. Curator Roger Gastman takes visitors on a journey through the history of graffiti, exploring through different chapters the highlights in the history of what has often been dismissed as 'Street art', but has been reappraised as a significant artistic movement.  A curated tour through the exhibition documents the emergence of punk, and the birth of hip-hop (which marks its 50th anniversary this year) and examines the enduring influence of street culture on fashion and film. 
At the start of the exhibition is 'The Vandal's Bedroom', a graffiti-filled installation by American artist Todd James, who has exhibited twice at the Venice Biennale, which is followed by the first chapter of the exhibition titled 'Music & Art Converge', which explores the socio-political turmoil of the late 70s and 80s, where the decline of cities in the UK and US met with artistic resistance in the form of graffiti with a political message exploding on the streets and on public transport. At the entrance to the first gallery is an interactive Trash Records installation within a fully recreated record shop.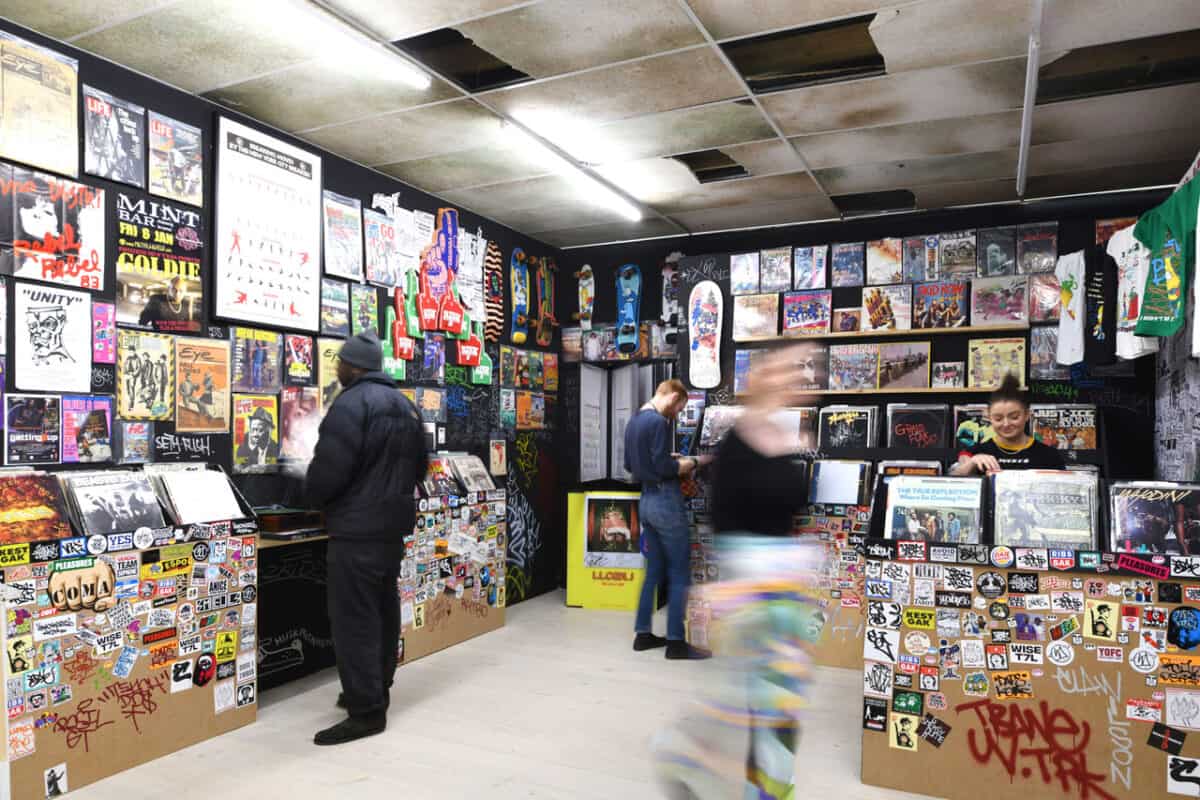 Curator Roger Gastman explains:  
With every exhibition we've put together I always learn something new and London is no exception. The amount of stories and historical moments–some of which may have been forgotten and arguably unknown until now, are what will make our Saatchi Gallery show such a spectacle. We really hope to educate and inspire through a curious lens that digs into the nooks and crannies of all these subcultures and the massive role London played in bringing them to light on a world stage.
'Beyond the Streets' relocated to London following exhibitions in Los Angeles and New York City, and the influences of music and graffiti culture on each of the 3 metropolises can be felt in the exhibition. The original Punk provocateurs Malcolm McLaren and Dame Vivienne Westwood feature in a section of the exhibition dedicated to the punk movement, which includes seminal artwork for the Sex Pistols vinyls including Jamie Reid's iconic 'God Save the Queen' artwork, and a display of early punk fashion created by Westwood.  The presence of Westwood's early punk fashion from the 'Sex' store that she opened with her former husband McLaren in 197 (renamed 'Seditionaires' in 1976) feels emotionally charged since her death in Christmas 2022, and is even more poignant as the original Vivienne Westwood shop is not far from the Saatchi Gallery on the King's Road.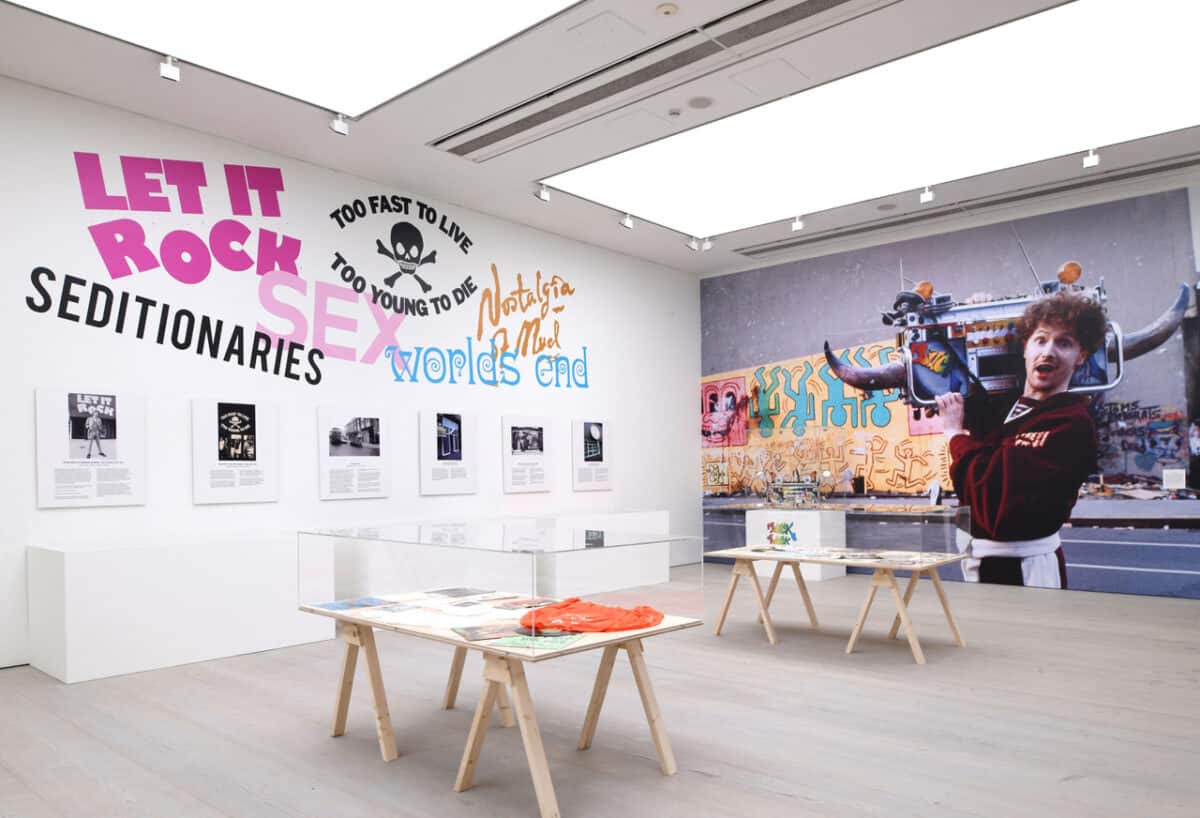 A strong link between art and music permeates the heart of the exhibition, which features' the legendary 30 foot painting made by FUTURA2000 on stage with The Clash; a 2022 replica of Malcolm McLaren's 'Duck Rocker' cow horn and graffiti-covered boombox; and a spray can created by Massive Attack's Robert 3D Del Naja, made of encoding the seminal album 'Mezzanine' as strands of synthetic DNA, which were stored inside the can, which contains approximately 1 million copies of the record.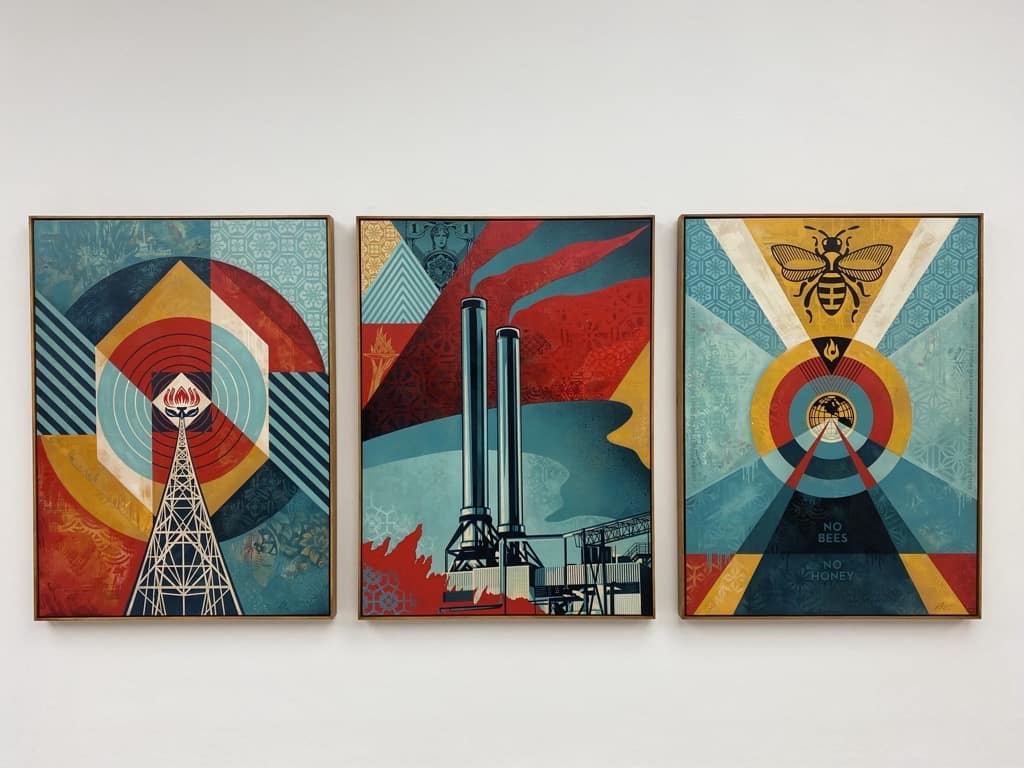 New work by LA-based artist-activist Shepard Fairey and FAILE, a Brooklyn-based artistic duo prominent in New York City since the late 90s, is featured in the 'Blockbusters' chapter, while 'Larger Than Life' chapter features 'Cosmic Cavern', a site-specific interactive installation of day-glo paintings, repurposed materials and ephemera by LA-based artist Kenny Scharf, alongside a surreal installation of puppet characters made from recycled materials by London-based Street art pioneer Paul Insect.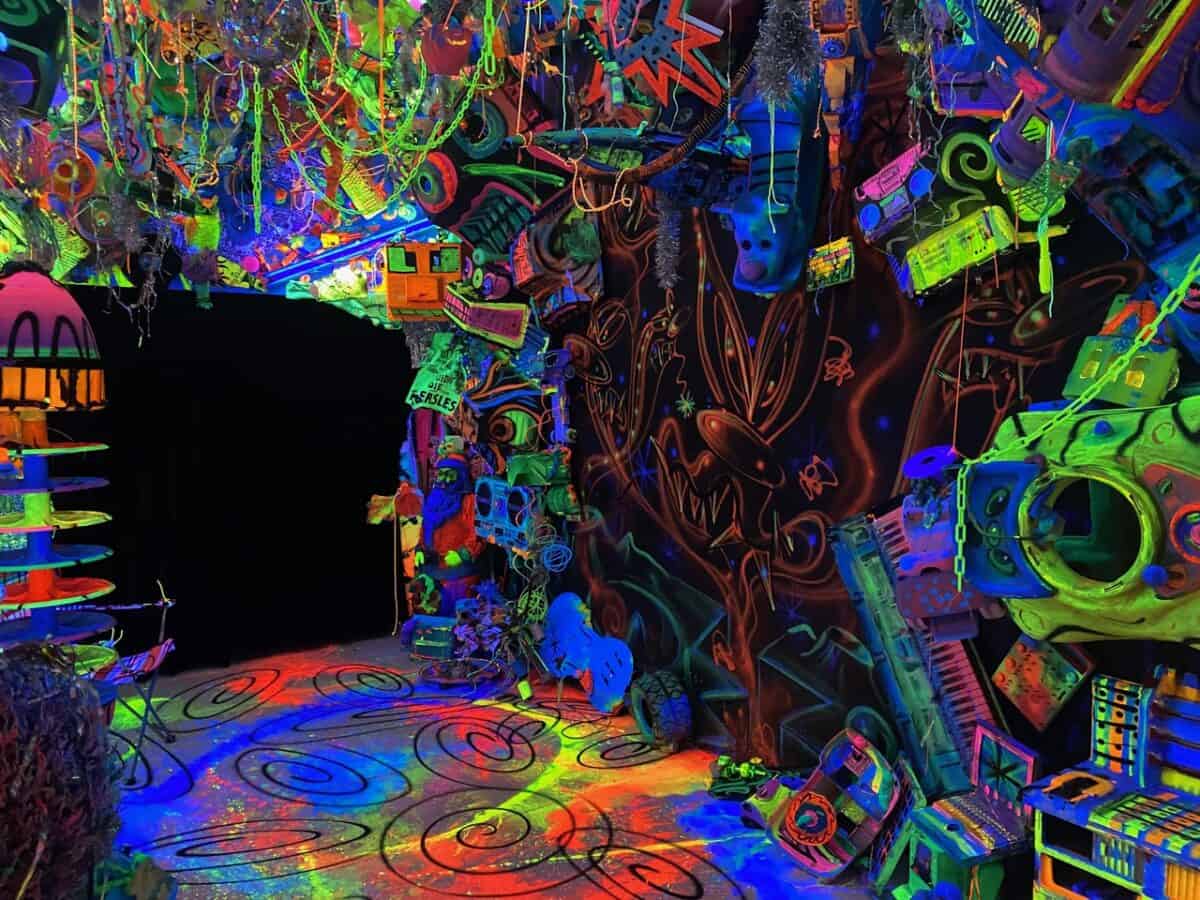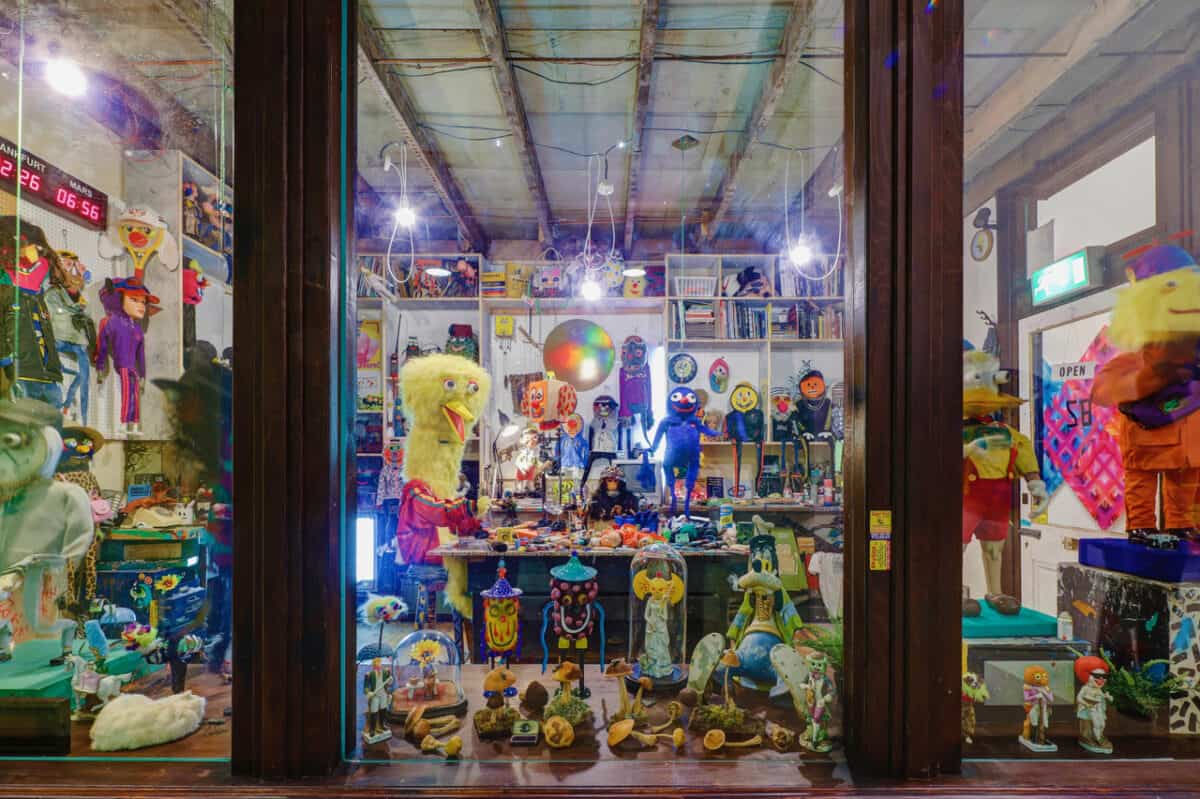 Feminist artist collective Guerrilla Girls are prominent on the top floor of the exhibition in the 'Timeline' chapter, which takes a deep dive into street culture history through archival photography, ephemera and fashion to contextualize the cross-pollination of influences across music, fashion and film.  The inclusion of the Guerilla Girls acknowledges the gender imbalance in the graffiti genre, which is dominated by male artist.  Women artists feature throughout the exhibition including LADY PINK's feminist murals; a stunning abstract painting by Ukrainian artist Maya Hayuk; Maripol's images of 80s New York icons Madonna and Debbie Harry; a wall featuring Jenny Holzer's truisms; paintings by Tokyo-born artist AIKO who began painting on the streets of New York in the 90s, which fuse Japanese and Western influences; and STICKYMONGER's surreal characters.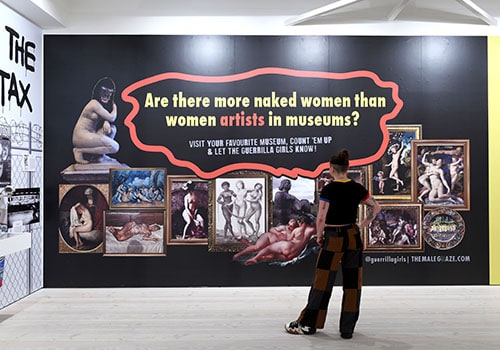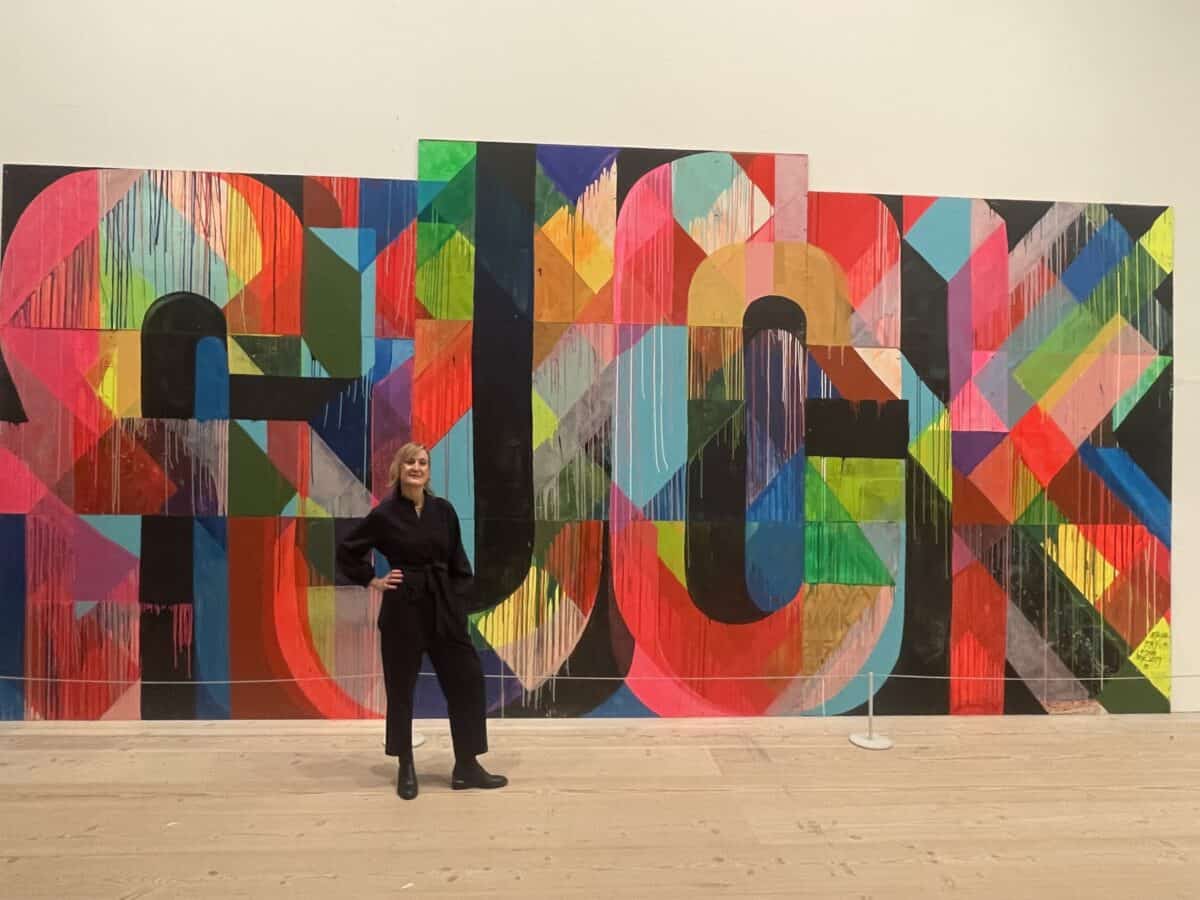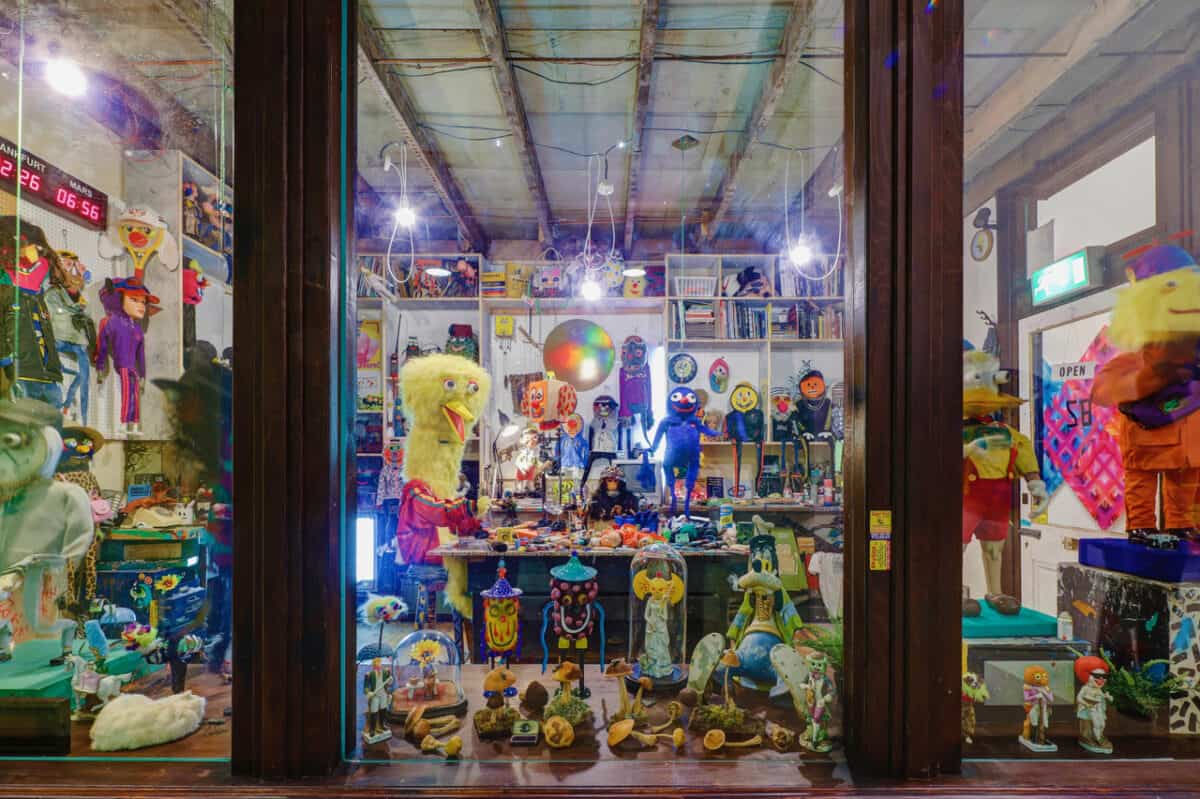 The exhibitions closing chapters consist of 'Social Commentary: Graffiti as a message'; 'Art with Conscience' containing works by hip-hop pioneer Fab 5 Freddy, and; 'Consideration Into Innovation' showcasing Lisbon-based artist, VHILS, who innovatively utilizes repurposed materials to reimagine city walls. 
Also featuring prominently in the exhibition is photography documenting graffiti and street art, whose importance can't be underestimated as a historical archive, particularly because the illegal and transient nature of graffiti meant that it didn't stay in place for long. Notable photography includes Henry Chalfant's images of  New York City train writers in action, Dash Snow's voyeuristic polaroids capturing the louche side of the 90s art scene in downtown NYC and Gordon Matta-Clark's extraordinary graffiti photography archive.  The most surprising photos for me are French photographer Brassai's black and white silver gelatin prints documenting graffiti, carvings and etchings found on the city walls of Paris, which were exhibited way back in 1956 at the Museum of Modern Art in NYC. 
The 'Legends' chapter features legendary NYC artist Eric HAZE, abstract expressionist artist José Parlá, iconic advertisement posters by KAWS, and work by the late 1980s pioneer Keith Haring. 'The Next Phase' –  the final chapter of the exhibition –  features new op-art works by Felipe Pantone, a Valencia-based artist known for creating geometric patterns that challenge perspective and channel the digital age.  
More than 100 artists are featured including; 10Foot, AIKO, Alicia McCarthy, André Saraiva, BÄST, Beastie Boys, Beezer, Bert Krak, BLADE, BLONDIE, Bob Gruen, Brassaï, Broken Fingaz, C. R. Stecyk III, CES, Charlie Ahearn, Chaz Bojórquez, Chris FREEDOM Pape, Christopher Stead, Conor Harrington, CORNBREAD, Craig Costello, CRASH, DABSMYLA, Dash Snow, DAZE, DELTA, DONDI, Duncan Weston, Dr. REVOLT, Eric HAZE, Escif, Estevan Oriol, Fab 5 Freddy, FAILE, Felipe Pantone, FUME, FUTURA2000, Glen E. Friedman, GOLDIE, Gordon Matta-Clark, Gregory Rick, Guerrilla Girls, Gus Coral, Henry Chalfant, HuskMitNavn, IMON BOY, Jaimie D'Cruz, Jamie Reid, Janette Beckman, Jason REVOK, Jenny Holzer, Joe Conzo, John Ahearn & Rigoberto Torres, José Parlá, KATSU, KAWS, KC ORTIZ, Keith Haring, Kenny Scharf, KING MOB, LADY PINK, Lawrence Watson, Lisa Kahane, Malcolm McLaren, Maripol, Martin Jones, Martha Cooper, Maya Hayuk, Michael Holman, Michael Lawrence, Mister CARTOON, MODE 2, Ozzie Juarez, Pablo Allison, Pat Phillips, Paul Insect, POSE, PRIDE, PRIEST, Richard Colman, RISK, Robert 3D Del Naja, Roger Perry, Shepard Fairey, SHOE, Sophie Bramly, STASH, Stephen ESPO Powers, Stickymonger, SWOON, TAKI 183, Toby Mott, TOX, Tim Conlon, Timothy Curtis, Tish Murtha, Todd James, VHILS and ZEPHYR. 
Beyond the Streets is at the Saatchi Gallery until 9th May 2023: saatchigallery.com
Categories
Tags