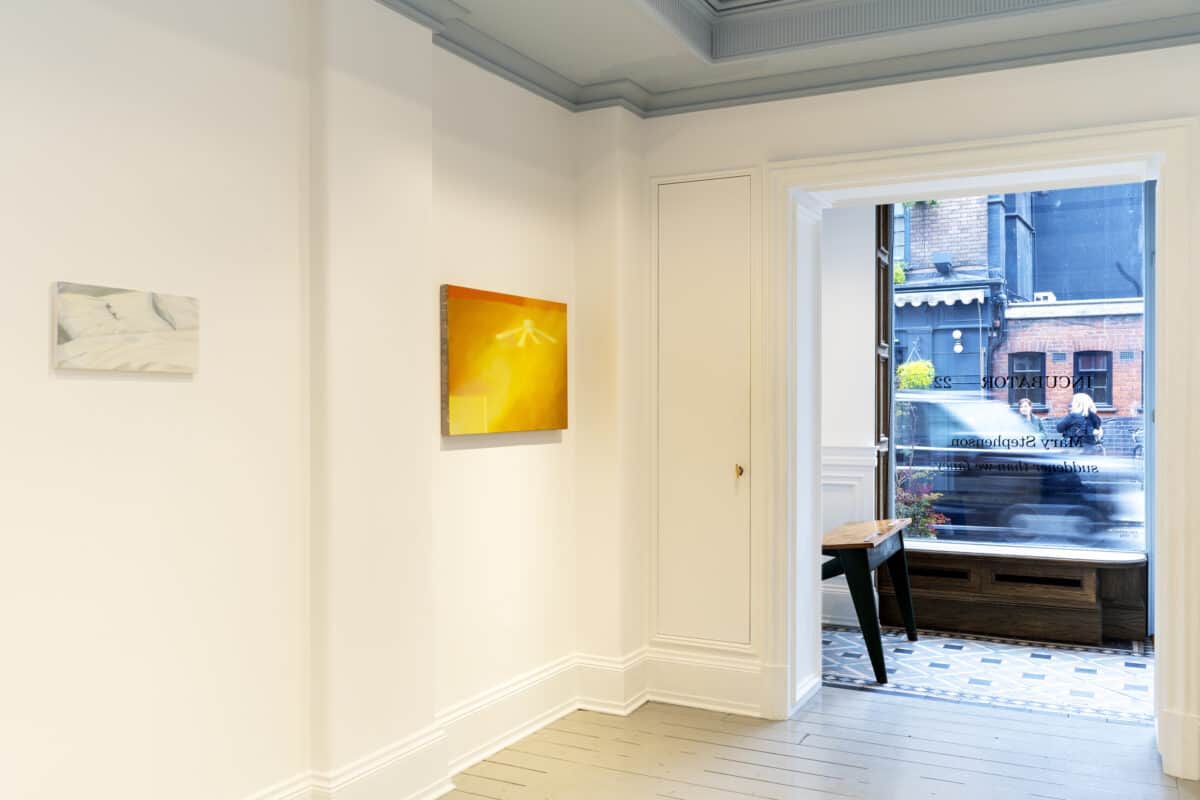 Incubator, the dynamic platform for emerging artists are set to launch a permanent gallery and project space.
Initiated and led by Angelica Jopling, Incubator fosters a vibrant community for exceptional emerging artists. It will continue to amplify their work through bold solo and group exhibitions over the next year.
The success of the Incubator 21 and 22's highly adrenalised pop-up series of week-long solo exhibitions, which showcased the work of twenty artists over the past year, highlights the need for a dedicated space in London where emerging artists of all ages, disciplines and nationalities can showcase their work.
The upcoming solo exhibition series, 'Incubator 23', will take place from 5th April – 25th June 2023
at 2 Chiltern Street, London W1. Featured artists include Emily Wilcock, Kesewa Aboah, Graham Silveria Martin, Atticus Wakefield, Jungwon Jay Hur, and Marco Bizzarri.
In addition to the regular exhibition openings, Incubator has announced a biweekly events programme, which will provide opportunities for performers such as poets, dancers, and musicians to showcase their work and collaborate with or stand in stark contrast to Incubator's visual artists. The events programme is testament to Incubator's commitment to cross-pollinating mediums of art in order to celebrate the diversity of artistic expression and challenge the boundaries of what is possible in the art world.
Incubator's mission is to provide a dedicated space for emerging artists to realise their artistic
vision and connect with audiences.
About the artists
All of the artists featured in 'Incubator 23' are London-based and this will be each of their first
solo shows. 'Incubator 23' will feature work by:
Emily Wilcock (b. 2001, Brisbane, Australia) 5 – 16 April
Emily Wilcock is a British Australian artist in her final year at Camberwell College of Arts studying Fine Art. Through expressive, gestural drawings and painterly abstraction, Wilcock explores the complexities of her cultural identity and the search for connection between the two geographies. Recent exhibitions include Peculiar Child, Asylum Chapel, London (2023) and Half Way, A.P.T. Gallery, London (2022).
Kesewa Aboah (b. 1994, London, England) 19 – 30 April
Kesewa Aboah is a Ghanaian British artist based in London. She completed a BA in fine arts at the School of Visual Arts, New York in 2017 and has since taken part in artist residency programs in Mexico City, Iceland and Kenya. Recent exhibitions include Bold, Black, British, Christies, London (2021) and IRL, Timothy Taylor Gallery, London (2021). Aboah's practice has a heavy focus on process; modernising traditional embroidery techniques and body imprinting to create a bold, colourful and sometimes haunting version of the 20th century tapestry. Her unconventional use of thread and paper relinquishes her control of the way in which the bodies take form. Allowing each work a personal narrative in both physicality and concept. Hours of untamed precision distorts her figures, realigns their limbs, and rebirths their body, leaving a fragmented tribute to what once was.
Graham Silvera Martin (b. 1983, Ayr, Scotland) 3 – 14 May
Graham is a Scottish London-based artist. He graduated from the Royal College of Art with an MA in Painting in 2021 following studies at Université Paris II Panthéon-Assas, Edinburgh University, and Edinburgh College of Art. Recent exhibitions include Portals, Huxley-Parlour Gallery, London (2022), Internal Weather, Sid Motion Gallery, London (2022), London Grads Now, Saatchi Gallery, London (2021), and Tomorrow 2021, White Cube, London (2021). He is a recipient of the Huxley-Parlour FOUR x THREE grant (2022), the Jerwood Arts 1:1 FUND grant (2021) and the Elizabeth Greenshields Foundation Grant (2020) and in 2021, he and his partner Carlos launched Trafalgar Avenue, an artist-led gallery and project space in South East London. Through a multidisciplinary practice, Graham explores themes of desire, connection, memory and loss. Recent work is informed by Fiona Anderson's writing on cruising as method – a furtive approach to research and making that embraces fascination or obsession with a subject, whilst resisting predetermined outcomes.
Atticus Wakefield (b. 1998, New York City, USA) 17 – 28 May
Atticus Wakefield lives and works in New York. He received his BA in 2020 from UCLA, with a focus in painting and art history. Group Exhibitions at Estrella Gallery, New York, 2021 (Death of Ulysses) and Gaaaaasp, New York, 2021 (Two Left Feet), Anonymous Gallery, New York, 2022 (Bermuda Triangle), and Ambar Quijano, Mexico City, 2022 (Liquid Frictions). Through layering oil paint on canvas, Wakefield creates transhistorical paintings that are both figural and figurative, embodying the pulsing rhythm of human nature.
Jungwon Jay Hur (b. 1996, Seoul, South Korea) 31 May – 11 June
Jungwon Jay Hur is a multidisciplinary artist who lives and works in London, UK. She received her BA Fine Art: Painting from Wimbledon College of Art in 2019 and recently finished her MFA Fine Art: Painting at the Slade School of Fine Art in 2022. She works across painting, printmaking, films and ceramics. Sense of vulnerability (and inevitable pain), honesty, intimacy and the beauty of triviality (or modesty) are values in the work of art which she believes in and tries to convey and question through her practice. Recent exhibitions include Contemporary Voices, Plataforma Gallery, Barcelona (2022), Why Don't You Dance?, ASC Gallery (2022), and Hearth, Lokal Gallery, Helsinki (2021).
Marco Bizzarri (b. 1988, Santiago, Chile) 14 – 25 June
Marco Bizzarri is a Chilean – Italian artist based in West Sussex, England. He graduated from
the Pontificia Universidad Católica de Chile with a BA in Fine Arts (2014). In 2017, Bizzarri
co-founded Centro ARC, an art residency at the Humboldt Archipelago in the Atacama Desert of
Chile. In 2020, he moved to London with his family after gaining a place at the Solo Residency
at Unit 1 Gallery, and studied Painting at Turps Art School the following year. Recent exhibitions
include Unearthed at Unit 1 Gallery Workshop in London and Incuria at Galería Animal in Chile.
He has participated in a number of group exhibitions including Recursion at The Split Gallery
(London, 2023) Fauna Presents Auction at Arundel Castle (Arundel, 2023) Gilbert Bayes Award
Exhibition, Royal Society of Sculptors at Cromwell Place (London, 2022), Friends with benefits,
Safehouse 2 (London 2022) RSS GBA Exhibition at CASC Gallery, University of Chester
(Chester, 2022), Royal Society of Portrait Painters Annual Exhibition at Mall Galleries (London,
2021), "XIV Premio MAVI arte joven" at MAVI Museum (Chile, 2020), Habitantes at Centro
Cultural Matta (Argentina,2019), Cohabitar at Cede Galería (Perú, 2016), Outsider at the Gare
of Strasbourg (France, 2014), and The Young Collectors Exhibition at the Leila Heller Gallery
(USA, 2013).
Categories
Tags