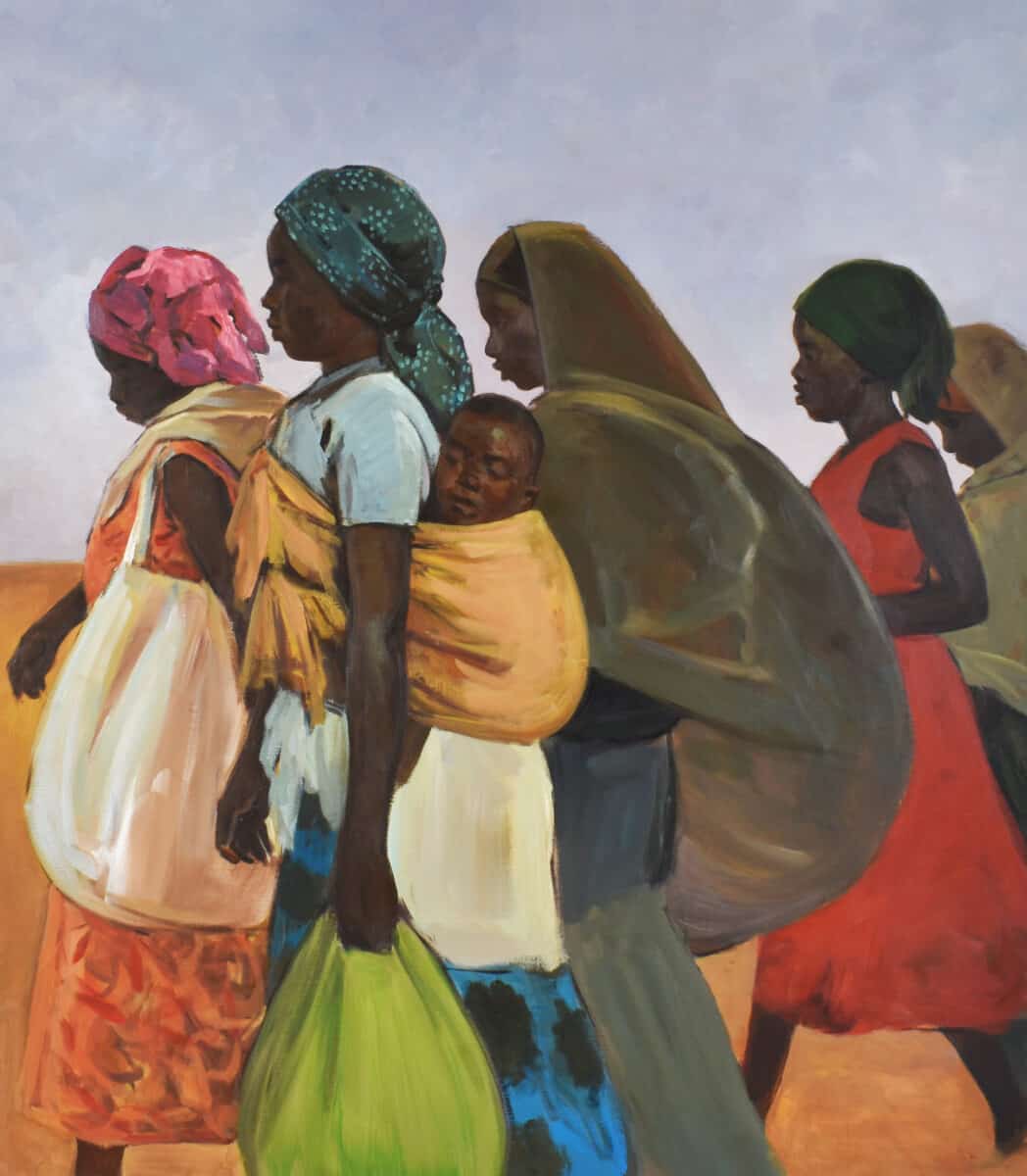 Women in golden headscarves gaze into the distance while mothers pass by with babies strapped to their backs and sacks of provisions slung over their shoulders. For the past two years, the Ethiopian artist Tewodros Hagos has dedicated his practice to the many displaced people in Africa and around the globe. His work seeks to not only highlight the tragedy of the ongoing migration crisis but to also reframe the surrounding narratives that are often presented in broad, sweeping terms or else sensationalist language that reduces individuals to statistics. Fragile, his fourth solo exhibition at Kristin Hjellegjerde Gallery, presents a captivating new series of portraits that captures not only the vulnerability but also the conflicting emotional states and extraordinary resilience of individuals and families who have been forced to leave their homes due to a wide range of social, political and environmental circumstances.
While Hagos' previous series examined the hardships of the journeys made by migrants across the sea or over borders, this latest body of work takes a more internal perspective, with a particular focus on the displacement that happens within countries or continents. In East Africa, for example, the artist notes how many communities are forced to leave their homes in the face of severe droughts or internal conflicts, and travel to other areas of the country in search of a safe place to settle. Though these journeys are often long and perilous in their own ways, the artist chooses to focus less on the changing landscapes and more on the psychological struggles that come with having to uproot oneself and family, and existing within a continuous state of in-between.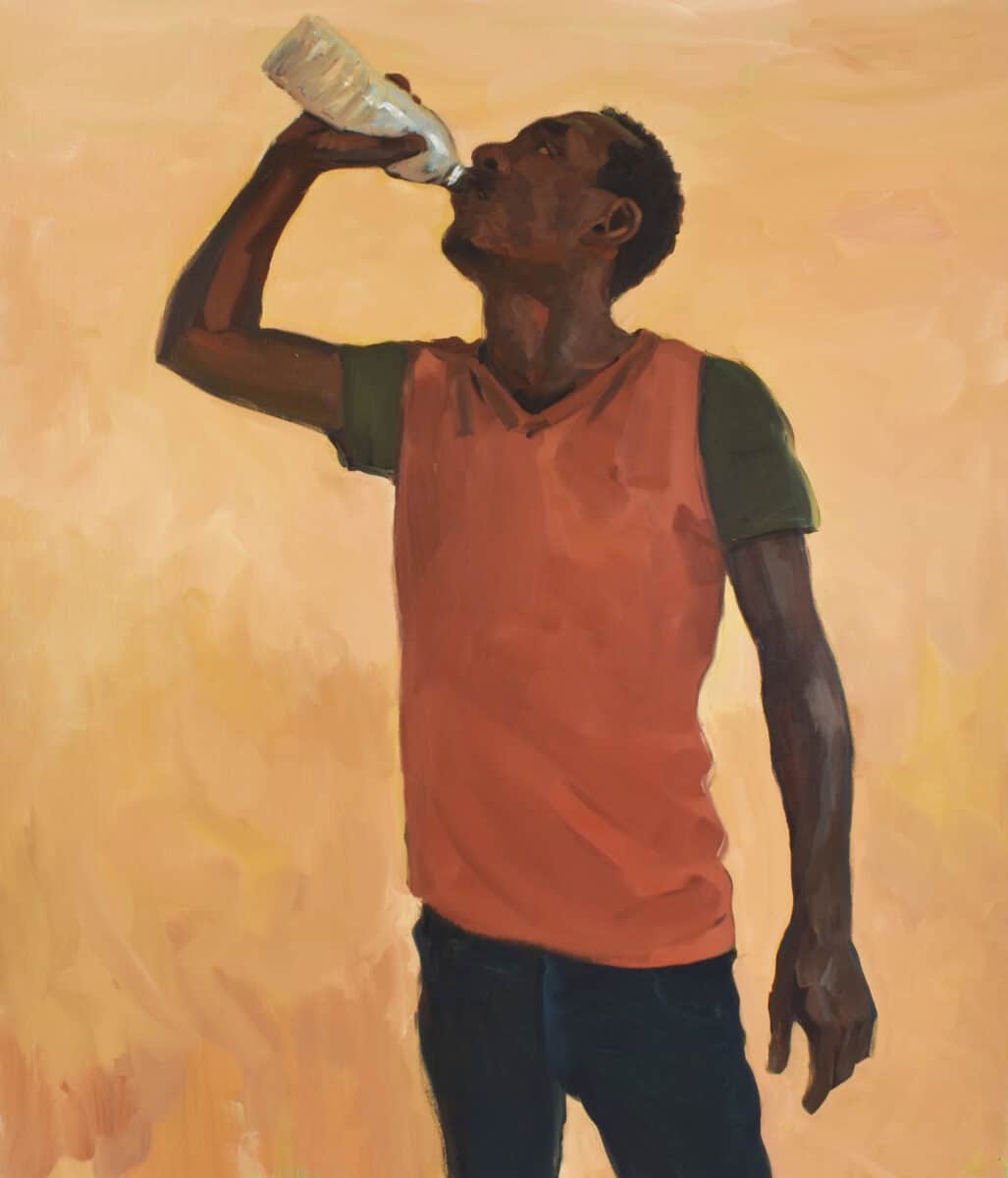 In many of these paintings, the landscape becomes abstracted, into a series of shapeless spaces that swell up around and enclose the subject. Fragile 4, for example, depicts a man drinking water from a yellow container against a sandy, undefined backdrop that serves to intensify his thirst as an overwhelming, all-consuming experience while Fragile 8 depicts a young girl standing against what appears to be a pale blue sky. She is holding a globe in the palms of her hands – a symbol, perhaps, of possibility but also dislocation: she is, here, literally removed from the world and searching for her place within it. The representation of the earth as a handheld object – a luminous orb – also reflects on its own fragile situation and our responsibility, as humans, to care for our environment.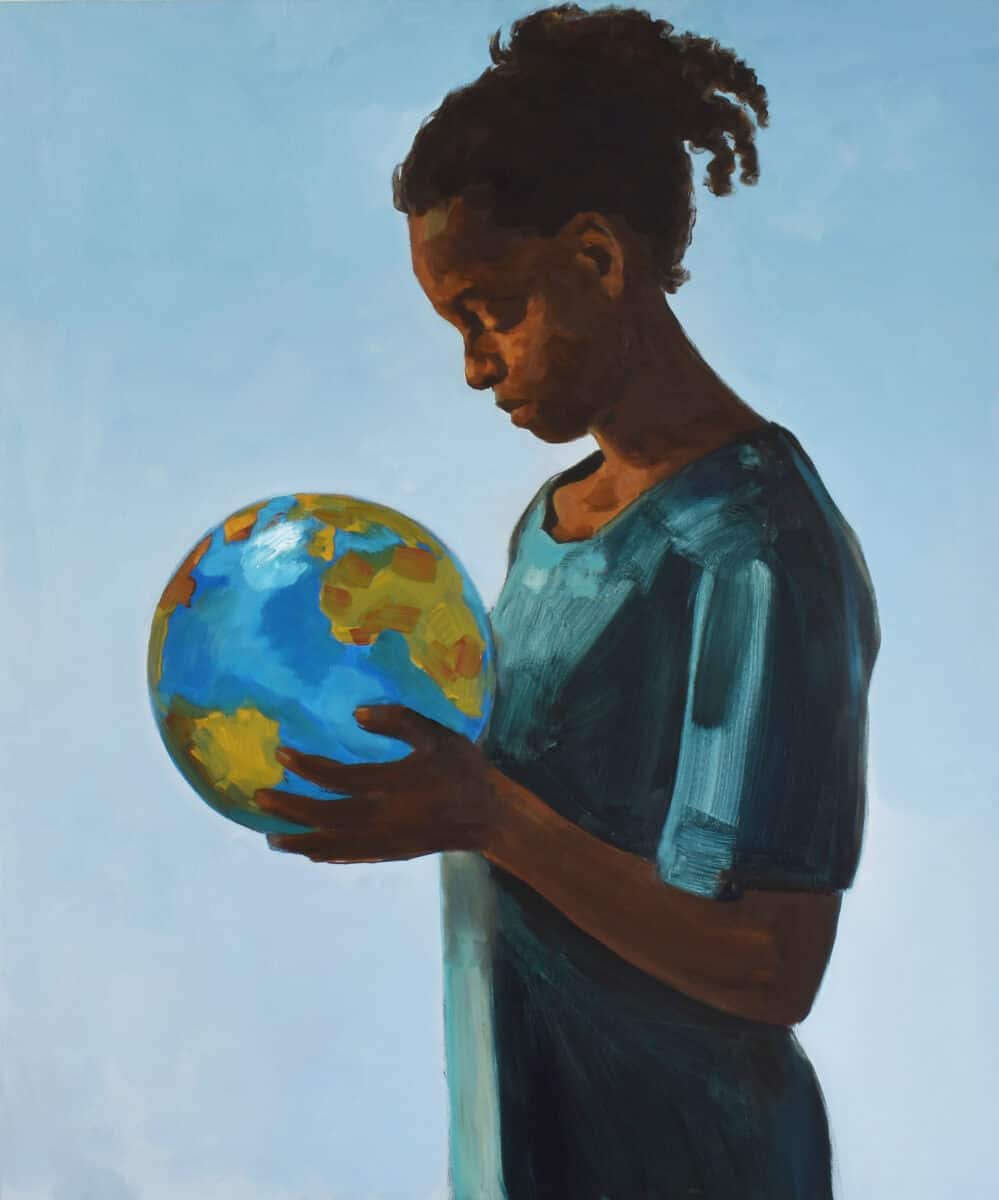 In Fragile 6, one of the most striking paintings in the series, a young girl, dressed in a floral pink dress and headscarf becomes a source of light against a dark amorphous background. She is looking down towards the corner of the canvas, holding a thin stem of leaves which we might associate with growth or fertility, but the plant, like the girl, is ungrounded, plucked before it has been able to lay its roots. In this way, the portrait not only reflects the experiences of the individual depicted but also on the wider loss of childhood as a result of the conditions of displacement.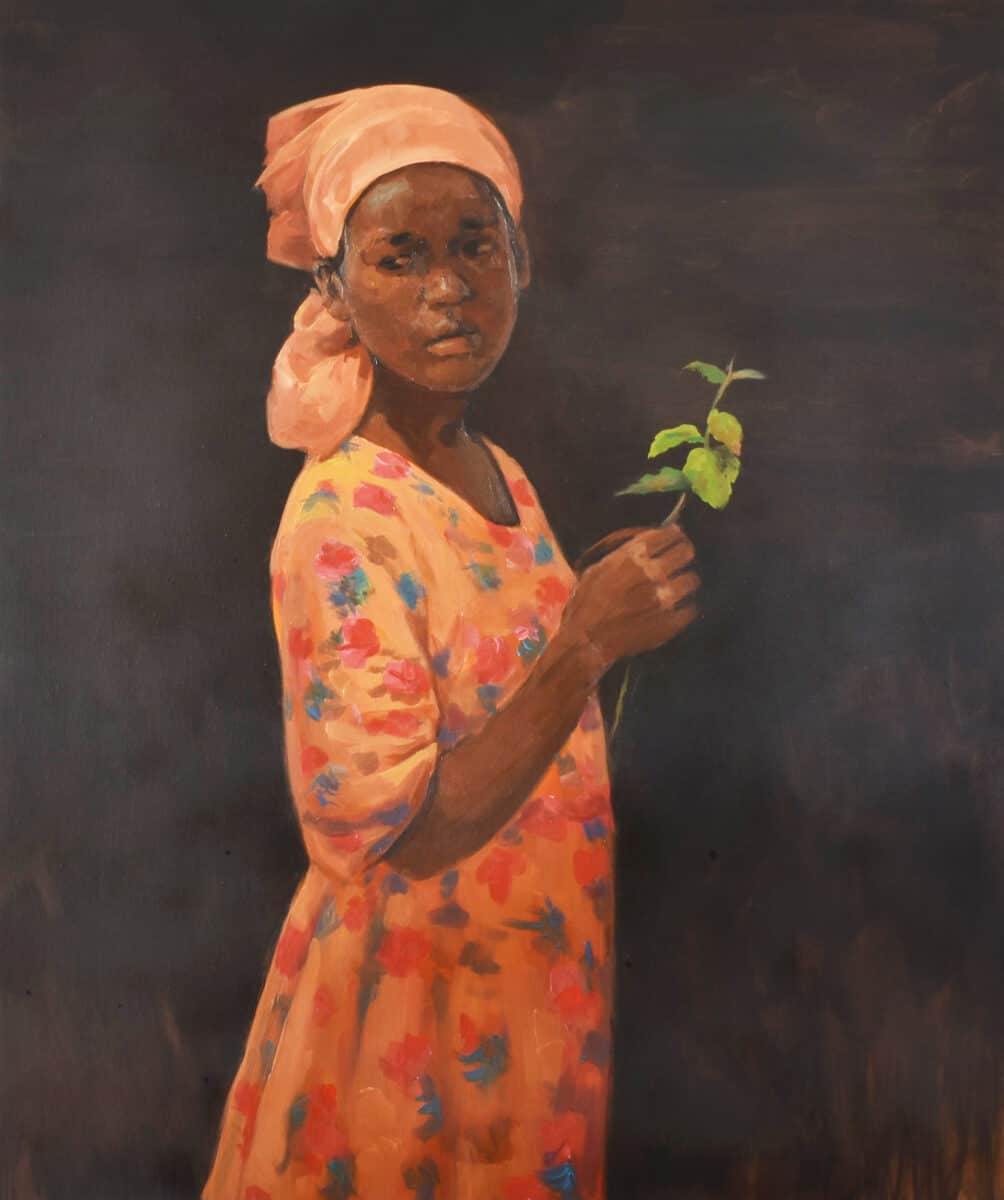 Elsewhere, in an arresting series of close-up portraits, Hagos challenges the viewer to view his subjects as complex, evolving individuals. Rendered in quick, spontaneous brushstrokes, the faces appear shifting, as if experiencing not just one but a vast range of emotions, from grief to fury, pride and disdain. The golden cloth wrapped around the heads of the women is a necessity, a form of protection, but also an object of beauty – it imbues them with power and radiance just as the colourful, patterned textiles worn by figures in other paintings appear defiantly expressive. 'It is common for people in desert and rural communities in Africa to wear very vibrant clothing as a way of increasing their visibility,' explains Hagos who plays on this idea by intensifying the colours to the point that his subjects become boldly illuminated against their backdrops – impossible to miss.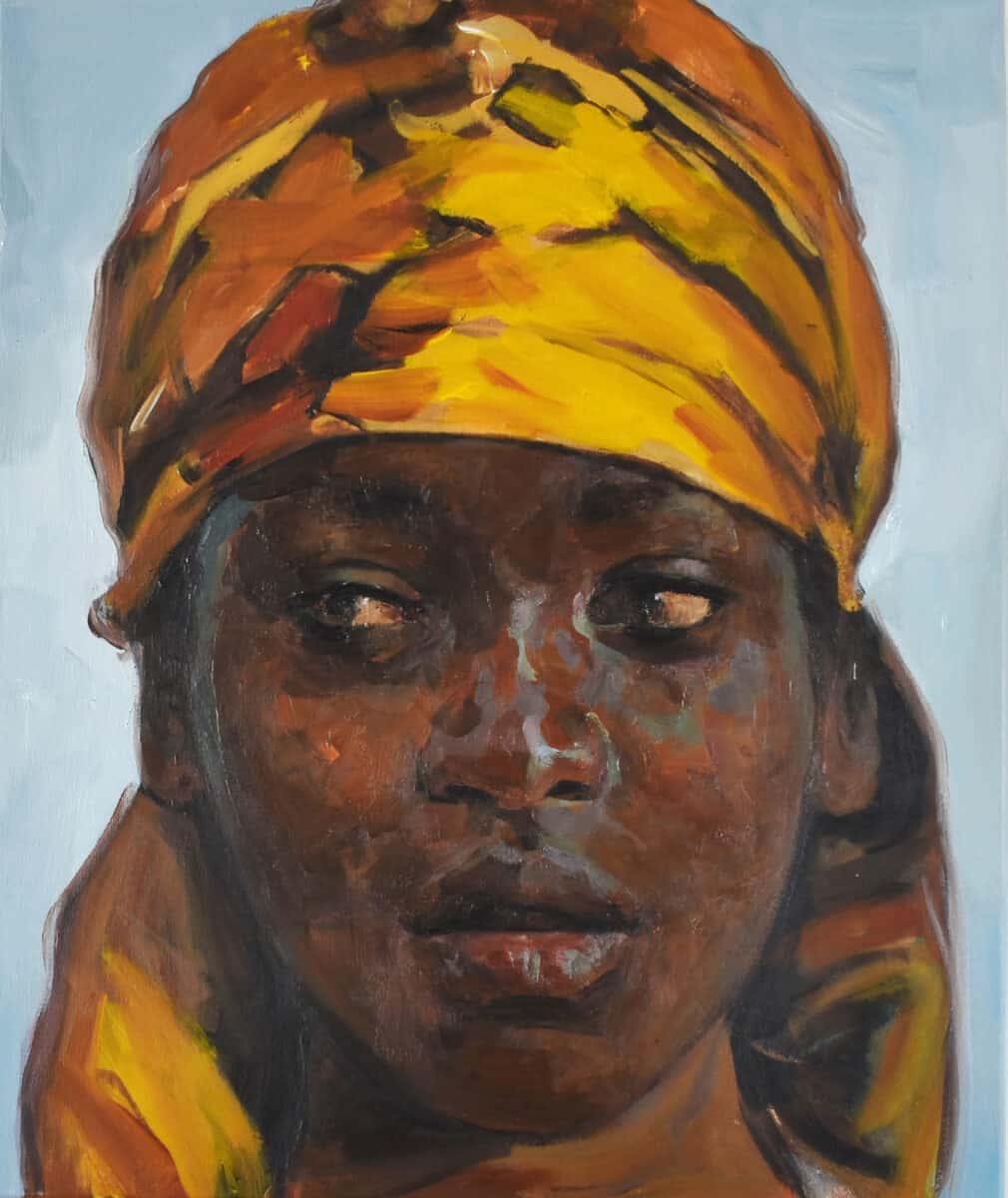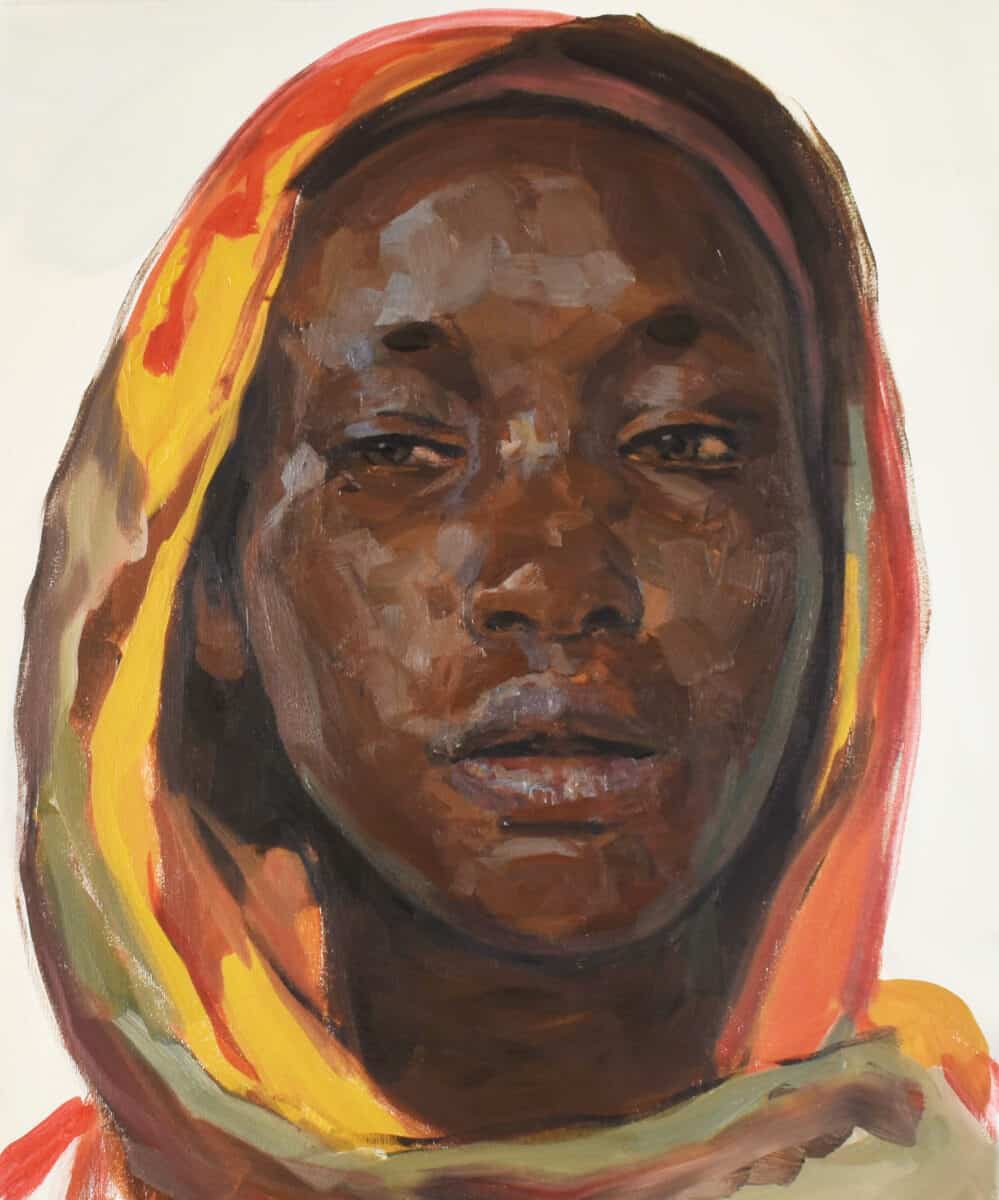 And yet the sad irony is that we continue to miss, or overlook, what the artist describes as 'one of the worst humanitarian crises of our time.' All over the globe, individuals have lost their homes due to conflict or natural disasters and are living a nomadic existence where they are forced to move between temporary accommodation or refugee camps. In several of the paintings, these settlements appear in the distance as clusters of generic white tents or smothered in flames and smoke. The latter reflects on the hatred faced by migrant communities which are sometimes destroyed by arson attacks, but also serves as a metaphor for the precarity and dangers of the situation.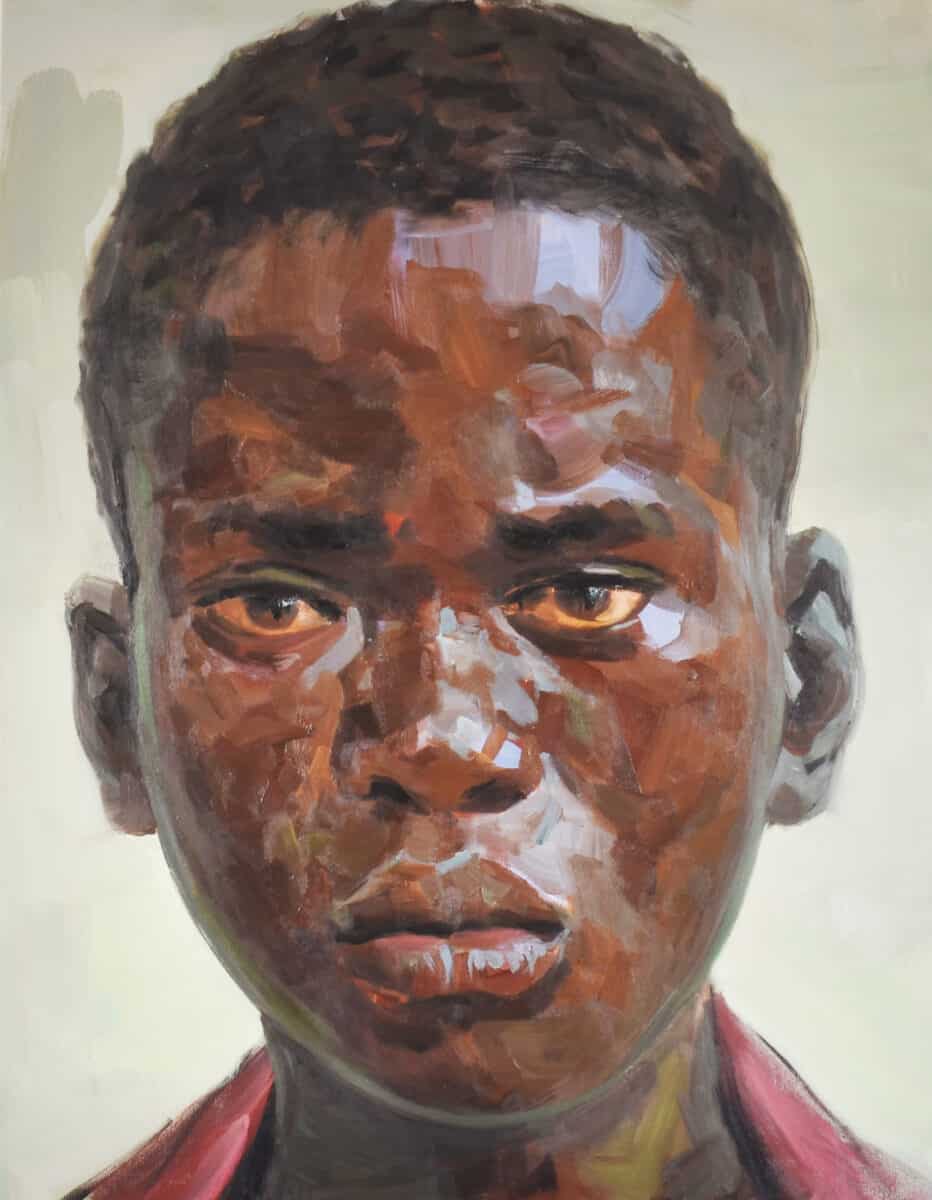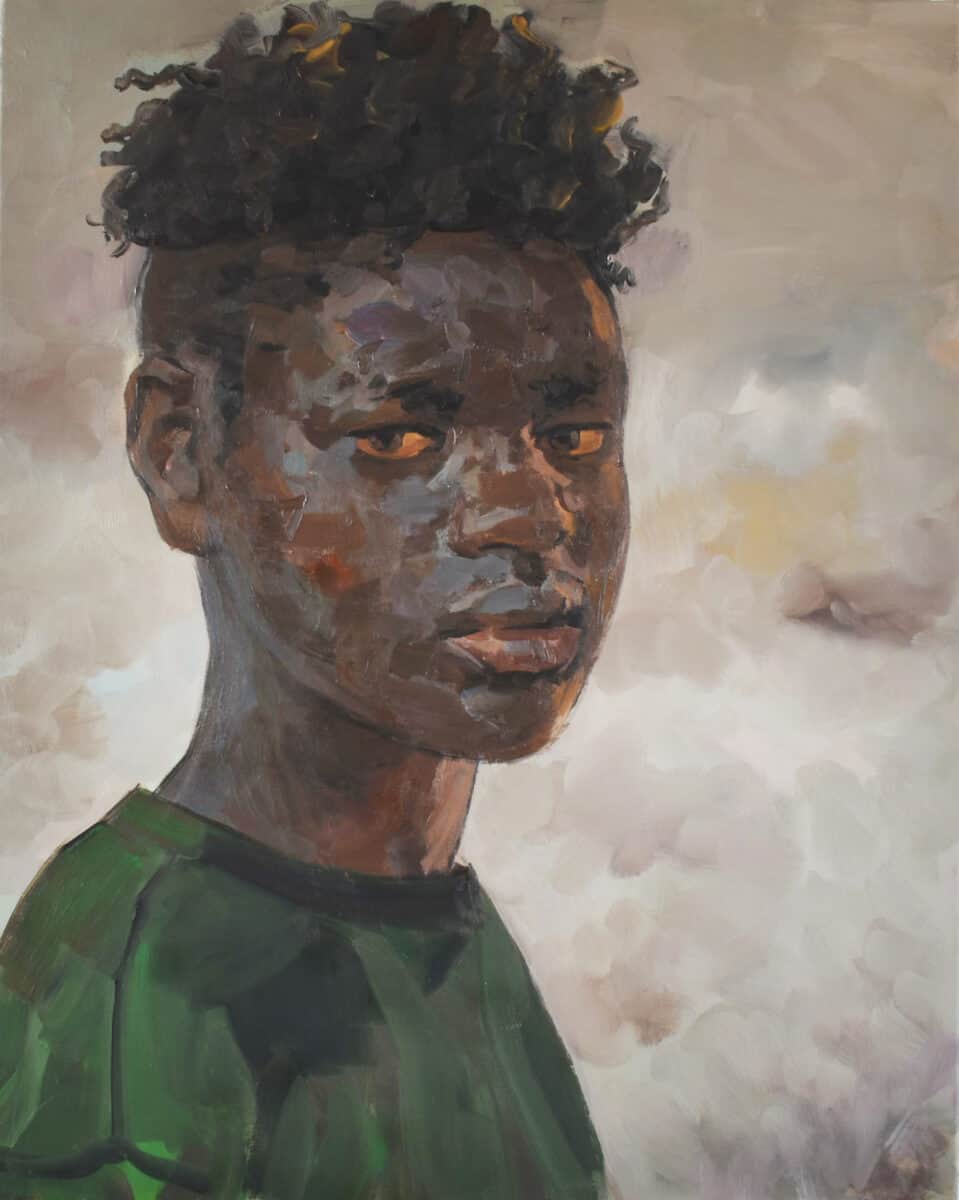 'Most of us take having a safe place to live for granted,'

'We do not understand the fragility of our lives and the planet until we are confronted with it.'

Tewodros Hagos
These works are that confrontation – a rallying cry to not just recognise the impacts of the migration crisis but to also take action.
Tewodros Hagos, " Fragile ", 20th April – 20th May 2023, Kristin Hjellegjerde Gallery (London Bridge)
About Tewodros Hagos
Tewodros Hagos (b. 1974, Addis Ababa), graduated from Addis Ababa University School of Fine Arts and Design in 1995. Today, Hagos is considered to be one of the most promising artists of his generation. His works have been exhibited in Ethiopia, Belgium, Germany, Italy and the US. Hagos' work is often inspired by contemporary journalistic imagery as he explores the many layers of social injustice experienced by migrants. At home in Ethopia, his paintings are witness to the profound transformation and evolution of Ethopia.
Solo exhibitions include (Upcoming) Kristin Hjellegjerde Gallery, London (2023); "Mirage", Kristin Hjellegjerde Gallery, Berlin (2022); "THE DESPERATE JOURNEY II", Kristin Hjellegjerde Gallery, London (2021); "THE DESPERATE JOURNEY", Kristin Hjellegjerde Gallery, London (2020); LeLa gallery, Addis Ababa (2019); LeLa gallery, Addis Ababa (2017); Alliance Ethio-Francaise, Addis Ababa (2016); LeLa Gallery , Addis Ababa (2015); Alliance Ethio- Francaise, Dere Dawa (2014); Ethiopia cultural centre, Los Angeles (2013); Alliance Ethio-Francaise, Addis Ababa (2010); Gallery BEK, Leuven (2007); Gallery KN10, Antwerp (2004); kappelen cultural center, kappelen (2000); Studio am schloos, Berlin (1998); Futuro cultural center, Rome (1998).
Group exhibitions include Untitled Miami Beach Art Fair, Miami, USA (2022); The Unseen, Whitechapel Gallery, London (2022); Unsettled, Duende Art Projects, Antwerp, Belgium (2022); Young Curators: Melketenner / Milk Teeth, Nitja Centre of Contemporary Art, Lillehammer, Norway (2022); Facing the Sun, Kristin Hjellegjerde Gallery, Schloss Görne, Germany (2021); 1-54 Contemporary African Art Fair, Somerset House, London (2021); LeLa gallery Addis Ababa (2018); Lela art gallery, Addis abeba (2016); laphto art gallery Addis Ababa (2015); LeLa gallery, Addis Ababa (2014); Atelier Fine Art Gallery, Addis Ababa (2012); Studio am Scholes Berlin (2008); Biblotheek Permeke, Antwerp (2007); Biblotheek Durne, Antwerp (2005).
Highlights and Collections- In 2021 Tewodros Hagos received the second prize award from the Ethiopian Ministry of Culture following his award in 2017 of the prestigious "Chevalier of France's Order of Arts and Letters" from the Culture and Communication Minister of France. Hagos has an upcoming show at Nitja Centre of Contemporary Art, Lillehammer, Norway. His works can be found in many public and private collections worldwide including the Kistefos Museum, Oslo (Norway); Laurent Dumas, Farida et Henri Seydoux Collection (France); the Bunker Artspace Museum (USA); Arthur Lewis Collection (USA); Easton Capital Collection (USA); Birchby Collection (USA) and the C.C.H. Pounder Collection (USA); Naimah/IIham Foundation, (UK/Malaysia).
Categories
Tags