Artist Elizabeth Power talks to Lee Sharrock for the latest edition of 'The Upcoming', about how a relocation from London to St Leonards-on-Sea gave her refreshed inspiration for her paintings, juggling being a full-time artist with Motherhood, and setting up 'Babes in Arms' to curate and facilitate exhibitions with artist-mothers in Hastings and St Leonards. Elizabeth's new body of work 'Coastal Calm' will be exhibited at 99 Projects in West London from 23rd March – 23rd April.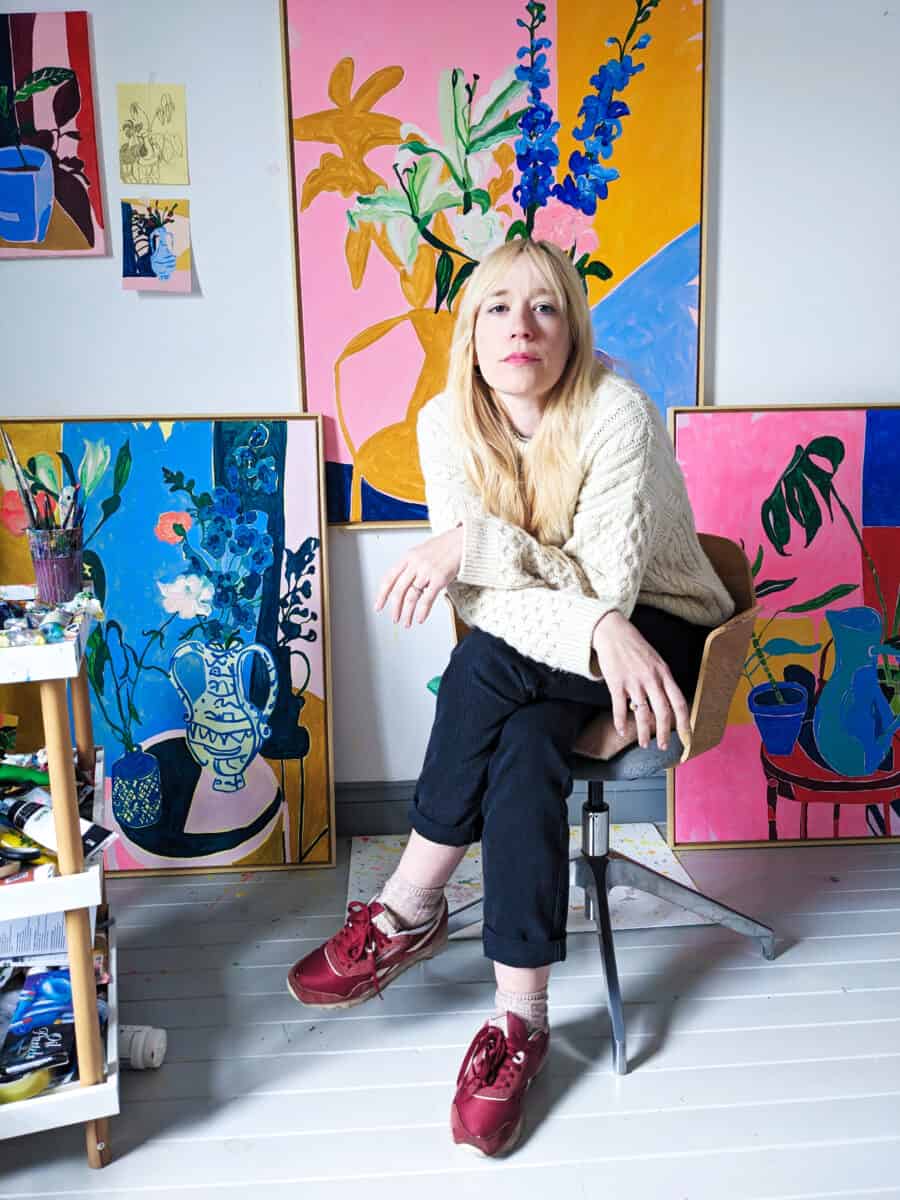 Lee Sharrock: Your solo exhibition at 99 projects is titled 'Coastal Calm', did you start creating the work in the exhibition when you relocated from London to St Leonards-on-Sea? 
Elizabeth Power:  No these are all recent works mostly from this year, but the concept behind them and the work I create in general now really started when I relocated to St. Leonards. I feel incredibly inspired living here, the sea, the architecture, the people, the pace of life, all of these things are definitely reflected in this body of work.
What did you study at UAL?  For any other young artists reading this, can you talk about your route to becoming a full-time artist, and how you gained recognition for your work? 
I studied Fashion Illustration, which actually I loved because it meant I spent three years doing lots of life drawing and learning to paint quite immediately, plus my love of using colours that pop I think came from this time. However, at University they didn't teach me anything about how to run my artistic career like a business. I learnt all that by managing art galleries for the decade that followed. Working within the industry on the other side gave me a huge understanding of how to promote your work, market yourself and how to behave in a professional way. London for me was way too expensive to brave being a full-time artist in my twenties, so it wasn't until I moved away that I could take the chance to really push my own art career (which was the best decision I ever made!). I started to really gain recognition for my work after I was in the Royal Academy Summer Exhibition in 2018, which opened a lot of doors. But it has been a case of steady hard work and a gazillion shows since then which has got me to where I am now.
Can you explain a bit about your artistic process: do you paint in the studio or 'plein air', from life or photographs? 
I like to take my own photographs, which I then use as a loose reference for my paintings. I tend to paint the background of the canvas a block colour (usually yellow or pink) and then do a quick pencil drawing of what the painting will become and for this I use my photos as a reference. But once I start adding colour, I go quite abstract and tend to just follow my instinct by that point!
Your palette of blues, yellows and pinks is reminiscent of Hockney or Matisse.  What other artists inspire you? 
Gosh, so many. I love Tal R, his use of colour and shape is incredible. Jonas Wood is amazing as is Katherine Bernhardt (like me she loves a vibrant pink!). I also love Milton Avery, Pierre Bonnard, Lois Dodd, Alex Katz. They all play with colour and have an abstraction and escapism quality to their work which I adore. I also love some Abstract Expressionists such as Lee Krasner and Cy Twombly, whose style isn't like min,e but I definitely am inspired by them and adore the looseness and playful qualities in their paintings. 
You founded 'Babes in Arms', an organisation that curates exhibitions and hosts shows that promote and support artist-mothers living in the Hastings and St Leonards area. What's your experience of juggling motherhood with being a full-time artist, did you feel the need to set up 'Babes in Arms' as a support network for women in a similar situation? 
Yes absolutely! Being a woman already makes life harder in the art world (the representation of female artists is still way off) but being a mother makes things even more difficult. We miss out on so many opportunities like artist residencies or just being able to make art openings because they always coincide with kids' bedtime routines. Even just finding time in the studio is hard. For example, the bulk of the works I've created for this show have been painted late at night once my kids are asleep, it's exhausting!
St Leonards and Hastings are literally full of artists, and I wanted to create a support network for people locally to me in the same situation. Give us a platform, a voice, and opportunities that we might not otherwise get standing alone. We are stronger together and the community and support we have here are incredible and so far we have already had some amazing exhibitions at the Hastings Contemporary, The De La Warr and The Big Yin Gallery. 
What other projects do you have coming up this year? 
I've got some large-scale paintings in an upcoming exhibition at Home House London, a collaboration with Cura Art, A Space For Art and Offshoot Arts. I also am about to exhibit in a collaboration with Jigsaw and Art For Charity Collective. I have some paintings that will be in the new part of Brighton's Soho House, and I have various exhibitions planned with my art collective over the next couple of months. 
Elizabeth Power 'Coastal Calm' is at  99 Projects, London from 23rd March – 23rd April 2023: 99projects.co.uk
Categories
Tags