To celebrate Women's History Month, Brooklyn-based writer Vittoria Benzine is getting her sea legs back after a winter of existential crises. Good thing, too, because there's a huge amount of can't-miss art on view. Spring's pace is picking up, but we're not watching time. This week's roundup features a disco ball branch and Angelina Jolie's hair. A concise review accompanies each entry to help decide whether it's for you. Last week we covered shows that opened across NYC — those remain on view, too.
March 8th marked International Women's Day — and 44 years since Iranian women stormed the streets to celebrate by protesting hijab mandates. To support the current ongoing revolution of the Iranian people, especially women, against a ruthless theocracy, French artist Prune Nourry organized an experiential pop up show on the East Village's edge alongside three Iranian artists who explore hair too. Prune presents a series here from 2007 including locks from French artist JR, FIAF President Tatyana Franck, and Angelina herself. Visitors can tack a pouch of their own across the way for an ongoing project to support the Iranian cause. People mailed tendrils from around the world — envelopes blanket a big wall amongst the varied interpretations of hair's meaning. At 24 2nd Avenue through March 15.
A haunting is healthy every now and then. The scene setting by this joint presentation helps, because it so perfectly suits the place these two artists' work intersect in aesthetic and concept. Isabel Flower's release notes that although both Perez and Lisette work in charcoal on paper, their processes mark opposite approaches to positive space. All twelve works dabble in memories — a shed from Perez's backyard, butterflies from the time Lisette came upon a dismembered creature that stuck with her. But memory is tricky. There's a set of teeth here, too, if you really want to be spooked. Through March 25.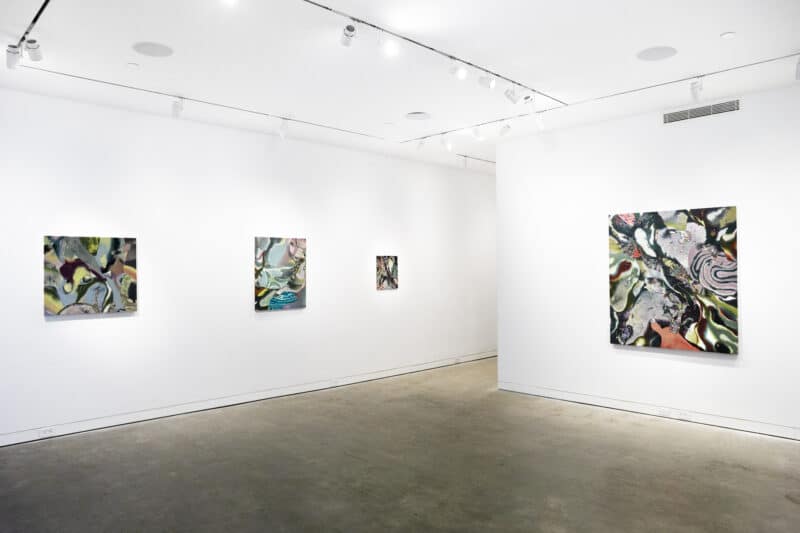 From afar Belkin's latest works look like paintings. Reality crystallizes up close, sort of. If you want to see the work before you know about it, then warning, there are spoilers ahead. But if you like to read, the spoilers are cool — Baltimore-based by way of Moscow, Belkin prints her own photos on fabric, then stitches it those collages with ink-dyed fabric until they're abstract. Sort of. They could be amoebas under a microscope. Silhouettes of actual foliage do take shape, the cosmos within them, calling out to sustainability and the law of conservation of energy, all at the same time. Through April 22.
Oversized pink beads draping the arched doorframe to this installation spark the sense you've really entered Wonderland. There's 1,200 pounds of glass "soil" in this room, immersing viewers in the forest's numerous layers — with an emphasis on mycological undercurrents. Mushrooms do talk to the trees, after all. "Czeresko offers a unique depiction of the mycelia network, denoting a mutually beneficial relationship between different people or groups where all are thriving," the show's release states, "a Queer ecology of limitless abundance, expansive creativity, and an instinct toward pleasure." Beautiful. One way to measure an exhibition is by the conversations you have amongst it. I'm serious. Go there on a Saturday and try talking to people. At the very least you will leave mesmerized. Through May 27.
Everything we think is solid has boatloads of negative space. It's a significant portion of atoms, the building blocks of all matter. Even Earth, so firm beneath our feet, hurtles through space. Earth abounds across Kuwayama's third show with Lower East Side Ki Smith Gallery. The installation spans text-based works defining rock-related words, tiled at the same scale and pattern as delicate drawings of subtly different rocks, mounted rubber molds, even bits of cracked sidewalk. Through these meditations, the show in sum escapes the solidity of things, which was an illusion in the first place. Through April 9.
Categories
Tags