For the latest edition of 'The Upcoming', a column profiling the most exciting emerging contemporary artists, Lee Sharrock talks to Charoula Nikolaidou, a Greek contemporary artist and graduate of the Faculty of Fine Arts of Aristotle University of Thessaloniki.
Nikolaidou's 2nd solo exhibition 'Emotion Lines' in London is presented by Varvara Roza Galleries and The Blender Gallery from 1st to 17th March at Gallery 8 in Mayfair.
Nikolaidou's figurative paintings explore notions of gender and sexuality and are populated by fictional characters inspired by social scenes, personal experiences and art historical references. Her abstract figures and vibrant colours often evoke the cubist angles and Mediterranean palette of Matisse and Picasso, although Nikolaidou adds a contemporary spin with the use of unusual mediums such as spray paint, and looks at her figures through the female gaze to address the 'complex and contradictory feelings about women' of Alpha male Picasso.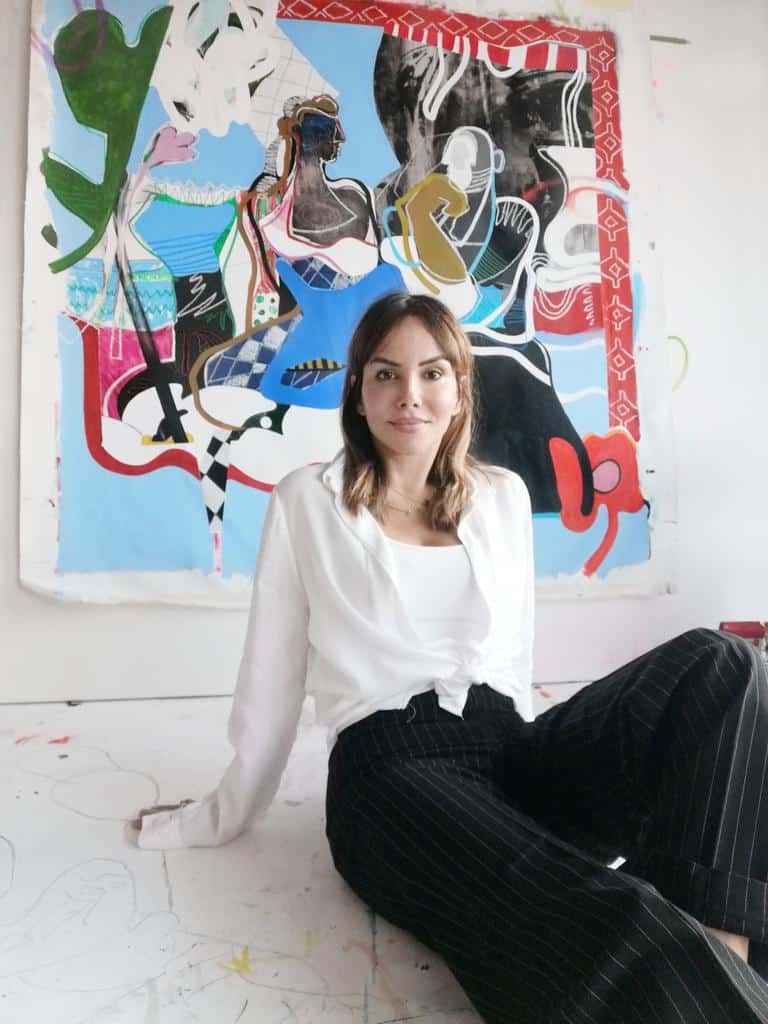 Lee Sharrock: Your upcoming solo exhibition in London is titled 'Emotion Lines'. Where did the title come from?  
Charoula Nikolaidou: All of my works through my studies in the Faculty of Arts centred on the expression of emotion, and my practice has developed into a study of my immediate surroundings and interests. My work is influenced by personal experiences and soul searching, and I am captivated by the exuberance of colour and the lyrical flow of the lines that encircle the vibrating bodies.
You are based in Thessaloniki in Greece.  What's the art scene like there, and how does it compare to the places where your work has been exhibited (like Paris, Geneva, London, Madrid and NYC)? 
Thessaloniki is a city with a rich historical background, and I have the impression that until recently it relied a lot on this as far as culture is concerned. Although it cannot be defined as an evolving art hub – unless you mean one in the early stages of evolution – its art scene at least has become much richer and more multifaceted. In the past few years, we've seen some activities and initiatives related to visual arts, such as Thessaloniki Biennale and Art Thessaloniki Contemporary Art Fair which is successfully heading towards its 7th edition. All these point to an effort for some communication and a mix of different fields, artists, and practices.
Cities like Geneva, Paris, London, Madrid and NY are among the global capitals of business, finance, media, technology, diplomacy, and culture. All of these are cities that stimulate creativity, drawing creative people by building temples of art, and developing art districts, promoting cultural tourism, and realizing the all-important economic impact of creativity. The comparison with other cities is misguided. Thessaloniki is aware of the steps to be taken and as far as the artistic community is concerned, and is a very promising city.
Were you inspired by Picasso and Matisse when painting 'Avignon Girls Partying'? And would you say cubism is an influence on your work? 
Picasso and Matisse are two of the most influential artists upon my practice, but this specific work is an "After Picasso" artwork. Inspired by "Avignon Girls" and motivated by an interest in Picasso's complex and contradictory feelings about women, I titled this work "Avignon Girls Partying" because my "girls", the ones depicted in my work are multidimensional characters with complicated desires, inner dialogues, and psychology. They have lives, lovers, partners, and real stories. Cubism was a revolutionary new approach to representing reality. It also allowed for the development of abstract modern art movements. However, I think abstract expressionism defines me the most, as my works are about valuing freedom, spontaneity, and personal expression.
Art historian Efthimis Lazongas of the Sorbonne University has said of your work"In Charoula Nikolaidou's painted worlds, the eroticism, the inwardness and the ecstasy of existence are praised. The scene is adequately described in terms of the body: 'The body is a scene. A meaning in action', which leads us to presume a performance of form empowers the narrative of the drama."  Your paintings are quite erotically charged yet at the same time abstract.  Do you work from life or imagination? 
In my paintings I incorporate vibrant colours of both figures and space, capturing at the same time movement and vital emotional forces of life and existence, such as tenderness, love, fragility and eroticism. My figures inhabit the canvas playfully, revealing sensualism and emotional electricity. I work entirely from imagination, reflecting my own experiences, interactions, passions and interests by infusing line, shape and figure to convey a story. I capture moments of my life or elements from historical paintings that resonate with our times.
Where did you study and what was your path towards becoming an artist? 
I studied at the Faculty of Fine Arts of Aristotle University of Thessaloniki. I've always just had a liking for art and considered myself an artist. I've never thought about it, I just fell into it and I recognised it as a door through which all the feelings and thoughts I had would magically get out. I remember myself always drawing on papers, on tables, and chairs and being sensitive to my surroundings. Art played a big role in my life when I was growing up. In high school was when I started becoming more serious about art. I loved painting from the age of 4 or 5, and I was always creating with my hands. When I paint I feel like I'm solving a problem or creating an idea that didn't exist before.
You use a variety of mediums in your paintings, including spray paint, can you explain your creative process and where you work? 
My creative process involves two stages: thinking and producing. It is a deeply personal moment, and I usually prepare my action through an initial draft. When I decide on how to implement my idea, I start off with gestural writing on the white canvas, making marks and erasing, gradually starting to form figures and objects. The different materials, such as acrylics, oil pastels, ink and spray paint, help me enrich my painting with colour qualities and texture. While my figures seem quite defined and controlled, I work a lot intuitively and spontaneously as well. I work in a studio that is full of positive vibes and dreams.
For more information go to: varvararozagalleries.com
Categories
Tags