In a world obsessed with soundbites and headlines, Peter Doig's secondary market prices are the stuff of art market legend, which is likely more a curse than a blessing for Doig, who is the first living artist to exhibit at the Courtauld Gallery since its 2021 renovation. Some of the works were begun prior to Doig's move back to London from Trinidad two years ago, and many were finished recently. Indeed, Doig was working on some of them right up to the eleventh hour, leaving curators in fear of wet paint. 
The immediate downside is that it feels too small – two pokey rooms consumed by a few large canvases. To immerse yourself in the bustle of Night Studio (STUDIOFILM & RACQUET CLUB) (2015), where Doig himself appears amongst the hubbub of his weekly film and sports clubs, you find yourself stepping back and tumbling into somebody admiring the painting on the opposite wall. Everywhere you turn, there is someone – usually taking a photograph – in the way and that hazard never dissipates because all these works need to be viewed at a distance. And for all the fanfare, twelve canvases hardly satisfy the appetite, which only grows with every encounter.
None of this responsibility, of course, lies at the artist's door. For his part, Doig is on top form, heralding his return to London after nearly two decades away with a blistering mixture of sun-kissed joy and sobering banality. Painting on an Island (Carrera) (2019) shows an artist working by moonlight, depicted with the documentary-maker's sense of detachment, but with such depth of colour that every figure in the picture pulsates and shines. A breakfast by the side of Regent's Canal, in Canal (2023), acts as a foil to the monumentality of many of the works with its nod to the comfort of the ordinary – fried eggs, dark skies, the undulating red bridge – that London offers.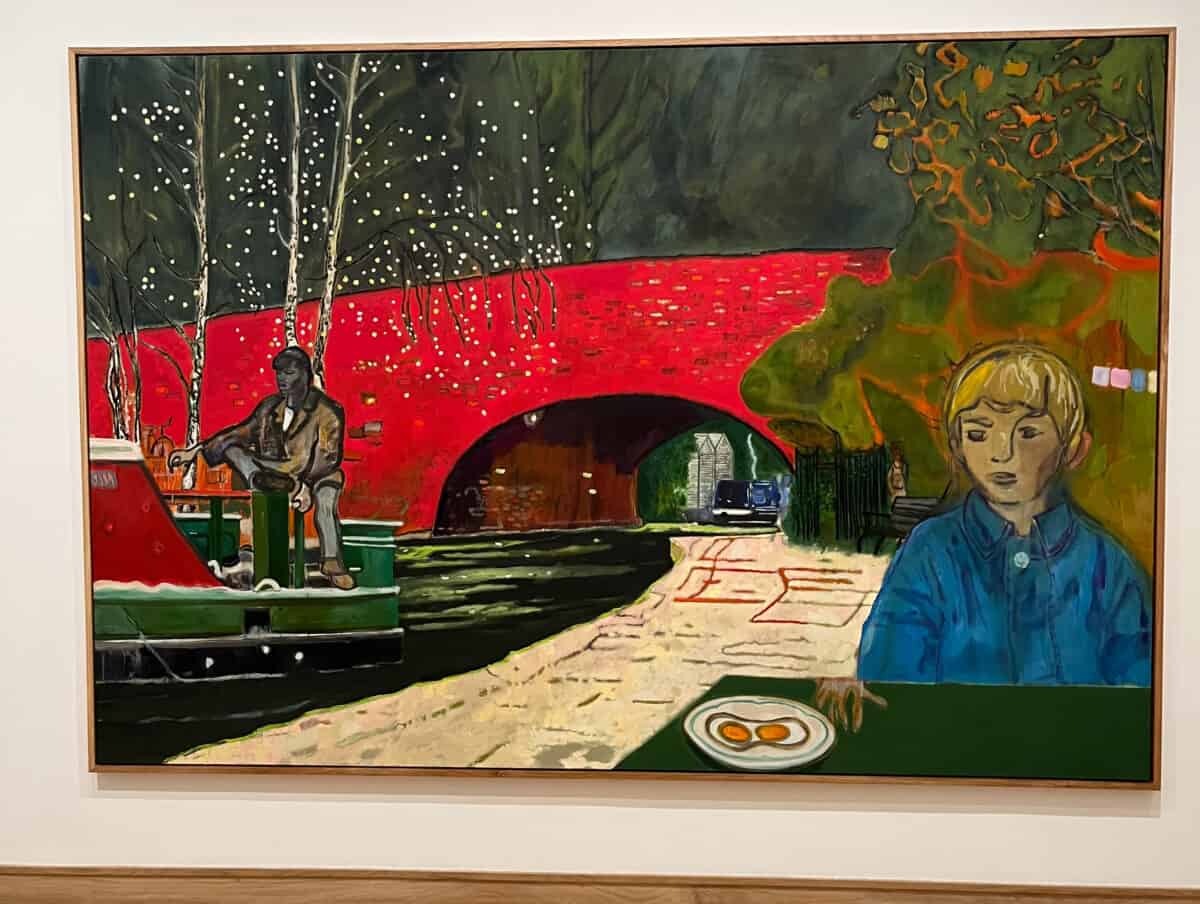 They used to call Doig's landscapes 'magical realism', but with these portraits, you have to dig a bit deeper, for there is a sense of alienation and mystery that emerges from beneath layers of superficially pleasing depiction. Bather (2019-2023), for example, is inspired by a magazine photo of Robert Mitchum, who appears curiously washed out on a dislocated seascape, the confidence and poise of his body at odds with the cool, timeless, featureless surrounding, as if something is missing or lost forever. And that vast snowy landscape in Alpinist (2022) a nod to Doig's love of skiing and childhood in Canada, is so much more than it seems: is it about the life of the vibrant figure in the sweeping icy landscape, or is it about the irresistible nod to Klimt that dominates the canvas? 
As ever, Doig is complex, brooding and ranging over space and time to construct windows into worlds that are simultaneously forgotten and etched in memory. The twelve paintings in this new exhibition certainly demonstrate that Doig is a contemporary master worthy of being nestled beside Cezanne and van Gogh, as he too causes the ordinary to vibrate with a certain indelible fire within.
The Morgan Stanley Exhibition: Peter Doig, 10th February – 29th May 2023, The Courtauld Gallery courtauld.ac.uk
Categories
Tags