Just over an hour from the hustle and bustle of London's Victoria station, the bucolic charm of Petworth in West Sussex is a welcome escape and the venue for a new exhibition from the contemporary art world of couple Annie Morris & Idris Khan.  
Surrounded by the sweeping hills of the South downs, it's not difficult to see why the artist-couple moved to the area during the pandemic and ended up creating a series of complementary artworks inspired by the changing seasons and West Sussex countryside, which are on display at Newlands House, an 18th century, 12-room townhouse in the heart of Petworth.
Newlands House is a relative newcomer to the British art scene, but since opening in spring 2020 with a remit of staging world-class exhibitions focussing on important 20th Century artists, has already hosted some heavyweight artists including Frank Auerbach and Joan Miró, and under the artistic direction of Maya Binkin, is accidentally earning itself a reputation for exhibitions exploring artist-couples, with Annie Morris and Idris Khan following in the illustrious footsteps of Picasso & Lee Miller, and Sean Scully & Liliane Tomasko.   
'Two Worlds Entwined: Annie Morris and Idris Khan' is a stunning visual investigation into the creative process and artistic practice of Morris and Khan, in the intimate setting of Newlands House gallery. A conversation is invited between the work of Morris and Khan, through an extensive exhibition featuring sculptures, prints, drawings, sound installation, tapestries and furniture, which fill the entire house. This is the first time the artist couple's work has been displayed side by side in the UK. 
Although Morris and Khan are relatively young, their prolific output Binkin's skilful curation invites visitors to journey through different life stages which informed the artists' work, giving the exhibition the feel of a retrospective. 
'Two Worlds Entwined' features 60 works that offer a glimpse into the creative minds of the artist duo, including career-defining pieces as well as new work created in response to the Georgian architecture of Newlands House and the West Sussex countryside.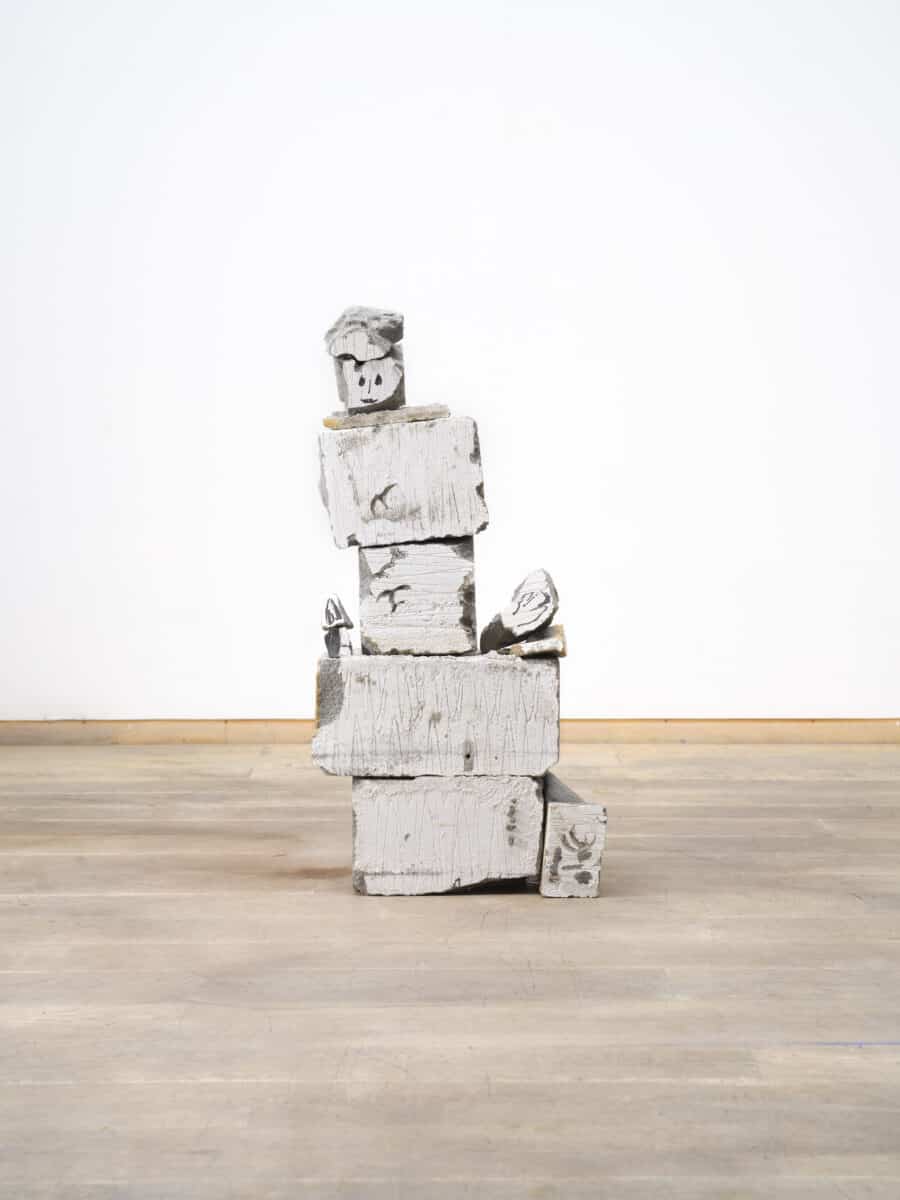 Morris exhibits drawings, totemic sculptures, tapestries and objects, which are autobiographical in the sense of responding to seminal life events and deeply personal experiences. Her skill as a colourist, which she discovered as a student at the Beaux-Arts in Paris, is evident in the energetic drawings and sculptures created with an electric palette inspired by paint pigments. Recurring motifs such as her signature 'Stack' sculptures and flower-woman figures permeate the exhibition throughout, beginning with flower-woman neon in the front garden of Newlands House. The flower woman is a female figure with a flower head, which Morris began drawing as a representation of her mother, but over time transformed into an abstract self-portrait. 
Khan presents a carefully curated selection of works from different stages of his career, which explore themes of memory, time, loss, nature, mechanical reproduction and his religious upbringing. Music and the history of art also inform his practice, as well as theological texts. 
Khan's use of photography as a way of capturing and visualising memory is evident in the exhibition, in the form of prints and sculptures including '650,000 Photographs', (2019), and his seminal work 'Every…page of the Holy Qur'an', which he created by photographing and layering every page of the holy book.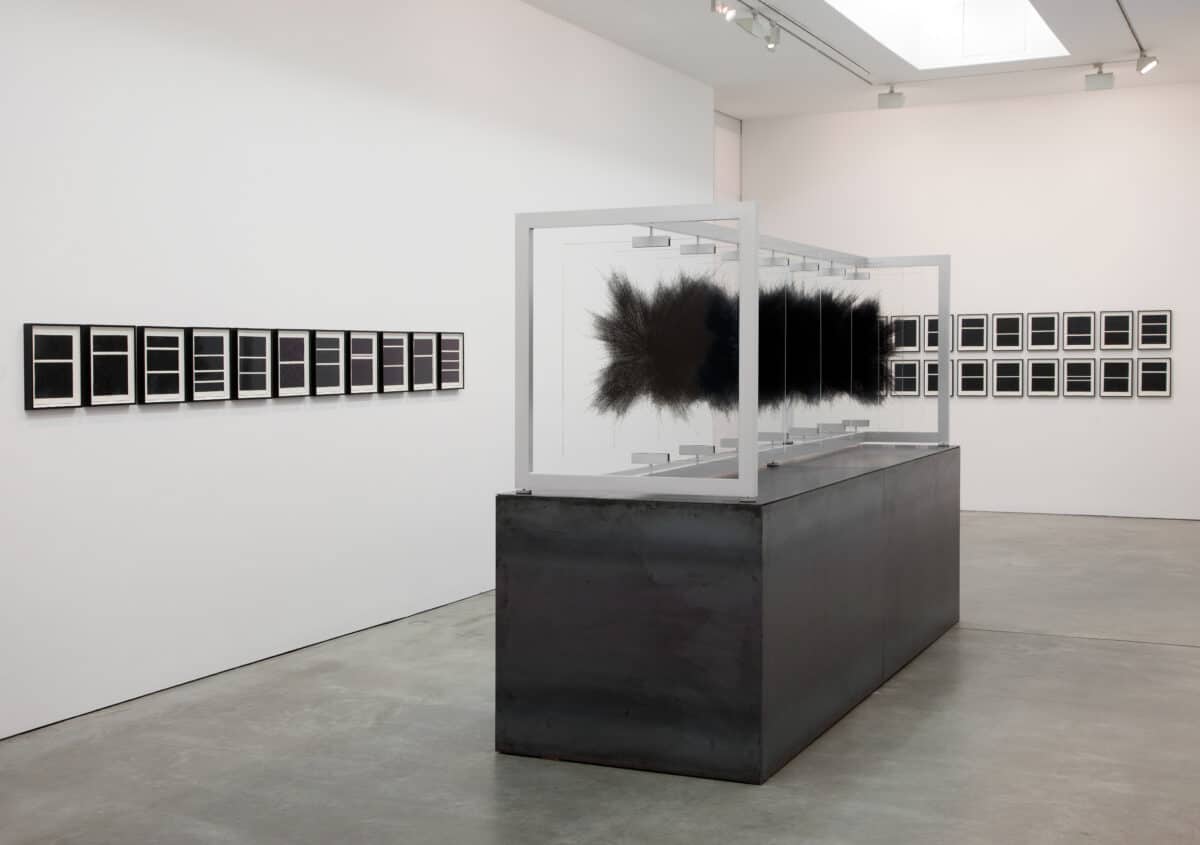 The exhibition kicks off in a room featuring a delicate photographic portrait of Morris, made at a life and career-defining moment when he first met his wife-to-be and artistic partner and gifted her when they first started dating, a whirlwind romance which seems to have been accelerated by a common love of art and creating.  
Newlands House's Artistic Director Maya Binkin has cleverly curated the exhibition to subtly underline aesthetic and intellectual parallels between Morris and Khan's work, which might not seem so obvious upon first look at their work.  
Idris Khan explains: 
What's nice about the show is that it's not necessarily chronological.  I met Annie in 2007, and we've pretty much spent 24 hours a day together since that day. We shared studios right next to each since meeting.  We moved in after a month, were engaged after 5, and married after a year and a half…I think the first connection is repetition. Annie at the time was painting clothes pegs non-stop.  She made this amazing abstract painting with 18,000 pegs for the Royal Academy. 

This is an engagement gift that I made for Annie. Very early on in my career, I laid photographs on top of each other and super-imposed them. So this is around 160 photographs of Annie, layered into a merging portrait. You can't quite see her but see a sort of ghostly figure. It's quite a nice way to start the show, thinking about Annie.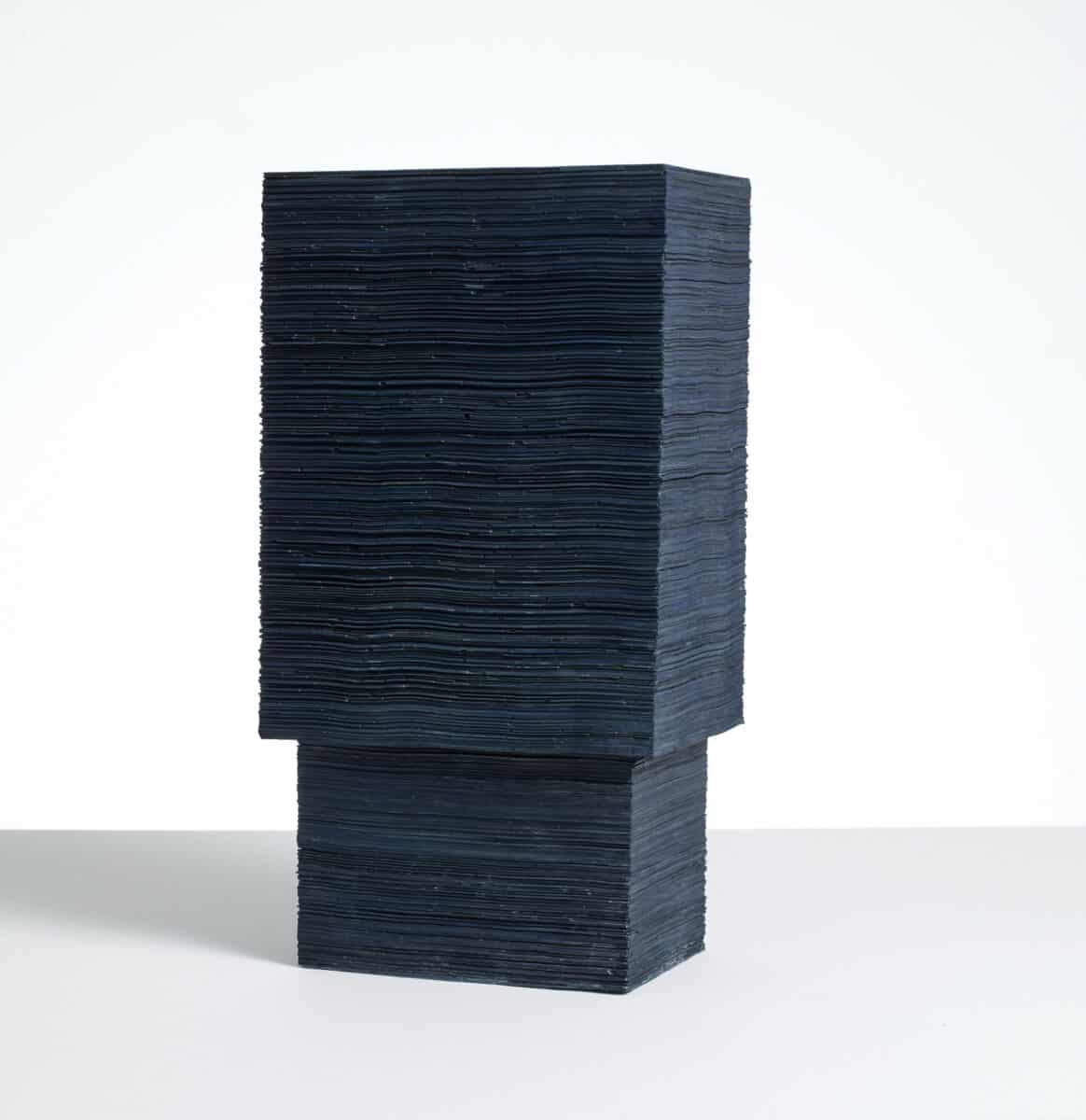 Also in the introduction room is a maquette of a sculpture Khan made for No.1 Blackfriars called 'The City of 65,000 photographs', which he describes as
'a comment on the fact that we take way too many pictures now, and all we do is photograph everything before we look at it with our own eyes.' 
One day he looked at his phone and realised he had 65,000 pictures on it, and realised he would never print them, deciding to visualise them in a sculpture, representing a volume of time and space, through 5 years of photography informing the structure. 
In a sun-lit ground floor room of the house are a group of Morris's colourful stacking sculptures, comprised of spheres that look as if they've been dusted in icing like giant paint-pigment bon-bons.  The artists explained that these sculptures were made during a time of mourning after the couple experienced a stillbirth.
Morris says: '
In a way, this series started at a time when there was a lot of sadness, with Idris losing his mother and the still birth.
Upstairs is a stunning room featuring a suite of 28 watercolour paintings made by Khan during the pandemic years, or what the curator describes as 'the plague years'. Titled 'The Seasons Turn' (2021), the images reference Vivaldi's baroque masterpiece and are printed in shades of green, amber, yellow and blue to echo the changing of the seasons observed by Khan when the couple relocated to Petworth during the pandemic. A trio of Morris's stacking sculptures are installed in the middle of the room, representing 3 of the 4 seasons.  
Idris Khan: 
It's the first time I had more time to look at things, and be in the English countryside and see colours popping up all the time. Bluebell fields, and going for walks, being around nature.  I think we all had a bit more time to look.  So this is what came out of it. I looked for seasons and colour.
Morris responded to the original purpose of Newlands house as a domestic setting, by creating a pair of armchairs upon which she has applied her colourful drawings, with a collection of prints on the walls behind featuring the flower girl and a wolf-like figure, a twist on Little Red Riding hood which she explains, are figures she began drawing as a teenager upon discovering that her father had another family. 
Drawing is usually the starting point for Morris, and she draws in a variety of different medium: oil stick, pigment paint, tapestry (using the needle to draw), and for the first time at Newlands House, furniture.  The drawings on display at Newlands House feature a new colour Morris has been working with called Magnese Violet. 
Annie Morris:
Our house is covered in embroidered drawings on sheets and things.  So when we were talking about the show with Maya, I'd always had it in my mind to do some chairs, and it felt like the right place to do it. The different panels were all embroidered and then they came together.
In another room we see the Wolf and flower woman reimagined as sculptures, and exhibited along with Khan's artistic interpretation of his parents – created by stacking a series of flat shapes made from jesmonite and pigment, which represent all the photos of his parents on his phone.
Annie Morris:
The flower woman then became a shorthand, she's often in my tapestries and drawings. I think I use her to desire myself in a way, even though it started as a portrait of my mother.
Maya Binkin: 
This aggressor wolf figure slides quite nicely into the history of fairy tales as an embodiment of female anxiety, and of motherhood and our role in that. So I think there's a lot of sub consciousness coming out in these drawings.
'Two Worlds Entwined' provides a rare glimpse into the imagination of two unique artists, and explores their parallel yet inextricably linked artistic practices. The intimate domestic setting of the sun-filled Georgian house in a small market town provides the perfect space to examine the dialogue between the artists and their work. This is a sensitive exploration of love, loss, memory, the changing of the seasons, the passing of time and the cycle of life, death and rebirth. 
 'Two Worlds Entwined: Annie Morris and Idris Khan' is at Newlands House until 7th May 2023: newlandshouse.gallery
Categories
Tags