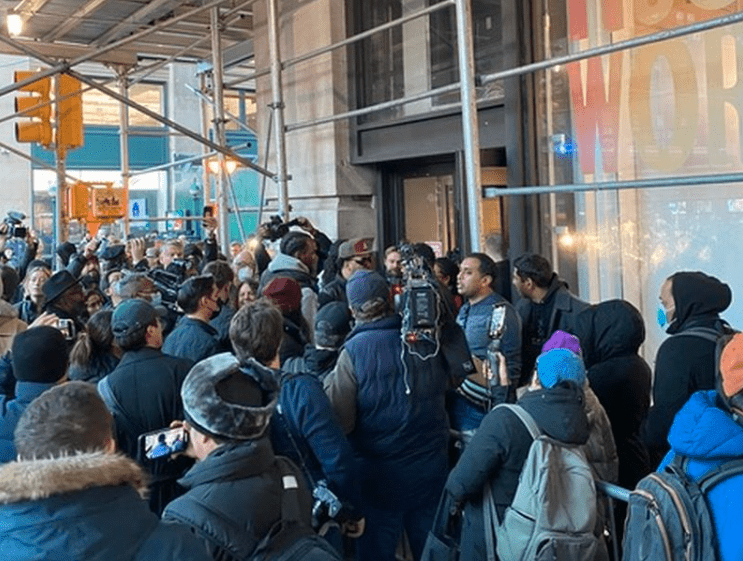 The first legal dispensary for recreational marijuana in New York opened just before the end of 2022. New York is expected to be one of the country's most lucrative markets for cannabis (underscored by the dozens of unauthorized shops that have operated in the open for years)
The opening of the first state-sanctioned dispensary, which is operated by the nonprofit Housing Works, paves the way for a string of openings expected in the coming months in New York. The state legalized recreational marijuana use in March 2021.
The opening attracted hundreds of people and the queue snaked around the block.
We're absolutely thrilled to be the first and hopefully setting a model that other folks will have to follow.

Charles King, CEO Housing Works
The lower Manhattan store is the first of 36 recently licensed dispensaries to open, with an additional 139 licenses yet to be issued by the state Office of Cannabis Management and 900 applicants still awaiting word. Among the first round of licensees were eight nonprofits that included Housing Works.
The cannabis storefront abuts the sprawling urban campus of New York University, whose students could provide a ready supply of customers.
New York joined nearly two dozen other states in the U.S. to legalize recreational marijuana. But unlike many other states, New York has reserved its first round of retail licenses for nonprofits, as well as applicants with marijuana convictions and their relatives — an acknowledgement of the inequities produced by the country's war on drugs.
It also planned a $200 million public-private fund to aid social equity businesses, which the law defined as those owned by women or minorities, struggling farmers, disabled veterans and people from communities that endured heavy pot policing.
We have seen firsthand the ravages of the war on drugs, on people who use drugs, particularly the most marginalized people, low income people.

Charles King
King said that his nonprofit is hiring people who have been criminalized because of marijuana. Housing Works pursued getting a license because they wanted "to have the opportunity to ameliorate some of the harsh circumstances implicated in both the criminalization of cannabis as well as other drugs," he said.
"Today marks a major milestone in our efforts to create the most equitable cannabis industry in the nation," said New York City Mayor Eric Adams in a statement. "The opening of the first legal dispensary in our state right here in New York City is more than just a promising step for this budding industry — it represents a new chapter for those most harmed by the failed policies of the past."
Categories
Tags