"All plants that grow in harsh conditions – like those in Donbas [sic] – are more fragrant"
so says one of the figures who appear in Ola Mihailuka's video AtminMETRA, 2021 [rememberMINT, 2021]. Spoken from Ukraine in 2014, this is a line I found deeply poetic; it touches my heart with a sense of hope, it challenges my brain, it pays tribute not only to the powerful way in which nature refuses to succumb to humanly produced devastation but to the ways in which nature can provide a respite to such carnage. One of the works included in Decolonial Ecologies. Understanding Postcolonial After Socialism (Riga Art Space, November 1 2022 – January 15 2023), Mihailuka's video brings together a number of the intricate threads woven throughout this research-focused exhibition. Namely, relationships to the past and socio-political memories, personal accounts of Natinaolist projects (the butchery of imperial war included), small acts of quotidian survival and change, as well as the ways in which nature acts as a gorgeous parallel world through which to think beyond the present state of things – if only fleetingly; as Mihailuka's figure states "war comes and goes but plants stay the same", they continue, to use my words.  
Curated by Ieva Astahovska, Decolonial Ecologies is a large exhibition that brings together numerous lines of critical thought as well as over 18 artists (a number of collectives). Part of the Latvian Centre for Contemporary Art's ongoing research project titled Reflecting Postsocialism Through Postcolonialism in the Baltics, the exhibition situates itself within post- and de-colonial lines of thought. Here, however, these terms are applied out-side-from there more common geographical usage – to critically address the lethal power imbalances that exist between the so-called 'Global North' and 'Global South' – and become lenses through which to consider complex relations between pasts and presents. At a time of re-encroaching imperial violence across former Soviet Union states, considering these relations now seems of huge significance. Embracing the promise afforded through decolonial thought – that of a future spared from the violent shackles of an oppressive past – the exhibition's second, albeit deeply connected, conceptual line leans into the ecological to articulate something of the human impact of socio-political events across the Baltic region. Indeed, it is through this ecological frame that the artists assembled in Decolonial Ecologies ask how revisiting the past can help us to better understand our contemporary era, and further, how this revisiting can help us to establish new earthly solidarities in the face of the numerable crisis we face today.
Situated within an architectural setting, designed by the firm GAISS, the exhibition's deconstructed environment is one free of white walls, where red clay bricks ground each of the works in an earthly pace whilst guiding visitors. This level of material thinking within the exhibition design compliments the overall conceptual framing of Decolonial Ecologies, as well as the materiality of the artworks presented, making even more tangible the ways in which the natural world can inform our present for the better, and also the ways ecological thinking can shape our paths towards different futures.
The importance of passing socio-political memories on to future generations is a poignant tide embraced by Inga Erdmane in her multimedia installation, Ja es nekustos, zeme kjust plakanaka, 2021-2022 [Unless I move, The Earth becomes flatter, 2021-2022]. Here, the artist uses the 'dead zones' found in the Baltic Sea to foreground occluded memories of environmental activism, and, in turn, giving this history an inspirational presence. Part of the earth's naturally occurring generational cycle, these dead zones denote areas of an ocean where a lack of oxygen exchange causes all life forms to die. Following her interest in how individuals relate to wider socio-political structures, Erdmane's project not only aims to articulate something of how manmade pollution is overriding this earthly process by suffocating the Baltic Sea with the refuse from intensified agricultural and industrial production (it is of note that the Baltic is now one of the most polluted seas in the world), but further, Ja es nekustos, zeme kujst plakanaka, makes apparent how this industrial suffocating is also killing socio-political memories and the vital transfer of knowledge that can happen across generations.
Erdmane's installation is wonderfully minimal. Central, a copy of J?nis Škapars's edited book Baltijas br?v?bas ce?š [Baltic Freedom Road (my own translation)] (which documents a number of non-violent struggles undertaken across the Baltic republics when these states were seeking to gain their independence from the USSR) that the artist has submerged in the Baltic Sea and subsequently let crystalise. Encased in a thick crust of square salt crystals the book is preserved in its form, rising skyward like a monument or statue. Erdmane pairs this heavy object with a simple photo collage. Composed of a photograph taken by Valters Ivanovs – that is now part of the Latvian National History Museum's collection – this black and white image pictures the quiet waves of the Baltic Sea below a clear sky. The second photograph in this collage depicts members of the Environmental Protection Club, hand-in-hand, joyfully trooping along an oblique shoreline, their precession being overlooked by a single child figure who proudly holds the Latvian flag. Painterly pools of watercolour wash endow this second photo with a new sense of value, and indeed temporality. The two images are conjoined with loose stitches, or sutures, of red wool infused with amber fibres. This joining process overtly calls to mind medical practices of care and healing – a visual connotation accentuated by the material presence of amber fibres, for amber has long been associated with practices of healing. Together the collage and newly statuesque book not only pay tribute to the importance of memories and of remembering activist histories but aspires to heal them following their suffocation by current worldly conditions of intensive industrialization. In this way, Ja es nekustos, zeme kjust plakanaka reintroduces vital socio-political oxygen from the past into our contemporary moment, allowing the knowledges associated to inspire the next generation.
As with the historic activist practices paid tribute to in Erdmane's installation, Maija Demitere's work in the exhibition acts as a subtle call to action, asking us to reconsider the value we place on one of the most essential aspects of our existence: the food we eat. Titled, Tom?tu-kartupe?u kalkulators, 2022 [Tomato-Potato Calculator, 2022], the piece is essentially a prototype calculator, that allows you to determine the quality of tomatoes and/or potatoes you could grow in the free space available to you, be this a balcony garden or window box. Installed in Decolonial Ecologies, the work features a space-age-looking calculator that allows you to place plywood tiles, each representing 1m2 of tomato or potato plants, onto a hexagonal game board; once snapped into place, a stuttery relay of information, screened on an attached iPad, informs you of the average yield, water usage, and calorie count that you could expect to receive from the number of m2 you have made available for cultivation. The function of Demitere's calculator is nothing groundbreaking. On a symbolic level, however, the formal nature of the device, as a board game, draws a direct parallel to enjoyable moments of togetherness – friends gathered around a board game.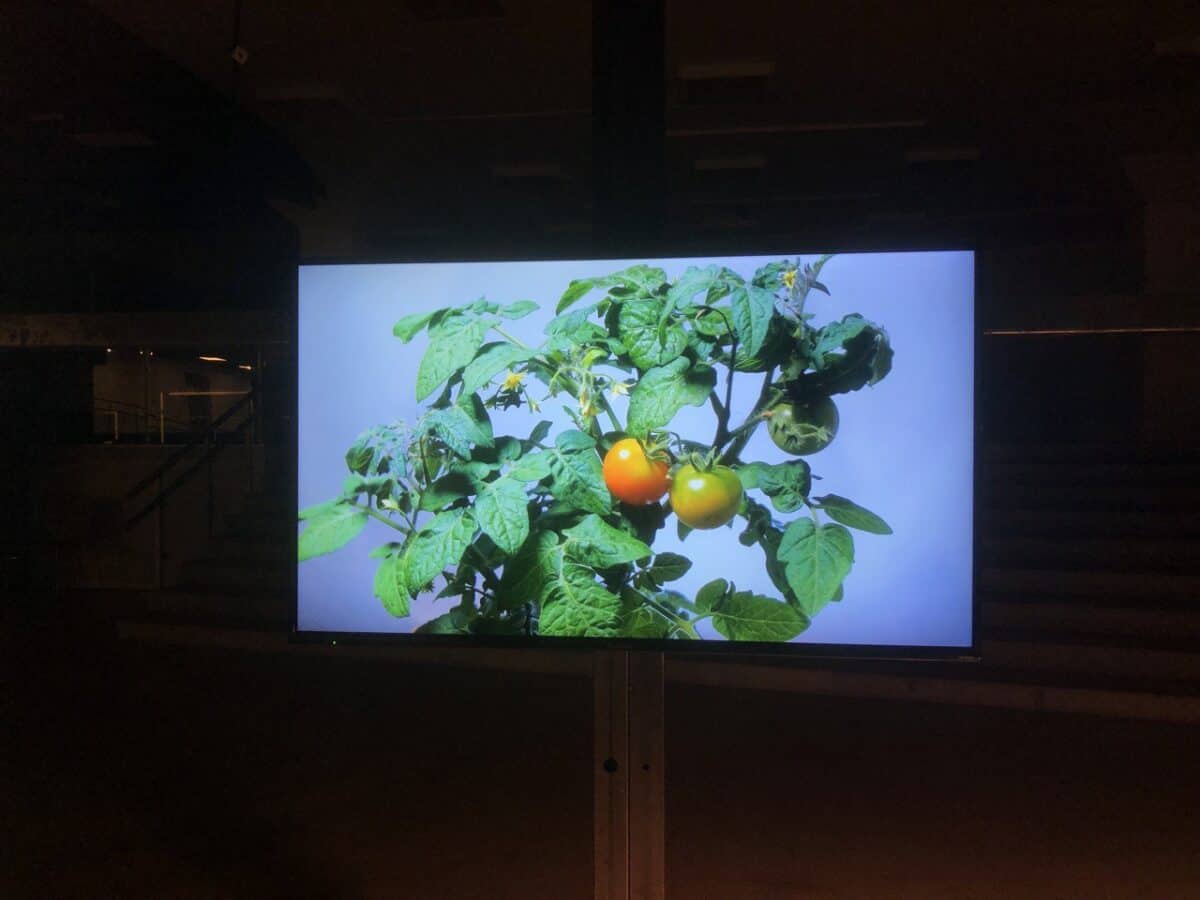 Alongside this rudimentary calculator, Demitere's installation features a video showing a tomato plant as it grows – stream, leaf, fruit. Something you might expect to see on a nature documentary, the time-lapse video calls to my mind lush still lifes rendered ultra-vivid through sheening layers of oil paint. Not still, however, the video is a slow dance on screen, an HD close-up of unfolding stalks and steams, springing, sparingly leaves and softening fruit. With its flickering star-like flowers and tight tomato orbs, that look as if they are about to burst, the video is a gorgeous rendering of nature's choreography, one that writhes with associative significance. Echoing the dulled backgrounds of historical still lifes, the brilliant white backdrop in the video not only accentuates the popping colours and formal twisting of the growing plant but creates a 'neutral' space from which we could project Demitere's plant-protagonist into our own/any environment. When paired with the game board calculator, Demitere's project asks us to give the food we consume deeper social importance. In other words, instead of treating this vital part of our lives as a blasé commodity, we should rather treat foodstuffs as something of value, both in their own glorious becoming and in the way it can bring us together through modes of sociality.
The importance of the natural world and the powerful effects it can have on our lives is conveyed in L?ga Spunde's series of 27 screen prints. Titled Maijpu??tes / Velt?jums sagurušai meitenei, 2022 [Lilies of the Valley / Tribute to a Tired Girl, 2022], each print depicts a delicate arrangement of lily-of-the-valley flowers aligned centrally on a bare white page. Fanning skywards, like open arms, emerald through sage green leaves softly hold stems of milky flower droplets. These little off-white bells appear so precious, they chime, harmoniously pulling me into the minute details of each individual print. And, as I tune into each composition in turn I begin to notice the subtle variations across the series, the differing arrangement of leaves for example.
A departure from the output the artist is known for – Spunde is most associated with multimedia installations that use digital technologies – the screen prints here aim to recall the Japanese art of flower arranging known as ikebana. More than an aesthetic practice, ikebana involves strict discipline, with its guiding principles being based upon spiritual practices that are meant to create moments of intimacy that help relax both body and mind, therefore restoring our inner harmony in turn. Spunde came to the process of screen printing and ikebana as a way for her to digitally detox, to escape the tiering routine of sitting in front of her computer screen. Following her interest and experience of the ways digital processes are becoming an ever greater influence on our daily practices of life – and subsequently, how these influences impact our mental health – the series makes visible one method often used to resist the omnipresence of digital consumption: an escape into nature.
This move to tone down, or at least to move to the edges of our lives, the noise of the digital by focusing on nature and the natural world is formally referenced across Spunde's series by the presence of small digitally produced adornments; 3D printed balls of fire, like something you would expect to see in a '90s style video game, dot the edges of a number of the prints, whilst embossed indentations featuring some the digital avatars the artist has used in previous works interfere with the flat expanse of the A2 page. The presence of these somewhat jarring adornments ironically draws me into each composition. Much like meditative practices, noticing these interferences, my mind is soon brought back to the tranquil flow found in the formalities of each gentle arrangement. Filling a wall of the exhibition space, Spunde's mass of 27 prints become an enveloping horizon, one where being caught up in the colours, the lines and the shapes we see before our eyes alludes to the respite found in the expansive formalities of the natural world.
Returning to Mihai?uka's video, the work finds its origins in the summer of 2014, at a time when the artist was visiting a landscape designer friend living in Alchevsk (in the Luhansk region of Ukraine). As with current events, 2014 was a year when imperialist ideologies led to a conflict between Russia and Ukraine. As that blooded summer wore on, Russian-backed separatist groups seized control of government buildings throughout the Donetsk and Luhansk regions of Ukraine, leading in part to an armed conflict between these separatist groups and Ukrainian forces – what has become known as the War in Donetsk. Trapped in Alchevsk with her friend, surrounded by the noise of the unfolding war, Mihai?uka's found a small moment of relief in the mint plants growing in the landscape designer's yard; adding leaves from this plant to hot water to create fresh mint tea, a beverage that can relax the muscles as well as the mind. Sitting with these warming moments, Mihai?uka recognised that the Ukrainian work for mint, ?'??? (MYATA), can be found within the verb to remember, ???'????? (paMYATAty). Once able to leave Alchevsk, Mihai?uka embraced this etymological linkage and began to create performances (between 2016-2021) that explored how the mechanisms of memory could allow people affected by this ongoing war to express something of their feelings in an intuitive manner. As the artist states, "this plant has become the one that does not let me forget and simultaneously, soothes and teaches me to live on." As well as associative connections to a path towards a soothing futurity, the mint plant's physical abilities to grow in areas of carnage and decay makes tangible something of the warming metaphor Mihai?uka found in mint tea.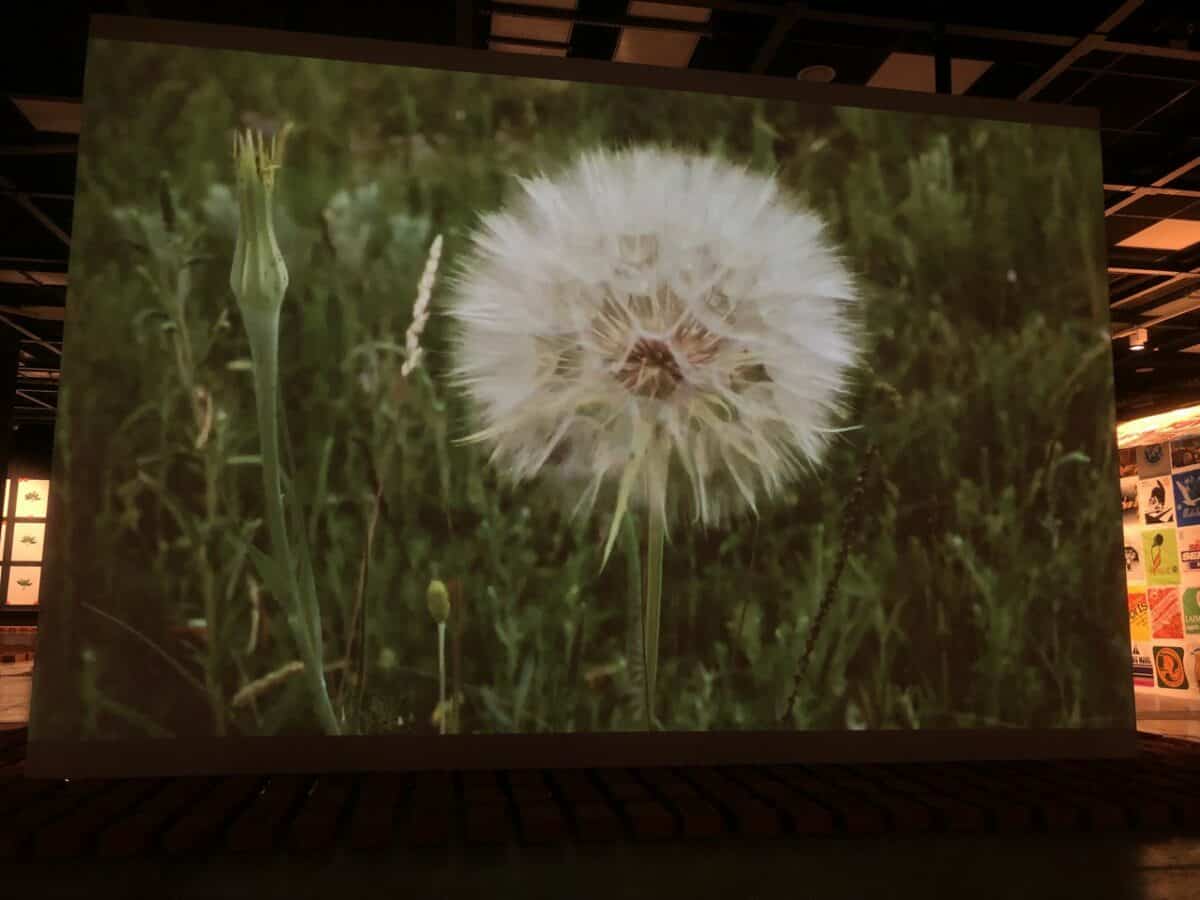 In 2021, the performances made by Mihai?uka transformed into a video, Atmi?M?TRA, 2021. A collage of flat photographs and short video snippets that picture the natural and urban environment, recordings of her friends recounting their experience of both the war and respite from this, as well as documentation from the video's previous life as performative gestures, the work unfolds as a series of interwoven rememberings. Watching the video, as it loops in a cycle, the sound of an accordion and double bass lull between these different perspectives. At once jumpy, perhaps sinister, these grumbles and screeches give the video a tingly quality, one that compliments the formal flicking between narrative and visual accounts of the war and personal escapes found in nature. Rather than focusing on the devastation of war and its social effects, the touching fragments of personal histories held together here reveal something of the fresh hope that can be found in nature – like the mint plant, a place of mental and muscular relief – as it grows and decays, as it continues.
Decolonial ecologies. Understanding Postcolonial after Socialism, Curated by Ieva Astahovska, Latvian Centre for Contemporary Art, Riga Art Space, Until January 15th, 2023 lcca.lv/en/exhibitions/decolonial-ecologies–at-riga-art-space
Categories
Tags