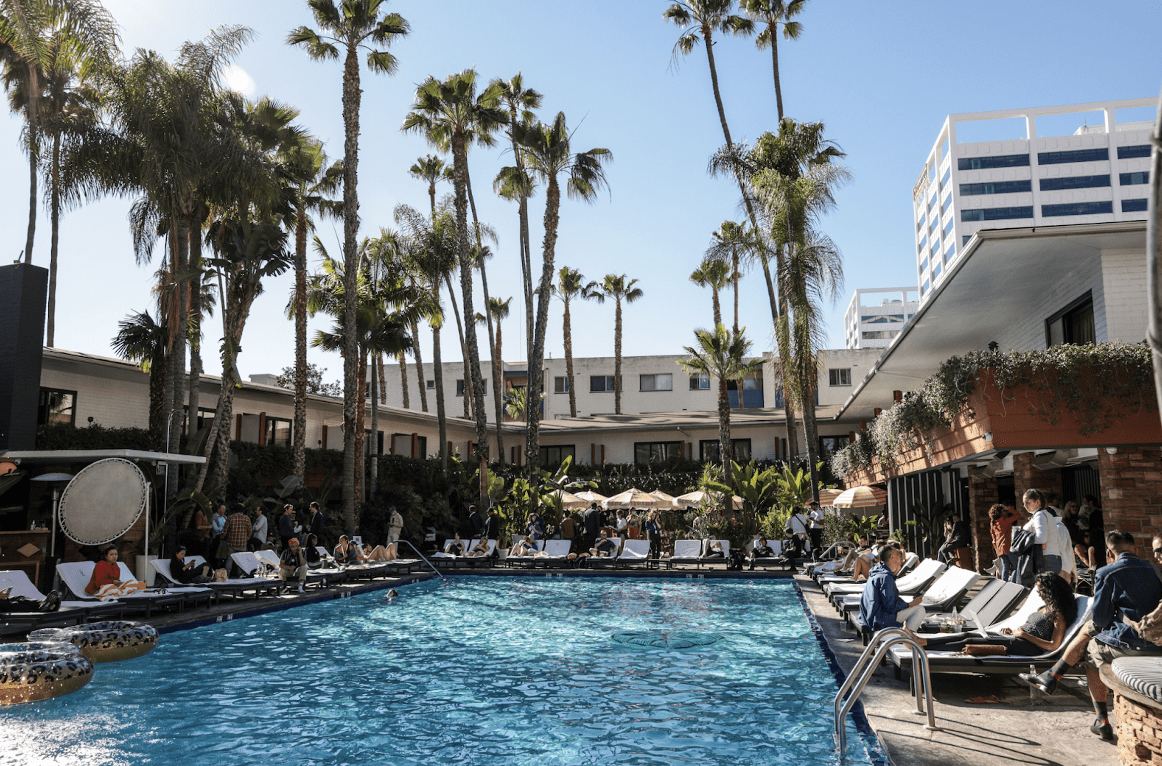 Felix LA, the contemporary art fair modeled after the intimate hotel fair format popularized in the 1990s, has announced the exhibitor list for its fifth edition, taking place February 15th-19th, 2023 at the Hollywood Roosevelt Hotel. 
The 2023 edition of Felix LA will feature extended dates, giving visitors an extra day to peruse the beloved fair. Once again, Felix LA will take over the Hollywood Roosevelt's guest rooms on the 10th and 11th floors and the cabanas surrounding the David Hockney pool. 
We are more energized than ever for the 2023 edition of the fair. Marking our fifth year, Felix has proven time and again to be the heart of LA Art Week, both geographically and in spirit. We look forward to anchoring the week once again by being the central hub as the art world descends on Los Angeles. 

said Felix LA co-founders Dean Valentine, Mills Morán, and Al Morán.
Felix LA 2023 will feature 60 exhibitors from around the world, including galleries from Copenhagen, Detroit, Dublin, Dusseldorf, London, Los Angeles, New York, Paris, San Francisco, and Shanghai.  In keeping with Felix's mission to showcase fresh talent and emerging artists alongside established art spaces, this year's fair welcomes back 46 galleries (nearly 75%) from the 2022 edition, while introducing 14 new galleries to the roster, including Reyes | Finn, Detroit; Rele Gallery, Los Angeles | Lagos; and SPURS Gallery, Beijing.
Felix LA was founded in 2019 by Dean Valentine and brothers Al Morán and Mills Morán with the goal of creating a fair experience that prioritizes connoisseurship, collaboration, and community among collectors, dealers, and artists. Now in its fifth iteration, Felix has solidified its position as a highly-anticipated fair in the art world calendar, offering a unique, laid-back atmosphere.
Felix LA, February 15th-19th, Hollywood Roosevelt felixfair.com
2023 EXHIBITOR LIST
56 Henry, New York
Adams and Ollman, Portland
Anat Ebgi, Los Angeles
Andersen's, Copenhagen
Broadway, New York
Charlie James Gallery, Los Angeles
Charlie Moffett, New York 
DOCUMENT, Chicago
Tara Downs, New York 
Europa Gallery, New York 
Galerie Fabian Lang, Zurich
Fitzpatrick Gallery, Paris
Fridman Gallery, New York | Beacon
Gallery Vacancy, Shanghai
Gavlak, Los Angeles | Palm Beach
Harkawik, New York | Los Angeles
Harper's, New York | Los Angeles
Jack Hanley Gallery, New York 
James Fuentes, New York 
Josh Lilley, London
Kadel Willborn, Dusseldorf
Kasmin, New York 
Kavi Gupta, Chicago
Kings Leap Fine Arts, New York 
LINN LÜHN, Dusseldorf
Lomex, New York 
Luce Gallery, Turin 
Lyles & King, New York
M+B, Los Angeles
Magenta Plains, New York 
Marfa' Projects, Beirut
Marinaro, New York 
Martos Gallery, New York 
Matthew Brown Gallery, Los Angeles
Michael Benevento, Los Angeles
Monique Meloche Gallery, Chicago
Morán Morán, Los Angeles | Mexico City
mother's tankstation, Dublin | London
Mrs., Queens
Nicelle Beauchene, New York
Nicodim, Los Angeles | New York | Bucharest
One Trick Pony, Los Angeles
P·P·O·W, New York 
Rachel Uffner Gallery, New York 
Raster Gallery, Warsaw
Ratio3, San Francisco
Rele Gallery, Los Angeles | Lagos
Residency Art Gallery, Inglewood
Reyes | Finn, Detroit
Soft Opening, London
Sow & Tailor, Los Angeles
SPURS Gallery, Beijing
Sultana Gallery, Paris
Tanya Leighton, Los Angeles
THE BREEDER, Athens
The ƒ/Ø Project,  Los Angeles
Tierra Del Sol, Los Angeles
Volume Gallery, Chicago
White Columns, New York 
Wilding Cran, Los Angeles
ABOUT FELIX LA
Felix LA was co-founded by Dean Valentine and brothers Al Morán and Mills Morán. The fair's mission is to create an intimate experience that prioritizes connoisseurship, collaboration, and community. A return to the hotel fair format, in the spirit of the storied Gramercy International Los Angeles at the Chateau Marmont, Felix LA grants galleries an efficient exhibition opportunity while offering the city's collector-base intimate access and maximum flexibility. The informal setting allows for more extended conversations among collectors, dealers, and artists alike. @felixartfair
Categories
Tags