Felix LA, the contemporary art fair modeled after the intimate hotel fair format popularized in the 1990s, has announced the exhibitor list for its third international edition, taking place February 17-20, 2022 at the Hollywood Roosevelt Hotel. The 2022 edition of the fair will take over the hotel's guest rooms on the 10th and 11th floors and the cabanas surrounding the David Hockney pool.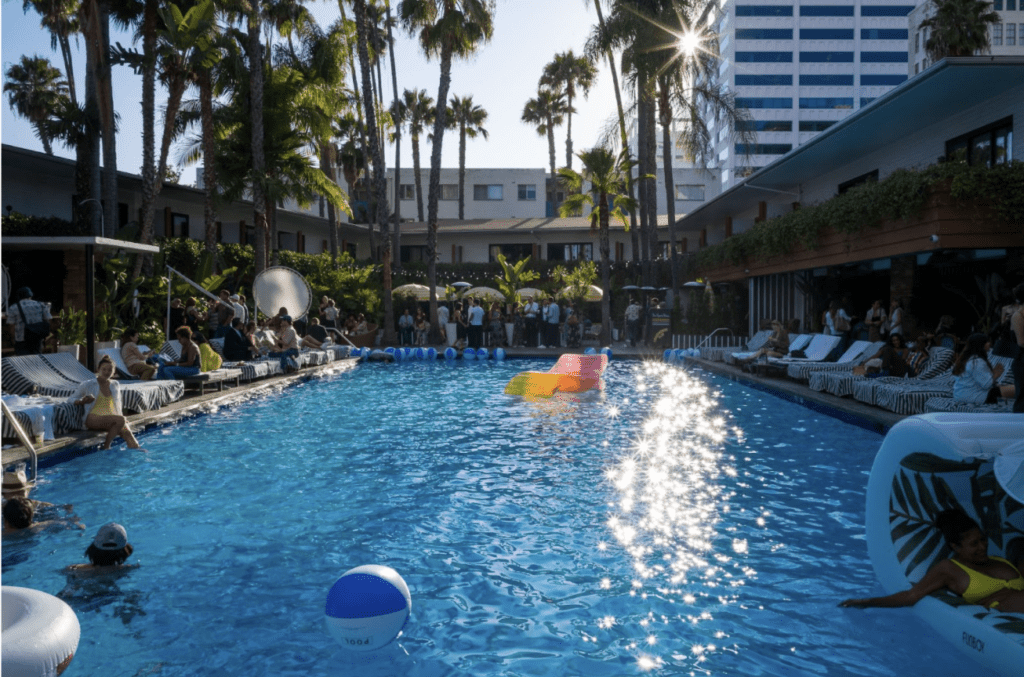 "When we introduced Felix LA we had one goal in mind: to take a step away from the overdone, traditional art fair format.  The success of Felix over the past few years has further proven that the  unconventional fair model resonates with our audience. This year, we're thrilled to elevate the balance between fresh, emerging talent and well-established galleries,"

said Felix LA co-founders Dean Valentine, Mills Morán, and Al Morán.
Felix LA 2022 will feature 60 international exhibitors from around the globe, including galleries from Berlin, Paris, Tokyo, Milan, Dusseldorf, New York, and Los Angeles. In keeping with Felix's mission to showcase fresh talent and emerging artists alongside established art spaces, this year's fair welcomes over 20 first-time exhibitors, including Broadway (New York), Misako and Rosen (Tokyo), One Trick Pony (Los Angeles), and The Ranch (Montauk).
Felix LA was founded in 2019 by Dean Valentine and brothers Al Morán and Mills Morán with the goal of creating a fair experience that prioritizes connoisseurship, collaboration, and community among collectors, dealers, and artists. Now in its third iteration, Felix continues to build up its year-round presence in Los Angeles — in 2021, Felix presented its first all-local, special edition in July, featuring 30 Los Angeles-based galleries.
2022 EXHIBITOR LIST
56 Henry, New York
Adams and Ollman, Portland
Baik + Khneysser, Los Angeles
Nicelle Beauchene, New York
Michael Benevento, Los Angeles
THE BREEDER, Athens
Broadway, New York
Matthew Brown Gallery, Los Angeles
Canada, New York
C L E A R I N G, New York
DOCUMENT, Chicago
Downs & Ross, New York
Anat Ebgi, Los Angeles
Fitzpatrick Gallery, Paris
Galerie Frank Elbaz, Paris
Gavlak, Los Angeles | Palm Beach
Grice Bench, Los Angeles
Kavi Gupta, Chicago
Jack Hanley Gallery, New York
Harkawik, New York | Los Angeles
Harper's, New York
KLEMM'S, Berlin
Kadel Willborn, Dusseldorf
Kasmin, New York
LINN LÜHN, Dusseldorf
Tanya Leighton, Berlin
Josh Lilley, London
Lomex, New York
Luce, Turin
Lyles & King, New York
M+B, Los Angeles
Misako & Rosen, Tokyo
Charlie Moffett , New York
Morán Morán, Los Angeles
mother's tankstation, Dublin | London
Mrs. Gallery, Queens
Nicodim, New York City | Los Angeles | Bucharest
Nonaka-Hill, Los Angeles
One Trick Pony, Los Angeles
Parrasch Heijnen, Los Angeles
Patron, Chicago
Peres Projects, Berlin
P·P·O·W, New York
Ramiken, New York
The Ranch, Montauk
Raster, Warsaw
Ratio 3, San Francisco
Residency Art Gallery, Inglewood
Chris Sharp Gallery, Los Angeles
Soft Opening, London
Thomas Solomon Art Advisory, Los Angeles
Tierra Del Sol, Los Angeles
Rachel Uffner, New York
Van Horn Dusseldorf, Dusseldorf
Volume Gallery, New York
Wentrup, Berlin
Kate Werble Gallery, New York
White Columns, New York
Maximillian William, London
ZERO, Milan
FELIX LA February 17-20, 2022 at The Hollywood Roosevelt Hotel felixfair.com/
ABOUT FELIX LA
Felix LA was co-founded by Dean Valentine and brothers Al Morán and Mills Morán. The fair's mission is to create an intimate experience that prioritizes connoisseurship, collaboration, and community. A return to the hotel fair format, in the spirit of the storied Gramercy International Los Angeles at the Chateau Marmont, Felix LA grants galleries an efficient exhibition opportunity while offering the city's collector-base intimate access and maximum flexibility. The informal setting allows for more extended conversations among collectors, dealers, and artists alike. The 2022 edition will take place February 17-20th at the Hollywood Roosevelt Hotel in Los Angeles.
Categories
Tags