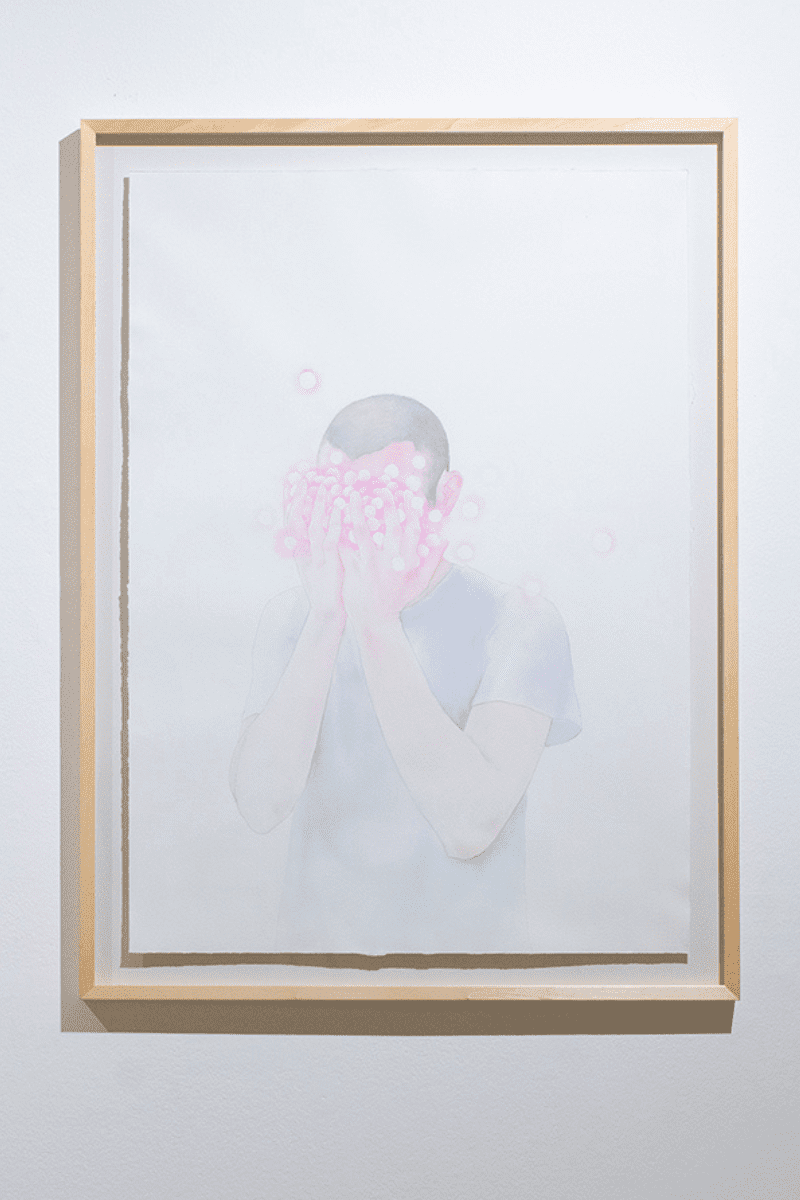 This is a love story. One set at the end of a world: as a togetherness collapses. As "we're erased by this whiteness"

– Nebojša Yamasaki Vulkelic.
Nebojša Yamasaki Vulkelic's Walking Within A Slow Future (Galerija Doma Omladine Beograda, November 15-17, 2022)is a touching exhibition. Curated by Lav Mrenovic, the show brings together a series of recent drawings, with an ambient soundtrack and poem. Unfolding as a graphic novel of sorts, here, each of the works provides us with an invitation to witness, to join with, an emotional journey undertaken when all that is safe and the known comes to an end. That is, the end of a shared world, a life caressed into existence, hand in hand with, and with the hands of, the closest of companions. A love, in other words. Narrated without a script, this dissolving of all that is held dear, and the subsequent processes of self-reflection, is conveyed through watercolour and pencil, through detailed depictions of Soviet-style architecture and space-age foliage, and all set off by Yamasaki Vulkelic's audible atmospheric.
Moramo da razgovaramo (We Need to Talk), 2022, is the first piece in the exhibition. With its title, the tall drawing acts as a prelude to the storyline to follow. Pictured, an orange-hued khrushchyovka (a low-cost, concrete-panelled tenement block, developed in the Soviet Union during the early 1960s) ripped into jaggedy fragments, then precariously reassembled to make this once statuesque tower shudder. Reflected in the building's windows, vivid pools of pink through purple, red through yellow, watercolour situate this scene at sunset; the moment before bright day fades into the bleak night. Squeezed into one of the small balconies, a couple sits in heated conversation. As one of these figures reclines, smoking, the other leans forward, elbows resting on the balcony's thin walls, looking back at his partner with down-turned eyes. The scene looks tense, remorseful. We can guess the subject of their conversation, "we need to talk." There are no obvious tears falling from this forward-leaning figure, rather something of their paned outpourings appear to be rendered on the building's crackled facade, as teardrops of fire. Debased of any surrounding – Yamasaki Vulkeli? has chosen not to add any form of background or ground to this work – Moramo da razgovaramo alludes to how homely follies, those of love, exist as idyllic dwellings. And, despite feeling ooh so solid, these psychic world constructions are nothing more than emotional states crafted in nothingness to establish some form of comfort; a form that is just as vulnerable to the tribulations of life as our own corporeal bodies.
The use of homely architectural forms as a cypher for emotional states of calamity can also be seen in the group of stop-motion-type drawings titled, Nastanjivanje (Inhabitation), 2022. Working on a smaller scale, here Yamasaki Vulkelic shows a green khrushchyovka being engulfed by the white nothingness of watercolour rag. Across the six drawings, we see this nothingness, now given a bubbling pink fringe, rise, erasing the solid housing complex. Whilst the works appear wholly dreamy, the colours used – mottled green and blushing pink – give the images a sense of disquiet. Rather than showing the rapturous destruction of a world, these drawn stills picture a slower process of grieving; of accepting that this tower of dreamed realities is no longer, and allowing this idyllic place to dissolve into the barren white mists of corporeal life, proper, where one is able to imagine futures anew perhaps. In this way, Yamasaki Vulkeli? manages to translate the prolonged, indeed the stop-start and incongruous, sensations following an emotional calamity into a visual form that feels much closer to the lived reality of overcoming a lost-love than a mere symbolic gesture of total devastation.
The soundscape accompanying Yamasaki Vulkelic's exhibition, Hodaj u sporoj budu?nosti (Walk Within a Slow Future), 2022, accentuates the emotional journey narrated through the drawings in the exhibition. Composed, like the drawn works, from discreet episodes, which loop with moments of silence, this audio reaches out transforming the empty space of the gallery into something affective. Sitting in the gallery space, we hear soft electrophonic tingles, bubbly whispers and droplets of lullaby. And I am held by these angelic touches; enveloped within this fringed mist of pink-noise. Listening to the work, I am reminded of how the fantastical environment of video-game and digital worlds are given a more bodily feel through the introduction of sound effects – the levelling up zing, the general optimistic hum of the journey into the storyline. As with the noises used in these immaterial worlds, Yamasaki Vulkelic uses sound here to situate us within the live space of his graphic tale. Indeed, looking at drawn works, such as Vetar koji briše (Wind That Erases), 2022 and Svako mesto postace kraj (Every Place Will Become an End), 2022, whilst being caught up in the sounds of Hodaj u sporoj buducnosti, it is hard not to feel like the protagonist in Yamasaki Vulkeli?'s novel. Each conveying an overgrown forest of beaming vegetation – lush, green and somewhat alien in feel – our total view of these two fantastical, and fantastically rendered worlds is impeded by sharp clouds of bare white rag. And in this way, they both position us as the protagonist of Yamasaki Vulkeli?'s plot, searching for a new future through the white mist, whilst also mirroring the audio's electrophonic sensibility. 
Walking Within A Slow Future, demonstrates Yamasaki Vulkelic's abilities to translate the ephemeral and personal into a narrative that resonates beyond meek heart plucking. By creating a multi-sensorial encounter, Yamasaki Vulkelic not only invites us to read his visual novel but extends a hand to us, one that asks us to become the protagonists of his emotional storyline and to venture through the paned mist of actuality, slowly, towards a new future.
Categories
Tags