CUPRA has collaborated with responsible fashion design studio RÆBURN, to create a series of designs that celebrate sustainability, style and performance.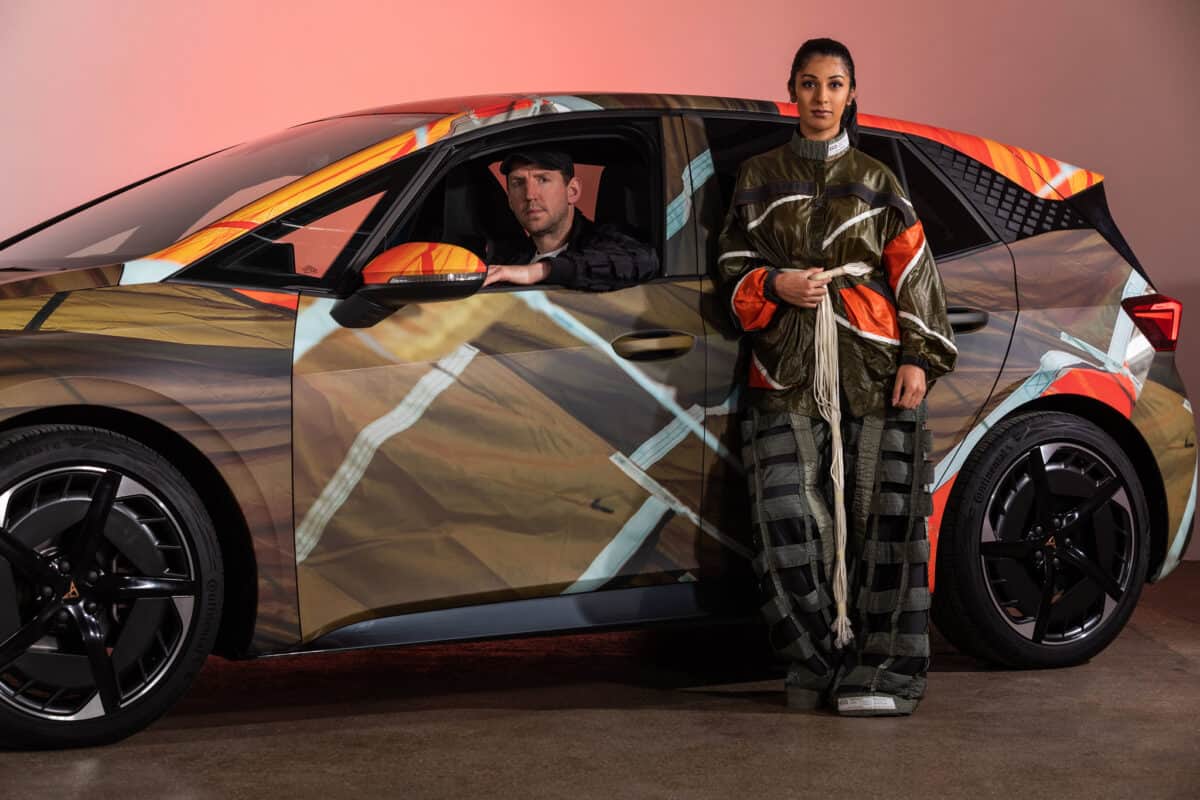 To mark CUPRA's first fully electric vehicle, CUPRA Born, RÆBURN has designed a bespoke wrap of the car and a fully-sustainable fashion piece using RÆBURN's signature parachute design.
The partnership has been born out of both brands' passion for creating powerful, stylish and sustainable pieces, without compromises. Chris Raeburn worked closely with CUPRA to augment everything CUPRA embodies – sustainability, style and performance – and take the CUPRA Born to a whole new level of 'fashionable'.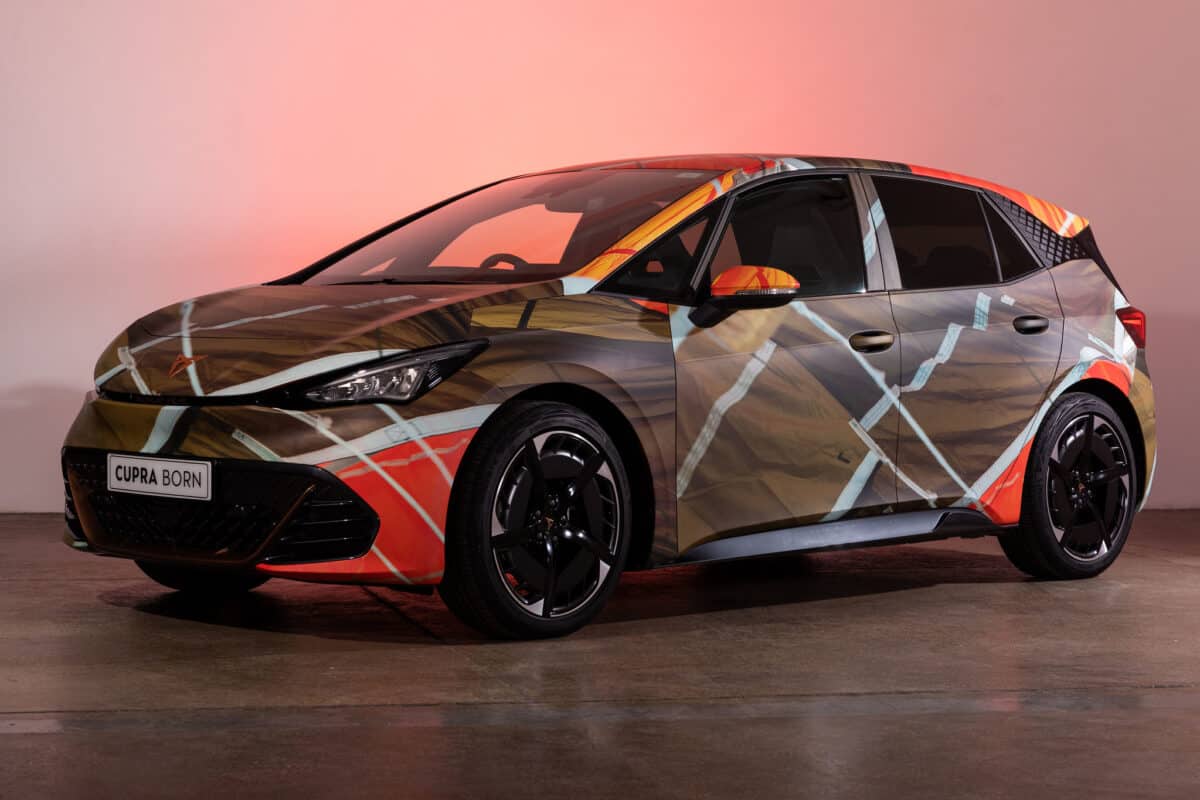 Everything I create is designed to be stylish, responsible and practical, so I was really excited to work with a brand like CUPRA that echoes this in everything they do. It's been really interesting learning about the sustainable materials used in the all-electric CUPRA Born and working with these to create a bespoke piece. I'm really happy to have brought the CUPRA Born's sustainable and sleek touches to life through my designs and to be supporting the switch to electric vehicles.

Chris Raeburn, Creative Director of RÆBURN
The bold and eye-catching CUPRA Born wrap draws on RÆBURN's iconic parachute, overlaid across bright shades of orange and brown in a geometric pattern, emphasising the electric car's sporty lines. Creating the design, RÆBURN set about combining its colour-blocked construction style with natural textures and shades, bringing to life the CUPRA Born's challenger spirit, sportive energy and sustainable commitment – all in one design.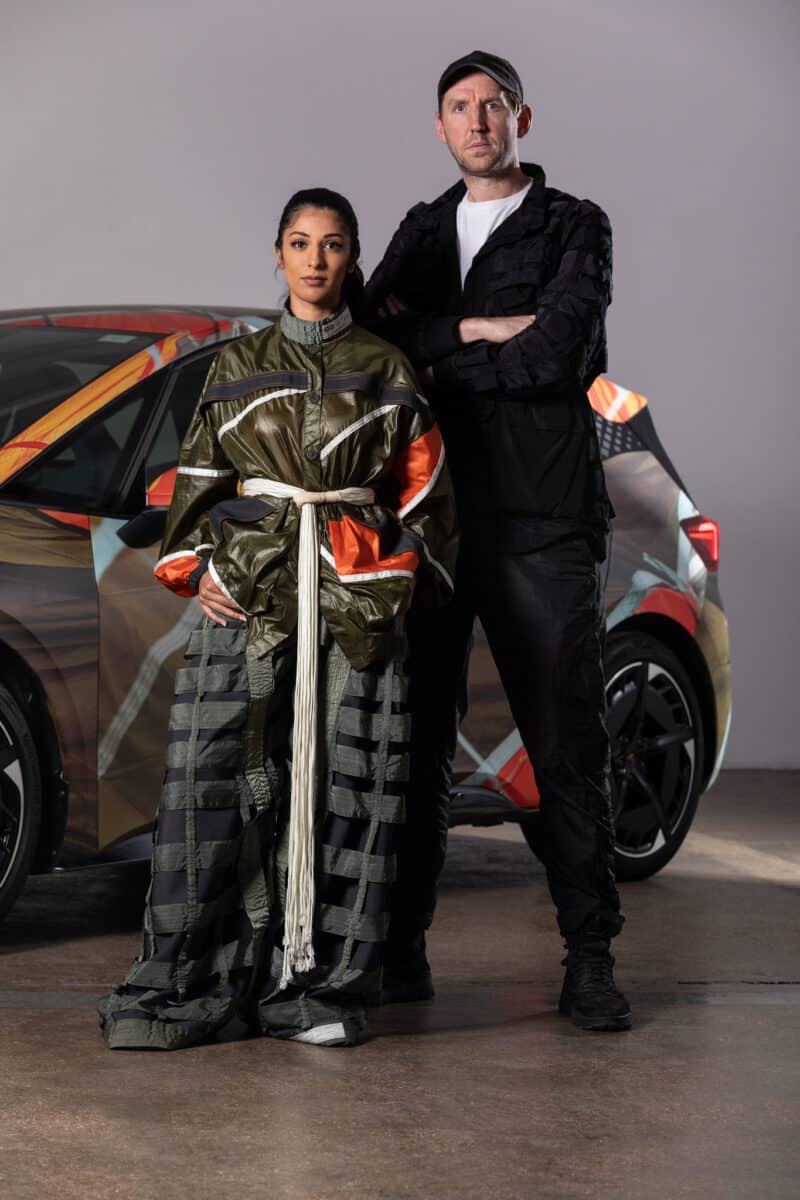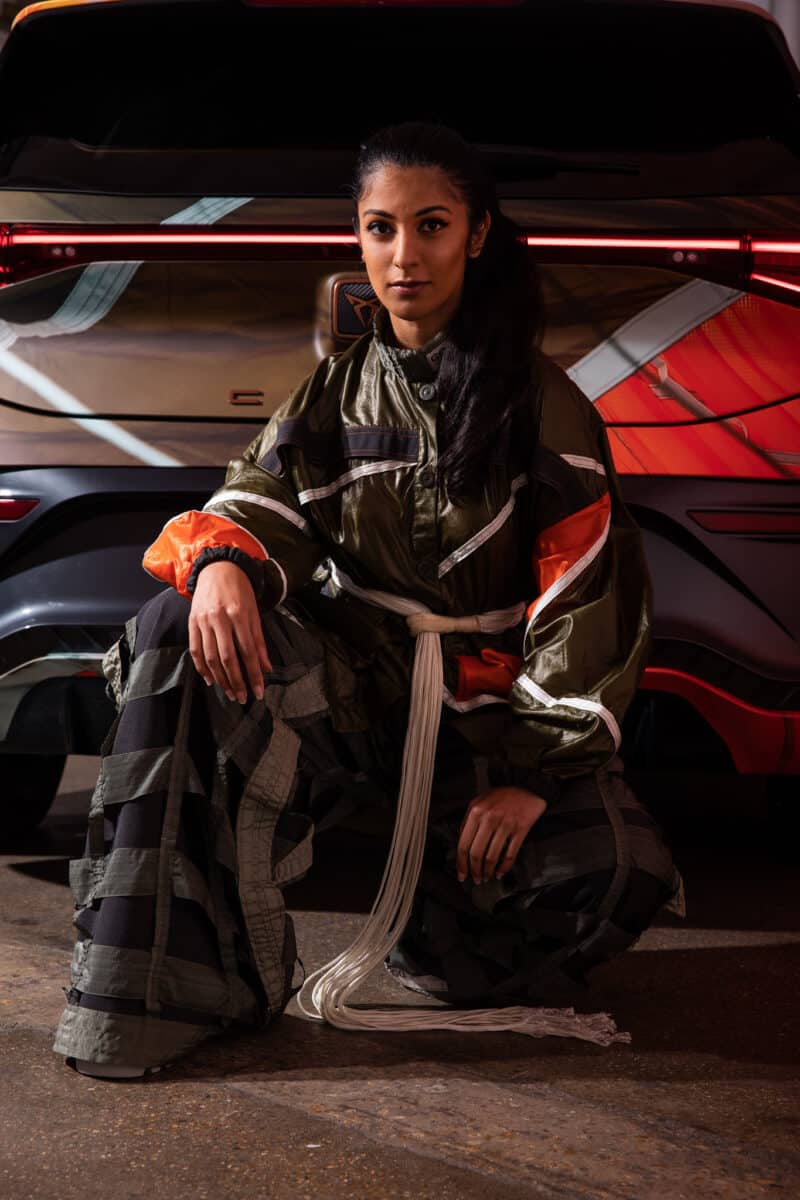 RÆBURN has also created a bespoke fashion design, using SEAQUAL® YARN, a material made of recycled marine litter from the Mediterranean used in all CUPRA interiors; the two-piece womenswear design also incorporates RÆBURN's iconic parachute material. 
The outfit has been created with RÆBURN's RÆMADE ethos at heart – reworking surplus fabrics and garments to create innovative and functional pieces. The fashion piece will be on show until the new year at the RÆBURN Lab in Hackney.
At CUPRA, we delight in challenging car industry norms; and when it came to the creation of our first all-electric CUPRA Born, it was important that we explored every possible way to optimise its sustainability credentials. We're delighted to offer the customer a choice of recycled interiors with reformed plastic sea waste in SEAQUAL® Yarn and also recycled polyesters. CUPRA is fast becoming known for its standout design too, so partnering with a sustainable studio like RÆBURN was the perfect fit. We hope this collaboration will amplify just how powerful, sustainable and stylish all-electric mobility can be!

Andy McGregor, Head of Marketing at CUPRA UK
RÆBURN is a collaborative, creative fashion studio where daily design meets responsible production, alongside regular events, discussions and workshops.
About
Christopher Raeburn has established his eponymous brand RÆBURN with responsible and intelligent fashion design for a global audience. The RÆMADE ethos in particular has pioneered the reworking of surplus fabrics and garments to create distinctive and functional pieces.
Alongside this, a highly collaborative spirit informs luxurious, handcrafted and award-winning products with integrity and purpose. This innovative approach, with an unusual balance of high concept, accessibility and wearability, is applied to menswear, womenswear, luggage and accessories.
With its RÆBURN Lab in the heart of East London, RÆBURN is stocked in the best stores globally and receives media coverage worldwide. Christopher won a Fashion Award in 2020, selected as one of the Honourees of the Environment category. The awards celebrate the individuals who have created positive change within the fashion industry, as chosen by 800 key members of the global fashion industry.
CUPRA Born is built with advanced powertrain technology, offering up to 230PS (e-Boost variants), with a battery pack size of up to 77kWh which delivers up to 340 miles (WLTP) of range for an even longer, more engaging driving experience. CUPRA Born's range of technology is designed to enhance the safety and comfort of the driver and passengers. Features include full LED exterior lighting, a 12-inch infotainment system, Predictive Adaptive Cruise Control, augmented reality head-up display, Dynamic Chassis Control and dynamic road sign display.
CUPRA is the unconventional challenger brand that brings together emotion, electrification, and performance to inspire the world from Barcelona. Launched in 2018, CUPRA has its corporate headquarters and a racing car workshop in Martorell (Barcelona), in addition to a global network of specialised points of sale.
In 2021, CUPRA maintained its upward trend, tripling sales with 80,000 vehicles delivered, driven by success of the CUPRA Formentor. CUPRA proves that electrification and sportiness are a perfect match, and in 2022 the brand expanded the range of the CUPRA Born, the brand's first 100% electric vehicle, with models with different battery capacities, as well as a more powerful e-Boost version. An exclusive, limited edition version of the CUPRA Formentor VZS was also introduced. The CUPRA Tavascan, the brand's second all-electric model, as well as the CUPRA Terramar, the electrified sport SUV that pays homage to the Terramar racetrack where everything started for CUPRA, will reach the market in 2024, followed by the brand's first urban electric car, inspired by the CUPRA UrbanRebel concept, in 2025.
CUPRA is FC Barcelona's official automotive and mobility partner, the World Padel Tour's premium sponsor and the official sponsor of the eSports Club Finetwork KOi. Collaborating with brands such as Primavera Sound and De Antonio Yachts, it has created the CUPRA lifestyle universe. The CUPRA Tribe is made up of a team of ambassadors who want to be the driving force of change. Among its members are Street Artist TV Boy, Olympic gold medallists Adam Peaty, Melvin Richardson and Saul Craviotto, the German goalkeeper Narc ter Stegen, and Ballon d'Or and Best FIFA Award-winning footballer Alexia Putellas.
Categories
Tags