Oh, but for the joys of meandering through corridors and spaces once trodden by the greats of art,
culture, music, entertainment and literature. If only the walls in these unpretentious spaces could
talk! What would they say of the Nord-Pinus?
Alon Zakaim Fine Art opens a new solo exhibition 'If Only These Walls Could Talk' – a new body of work from London-based Persian artist Maryam Eisler, shot at the fabled Hôtel Nord-Pinus in Arles.
Photographed at the legendary hostelry amid the ghostly presence of Picasso, Cocteau, Callas, Chaplin, Hemingway, and Van Gogh, Eisler's work explores the masculine and feminine tensions that the city has seen and lived over centuries.
During her stay at the hotel in 2021 between lockdowns, Eisler was drawn in particular to Suite 10 – the location of Helmut Newton's iconic 1973 Vogue shoot with Charlotte Rampling. Not in replication or imitation, but rather to explore and to expand on the subject of 'La Femme' in the Now. Eisler continues in her new series to pursue definitions of the various facets of the 'Sublime Feminine' – a consistent exploration of the artist into sensuality and the female gaze. Through her lens and in countless bodies of work, 'The Sublime Feminine' has been a constant protagonist in Eisler's work; from the Catskills to the American West, Carmel to Mexico, Iceland to Capri, and now, Arles. At the Hôtel Nord-Pinus, Eisler returns to black and white photography to explore her muses, allowing her to distil figures into abstract but emotive shapes, or what she calls "body architecture."
Her protagonists now sit nonchalantly before a feast of shellfish and sea urchins, smoke cigars whilst posing in a magasin de vins, and sprawl unapologetically across fer forge beds. Four photographs show the matador now being lured away from his arena by the same two women in elegant evening gowns.
We see mythical beauty captured through the prism of historical richness of Le Nord-Pinus in a magical dance between light and shade. At once, the female form is both echoed in the curling ironwork, and contrasted against geometric floor tiles and vertical frames. Sensual yet strong, seductive yet unattainable, these women project an idea of an uncompromising femininity and a vibrant beauty.
Suite 10 at the Hôtel Nord-Pinus was also the place where celebrated bullfighters, such as Luis Miguel Dominguín, greeted their adoring crowds from the balcony railings, and this series alsopays reverence to sport that has captivated generations of artists, poets, and writers, including Picasso, whose lifelong passion for bulls is well-documented in his work.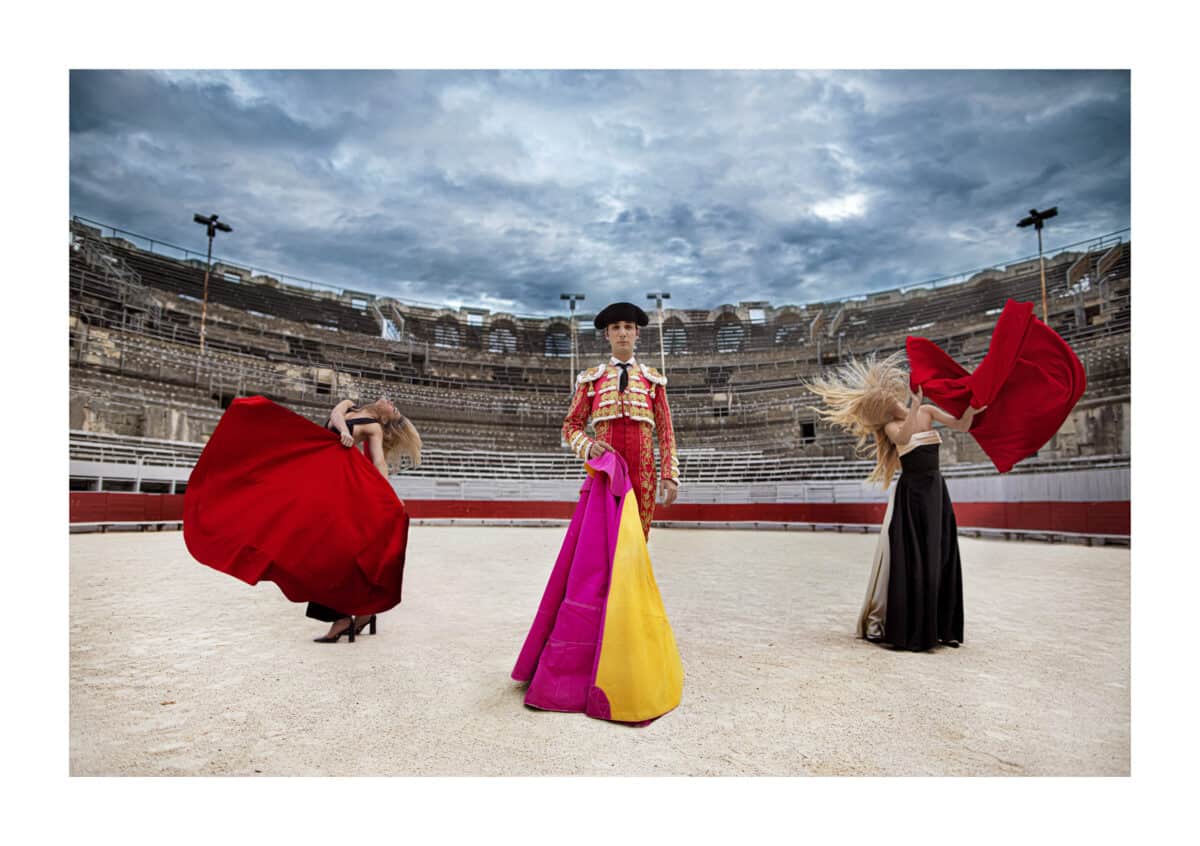 Of all the works in the series 'If Only These Walls Could Talk', three are set in the arena; as the
dominant colour, red is symbolic on many levels, as an evocation of passion and danger. The
matador stands strong as a masculine force; however, in place of the bull, Eisler's female muses
have returned, defiantly spirited, beautiful, and completely unapologetic about their
passion, sensuality, and strength.
Maryam Eisler 'If Only These Walls Could Talk', Alon Zakaim Fine Art, 27 Cork St, London W1S 3NG, 2nd-24th November 2022
The accompanying publication 'If Only These Walls Could Talk,', which includes a foreword by Brandei Estes, Sotheby's Director, Head of Photographs, EMEA, will be available to coincide with the exhibition.
About the artist
Maryam Eisler is a Londo ABOUT MARYAM EISLER n – based photographer and author. The crux of Maryam's photographic work is centred around the Sublime Feminine. Maryam has shown with Alon Zakaim Fine Art, Tristan Hoare, Linley, De Pury at Asprey, Catherine Prevost, Bermondsey Project Space, Bicester Village and Old Spitalfields Market in London, Harper's Gallery and Richard Taittinger Gallery in New York, Space Gallery St Barth, FluxZone Gallery in Mexico City, Photo London and Eye of the Collector in London, Dallas Art Fair, Unseen Amsterdam, and Art Marbella. Maryam is the Chief Contributing Editor to LUX magazine, a Condé Nast title; she has additionally contributed photographically and editorially to Vanity Fair, Harpers Bazaar Art, Harpers Bazaar Interiors and Vogue Arabia. Maryam's book, Voices: East London for which she is both author and photographer was published in 2018. She has edited several other Thames and Hudson titles to include Sanctuary: Britain's Artists and their Studios, Art Studio America: Contemporary Artist Spaces and London Burning: Portraits from a Creative City among many more. Maryam sits on the advisory board of Photo London, is a judge of the Louis Roederer Photography Prize for Sustainability and is a nominator for the Prix Pictet. Maryam is a graduate of Wellesley College and Columbia University.
Categories
Tags