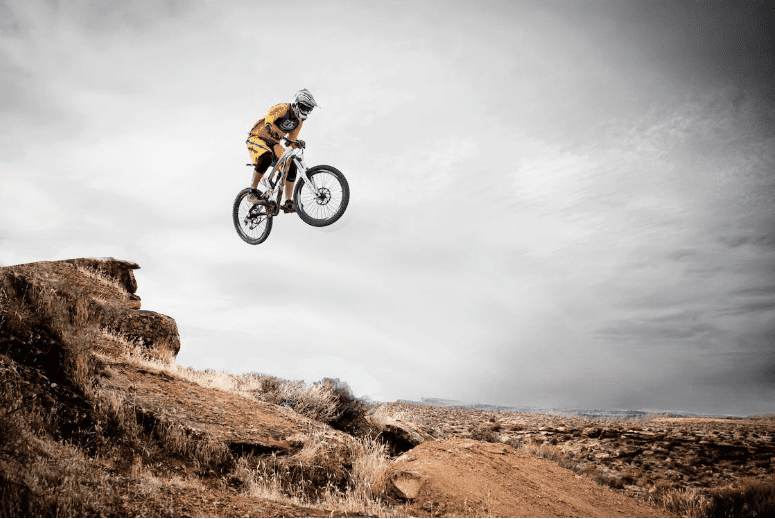 You've been riding a bicycle since childhood. And the years of experience have seen you advance from a road bike to a mountain bike. Mountain biking is a favorite sport amongst bikers as it gives them an adrenaline rush and allows them to have fun. The sport has been around for several decades, and people often engage in races to show off their skills.
However, despite your cycling experience, there are many things you might need to be aware of about mountain bikes. This article explores 14 interesting facts about mountain bikes you didn't know.
14 Interesting Facts About Mountain Bikes
Mountain bikes are fascinating as they date back to the 1890s and have advanced to the point that we now have electric MTBs.
They Date Back to the 1890s
Although mountain bike races started in the 1970s, mountain bikes date back to the 18th century. It is said that the Buffalo Soldiers were the first people to use mountain bikes. Of course, they weren't as advanced as the 1970s or today's MTBs, as they did not have shock absorbers, suspension systems, gearing, or brakes and were much heavier.
The Fastest Speed Recorded on a Mountain Bike is 141 Miles Per Hour.
Eric Barone, a 56-year-old male, broke his own speed record on a mountain bike. In 2015, Barone created a world record for a mountain bike's fast speed at 138 miles per hour. In 2017, he broke this record while riding downhill in the French Alps on a snowy ski slope, where he recorded a speed of 141 miles per hour, creating a new world record. On the other hand, Specialized's new mountain bikes can race downhill at a speed of 40 miles per hour.
Fred. A Birchmore Toured the World on a Mountain Bike
In 1935, Birchmore, who was at the time 25 years, biked around the world on his modern mountain bike. He traversed through the USA, Europe, and Asia. He used up seven pairs of tires in his journey, covering about 40,000 miles.
The Longest Distance Covered on a Bike in 48 Hours
Can you sit on your mountain bike for 48 hours? Probably not. Adrian Ellul cycles his mountain bike for more than 1000 kilometers in 48 hours. Don't worry; he took breaks, meaning he traveled an average of 13 miles an hour, which is quite a feat even for the most experienced riders.
Mountain Biking Became a Sport in the 1970s
Mountain bike races started in the mid-1970s, and the riders were freewheeling down the mountain on dirt roads. As the races freewheeled down the mountains, the coaster brake hubs on the bikes would get so hot that they would produce smoke, and all the grease would flow out. For this rider, the riders had to repack the hubs before freewheeling. Thus the routes used for racing were referred to as "repack" mountains.
The 1st Mass Production of Mountain Bikes Was on the Specialized Stumpjumper
The first company to mass-produce mountain bikes was created by Mike Sinyard in 1981 and was known as Specialized. His goal was to make a customized bike in batches referred to as STUMPJUMPER. The bike was made of steel frames like those found on MTB pioneers.
The First and Longest Jump on a Mountain Bike is About 36.49 Meters
Cam Zink made it into the Guinness World Records after completing the longest dirt-to-dirt jump in August 2014. However, his record was broken by Fabiolous Escape, who made a 43-meter jump while filming in Saalbach, Austria, in 2018.
The Longest Off-Pavement Bike Trail in the World is Found in the Great Divide.
This dirt road is suited for mountain bikes and is 3,083 miles long. It is estimated that the route would take experienced riders about ten weeks to emerge on the other side. The trail has an elevation of 200,000 feet and comprises snowy mountains and deserts, making the trip much more fun.
Nepal has the 7th Longest Downhill Mountain Bike Descent Trail
The longest downhill mountain bike descent trail will take three days to get to the base. The ride starts at 17,700ft elevation. Can you imagine not pedaling, just freewheeling downhill? The adrenaline and breeze that beats against your body are like no other.
The first 10kms of the ride are estimated to be a no-fall zone. Therefore if you fall, you will be going down a cliff. During this stretch, experts usually guide you. Riders ride a vehicle or helicopter to the top of the mountain.
The First Mountain Bike Suspension Was Invented by Brian Skinner in 1982.
Skinner played a crucial role in designing and manufacturing mountain bike parts. This is especially notable in constructing the Shimano Deore and Deore XT parts. He also created the MCR Descender, the first mountain bike with full suspension.
The Most Expensive Mountain Bike Costs $1 Million
The 24k Gold Extreme is the most expensive mountain bike in the world. The bike is also called the "fat bike" as it is gold-plated with 24 karats of pure gold. The bike also comes with a gold-plated water bottle.
It is said that the manufacturers used the electroplating process to coat the mountain bike. And they only made 13 bikes, of which all were customized, with each bike bearing the logo or THSG( the house of solid gold). The bike logo was embellished with more than 600 black diamonds and 500 golden sapphires.
There are Different Types of Mountain Bikes
If you are new to mountain bikes, you must know that there are a lot of mountain e-bikes, and they differ according to their purposes.
Cross-country bikes are ideal for riding long distances.
Enduro bikes are meant for racing in rough terrains.
Trail bikes are meant to ride on a variety of terrains.
Mountain Biking is Both Dangerous and Rewarding
Despite being a dangerous sport, mountain biking is very rewarding as it's believed to improve your heart health, induce sound sleep, promote happiness, and enhance your ability to cope with stress.
The Wheels have Gotten Larger with Time
The mountain bike wheels were about 26′ in the past, but they have gotten larger, with some being 29′ wide. The bicycle wheels have increased to enable riders to handle rougher terrain. And now riders can buy "fat tires," which are oversized and designed specifically for sand and snowy landscapes.
Final Thoughts
Mountain biking is a fun and exhilarating sport that every cycler should try. It helps you keep fit, but helps in conserving the environment, and improves your overall health. If you are still on the fence, the above exciting facts about mountain bikes will leave you wanting to head to the shop and get a mountain bike.
Categories
Tags