In 2019, RIMOWA collaborated with contemporary artist Daniel Arsham on an "eroded suitcase" that appeared to have been ex-tracted from an archaeological dig. Now, RIMOWA and Arsham have reunited to create another unforgettable collector's piece: a sculptural turntable housed within RIMOWA's beloved Pilot Case and available in two iterations.
 

 

View this post on Instagram

 
During his first partnership with RIMOWA, Arsham saw the Pilot Case in the archives and was intrigued by its shape, functionality, and evolving use over time. An object of cult following for airline staff for the way it fit neatly into the space behind pilot's seats, the grooved aluminium case had also become popular amongst musicians and DJs in the 1990s as they used it to transport their records and equipment.
With this history in mind, RIMOWA reissued the Pilot Case. Upon teaming up with Daniel Arsham, an imagined universe was built around it, resulting in the RIMOWA x Daniel Arsham Eroded Turntable in Pilot Case. Presented as an archival piece, it features a hand-cast turntable made from plaster and crushed
glass. Similar to Arsham's famed Future Relic series – which imagined various everyday objects as discoveries from a future dystopia – both the sculpture and the Pilot Case appear to have been found in an archaeological site. To ensure its safety, the turntable is cushioned in a removable protection foam and comes with art handling gloves.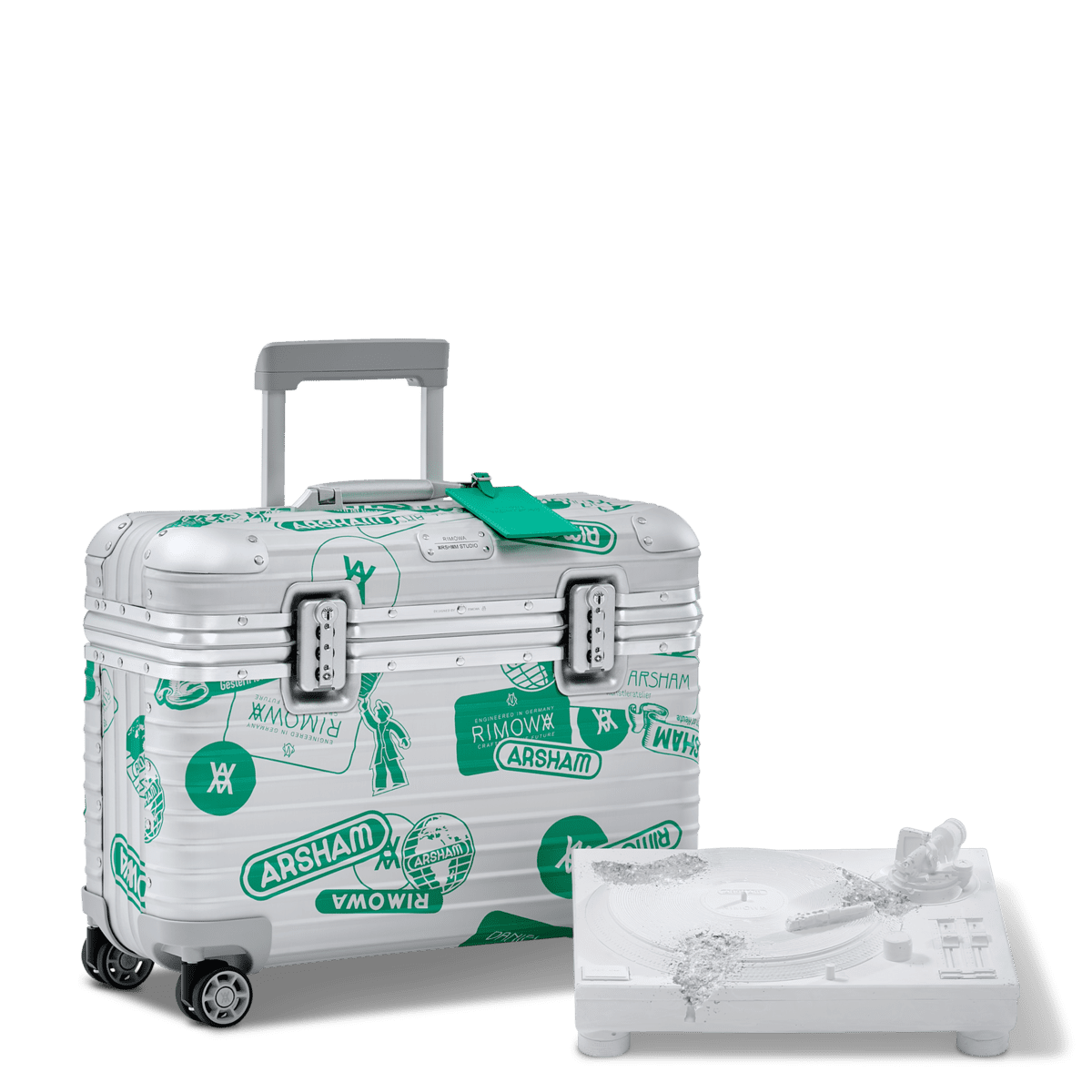 The RIMOWA Pilot Case – which first debuted in 1994 – is crafted from signature grooved aluminium. Using a technique honed by RIMOWA for more than a century, aluminium anodizing was combined with various surface treatments to lock colour pigments into the metal alloy for a lasting metallic sheen. A series of vintage-style logos are emblazoned across the case in an exclusive shade of Arsham Green Pantone that adds to the sense that it's a heritage piece uncovered from the past. All the usual cutting-edge RIMOWA functionalities have been integrated, from the pioneering Multiwheel System to a telescopic handle. Only 500 models in Silver will be made available in Europe, North America, and South America and 500 models in Black will be sold exclusively in Asia as an ode to Daniel Arsham's fanbase in the region following the recent launch of his innovative edition platform, Archive Editions in China. Due to the limited release, each special-edition case comes with an individually numbered certificate of authenticity card.
One of America's most exciting contemporary artists, Daniel Arsham incorporates a near-scientific approach to his sculpture, installation, and stage design. His aesthetic style grows out of his core interest in documentation and architecture as he toes the line between a romanticised take on archaeology and science fiction by adopting the language of both the future and the past simultaneously.
RIMOWA and I share an interest in process, in an object's evolution over time. A suitcase is covered by stickers or blemishes; a sculpture erodes and crystallizes. We also both share a commitment to honing one's craft, as well as archiving.

Daniel Arsham

Starting October 7th, the RIMOWA x Daniel Arsham Eroded Turntable in Pilot Case in Silver (RRP 3,000 EUR | 3,600 USD | 2,740 GBP) will be available at arshameditions.shop and in RIMOWA stores across Europe, North America, and South America and online at RIMOWA.com. The RIMOWA x Daniel Arsham Eroded Turntable in Pilot Case in Black (RRP 26,000 CNY | 32,300 HKD) will be sold on the Archive Editions WeChat MiniProgram (ID: Archive Editions) and in RIMOWA stores across Asia and online at RIMOWA.com.
About the artist
Daniel Arsham is a New York based artist who crosses between fine art, architecture, performance, and film. Arsham's iconic works meld the past, present and future, showcasing the malleability and power of nostalgia, often through references to moments of the late 20th century. Eroded casts of modern artifacts and contemporary human figures, his works are crafted out of geological material such as sand, selenite and volcanic ash. These materials allow for the appearance and aesthetic of erosion or archeological future relics, as Arsham has dubbed them.
Arsham is the creative director of the Cleveland Cavaliers, becoming the first-ever fine artist to hold this role. His works have been shown at PS1 and The New Museum, in New York, The Museum of Contemporary Art in Miami, The Athens Biennale in Athens, Greece, König Galerie in Berlin, Germany, Contemporary Arts Center, Cincinnati, SCAD Museum of GA, California and Carré d'Art de Nîmes, and the High
Categories
Tags