Anna Choutova and Andrea Gomis present, Husband Material. It will be their first duo show and will reflect the last two years of their collaborative work and over a decade of a wonderful, turbulent and often co-dependent relationship. Anna and Andrea collaborate through indulging in their impulsive and compulsive nature together – manically running around London trying to fall in love.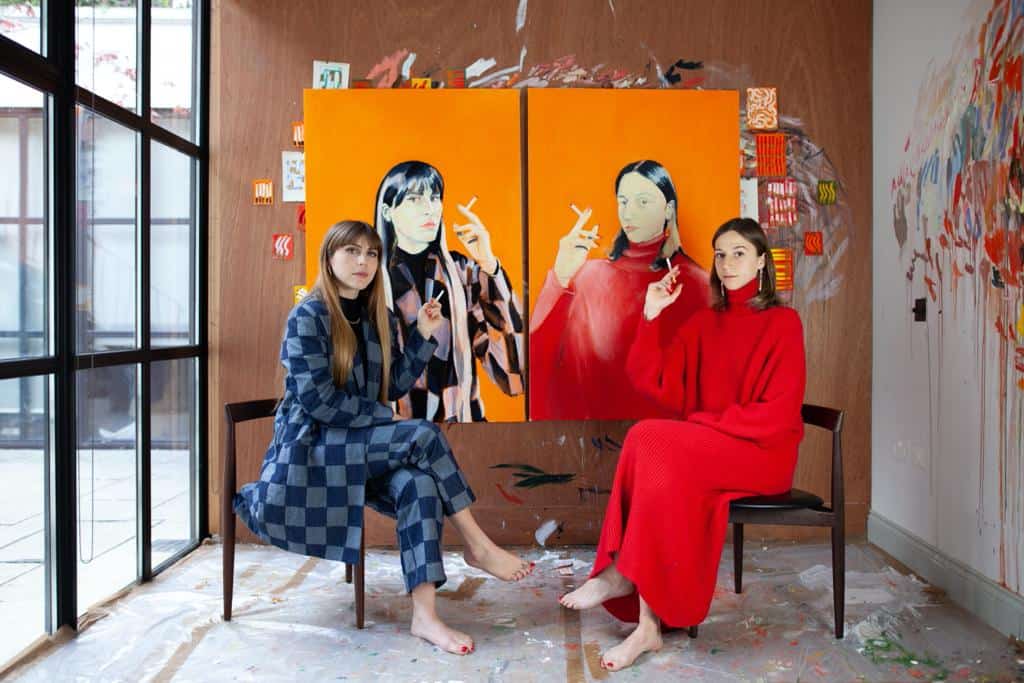 The experiences cultivated during these episodes become immortalised in the artist's work. The pieces created act as a monument to each significant 'trauma' experienced by both (usually involving the failing relationship with another 'Husband'). The show looks to explore topics around self-destructive, mental health disorders, addiction and love.  
The show also celebrates the strength and resilience of a strong female relationship and trauma endurance. As at the heart of searching for their Husband Material the girls develop a deep bond as they witness each other at their highest and lowest, eventually realising that no Husband quiet makes the cut because a good wife is for life. 
Anna Choutova will be exhibiting a body of work, which has been in the making throughout the last decade, with Andrea being her muse and anchor throughout her entire artistic practice. 
Andrea will be exhibiting ceramic sculptures, many of the pieces dedicated to a Husband and the specific imprints they left in her life.
Andrea Gomis is a Catalan-American artist based in London. Her sculptures harken back to traditions of the erotic and grotesque while exploring human anatomy and sexuality. Growing up between Catalunya and Colorado, her work incorporates the aggressive subtexts of American life and the surrealist nature of Catalan culture. While many of her pieces are explicit, they always include a more innocent side– the sculpture turned in a certain direction displays the grotesque, while turned in another can offer a seemingly innocent object, thus playing with the idea of how we protect and conceal vulnerabilities, truths, and realities from ourselves and others. As she often says, "you never completely wear your heart on your sleeve." She has worked in studios making prosthetics for films such as "The Orville" and with the team that created Pan's Labyrinth. She studied at Central Saint Martins College in London and completed trainings in Special Effects, Prosthetics, and Creature Maquette among others at the Cinema Makeup School in Los Angeles.
Anna's practice is best described as a browse through a forgotten section of a Duty Free store. She fixates on items that glitter but ain't gold, researching their societal significance and cultural connotations. She is fascinated by the things we consume in an effort to alter our identity. Her work comments on the power of food and food culture, especially its destructive elements, touching on subjects around addictive and disordered eating. 
Coming from an Eastern European background, then thrown into a Westernised upbringing in the wake of the collapse of the Soviet Union, Anna's practice functions as a form of rose- tinted voyeurism into an idealised Western culture, approaching food, consumerism and addiction with a contemporary Pop Art vernacular. The culture she was born into both fetishizes and demonizes American consumer culture. Anna's practice reflects this duality and comments on the push-pull of East and West that exists within her and within most post- Soviet Eastern Europeans. She has put herself between Malevich and McCarthy and is on a mission to marry destitute bleakness with inconceivable excess in her own practice. 
Anna's practice lays somewhere between painting, sculpture and set design. As a response to experiencing life through the glowing rectangle in our hands, she has pushed away from the wall and brought her subjects into our realm, off the wall and free from the four-sided confines of a painting stretcher. She is concerned with making 'fakes' or 'replicas' of things that hold great financial, societal or sentimental value. 
Anna is the founder of Bad Art Presents. Bad Art Presents is a curatorial project founded in 2016 aiming to challenge the contemporary art world through transgressive exhibitions that offer a different way of interacting with art. The shows are a reaction & protest against the hushed silence, white walled gallery experience. 
Anna Choutova and Andrea Gomis, Husband Material,  7th October 2022 to 17th October 2022 PV 7th October 6pm-9pm Arusha Gallery, 46 Great Titchfield Street, London, W1W 7QA 
Categories
Tags