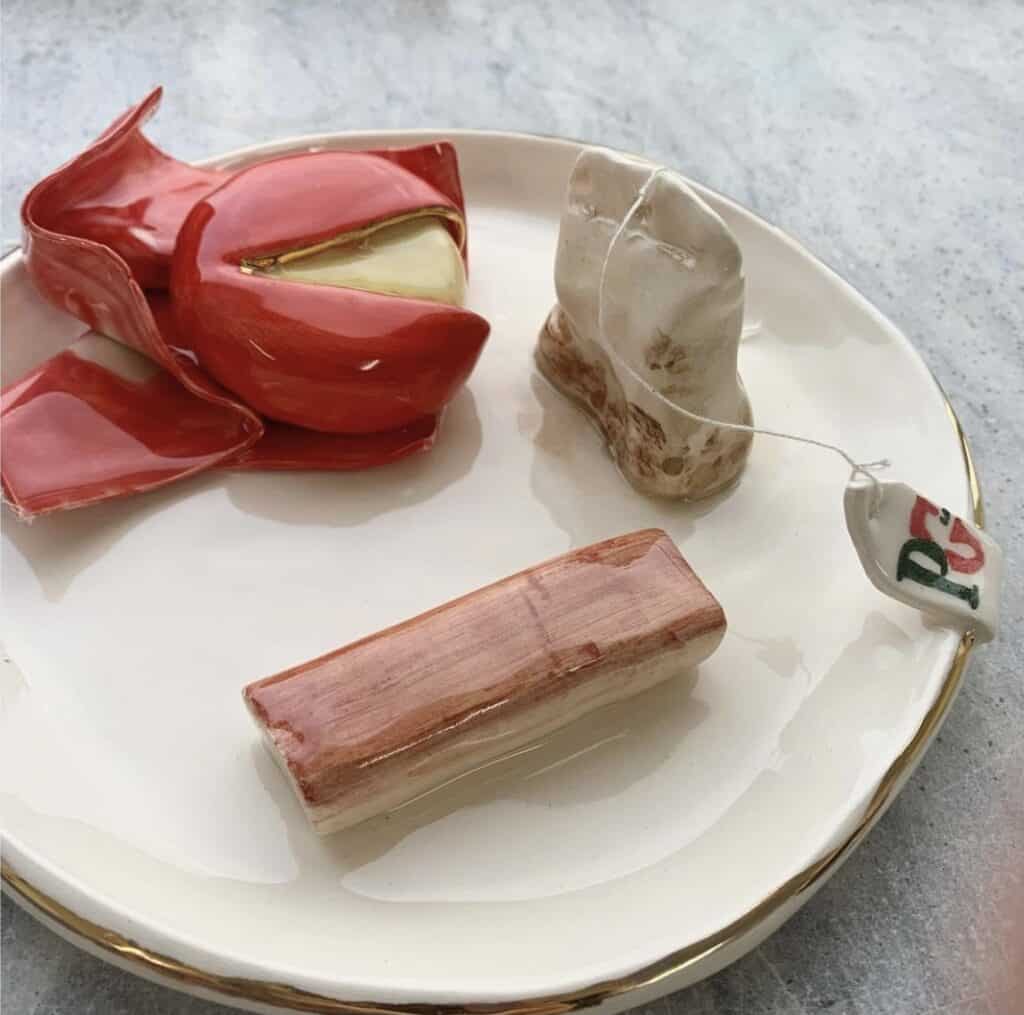 Bad Art presents Let Them Eat Fake opening this week at the Bomb Factory. An exhibition, a banquet of inedible food, Let Them Eat Fake explores the culture of visual food consumption.
Whilst prioritising visual nourishment, how much importance is left on lining our stomachs? An addiction to eating only with our eyes is perpetuated through an infinite loop of online food pornography. Meals are digested through the white light of our screens, tantalising our senses but failing to nourish our bodies.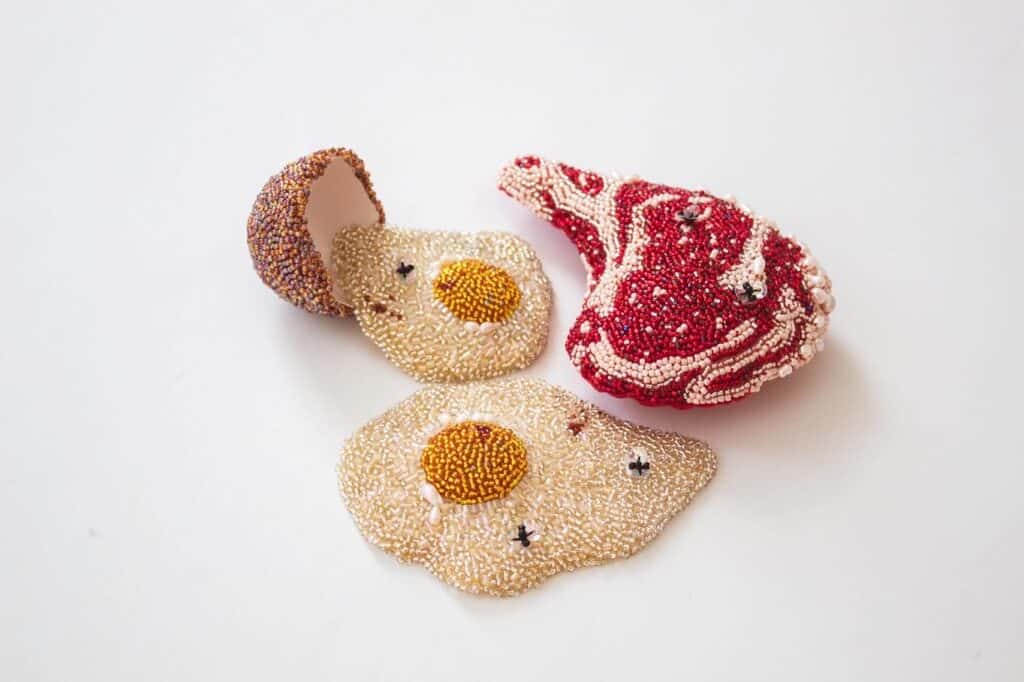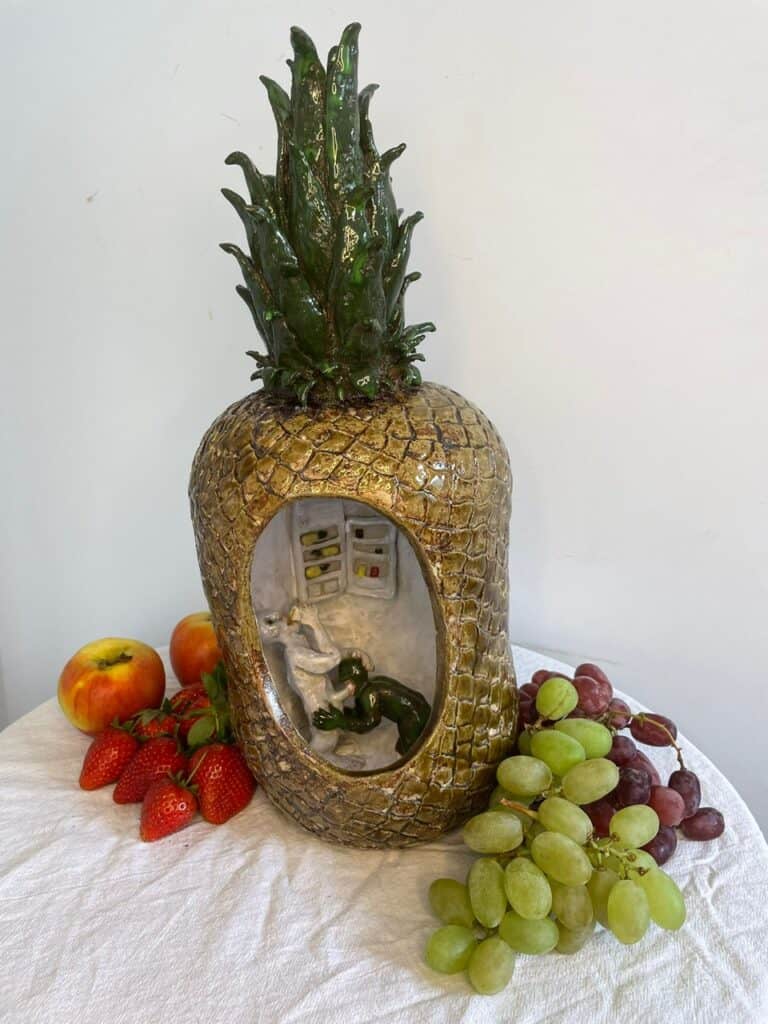 Food reveals itself as a taboo, being both pleasurable and shameful at once – an object of virtue to be desired from afar, drifting further away from the dining table and straight into the white-walled gallery.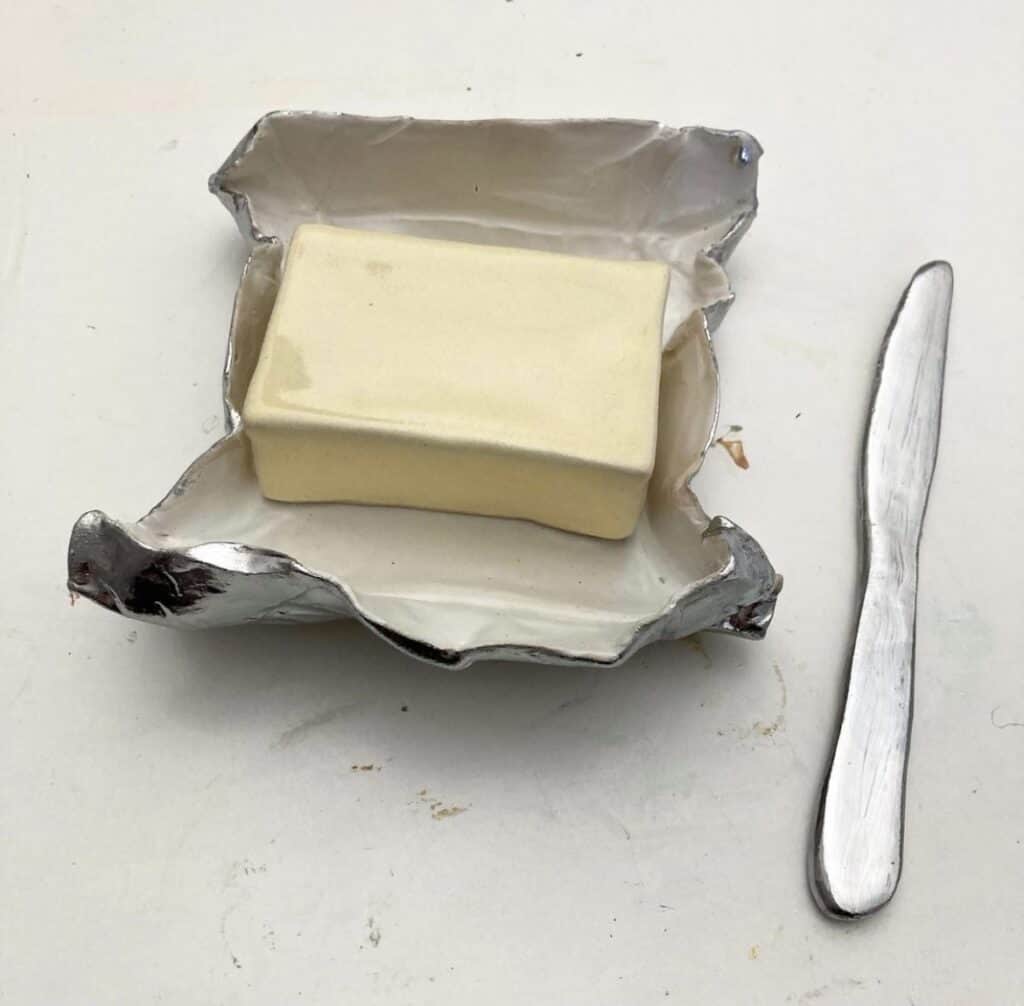 Featuring the artists:
Andrea Gomis @deadratlove69, Sabina Speich/Tüpf Li @tuepf_li ,
Vincent Olinet @vincentolinet,
Liva Donina @livadonina,
Carly Owens @carlyowensembroidery,
Freya Wysocki @freya.wysocki
Alma Berrow @almaberrow,
Maia Leung @maialeung.ai,
Lucy Ellerton @lucyellerton,
Jacky Cheetham @jackycheetham,
Erica Eyres @erica_eyres,
Heidi Pearce @heidipearce_art
Milly Stephen @millyrosestephen,
Patricia Petersen @patriciaisabel,
Giulia Fassone @giulia_fassone
Georgie Whitney @whitneygeorgie ,
Xenia Busalova @xeniabusalovastudio,
Animationseries2000 @budnyandrossman,
Benjamin Arthur Brown @benjaminarthurbrown,
H Boone @boone__daddy
Annie Shrosbree @annieshroart_,
Klara Szafranska @klaraszafranska,
Sammy Patterson @sammyp_artistry,
Charlotte Southall @skinnychip,
Kara Chin @karachin, Martha Ritchie @jelli.baff
Susan Nemeth @susan_nemeth, Alexis Mabry @alexis.e.mabry,
Abi Giltinan @abigiltinan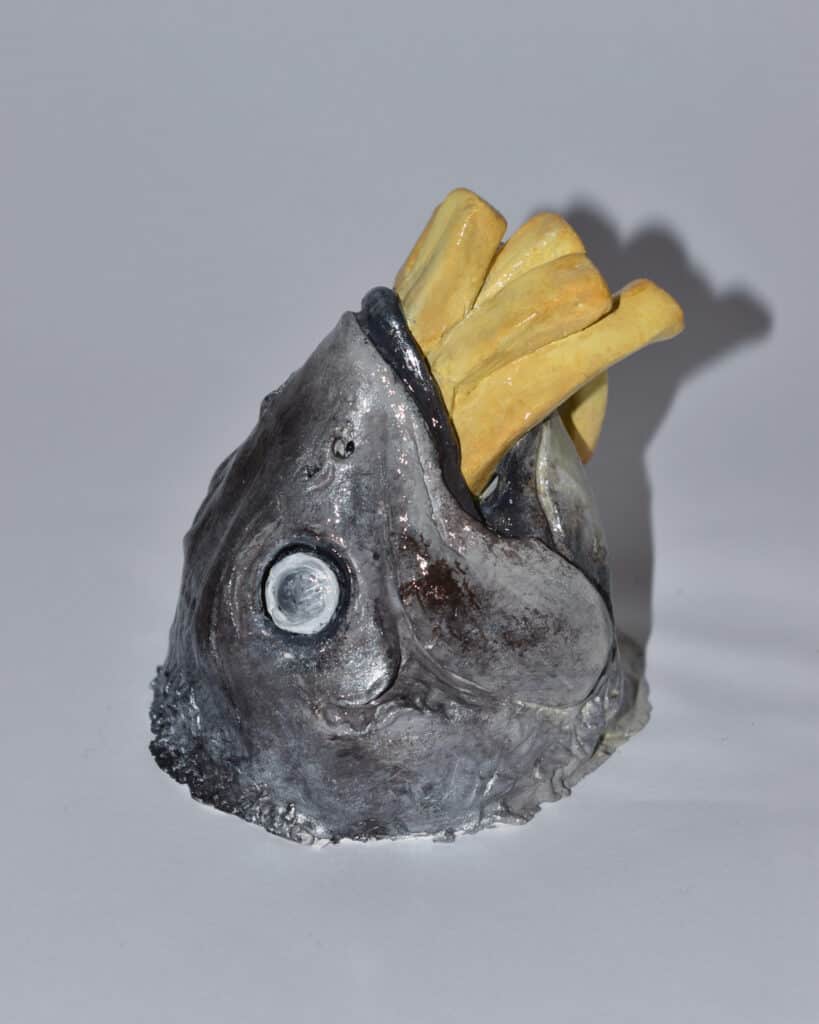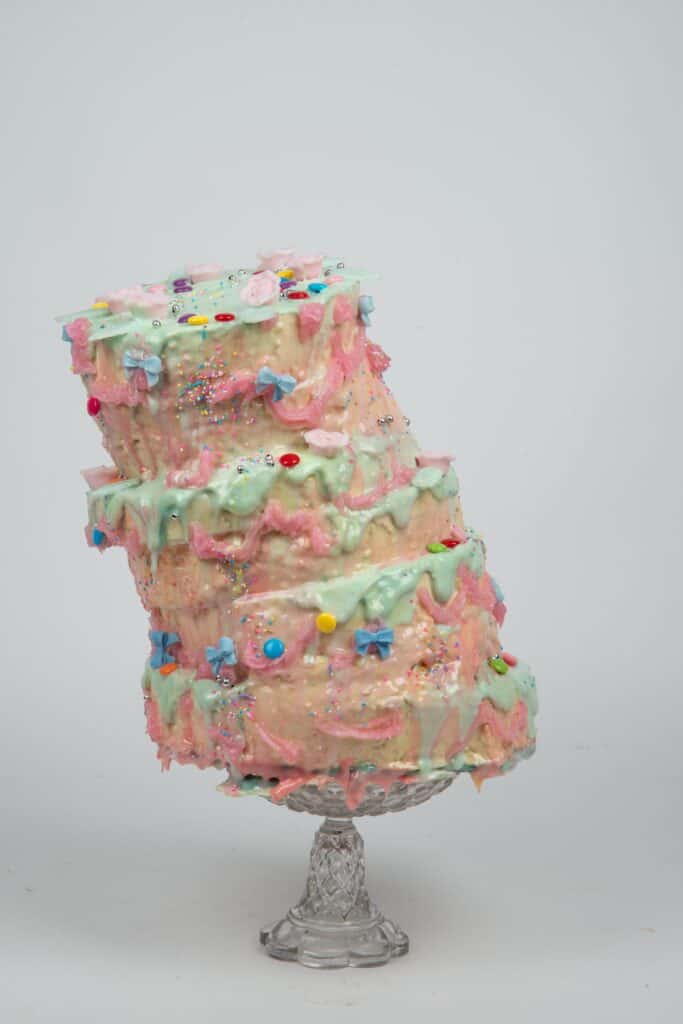 Angela Wooi @sextileart,
Marta Pieregonczuk @faceyourspacestudio,
Camilla Hanney @camilla.hanney
Melissa Vipritskaya Topal @melissavtopal,
Natalia Triantafylli @nataliatriantafylli,
Jaz Bartlett @jazparis_art,
Daisy Tortuga @daisy_tortuga,
Jasmine Smail @artist.jasminesmail,
Rosie McGinn @rosiemcginnart,
Sally Hewett @sally_hewett, Ellie Barrett @elliecbarrett,
Ruth Faulkner @rufie_rufe 
Katy Stubbs @katy.stubbs,
Charley Vines @charleyvines,
Elly Thomas @_elly_thomas_, Kavitha Balasingham @kavitha.balasingham,
Kerensa Star @kerensa.star, Ella Lynch @_ella.lynch_,
Becky Tucker @ b_e_ndy,
Henrietta MacPhee @etta_mac,
Emmely Elgersma @emmely,
Alicia Gioia @aliciartg, Tom Coates @coatseyy,
Georgia Hodierne @glivart,
Taryn O'Reilly @artsandwhiskey,
Amber Khan @colour.amber, Dominic Watson @dom.watson,
Camille Biddell @camo.pots,
Dolly Kershaw @dollykershaw,
Miss HerNia @misshernia,
Sophie Popper @sophiepopper,
Niamh Dale @niamhthewannabeartist and MX Universe @mx__universe.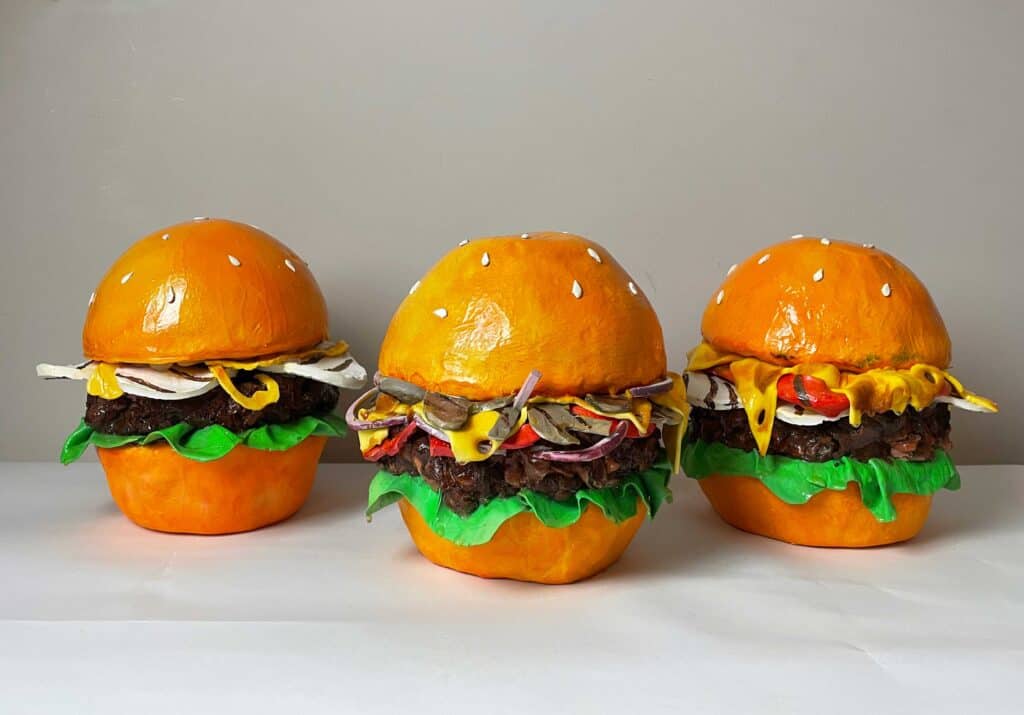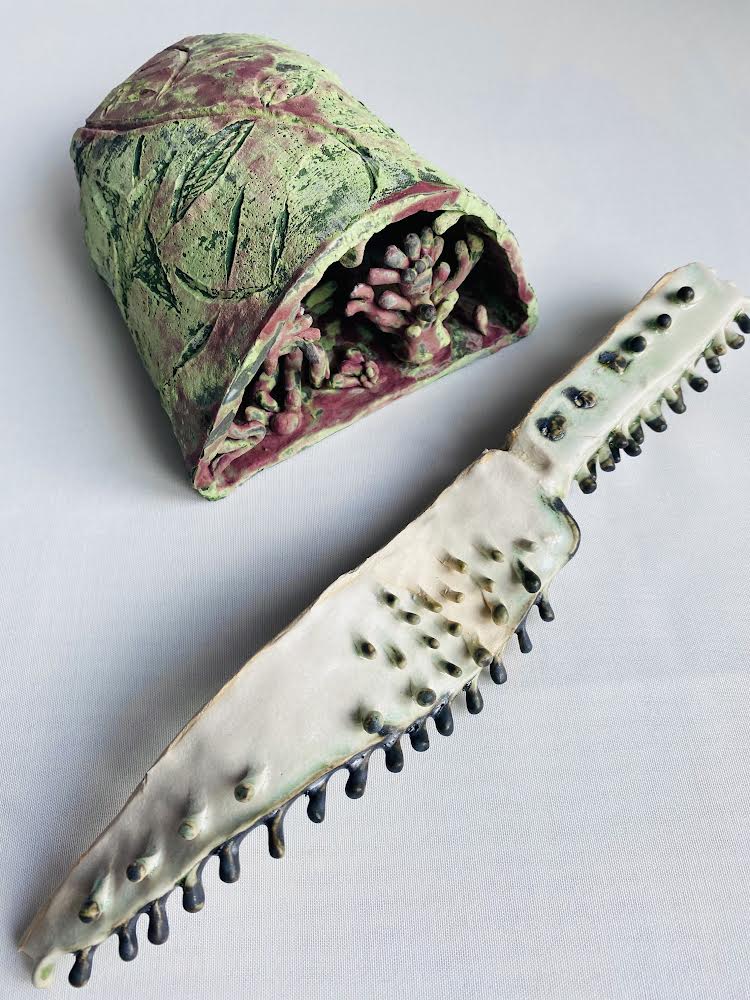 Curated by Anna Choutova & Andrea Gomis, Flora Bradwell, J Rounce.
Bad Art Presents Let Them Eat Fake at The Bomb Factory 9-15 Elthorne Road, Archway, London, N19 4AJ PV Wednesday 27th April 6-9pm
Binge Night (Performances) Sunday 30th April 6-9pm £5 TICKETS HERE
Opening Times 28th April – 1st May 2022 11am-6pm
Categories
Tags