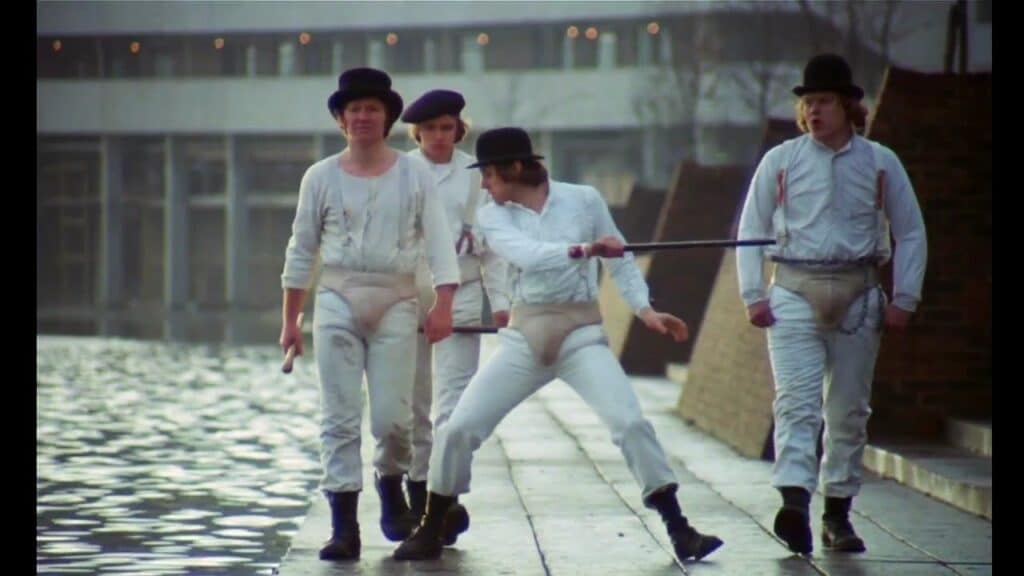 On Saturday 3rd September 2022, Thamesmead Travelling Cinema stages the first public screening of A Clockwork Orange, a film that used the newly-built Thamesmead as a backdrop for the home of the lead character Alex, played by Malcolm McDowell. Special guests from the Stanley Kubrick Archive have been invited to help introduce and contextualize the film. Just behind the open-air cinema is the location of Flat Block Marina, where Alex attacks his Droogs to establish his authority. 
Created to celebrate the town's 50-year history, The Thamesmead Travelling Cinema is Thamesmead's first purpose-built cinema. Made for the people of Thamesmead, the 25-seater mobile open-air community cinema was built between lockdowns in 2020 using mostly recycled materials, including a caravan chassis and almost 500 vinyl records. Launching in Spring 2021, The Thamesmead Travelling Cinema hosts seasonal screenings co-programmed for, by and with local residents from Thamesmead. 
In 2021 the cinema launched with a season of world cinema, spotlighting films from the diverse diasporas that live in Thamesmead, from Nigeria, India/East Africa, Nepal, Jamaica, Romanistan, and Cabo Verde.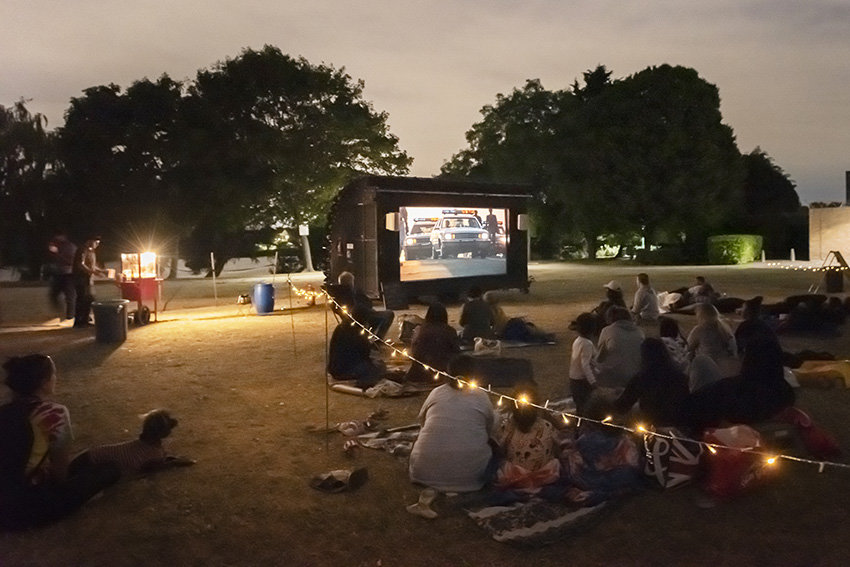 The founders of Thamesmead Travelling Cinema said:
"This year we wanted to curate a Thamesmead Trilogy that spotlight coming-of-age working class stories. We launched the trilogy with Jonathan Harvey's 'Beautiful Thing' (1996) and we followed this by screening a double bill 'We Were Thamesmead' (Dir Lucia Tambini, 2021) and Andrea Arnold's Fish Tank (2006). While not actually shot in Thamesmead 'Fish Tank' has strong echoes of the landscape and social make up. Arnold previously shot her short film Dog (2001) in Thamesmead and originally hails from Dartford. 
We culminate this summer trilogy with the notorious 'A Clockwork Orange' (Dir Stanley Kubrick,1971), a film that used the newly-built Thamesmead as a dystopian backdrop for the home of lead character Alex. When building the cinema in 2020 during multiple lockdowns we originally envisaged launching the cinema with this film, however because of the controversy surrounding Clockwork and the apparent negative associations that locals have with the film, we didn't want to anchor the new cinema with Clockwork. This allowed us to get more creative with our programming hence the World Cinema season. 
We also discovered in 2021 the licence for 'A Clockwork Orange' was on hold for the 50th year anniversary so even if we wanted to, we couldn't screen it. So, 50 years since the film's release, and just over 50 years since Thamesmead was built, there couldn't be a better time to screen 'A Clockwork Orange'.
Kubrick shot in Thamesmead in the early 1970's for the location of Alex's parents' house, when Thamesmead Stage 1 had barely been completed. The estate wouldn't have been fully occupied at the time and would have made a startling backdrop to shoot in. The film was released to the public with an x-rating on 13th January 1972. However, in 1974 Stanley Kubrick pulled the film altogether in England due to tabloid claims of copycat crimes taking place and thus the director receiving threatening phone calls. Clockwork was only then re-released after Kubrick's death in 2000. 
Kubrick's masterpiece paved the way for many film directors to come to Thamesmead and shoot their work, from Misfits, Beautiful Thing and Aphex Twin's Bullet Proof, to adverts with Nike and Adidas. Under the management of Peabody these films and commercials have been a very healthy revenue stream for the local community, where the money goes directly into a community fund, where any local can apply for up to £3000 to produce cultural projects in the area. Without this fund we would have found it difficult to get our own project Thamesmead Texas off the ground, Thamesmead Texas is a nomadic art space that after many projects led to the Thamesmead Travelling Cinema. So, we could say we owe A Clockwork Orange a debt of gratitude. We believe the film has had a more positive impact than some are willing to acknowledge.
One of Kubrick's most astonishing films – made immediately after 2001: A Space Odyssey – 'A Clockwork Orange' is Kubrick's first of only two screenplays written solely by himself and his first of only two, where the United Kingdom is central to the story. We hope people will be able to see why this film was so highly acclaimed, not just as a controversial piece of cinema, but as a piece of biting social commentary and a great work of art. It is a film that tackles class, disgruntled youth, abuse of power and state control and we feel after 50 years it is every bit as relevant as it was in 1972."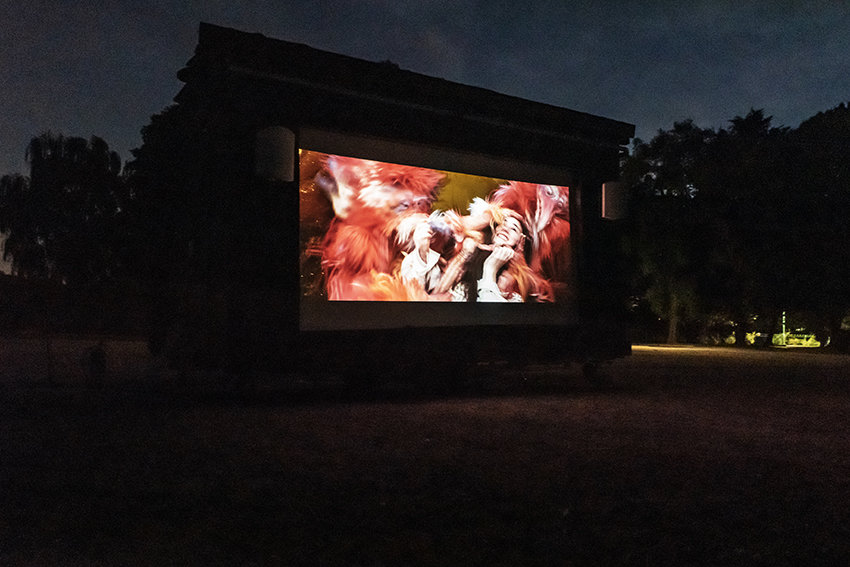 About Thamesmead
Thamesmead was founded on a dream. Hailed as the town of tomorrow, it was built in the late 1960s, following utopian ideals of modernist architecture and model towns. More than 50 years on it is home to over 45,000 people and a growing creative community, drawn by the unique landscape of picturesque canals weaving through wild green spaces, Brutalist buildings and historic Royal Arsenal ammunition tumps. From the Victorian engineering marvel of Crossness Pumping Station in the East to the brooding presence of Belmarsh Prison in the West, Thamesmead is atmospheric, distinctive, individual. It is this unexpected mix that attracts new creatives to the area and continues to inspire those who have spent their lives here. There's a genuine sense of opportunity. This is especially powerful given Thamesmead has one of the youngest populations in London, strong communities from Nigeria, Ghana, Nepal and Vietnam, and a longstanding Traveller community. The principles of self-organisation and fairness that helped form the town's cultural landscape back in 1968 still influence the way it works today. Early residents started a radio station, a newspaper, and one of the UK's first community trusts. Visit the Thamesmead Now website to find out more.
Categories
Tags