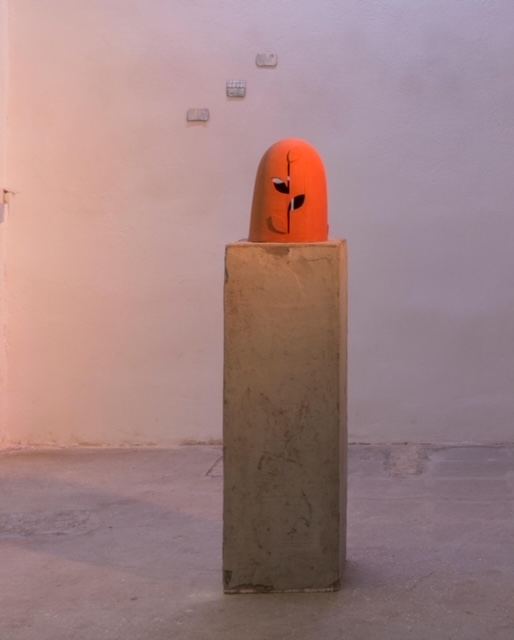 The group exhibition Midsummer night's dream has opened at Alkinois curated by Alix Janta. Featuring the artists: Bea Bonafini, Luke Burton, Despina Charitonidi, Stef Kamaris, Labrilena Konstantelou, Aristeidis Lappas, Zoe Paul, Anastasia Pavlou, Anousha Payne, Panos Profitis. With Scenography from Mathilde Rouiller.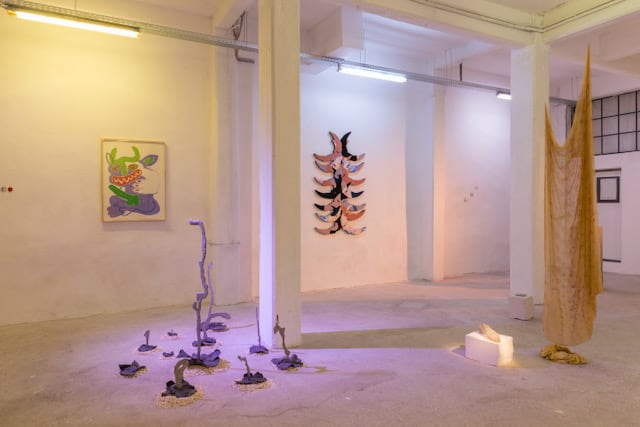 This fictional set evokes the prospect of the seasons' passing and a time of transformation. Hiding behind a forest born on burned ground, the satyres play and the moon sways; and the nighttime world of imagination invites the viewer to a psychic exploration. The polymorphic shadows bewilder one with misleading appearance and bring about the deconstruction of projected ideals. Under the moon's glow, things aren't always as they seem. They reveal an untamed landscape where anything is possible and where dreams and fantasies, visions and illusions prevail.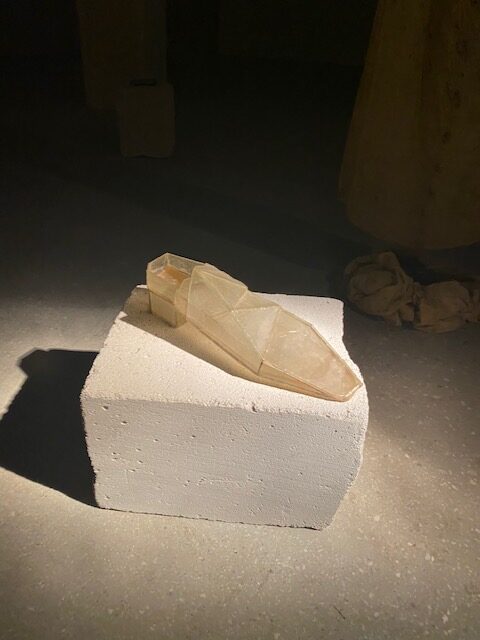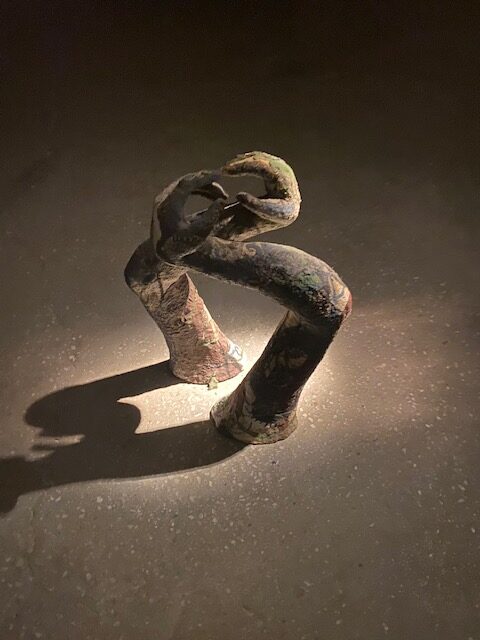 In collaboration with curator Alix Janta, this scenography envisions this Midsummer's Night dream ode in the in-between of the very mysterious vibe of the blue hour meeting the warmness of sunlight. As one of the main key staging element, light plays with color gradients of natural sky from daylight to midnight, in which the moon energy of the summer solstice gathers different figures. And as a theatre stage would act, visitors can wander from one side to another of Alkinois space.

Mathilde Rouiller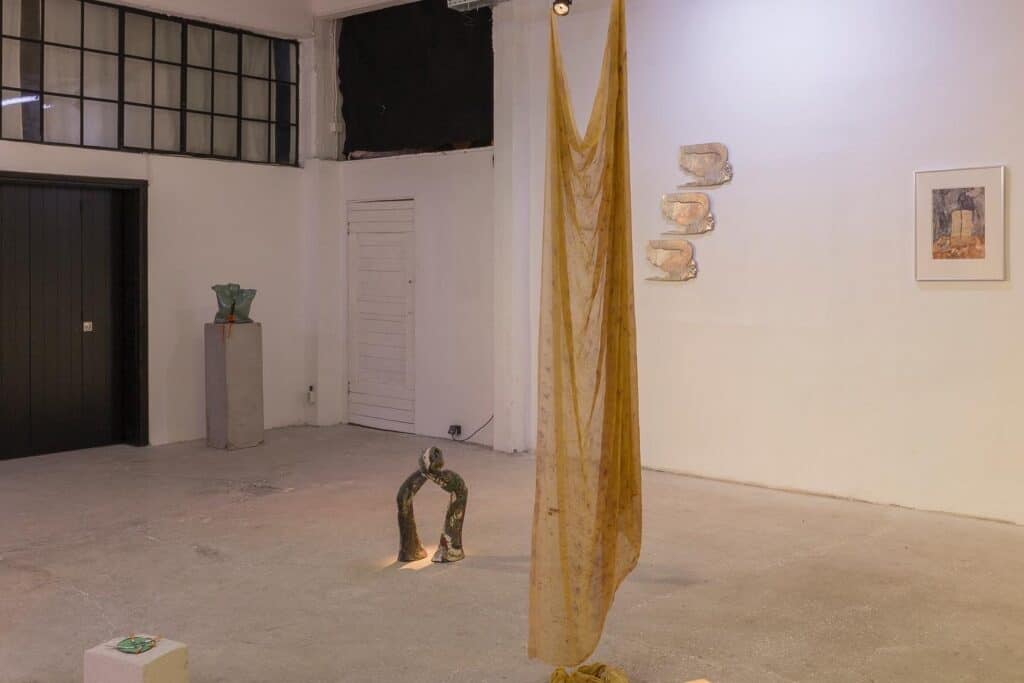 Midsummer night's dream, A show at Alkinois by Alix Janta – 10th of September Alkinois 611852 Athens
About the artists
Bea Bonafini is a London and Rome based artist whose interdisciplinary practice draws from oneiric visions, overlapping personal and ancient mythologies. Her tactile, intimate worlds centre around sensuality, vulnerability and fantasy, forming swirling scenarios that are fragment-ed and multi-layered. Figures are evanescent and transcendental, referencing spiritual imagery where fluid bodies collide, disperse, swim, fly and fall. The focus on universal human experiences – birth, death, illness, love – unfolds and proliferates ambiguously, simultaneously graspable and fleeting. Bonafini's work expands the possibilities and interplay of painting, tapestry and sculpture while reinventing artisanal techniques. Holistic perspectives are developed in close dialogue with architecture, where works are expanded in space to envelop the viewer. Acting as protected spheres, Bonafini's installations act as openings onto encounters between the earthly and the otherworldly.Bea Bonafini's exhibitions include Setareh Gallery, Berlin (solo); Re-nata Fabbri, Milan (solo); Eduardo Secci, Florence (solo); Operativa,Rome (solo); Fondazione Sandretto, Guarene; Bosse & Baum, London(solo); Chloe Salgado, Paris (solo); Lychee One, London (solo); Zab-ludowicz Collection (solo); The British School at Rome; Choi & Lager,Cologne; Premio Cairo, Palazzo Reale Milan; Rolando Anselmi, Berlin;The Italian Cultural Institute, London; and TJ Boulting, London. Residencies include Alkinois, Athens (2022); The British School at Rome(BSR) (2019-21); Viaggio in Sicilia (2021); Fibra Residency, Mexico(2019); Platform Southwark Studio Residency, London (2018); FibraResidency, Colombia (2018); and Villa Lena, Tuscany (2016)
Luke Burton (b.1983, London) lives and works in London. He has an ongoing interest in how symbolism operates across decorative visual culture and questions the relationship between craft, ornament and fine art in relation to taste, objecthood and materiality within painting. Bur-ton completed his BA in Painting at Chelsea College of Art (2005) and his MA in Sculpture at Royal College of Art (2013). Recent exhibitions include Capital Spring Returns, Gallery Woong, Seoul (2022); The Art-ist Oracle, White Crypt, London (2021) and Impossible Weather, Bosseand Baum, London, (2020). Burton was Visting Fellow and Artist in Residence at Girton College, Cambridge from 2019-20. Burton has made a number of vitreous enamels that intersect with the visual language of jewellery, archaeological fragments, miniature paintings and ex-voto offerings. Vitreous enamel is an ancient technique of firing pigmented glass powder in very high temperatures in a kiln so the coloured glass fuses with a metal substrate.
Labrilena Konstantelou, born in Athens, studied biochemistry and aromatherapy. She joined workshops with herbalists and seminars on herbal medicine and creates her own natural essential oils and fragrances made from herbs and flowers from different geographical areas combining science and arts.
Despina Charitonidi was born in Athens in 1991 where she lives and works today. In 2011 she was admitted to the Academy of Fine Arts of Rome (Accademia di Belle Arti di Roma) where she studies traditional sculpture. In 2013 she transferred her studies to Utrecht School of FineArts (Hogeschool voor de Kunsten Utrecht) where she completed her studies with the main focus on installation and performance. Her artistic vocabulary varies between monumental sculptures, in situ installations and performances. Her practice examines emotional issues such as the relationship between intimacy and power. At her performances, she treats the body as a tool of disability, uncontrollable fragility and endless repetition. Her work has been presented, among others in; the old oil mill of Elefsina (in the context of Elefsina European Capital of Culture for 2021), 2018, at Neu Now Online European League of ArtInstitutes, 2016, at the Central Museum of Utrecht at Hoog Catharine(Project One Light Stand) Netherlands, 2015 and at MACRO (Museum Of Contemporary Art of Rome) (Artisti Nomadi Project), 2013.
Anastasia Pavlou (born in Athens, 1993) lives and works between Basel and Athens. She graduated from the Athens School of Fine Arts in 2017 and is due to graduate from the MFA program at the FHNW ArtInstitute, Basel in 2023. In 2019, Pavlou was a fellow at the 2nd SNFArtist Fellowship Program of ARTWORKS and had her first solo show, titled "Belly Ache", at Hot Wheels Projects, Athens. Selected group shows include: "Atmosphere", a duo show co-organized with Sebastian Lloyd Rees at Eptanisou 44, Athens and "The Same River Twice", a group show at the Benaki Museum, Athens co-curated by the NewMuseum, New York and DESTE Foundation, Athens.
Aristeidis Lappas (b. Athens, 1993) lives and works in Athens. He studied for a BA at the University of West England, Bristol, UK, during which time he did an exchange program with Academia De Belle Art, Bologna, Italy. His work has been the subject of numerous exhibitions like: Body Thoughts, The Breeder, Athens (2021); Tenderness of a Cut-ting Sword, The Breeder, Athens, (2020, solo); Theorimata 2, NationalMuseum of Contemporary Art, Athens (2020, group); Polymorphic En-trancing Topos, P.E.T Projects, Athens (2019, solo); Part II, The Breed-er, Athens (2019, group); Break Time Contemplations, Transformer, Washington D.C. (2018, group); From November 2020 until January 2021 he was a resident in St.A.I.R., Graz, Austria and in summer 2021in Tryfon Art Residency, Lesvos, Greece. His work was part on the 7th Athens Biennale Eclipse (2021). He is represented by The Breeder, Athens. The characters that populate the canvases in this exhibition are based on mythological references from ancient Greece, Egypt and Mesopotamia. Figures like Athina, ancient Greek goddess of wisdom, as well as Ishtar, Babylonian goddess of love, fertility and war are the main protagonists, whilst Angra Mainyu, the evil, destructive spirit in Zoroastrianism and the legend of St. George also contribute to the formation of the characters. Patterns inspired by traditional embroidery and textiles add to the melody of form and colour while engaging in a cross-cultural dialogue. Mythological and historical references create a narration that bestows a spiritual dimension on Aristeidis Lappas' work. Binary definitions break down uniting into a primal understanding of existence where meagre segregations give way to the totality of the human experience. Form is a vehicle for meaning. It is treated as a narration tool or a representational element that creates a character.
Anousha Payne (b. 1991, Southampton, UK) lives and works in London. She graduated from Camberwell College of Arts with a BFA in 2014. Solo exhibitions include As She Laughs (with Anna Perach), CookeLatham Gallery, London (2022); and here she dwells, indigo+madder, London (2020). Recent group exhibitions and residencies include Bodyen Thrall, Rugby Art Gallery & Museum, Rugby, UK (2022); An Ode toOrlando, Marcelle Joseph Projects at Pi Arts, London (2022); Hawala(curated by Shezad Dawood), Paradise Row Projects, London (2021); Beyond Skin, Tube Culture Hall, Milan (2021); Vessels; on bodily fluids, Alkinois, Athens (2021); Bathing Nervous Limbs, Arusha Gallery, Edinburgh (2021); The Fores Project, London (2021) and Villa Lena, Tuscany (2019).
Panos Profitis born 1988 in Parnassos, lives and works in Athens. He has a postgraduate degree in Fine Arts (2016) from the Royal Academy of Arts in Antwerp, Belgium specializing in site-specific arts/installation art. He has also graduated from the Athens School of Fine Arts in 2013. For his Masters degree, he received a scholarship from the Neon Foundation (2015-2016). He received the Hugo Roelandt award from the Royal Academy of Arts, Hugo Roelandt Estate ??? ?o ObjectifAntwerp for his graduate presentation. In 2020 he participated in the Hydra School project curated by D. Antonitsis in Hydra and in 2019he was the first participant in the Kantharos Gatherings organised by Eleni Tranouli in Dexamenes. In October 2018 he participated in the Initiator Artist in Residency programme in Euleusina ( Capital of Cultural Europe for 2021). In 2013 he represented Greece at the Biennale for young artists in Ancona, Italy. During Documenta 14 Profitis worked as an artist's collaborator for Nigerian artist Otobong Enkanga. In 2017He had his first solo show with the Annie Gentils gallery in Antwerp and participated in several art-fairs
Stef Kamaris, born in 1977, lives and works in Athens. "Cheese is time, time is money, money is monopoly: Not only in his art but also in his aphorisms Stefanos Kamaris formulates a critique of the commodification of capitalism. Kamaris invents instead a coherent world of his own non-representative logic that follows up the pattern of poetic language. Stefanos Kamaris formulates a critique of the commodification of capitalism. Kamaris invents instead a coherent world of his own non-representative logic that follows up the pattern of poetic language. These artworks with poetry, semiotics and politics create subversive, punkish, individual and original truth. A truth you do not come across very often anymore in the times of post-truth and influencing." Nadja Geer Solo shows: Play Dead, One Minute Space, Athens, 2022; Lifesport Rat (with Filip Gilissen and Nissa Nishikawa), Lifesport Rat, Athens, 2018; CR 41&57 (with Kah Bee Chow), Carib-ic Residency, Athens, 2015; Story of Klement Tchtatelnikov, Cheapart, Athens, 2012 – Group shows: Solus Ipse, Circuits & Currents, Athens,2021; Concertissimo Annulato, Thalys Brussels-Paris Brussels, 2019;Poetry, Lifesport Rat, Athens, 2019; Exhibition in the Little SwimmingPool, Athens, 2019; Paris Internationale, Paris, 2018; Ketchup, Alta ArtSpace, Malmoe, 2017; Universe 2, Lifesport, Berlin, 2017; The Memory of the Revolution, State Museum of Contemporary Art, Salonica,2017; A Cab. Athenian Symposium – Kunsthalle Athena, Athens, 2014; Trickster / The variable practice – antonopoulou.art, Athens, 2014
Zoe Paul, born 1987 in London. Lives and works in Athens, Greece. She graduated with a MA in Solo shows: 2020 Full Moon Rising, Barronian/Xippas Gallery, Brussels, Belgium; The Intermission, Pieraus, Greece, 2019; Shadows over the Bright and Darkened Lands of theEarth, The Modern Window, Museum of Modern Art, New York, USA, Despina – La Loge, Brussels, Belgium The Garden, Fiac, Paris withThe Manufacture National de Sévres, France; 2018, Wild Wolf, Man and Fish, Hospitalfield, Arbroath, Scotland, UK, La Perma Perla KraalEmporium, Spike Island, Bristol, UK, Drawings, Superdeals, Brussels, Belgium 2017, La Perma Perla Kraal Emporium, The Breeder, Athens, Greece.
Mathilde Rouiller is a French artist-researcher and art worker living in Paris. Graduated in research in dance from EHESS Paris, she has been following hybrid paths of creativity through scenography, stag-ing, dancing and curating. In 2021, she is a graduate of Bruno Latour's Experimental Program in Political Arts, where she developed new forms of her work.
Categories
Tags