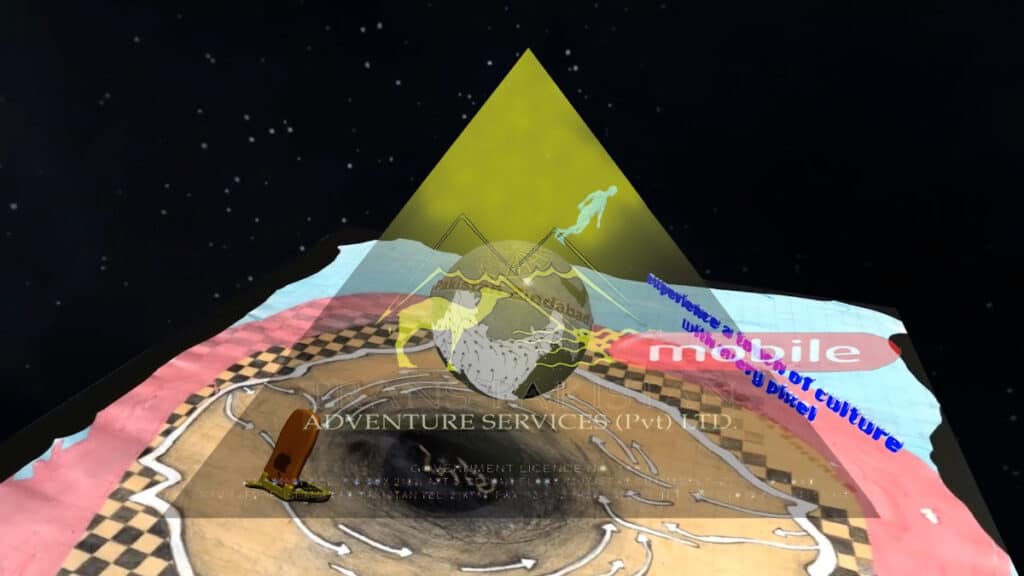 Pioneer Works is to present the first solo institutional presentation from Umber Majeed, the organization's former technology artist-in-residence. The media installation Made in Trans-Pakistan marks the latest chapter in the artist's ongoing project titled Trans-Pakistan Zindabad (Long Live Trans-Pakistan), which brings together augmented reality, ceramic sculptures, and video to explore nostalgia, gentrification, and urbanization in Lahore and South Asia. 
Majeed turns to her own familial history and archives as the conceptual basis for her project—particularly, her uncle's failed tourism company 'Trans-Pakistan,' which she has digitally reimagined as 'Trans-Pakistan Adventure Services.' Another point of inspiration is Bahria Town, the privately-owned real estate developments found throughout Pakistan. Within Lahore's iteration of Bahria Town, European landmarks such as the Eiffel Tower and Trafalgar Square reify Western interests but remain cloaked in a pervasive, Islamic security apparatus. Throughout her serial project, Majeed reinterprets these built environments as speculative, exploratory spaces for examining prevailing logics around race, gender, sexuality, and capital. 
The installation features a distorted replication of a monumental fountain located at the center of a roundabout in Bahria Town, distinguished by protruding horse figures. Majeed's rendition is distorted not only by the addition of new sculptural features but also by augmented reality that animates the sculpture with galloping horses and plastic bags emanating as pools of water. Majeed stages a second augmented reality component on a low platform covered in black and white tiles: pixelated and lenticularized Urdu text emerge from an undulating, checkered abyss, creating the illusion of depth and embodying the theme of diasporic double consciousness. These features not only employ symbols that recur throughout the artist's practices in drawing and video but also build on the kitsch "digital" culture derived from Lahore's urbanscape and subaltern.
A monochrome motif surrounds the environment, bearing graphic patterns and Urdu text adapted from historical poems that describe the collapsing of land and sky. This text is intentionally translated to 'queer' the gendered nouns and verbs that wrap around the gallery's walls. Among these patterns are arrows that direct viewers to move about the gallery in a counterclockwise direction, a way of subverting conventional modes of thinking within urban planning. The multimedia environment is further united by a singular musical score in which sounds recorded in Bahria Town are glitched and woven together into ambient noise. 
Made in Trans-Pakistan explores themes of doubling and revels in dichotomies to navigate the personal and the governmental, the kitsch and the corporate, the real and the digital. 
Umber Majeed: Made in Trans-Pakistan is curated by Gabriel Florenz, and supported by the New York State Council on the Arts with the support of the Governor and the New York State Legislature. 
Umber Majeed: Made in Trans-Pakistan September 9th – December 11th, 2022 Pioneer Works
About the Artist
Umber Majeed (b. 1989, New York, NY) is a multidisciplinary visual artist and educator. She received her MFA from Parsons the New School for Design in 2016 and graduated from Beaconhouse National University in Lahore, Pakistan in 2013. Her writing, performance, and animation work engage with familial archives to explore Pakistani state, urban, and digital infrastructure through a feminist lens. Majeed has had two solo exhibitions: In the Name of Hypersurface of the Present, Rubber Factory, New York (2018) and Trans-Pakistan Zindabad (Facts about the Earth), 1708 Gallery, Richmond, Virgina (2021). The artist has also shown in venues across Pakistan, North America, and Europe. Recent group exhibitions include; The Divided Self, The Slought Foundation, Philadelphia (2012); The Museum: Within and Without, The State Hermitage Museum, St. Petersburg, Russia (2015); Promises to Keep, apexart, New York (2017); Witness-Karachi Biennale, Karachi, Pakistan (2017); and Volumes-Queens International, Queens Museum, New York (2018). She is a recipient of numerous fellowships including the HWP Fellowship, Ashkal Alwan, Beirut, Lebanon (2017); Refiguring Feminist Futures Web Residency, Akademie Schloss Solitude & ZKM, Germany (2018); the Digital Earth Fellowship, Hivos, the Netherlands (2018-19); and the Technology Residency, Pioneer Works, Brooklyn (2020). Her work has been acquired by several private collections, including the Lekha and Anupam Poddar Collection at the Devi Art Foundation in Gurgaon, India.
Categories
Tags