It's Frieze Week New York and there's a lot going on so we (FAD) have chosen five shows you should go and see maybe if you can all on the same day – hire a motorbike.
1 Lauren Halsey at David Kordansky
Lauren Halsey's first solo exhibition in New York inaugurates David Kordansky's first New York gallery located at 520 W. 20th Street in Chelsea. Halsey imagines new possibilities for art, architecture, and community engagement. Combining found, fabricated, and handmade objects, her work maintains a sense of civic urgency and free-flowing imagination, addressing crucial issues confronting Black people,
queer populations, and the working class. Critiques of gentrification and disenfranchisement are accompanied by real-world proposals as well as celebration of on-the-ground aesthetics. This exhibition will highlight Halsey's visionary, collaborative ethos, and will include new examples from several bodies of work. Among them are funkmound sculptures, including one with a functioning waterfall; twelve-foot-tall, hand-painted columns; wall-based sculptures composed using synthetic hair; wall-based reliefs on Hydro-Stone, gypsum, and foil supports; and sculptures constructed from stacked, painted boxes that evoke the signs and symbols of neighborhood life, as well as a new type of box sculpture that channels the
vivid energy of a streetscape. Until – June 11th, 2022 MORE
2 Daniel Buren: The Colored Mirrors, situated works, low reliefs at Bortolami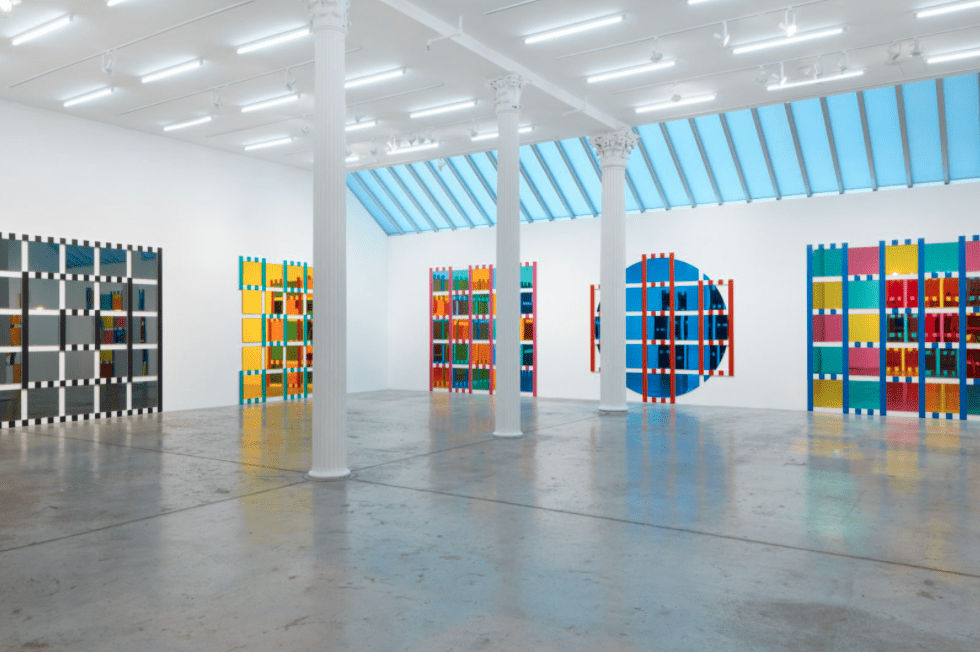 Daniel Buren's seventh exhibition with the gallery, The Colored Mirrors, situated works, low reliefs, a series of new situated works composed of multi-colored mirror and painted MDF.
Work in situ –
"denotes a work made for a particular site, for a particular time and exhibited in this
particular site, and therefore not transportable to another place."
Buren has also identified himself as an artist who "lives and works in situ."

Situated work –
"a work for the most part inspired by a particular location but made with the intention
that the very same elements of the original work can be reinstalled in different sites following a
series of rules, changing each time in response to the given place. In turn, the site is changed by
the work."
Visual tool – the sign of white and color alternating stripes of exactly 8.7 cm. in width, as derived from the fabric he first used as a canvas in 1965. This functions as a tool in Buren's work, as a
standard or unit of measure of formal properties. Significantly, it is also an intended sign that serves
as a constant within the wildly variable parameters and juxtapositions of any and all in situ and
situated work since 1965 without exception. – 18th June 2022 MORE
3 We Are But One BREYER P-ORRIDGE on view at Pioneer Works at Red Hook Labs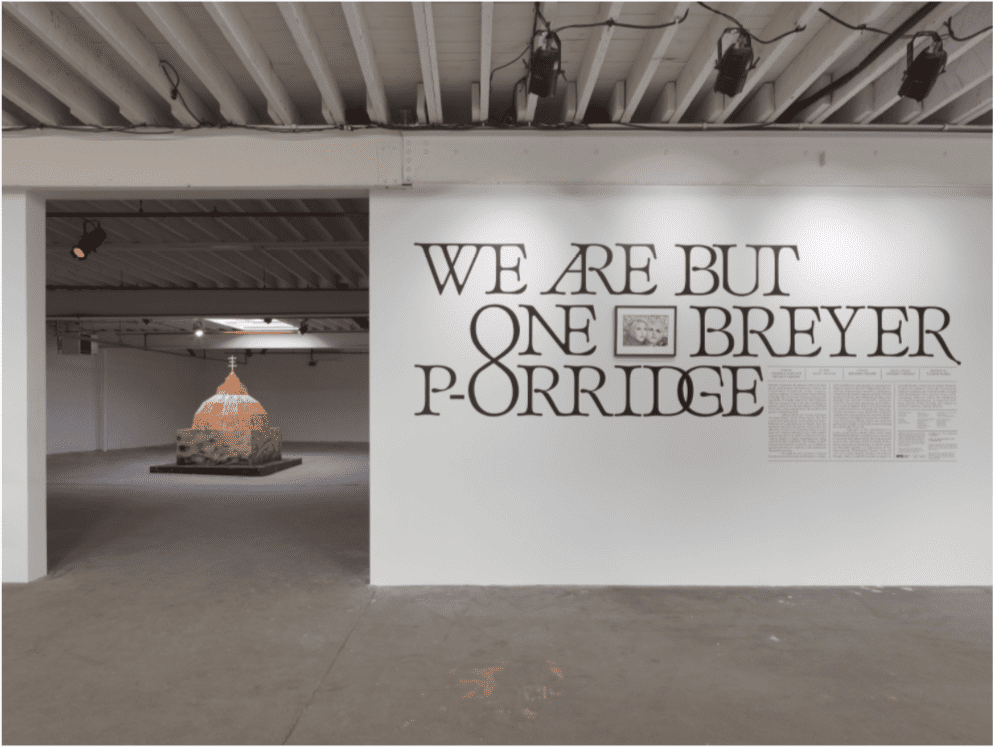 BREYER P-ORRIDGE: We Are But One is the first major posthumous presentation within the United States of musician, writer, occultist, cultural engineer, and visual artist Genesis Breyer P-Orridge (1950-2020) and he/r romantic partner Lady Jaye Breyer P-Orridge (1969-2007). On view at Pioneer Works at Red Hook Labs, the exhibition offers an intimate look at the artists' Pandrogyne project, a nearly two-decade endeavor to liberate love and pure consciousness from the confines of a gender conforming body. 10th July 2022 MORE
4 Marina Adams What Are You Listening To? at LGDR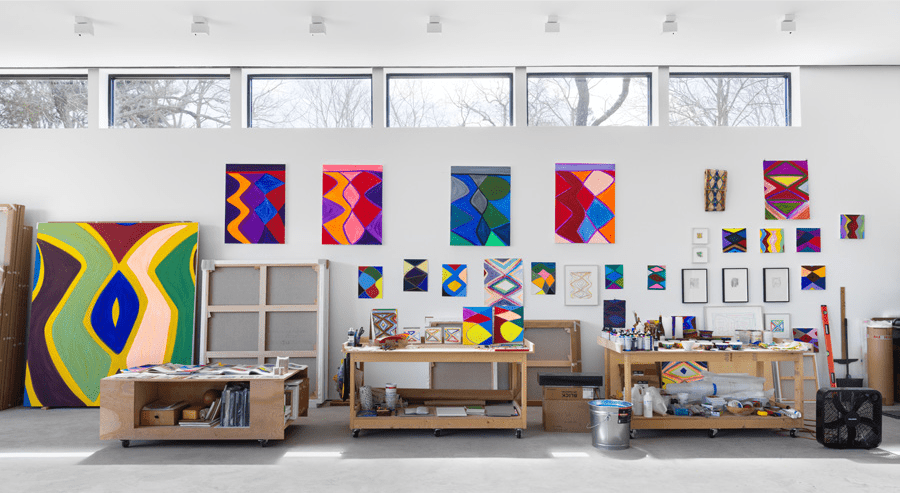 What Are You Listening To? an exhibition of new paintings by Marina Adams. Committed to a pure painterly expression, Adams makes rigorous explorations of color and form that situate her squarely in the tradition of New York School painting, with its emphasis on gesture, spontaneity, and improvisation—an aesthetic and methodology shared with poets, musicians, and dancers alike. Her signature style, refined over several decades, coalesces here in a new body of work in which shifting colors and elastic forms are counterbalanced by the weight of their individual components. 25th June 2022 MORE
5 Raúl de Nieves Carnage Composition COMPANY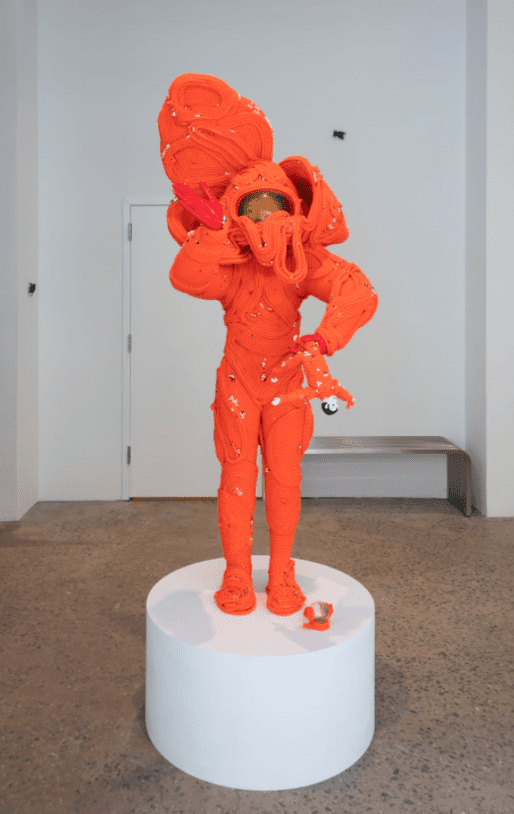 It begins with an ending. Misfortune was the genesis for the central sculpture in this exhibition. A pile of
fear and failure and a broken heart kindled the question of what to do with the remains. Rather than
yield to fate, Raúl leaned into the symbolic moment and resurrected the misfortune. "The Deaths of Every
Day" performs its own self-destruction and tries to transform despair into destiny. Impaled and uplifted
by an armature of steel beams, the figure is liberated by its undoing. It reminds me of Titian's "Flaying of
Marsyas", a body picked at by flies, dying away, a body ruined in order to free the soul. Little beads and
bits of shitty thrift store sequins shine with renewed secrecy. The sculpture's dressed in elevated death
drag. 11th June 2022 MORE
Categories
Tags