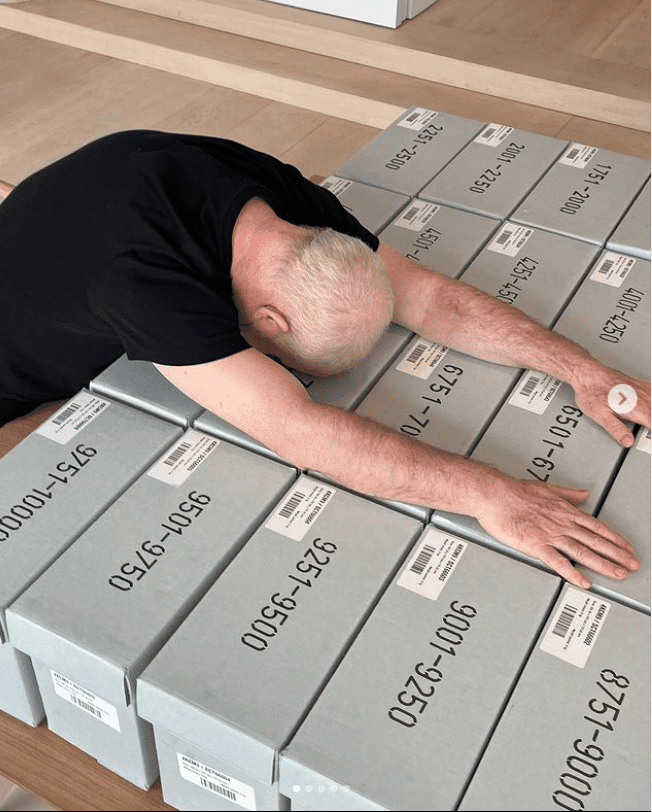 I have been all over the fucking shop with my decision-making, trying to work out what I should do. In the beginning, I had thought I would definitely chose all physical. Or most physical haha. Then I thought half- half and then I felt I had to keep all my 1,000 as NFTs and then all paper again and round and round I've gone, head in a spin. I believe in art and art in all its forms but in the end I thought fuck it! this zone is so fucking exciting and the one I know least about and I love this NFT community it blows my mind. I have been in the physical art world a long time and I expect people to have agendas and shit, and I've seen a lot of bollox and I'm amazed at how this community breeds support and seems to care about shit so in the end I decided I have to keep all my 1000 currency as NFTs otherwise it wouldn't carry on being a proper adventure for me and so I decided I need to show my 100 percent support and confidence in the NFT world (even though it means I will have to destroy the corresponding 1000 physical artworks).

Eeeeeeeeek! I still don't know what I'm doing and I have no idea what the future holds, whether the NFTs or physicals are going to be more valuable or less. But that is art! the fun, part of the journey and maybe the point of the whole project. Even after one year, I feel the journey is just beginning. I have already learnt so much and it's only been a year and I am so proud to have created something alive, something mad and provocative and been a passenger (along with all the other participants in the currency) and to help build a fantastic community on @heni. Long may it last and I can't wait for the next twists and turns. The road is long and the world's our oyster and all that! Who knows where but here we go!

Damien Hirst on Instagram 27/07/2022 3:28PM
Damien Hirst and HENI will collaborate to present a unique exhibition of paintings from his first NFT collection, The Currency, at Newport Street Gallery in London, opening on 9 September 2022. The Currency is a collection of 10,000 NFTs which correspond to 10,000 unique physical artworks created by the artist.
Collectors were given a choice: to keep the NFT or exchange it for the physical artwork. They then had one year, concluding 27th July 2022, to decide. If they have not exchanged their NFT during that period, the physical artwork will be destroyed. Similarly, if they chose to exchange it in that period, the NFT was destroyed.
The final numbers are 5,149 physicals and 4,851 NFTs (meaning Damien Hirst will have to burn 4,851 corresponding physical Tenders).
The destruction of the artworks will take place during The Currency exhibition. Artworks will be burnt at a specified time each day during the run of the show. These timings will be publicised in advance.
During Frieze week, in October 2022, there will be a major closing event in the gallery during which the remaining artworks will be burnt. Damien Hirst will attend the burning event.
Damien Hirst in Collaboration with Heni present paintings from his first NFT collection, The Currency at Newport Street Gallery, Newport Street London, SE11 6AJ
Categories
Tags