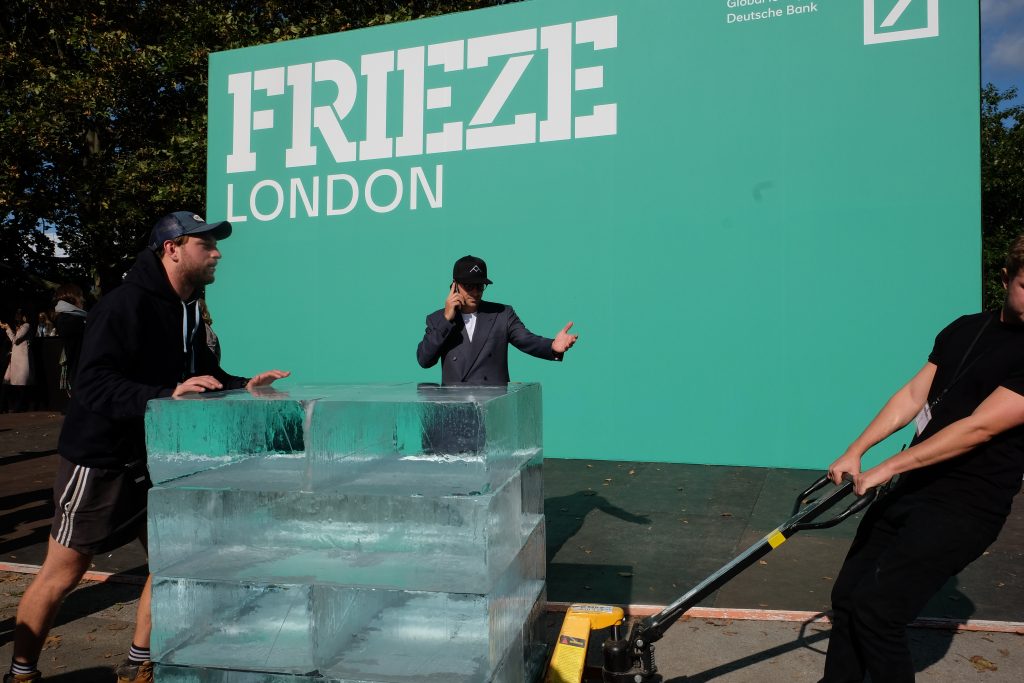 Today Frieze revealed the names of the participating galleries of Frieze London and Frieze Masters, which will take place from October 12 to 16 in The Regent's Park, London.
Bringing together galleries from 42 countries, together the two fairs will celebrate the creative spirit of the city. Led by Eva Langret, Frieze London will feature over 160 of the world's leading contemporary galleries. Frieze Masters will once again be overseen by Nathan Clements-Gillespie and will feature over 120 galleries, showing work from ancient to modern.
FRIEZE LONDON
A strong line up of galleries from across the globe will participate in Frieze London 2022, offering visitors the opportunity to encounter the work of some of the most important artists working today, as well as discovering new names.
The 2022 edition features galleries including: Carlos/Ishikawa, Sadie Coles HQ, Experimenter, Gagosian, Galerie Max Hetzler, Gallery Hyundai, Taka Ishii Gallery, Karma, David Kordansky, Kukje Gallery, Matthew Marks Gallery, Pace Gallery, Maureen Paley, Stevenson, The Sunday Painter, Michael Werner and David Zwirner. Alongside the main section of the fair, Focus is devoted to galleries established in the last 12 years, with participants including: Addis Fine Art, Emalin, Ginsberg, Hot Wheels, Kiang Malingue, Sweetwater, Tiwani Contemporary and Gallery Vacancy.
The fair will once again foreground new ideas that are shaping conversations about contemporary art today. Sandhini Poddar (Adjunct Curator at the Guggenheim Abu Dhabi) will curate this year's special section, 'Indra's Net', which is a term derived from Buddist and Hindu thought and refers to an ethics of being in which an individual atom holds within it the structure of reality. Poddar refers to the idea as akin to 'a vast bejeweled net: at every nexus there is a reflective orb that mirrors and refracts every other orb in its entirety.
Every part is held within the whole in a system of dependent origination. All sentient life is interconnected and interdependent; shifts to one atom subtly alter the rest.'
Indra's Net' will feature 10 dedicated presentations, as well as a number of cabinet-style displays scattered throughout the main section of the fair, and will feature artists including Dorothy Cross (Kerlin Gallery & Frith Street Gallery); Jamila Sabar & Oscar Santillán (Copperfield); Eddie Rodolfo Aparicio & Clarissa Tossin (Commonwealth and Council); Martha Atienza (Silverlens Galleries)' Teresita Fernandez (Lehmann Maupin) and Claudia Andujar (Vermelho).
FRIEZE MASTERS
Across the park, Frieze Masters will bring together six millennia of art – from rare antiquities to Old Master paintings, to luminaries of the 20th century – creating a destination where visitors can discover art history anew.
The fair features major galleries including  Johnny Van Haeften, Hazlitt Holland-Hibbert, Kamel Mennor, Helly Nahmad Gallery,  Shibunkaku, Skarstedt Gallery and Van de Weghe, alongside specialists in their field, such as ArtAncient, Gisèle Croës – Arts d'Extrême Orient s.a, Peter Finer, Sam Fogg and Dr. Jörn Günther Rare Books The much-celebrated Spotlight section of Frieze
Masters will this year be curated by Camille Morineau (co-founder and Research Director of AWARE – Archives of Women Artists, Research, and Exhibitions) and be dedicated to women artists. Featuring 26 artists, all born between 1900 and 1951, Spotlight will feature major modern figures, alongside the work of lesser-known names, shining a new light on half a century of art history. Artists included in this year's Spotlight include: Orlan, Nike Davies-Okundaye, Leonor Fini, Sylvia Snowden, Wook-kyung Choi and Sonia Balassanian.
Returning from last year, Frieze Masters will also feature the section Stand Out, curated by Luke Syson (Director of Fitzwilliam Museum, Cambridge), which will bring together art objects from across the ages that are great works of design, of sculptural and conceptual brilliance. Stand Out looks beyond hierarchical distinctions between works of art in different media, and in doing so reconsiders art objects often termed 'decorative' or 'functional.'
MORE: frieze.com/frieze-landed
FRIEZE LONDON MAIN SECTION GALLERIES
1 Mira Madrid, Madrid
47 Canal, New York
VI, VII, Oslo
Adams and Ollman, Portland Christian Andersen, Copenhagen The Approach, London
Arcadia Missa, London
Athr, Jeddah
Gallery Baton, Seoul
Nicelle Beauchene Gallery, New York blank, Cape Town
Marianne Boesky Gallery, New York, Aspen The Breeder, Athens
Galerie Gisela Capitain, Cologne Carlos/Ishikawa, London
ChertLüdde, Berlin
Clearing, Brussels, New York, Beverly Hills
James Cohan, New York
Sadie Coles HQ, London
Pilar Corrias, London
Galeria Vera Cortês, Lisbon
Corvi-Mora, London
Crèvecœur, Paris
Croy Nielsen, Vienna
Thomas Dane Gallery, London, Naples
Dastan Gallery, Tehran
dépendance, Brussels
Don Gallery, Shanghai
Galerie Eigen + Art, Berlin, Leipzig
Experimenter, Kolkata
Carl Freedman Gallery, Margate
Stephen Friedman Gallery, London
Frith Street Gallery, London
James Fuentes, New York
Gagosian, London, New York, Los Angeles, Paris, Rome, Athens, Geneva, Basel, Gstaad, Hong Kong Gavlak Gallery, Los Angeles, Palm Beach
François Ghebaly, Los Angeles, New York
Goodman Gallery, Johannesburg, Cape Town, London
Alexander Gray Associates, New York, Germantown
Grimm, Amsterdam, New York
Galerie Karin Guenther, Hamburg
Kavi Gupta, Chicago
Hales, London, New York
Hauser & Wirth, London, New York, Somerset, Los Angeles, Zurich, Gstaad, Hong Kong, St. Moritz, Menorca, Southampton, Monaco
Herald St, London
Galerie Max Hetzler, Berlin, Paris, London
High Art, Paris, Arles
Hollybush Gardens, London
Pippy Houldsworth Gallery, London
Xavier Hufkens, Brussels
Gallery Hyundai, Seoul, New York
Ingleby, Edinburgh
Taka Ishii Gallery, Tokyo
Alison Jacques, London
Jhaveri Contemporary, Mumbai
Kadel Willborn, Dusseldorf
Casey Kaplan, New York
Karma, New York
Sean Kelly, New York, Los Angeles
Tina Kim Gallery, New York
König Galerie, Berlin, Vienna, Seoul
Kendall Koppe, Glasgow
David Kordansky Gallery, Los Angeles, New York
Galerie Krinzinger, Vienna
Kukje Gallery, Seoul, Busan
Simon Lee Gallery, London, Hong Kong
Lehmann Maupin, New York, Hong Kong, Seoul, London
Galerie Lelong & Co., New York, Paris
Josh Lilley, London
Lisson Gallery, London, New York, Shanghai, Beijing, Los Angeles
Kate MacGarry, London
Maisterravalbuena, Madrid
Matthew Marks Gallery, New York, Los Angeles
Victoria Miro, London, Venice
Modern Art, London
The Modern Institute, Glasgow
mor charpentier, Paris, Bogota
Morán Morán, Los Angeles, Mexico City
mother's tankstation, Dublin, London
Nature Morte, New Delhi
Night Gallery, Los Angeles
Galleria Franco Noero, Turin
Galleria Lorcan O'Neill, Rome
OMR, Mexico City
P.P.O.W, New York
P420, Bologna
Pace Gallery, New York, Los Angeles, London, Hong Kong, Geneva, Seoul, Palo Alto, Palm Beach, East Hampton
Maureen Paley, London, Hove
Peres Projects, Berlin, Seoul, Milan
Perrotin, Paris, Hong Kong, New York, Seoul, Tokyo, Shanghai, Dubai
Project 88, Mumbai
Project Native Informant, London
Proyectos Ultravioleta, Guatemala City
Almine Rech, Paris, Brussels, London, New York, Shanghai Thaddaeus Ropac, London, Paris, Salzburg, Seoul
Lia Rumma, Milan, Naples
Ryan Lee Gallery, New York
Esther Schipper, Berlin
Seventeen, London
Sfeir-Semler Gallery, Beirut, Hamburg
Jack Shainman Gallery, New York
Sies + Höke, Düsseldorf
Société, Berlin
Southard Reid, London
Sprovieri, London
Sprüth Magers, Berlin, London, Los Angeles, New York Stevenson, Cape Town, Johannesburg, Amsterdam
The Sunday Painter, London
Timothy Taylor, New York, London
Rachel Uffner Gallery, New York
Vadehra Art Gallery, New Delhi
Vermelho, São Paulo
Michael Werner, New York, London, East Hampton
White Cube, London, Hong Kong
Galerie Hubert Winter, Vienna
David Zwirner, New York, London, Paris, Hong Kong
Categories
Tags