Masterpiece (at The Royal Hospital Chelsea to 6 July) is unusual in bringing together 'art' and 'non-art', as well as ancient, old, modern and new, and a wide geographical range. Here are ten highlights from the 130 stands to illustrate the mix:
Ernst Ludwig Kirchner: Rider with Fallen Horse, 1928-9 – Oil on canvas, 50 × 70 cm (top)
German gallery Henze & Ketterer & Triebold's outstanding presentation compares and contrasts  Kirchner and Georg Baselitz. Everything was upside-down in the latter's work, of course, making this entertainingly unrealistic late Kirchner a witty point of intersection. It looks to me like the dream of a rider who fell off her horse, imagining how it might have been had roles been reversed.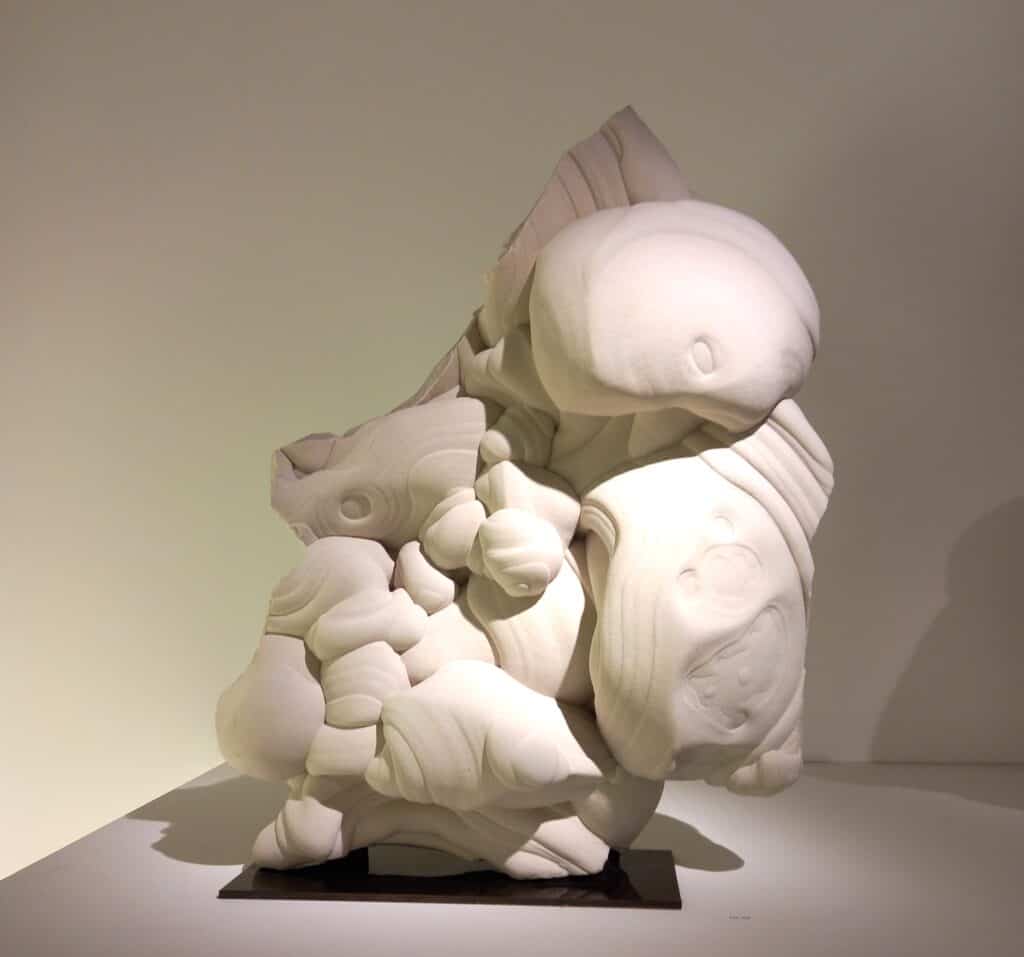 Gogotte
London's ArtAncient presented something which isn't art but 'natural sculpture': a collection of gogottes found in the 1990's while quarrying in the prehistoric sand dunes of Foutainebleau, near Paris. They're around 30m years old, and are thought to have resulted from superheated limestone-saturated water being extruded through crevices into a basin of extremely fine white silicate sand, such that the swirls and eddies of the water were captured in the gradually concreting stone.
Claire Partington: St Michael, 2022 – Glazed ceramic and mixed media, 82 × 56 × 36 cm
A female version of the Archangel St Michael finds time for a selfie so she can post herself putting down the devil in dragon form. If this is from Milton's 'Paradise Lost', her followers on social media will doubtless include most of the army of angels loyal to God, led by Michael against the rebel forces of Satan. From Edinburgh-based Arusha Gallery.
Ben Nicholson: Oh Boy! C. 1933 – mixed media and collage on board, 18 x 8 cm
London's Crane Kalman brought this lively pair of footballers made by Ben Nicholson for his son, Jake, who was then six and keen on playing soccer with his dad. The rectangle could be the goal being defended by the goalkeeper from the lower figure's shot. Made by an artist, obviously, but not as an artwork, one could argue…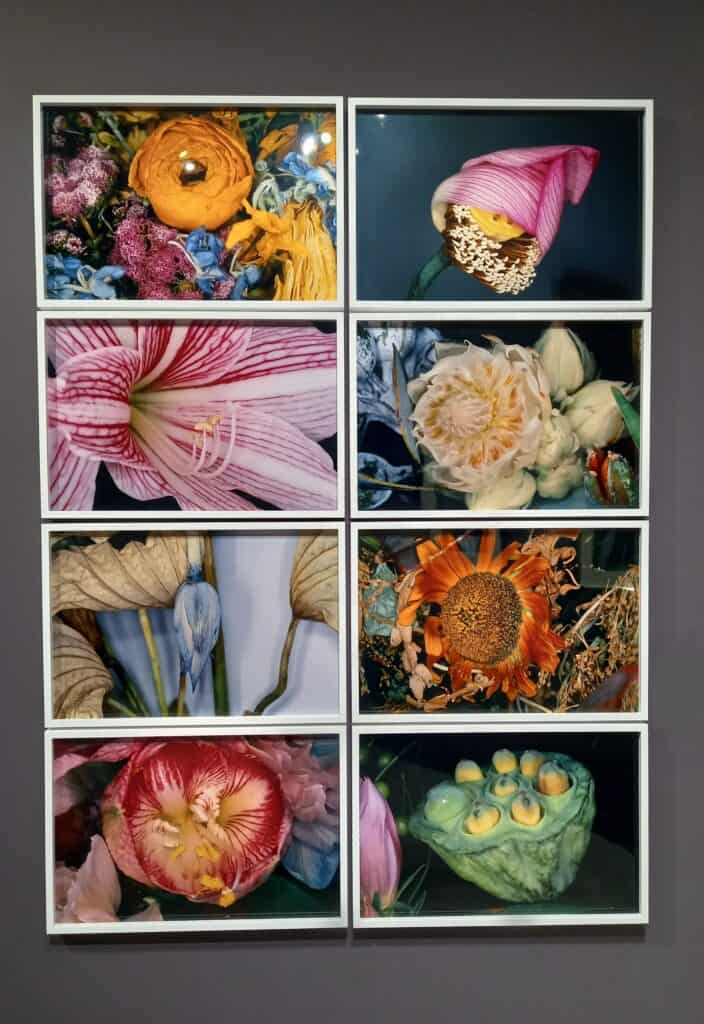 Nobuyoshi Araki: Flower Rondeau, 1997-2019 – Fuji Crystal prints, each 51 × 61 cm, edition of 10
There are many floral works in the fair, the lushest perhaps this intense collection by the prolific Japanese photographer, who always seems sufficiently obsessed by sex and death for the matters to enter pretty directly into his still life work. At Michael Hoppen, London.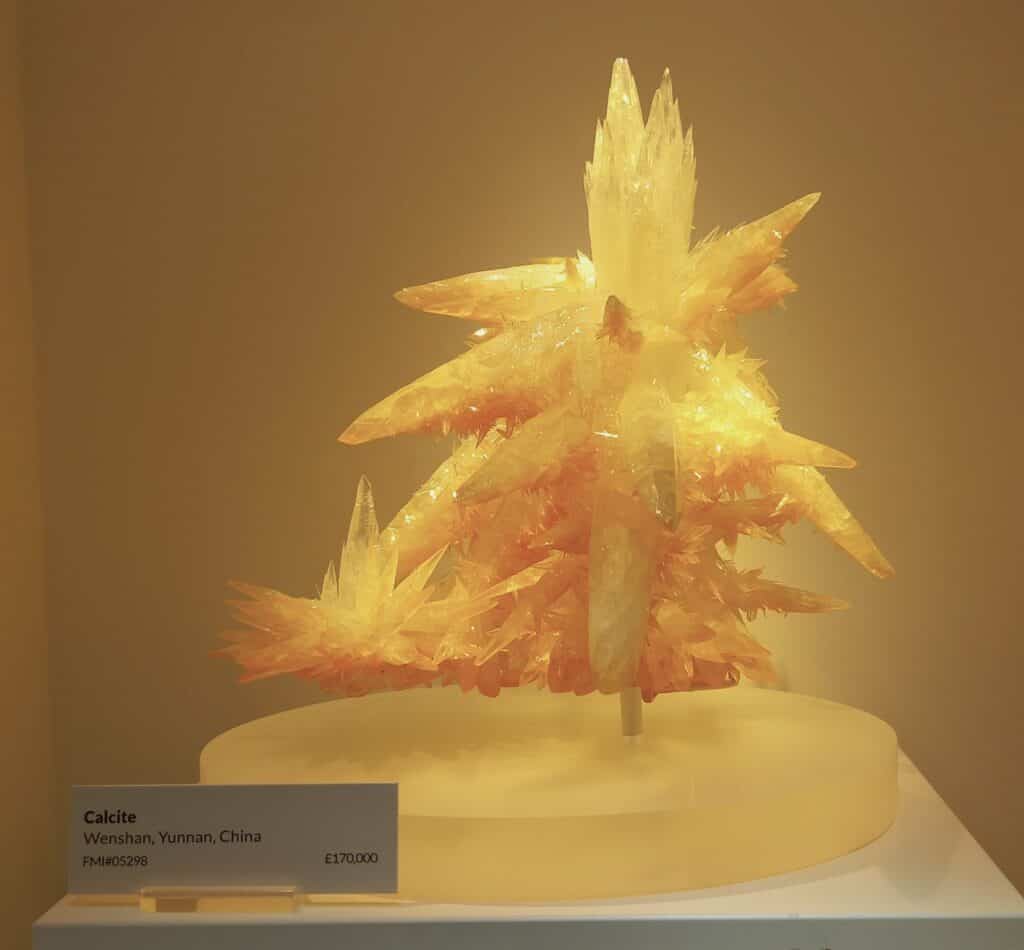 Calcite
Fine Minerals International, from Edison, New Jersey, state that minerals are 'solid inorganic materials of natural occurrence', of which there are '5,800 known species, but only around 250 of them are considered collectable'. Among the 30 spectacular rocks on view was this from the Wenshan area of China. Calcite forms in hundreds of different shapes and colours, making it popular, but this warm gold is apparently rare.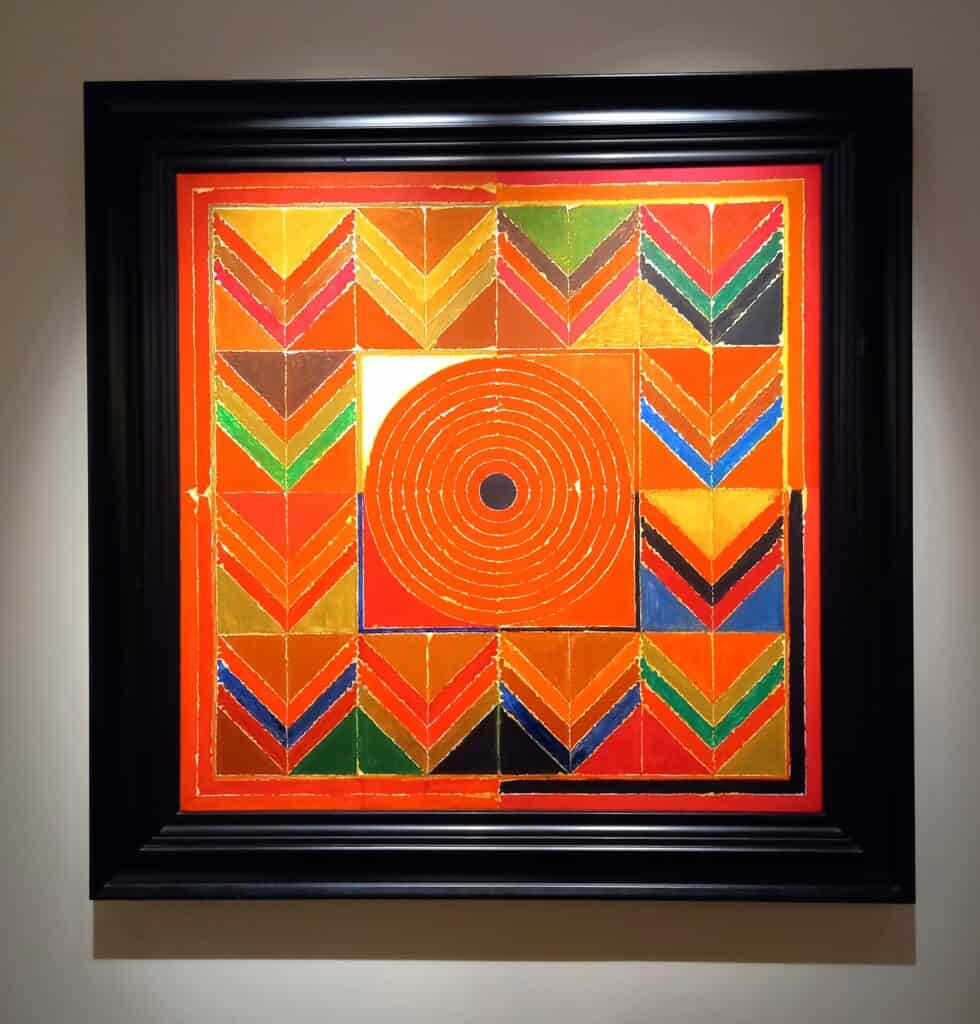 S.H. Raza: Nidhi, 1988 – acylic on canvas, 40 x 40 cm
India's oldest gallery – Dhoomimal in New Delhi – showed this glowing abstract homage to the five elements, with five colours symbolically representing fire, water, earth, wind and sky. I was impressed by the aesthetics, but the gallery also presented an investment case through analysis indicating that Sayed Haider Raza (1922-2016, born in Madhya Pradesh but living in Paris from 1950) is one of the top five performing Indian artists at auction.
Chris Jones: Stately Home, 2022 – Book and magazine images, on aluminium panel, 78 x 110 cm
New York gallery Marc Straus brought a British artist to their stand with this intricate collage of architectural and, perhaps, social collapse. Just the thing to hang on the wall of an aristocratic residence in anguish or self-mockery, depending on the conditions around it!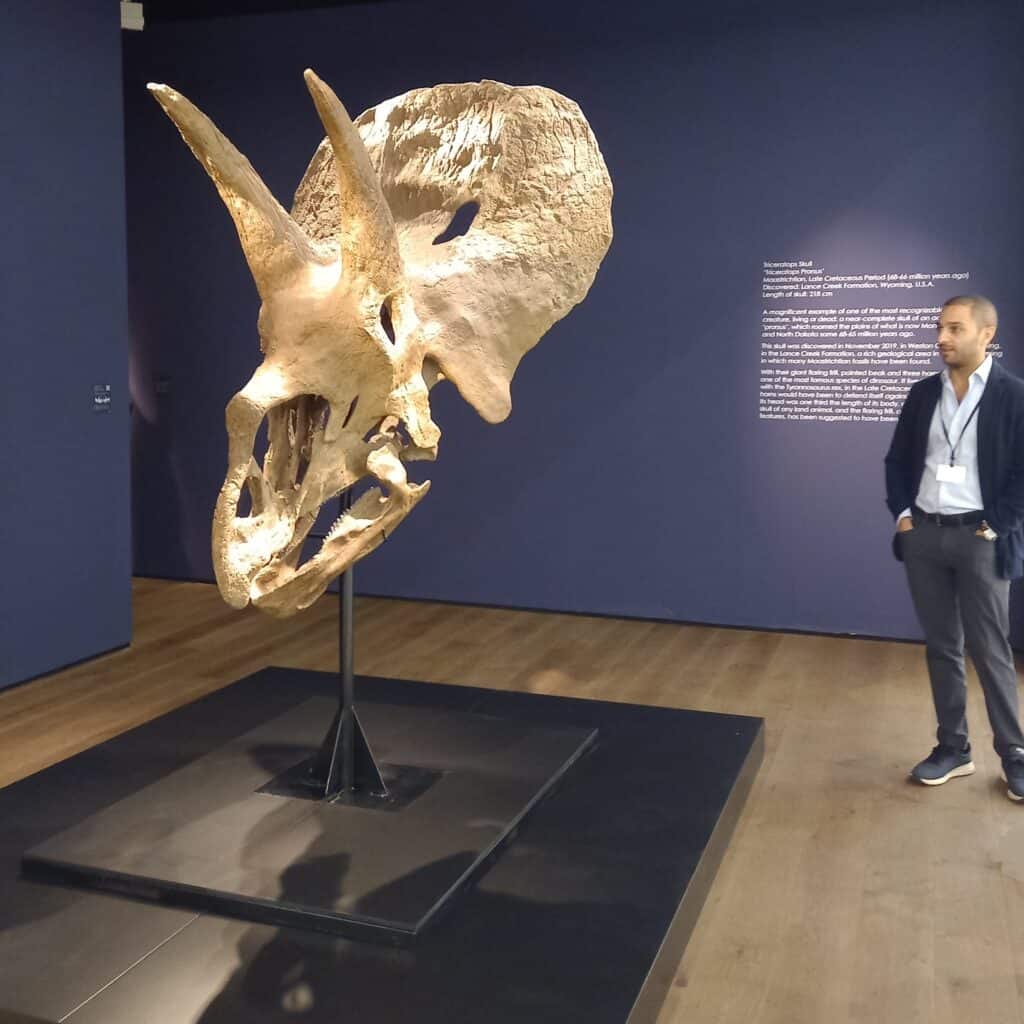 Triceratops skull
This skull from around 68 million years ago, found in Wyoming, was displayed by London's David Aaron. It also impresses for scale: at 1.7m high the head accounted for a third of the cretaceous dinosaur's length and contained considerable – vegetarian – chewing power. The largest herbivore of the time, and so probably Tyrannosaurus Rex's favourite meal.
Günther Uecker: Untitled, 1990 – latex, paint and nail on wood, 43 x 30 cm
Günther Uecker, now in his nineties, has made so many works with nails – normally hundreds of them seething across the surface – that he can play off his norm in various ways. Here the joke seems to be that he hammered the first nail in the wrong way around and gave up… At Galerie Von Vertes, Zurich.
Art writer and curator Paul Carey-Kent sees a lot of shows: we asked him to jot down whatever came into his head
Categories
Tags