I've seen a lot of Edvard Munch lately: in Oslo's new 13-floor 'Munch' and even newer National Museum (both of which have versions of 'The Scream'  and plenty else) and at the Courtauld in London. 'Masterpieces from Bergen' (to 3 Sept) has a comparatively modest but high standard 18 canvasses.  Munch's style infuses the whole world with emotion, so much so that I began to think that even the boulders carried messages. They're painted pretty differently in these three works:
Summer night, Inger on the beach, 1899 (top).
Solidly-realised rocks, set against a cool sea, relate formally to a straw hat they would crush. Munch's sister, in the popular seaside resort of Åsgårdstrand, seems more  reflective than relaxed. The Courtauld points to this as a breakthrough picture in which 'it is not so much Inger's facial expression which conveys the mood of the scene but rather the colour of the sea, the shapes of the boulders and the form and whiteness of the figure'.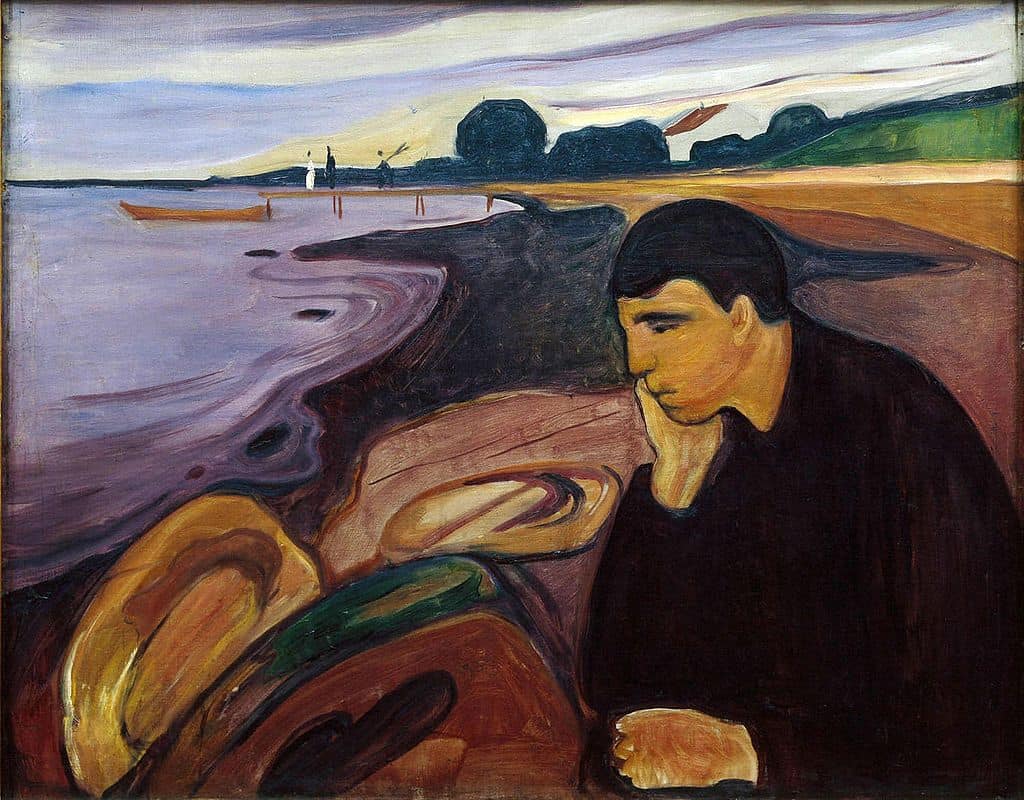 Melancholy, 1894–1896Here the title makes the mood explicit. In this case Munch's friend, the writer Jappe Nillsen, ponders the failure of a love affair – perhaps with the distant woman in white, the only light tone going. The rocks are flatter and more liquid as they echo the sea and Jappe's ears, and join in with the long strokes building up to his long face…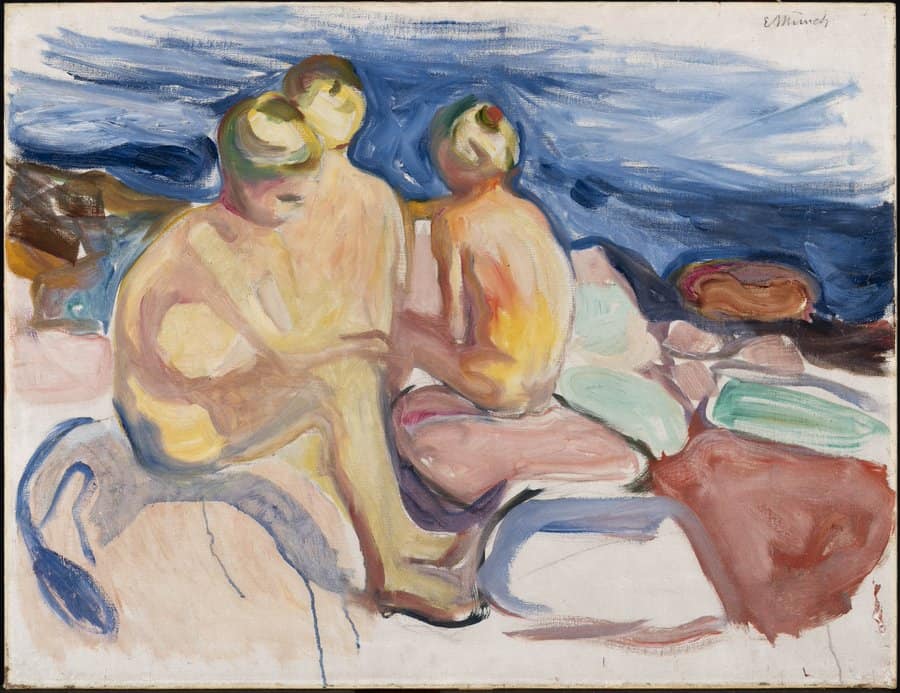 Edvard Munch, Bathing Boys, 1904-1905
Male bathers are a favourite Munch subject, and these were probably painted in situ on the shore – at Åsgårdstrand again. Everything is more insubstantial, including the rocks the boys sit on, some of which seem more like rock pools. 'No-one is bothered about swimming costumes here, the gentle gusts of a warm July wind are the only fabric between us and the sun', said one of Munch's friends. And yes, some have asked whether Munch was repressing homosexual urges, and whether that might have contributed to his breakdown of 1907-8.
Might such paintings explain why Tracey Emin – Munch's greatest fan – announced in 2015 that she had married a rock in her French garden?
'Somewhere on a hill facing the sea, there is a very beautiful ancient stone, and it's not going anywhere',
she explained.
'It will be there, waiting for me.'
Art writer and curator Paul Carey-Kent sees a lot of shows: we asked him to jot down whatever came into his head
Categories
Tags