It's been a hot start to the summer, with London once more packing its trains, taxis and bars with another collection of upcoming talent and hoards of adoring fans and flashing cameras. Over the course of the short four days that comprise London Fashion Week, the rattling of shutters become as familiar as that of the underground, as ever present, and signifies a change in the air. But of course, our latest plethora of designers have achieved much more than this. Principally a showcase of dynamism, the highlights of the weekend have flaunted themselves as a pivot from stereotyped fabrics, new dramas for summer wear, and breaks from the recent past. With lockdowns now well and truly out of the way, a fresh start was needed, a sharp and defined contrast, bold patterns, and newly intriguing couture philosophy. 
Opening encouragingly, Nina Doroushi's work with latex has been a real stand-out. Getting her start training at Ecole de la Chambre Syndicale de la Haute Couture Parisienne before interning for Iris Van Herpen, her style is a powerful take on traditional fetish-wear. Latex, rubber, leather; all things, which Doroushi believes to convey the sensation of skin even better than bare flesh. There is undoubtedly something sensual at work in her pieces, and their statement; that of replacing the inside with the outside, and expressing a very human texture more thoroughly than the 'thing in itself'. Her 'Velvet and Steel' collection presses this fact more strongly than ever, combining adornments of the much softer material against the otherwise harsh, nude latex sheets which grip so tightly to the models. However, some of the best work is to be seen in the drapery, whereby the drama at play is more heavily emphasised; allowing the pieces to fall magnificently in ways I have seldom seen before. Think debonair dominatrix, shown off in the Vout-O-Reenees club; subversive, yet elegant, bringing some bite to runway dress.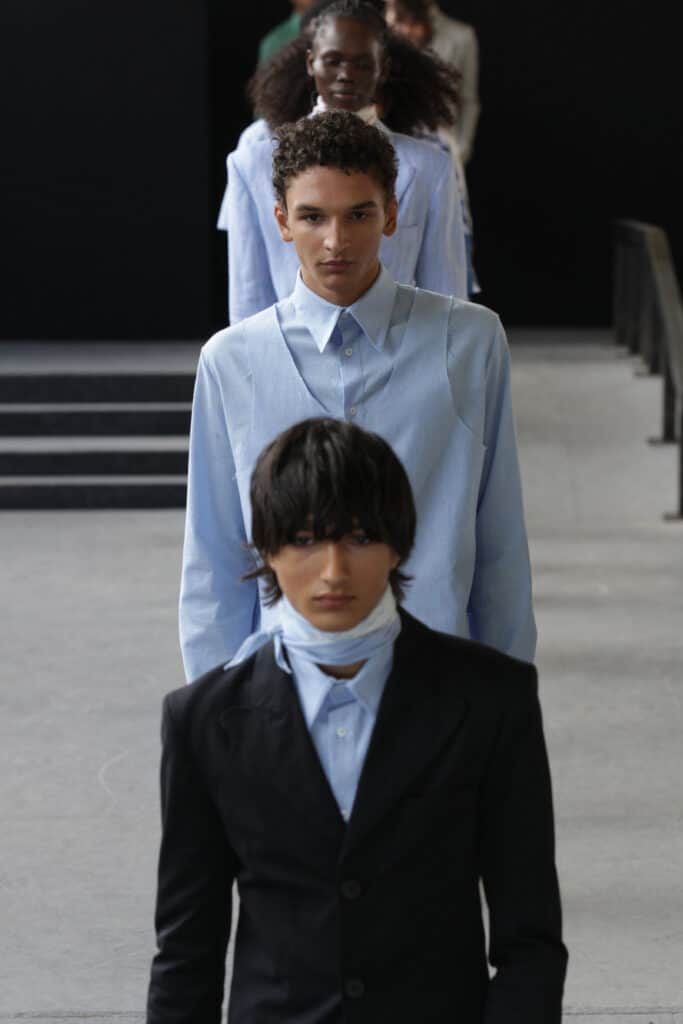 Carlota Barrera's Spring Summer 2023 'Asere, Qué Bolá' is another eye-catching addition to this summer's line-up. Camped out in a Portobello skatepark beneath the Westway, blessedly out of the seasonal sun, the collection flutters between airy and more ordered pieces that border on military garb. Collars are on every look; even if you are to be relaxed you must do so with a sense of finesse. Inspired by the designer's frequent visits to Cuba (and certainly bringing some of the native heat to London's usual weather), the outfits on display are bold and colourful, and filled with complex patterns erupting asymmetrically across their fronts, or occasionally more muted and snugly fit; again swinging on the axis between laxness and stricter values, providing an excellent tension to the catwalk. Booming Bossa Nova and vibrating drums erupt over the nearby ramps and shimmy down across the concrete, much like the coattails of the larger jackets, allowing the space to sway and catch the breeze as the models stride around the circuit. The signature pieces from the collection embody this openness, but without losing the hook of strong contrasts; marked black on white as if distilling the concept, with shaggy embroidery across the chest in forking strands. 

Wrapping it up, Justin Cassin's superb and vast Spring/Summer Collection 2023 held all the hallmarks of finale for the week; saving itself for last with all the bombast that you would expect of the major label. Seymour Hall served as a fittingly expansive venue, awash with setting sunlight from above and lined as one guest remarked 'like a church', with pews in the stalls above and runway congregation below. The whole event was engaged in spectacle, of course, and likewise were the clothes. Cassin's latest line-up is characterised by its overwhelming variety, with a few noticeable trends. Baggy trousers abound, often set strongly against classic tight t-shirts. Again, dynamism is key, and that often plays out with a maximalist flamboyance, particularly as sparkled shirts sit above understated trousers, almost universally cropped to show perhaps more ankle than I've seen all week. Bright colours are here to stay too, perhaps as reference to what Justin himself has described as an emergence from the anguish of successive covid lockdowns. They certainly seem to serve as marking such a dawn against the sombre and dark tones of times passed.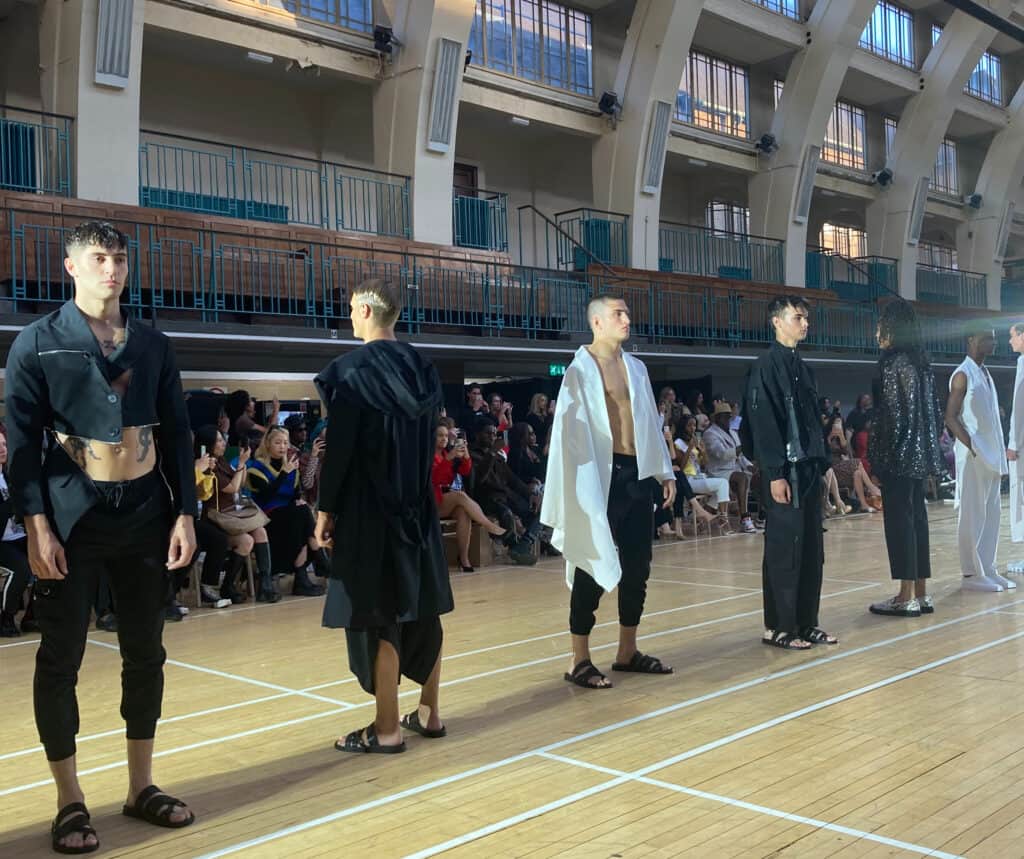 To embrace colour, confidence and extravagance once again is moreover the theme of the entire week. As a dynamic display of fresh design, the shows embody a kind of momentum towards the future, towards acting not in response to how things have been, but to imagine new ways to present oneself. This is what fashion always does, but it has acquired a dramatic significance in recent times. Looking forward, never have we been in such need to contrast against our past and boldly keep moving. The only question that remains, is to what exactly we will gravitate towards.
Categories
Tags