Kensington + Chelsea Art Week (KCAW) has announced the final lineup of artists for its fifth annual Public Art Trail.
Opening on 18th June, the Public Art Trail will feature world-class sculpture, installations and exhibits throughout the borough. Presented across nine zones, the Art Trail will take up residence at some of West London's most beautiful and iconic sites, including Napoleon Garden in Holland Park, Sloane Street, Duke of York Square, Royal Avenue, Pavilion Road, Earl's Court, Notting Hill Gate, Kensington Memorial Park, Brompton Cemetery Chapel, and High Street Kensington.
The final line-up, chosen by an esteemed select committee via an annual Open Call, features: Azarra Amoy, Konstantin Benkovich, Sokari Douglas Camp CBE, Charlotte Colbert, David Böhm & Jirí Franta, Kipling Hunt, Birungi Kawooya & Bokani Tshidzu, Roman Lokati, Maya Sanbar, Richard Mackness and Gavin Turk.
THE 2022 PUBLIC ART TRAIL ARTISTS, INSTALLATIONS AND LOCATIONS
Azarra Amoy returns to KCAW to present Stars of Earl's Court, a 39-metre Afrofuturism mural paying tribute to local artistic 'stars' living and working in the Earl's Court area, both past and present. Suggestions were submitted via an open call, with many surprising and unexpected names, from visual artists to musicians who frequented the famed Troubadour, to local personalities who continue to shape the area. The mural will be installed on part of the former exhibition site on Warwick Road and is supported by The Earls Court Development Company.
Moving on to South Kensington's Museum Quarter, Amoy will also present a powerful installation titled Kaleidoscopic Minds celebrating neurodiverse people and their contribution to arts and sciences through an enormous piece spanning the length of Exhibition Road. Using a kaleidoscopic spectrum of colour, this installation will represent the uniqueness of an individual's neurodiversity, based on real-life stories and portraits of scientists & students working at the world-famous institutions on Exhibition Road. Co-curated by KCAW and Exhibition Road Cultural Group, opening for the Great Exhibition Road Festival on 18th June 2022.
Charlotte Colbert's Cellular Amulet installation will be found on Bramley Road, W10. The amulet piece was designed during the lockdown and is inspired by the shape of white blood cells, which form the immune system. Its scale and playful reflective surface remind us that ultimate protection is born of play and togetherness.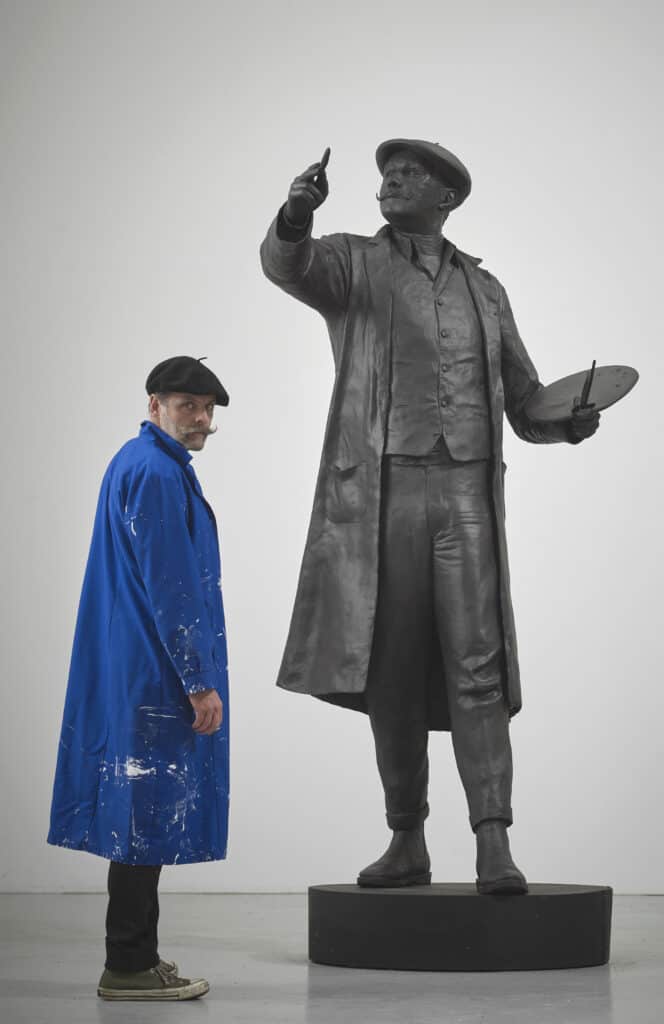 Mysteriously landing on the cupola of The Coronet Theatre during the quiet of a global pandemic, Gavin Turk's The Spirit of Painting sees a lonely figure pose in the adlocutio stance of an Emperor in Ancient Rome addressing his troops. Contra to this heroic posture, this figure portrays the artist in his studio overalls painting the sky with a paintbrush instead of a sword; palette as shield. Originally designed to have a sculpture of Mercury on the roof of the theatre, now the messenger God of commerce has become a prophetic painter of our current hubris. Gavin Turk commissioned by The Coronet Theatre.
Home Grown, is a beautiful series of paintings by Kipling Hunt that will be exhibited in Kensington Memorial Park, on the exterior of the Kensington Dragons Football Club building. Featuring beautiful freshly cut plants and drawing on the healing power of flowers and nature, the idea originated in lockdown when Hunt turned the exterior of her own house into an outdoor installation. She wanted to repeat this experience in Kensington Memorial Garden by displaying plants, vegetables and fruit trees, inspiring passers-by to think about what they can nourish and grow.
Richard Mackness' Domus installation on High Street Kensington takes the form of a giant plastic food package, crushed and discarded. The hollow shell has an interior space with the feel of a shelter. Lying on its side on the ground like a felled statue, its smooth, sensuous curves echo the drapery of classical sculpture. Despite appearing to be soft, these are formed in hard grey concrete. This is the quintessential urban material; an ode to the disposable, single-use culture we have come to accept as the norm.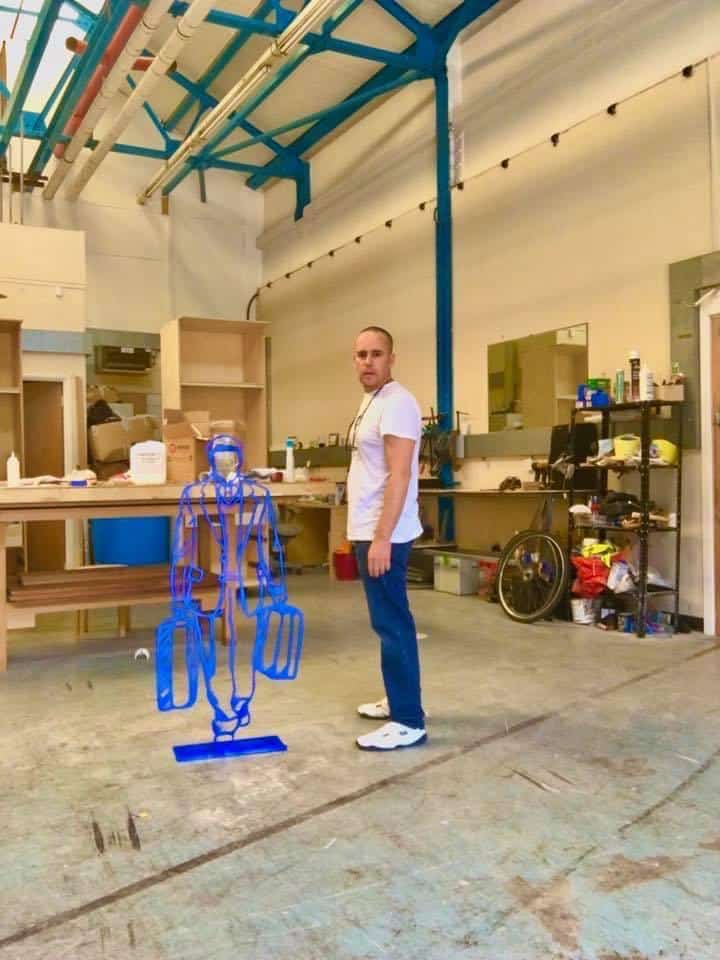 Roman Lokati's artwork The Chelsea Look, comprises six life-sized metal figures that will be positioned throughout the borough at locations including Royal Avenue, Duke of York Square and Pavilion Road, featuring famed Chelsea characters from Dame Vivienne Westwood to The Chelsea Pensioner as well as looking to the future icons of Chelsea. Supported by Cadogan Estates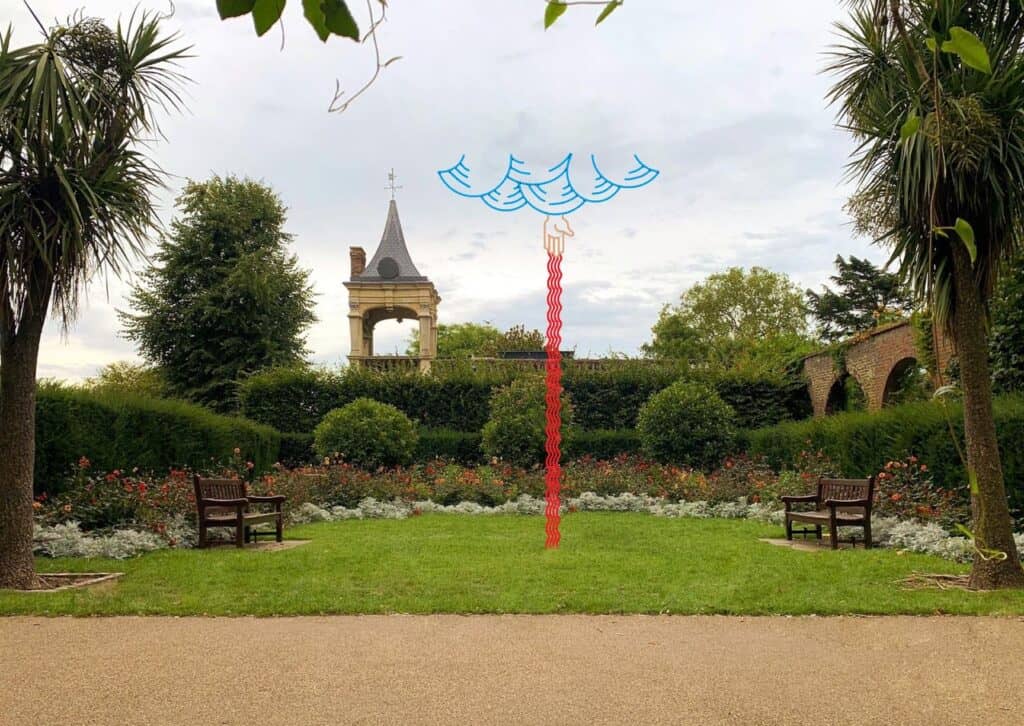 Konstantin Benkovich presents The Right Hand of God, located in Holland Park's Napoleon Garden. The sculpture represents the right-hand of God, typically reaching down from the sky. Here the artist conflates traditional right-hand iconography symbolising mercy, presence, omnipotence, and judgment of God. It metes out judgement and protects those suffering injustice.
Artist Sokari Douglas Camp CBE (as seen above) has created two larger than life sculptures as Homage to Carnival. Mounted on a makeshift carnival float, these sculptures will be placed in front of The Design Museum, where her work once stood when it was formerly the Commonwealth Institute.
The mural created by artists Birungi Kawooya and Bokani Tshidzu will be installed on Freston Road opposite Bramley Studios as part of the Untold Stories initiative funded by The Mayor of London. Curated by Bolanle Tajudeen, founder of Black Blossoms School of Art and Culture an online art school an intersectional online art school dedicated to documenting and highlighting the art histories and the current creative practices of Black, Indigenous, and People of Colour. The platform also has a strong history showcasing contemporary Black women and non-binary artists. The artists Birungi Kawooya and Bokani Tshidzu will be working to the event's nourish theme and the notion of Rest, Reflection and Wellness for women of colour.
Quilt Patch – Artist Maya Sanbar presents an incredible installation made from recycled fabrics, celebrating human expressions of happiness. Taking the form of stories quilted onto flags, it will hang from the Chelsea Theatre's exterior and will surround the piazza. Made collaboratively in cross-generational sewing and storytelling workshops, this artwork is a reminder of the creativity, shared wisdom, unique identities, and resonant voices of the participating communities. Supported by RBKC CLLL and The Muse Gallery.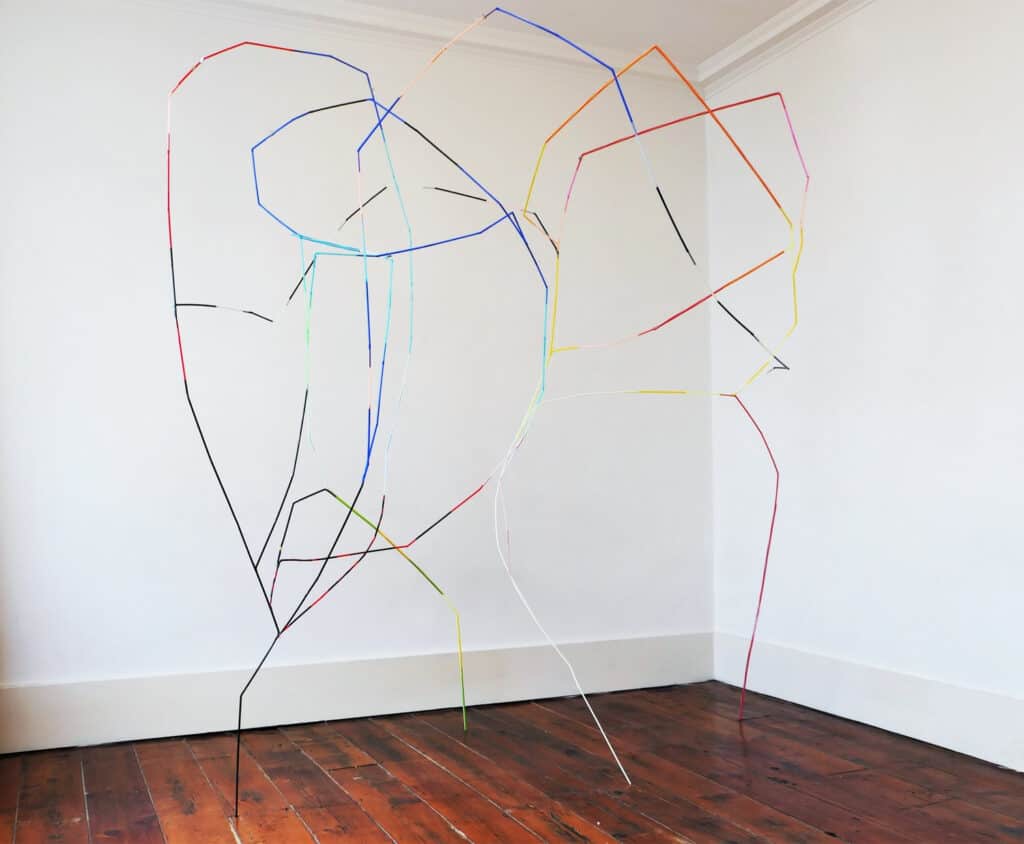 Roller Coaster – Artist Lise Bouissiere, also a member of The Royal Society of Sculptors, will take over Brompton Cemetery's Chapel with a large-scale installation inspired by London's cityscape, with the cranes overhanging the capital like giant insects. The sculpture is made of used straws that Bouissiere has been collecting in London's bars, clubs, coffee shops and tea houses. These discarded pieces of plastic, that nature cannot digest, are transformed into blooming sculptures. Beyond the architectural inspiration, the composition also highlights the harmonies of shape and colour. It also raises issues around the reuse of materials and the evolution of an item such as the straw within today's environmental discussion
Who Tells Whom About What will be found at the Czech Embassy & Czech Centre on Kensington Palace Gardens. An outdoor, large-scale photo series of imaginary city models by leading Czech artists David Böhm & Jirí Franta reflects on the meaning of borders, neighbourhood, and the indivisibility of the current world. Inspired by exquisitely staged narrative paintings by artists such as Pieter Brueghel, the artists' tableaux will be displayed in an outdoor exhibition on the fence of the Czech Embassy in London on busy Bayswater Road in Notting Hill Gate. Using imaginary city models with staged micro-stories, David Böhm & Jirí Franta draw on current social and political issues to explore the city not only as a place of neighbourhood and coexistence but also as a crowded and fragmented world, in which it is necessary to reconsider some of the basic ideas. Does the concept of nations still make sense? Is it possible to organise the planet better? Who sustains whom? And can we find a way to stop living at the expense of future generations?
Commenting on the KCAW22 Public Art Trail, Organiser Vestalia Chilton,
The process of the Open Call allows us to learn about the incredible artists living and working in our area of London. The KCAW Art Trail aims to showcase at least 50% local artists along with established names. All thanks to our Art Committee, we are able to exhibit Open Call finalists, who have never been shown outdoors, in the public realm before. Our festival acts as a stepping-stone for their careers!
The Opening of this year's KCAW Art Trail on 18th June also sees the annual Chelsea Arts Club Parade through the streets of Chelsea. Each Midsummer the artists of the Chelsea Arts Club, in extravagant fancy dress, gather at James Whistler's statue on Chelsea Embankment to raise a glass to their founder, before following a parade band in procession back to the Club for their private Summer Ball. This year the Club will be holding 'The Belle Epoque Lily Pond Ball' – a theme which will be vividly portrayed on the Club's façade in Old Church Street for the duration of KCAW.
Full details of the participating artists, their work and where to find it, will be available via the KCAW Digital Art Map. Further Art Week programming will be unveiled over the coming weeks.
Stay up to date by signing up for the KCAW weekly newsletter. kcaw.co.uk/subscribe
Categories
Tags