Trees: here, quiet witnesses. Here they quiver, they croon, singing through a crisp heat in an arid landscape. Relaying part of a storey – a slice of narrative – the photographs assembled in Mark Ruwedel's solo exhibition, Inland: Haunted by the Desert, convey so much more than a romantic sublime found off the beaten track. Building upon his ongoing project, Los Angeles: Landscapes of Four Ecologies, the images in this exhibition mostly portray singular trees (eucalyptus, palm, citrus – those evocative of Los Angeles) each and all growing in an area known as the 'Inland Empire.' Working with a particulate attention to quotidian details, Ruwedel's photos of LA's non-native trees are anything but sun-splashed documentary records; they abound memories held fast and hidden – those so easily overlooked, thwarted, burned. These tree-portraits demand slowness, time perhaps in which to consider the possibilities for a future.
Glimpsed from across the space of the gallery, Fontana #20 (2021) signals to me with its compositional wavering. One of the black and white works in the exhibition, the tree's elongated trunk and bulges of foliage calls to mind imagery of rising smoke, or more disturbingly, bomb clouds erupting from a now barren plain. Like its namesake (Lucio), the central protagonist in this photo cuts through its muted surround of off-white and dusty grey, leading me past the sultry surface to a harrowing narrative; one that trembles in the tips of its leaves. Fontana (San Bernardino County, California), 2021, fires blaze, scorching 900 acres; leaving about a thousand people displaced; thousands of trees decimated, destroyed.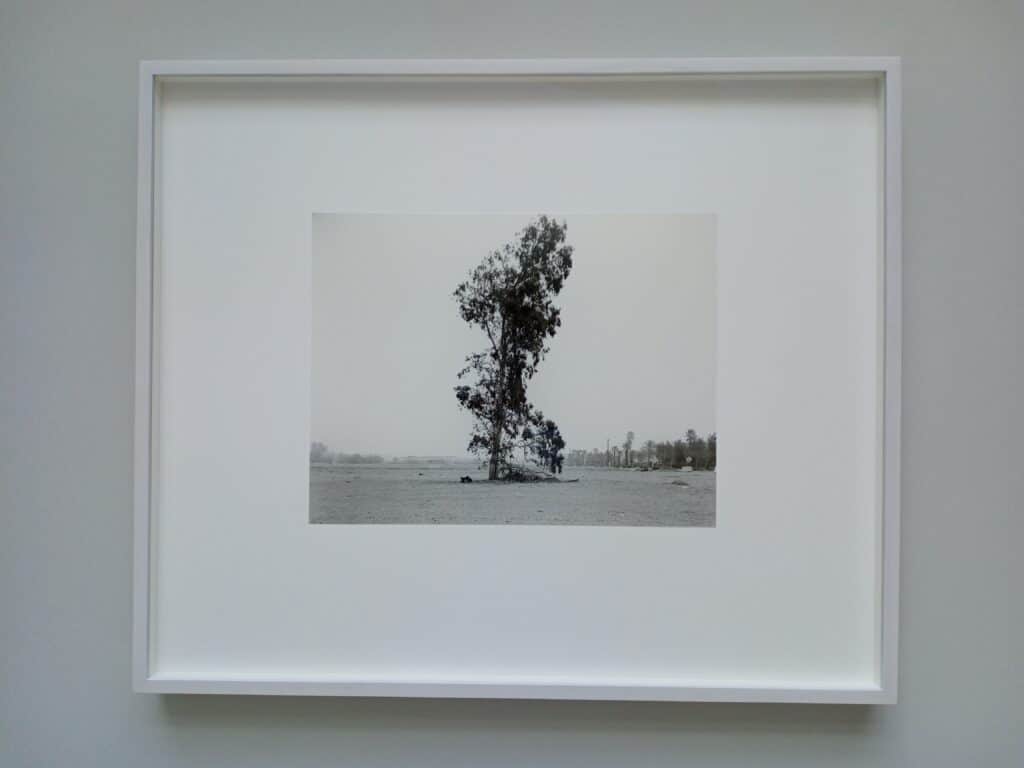 The effect of natural disasters – floods through fires – on the environment has long been a source of inspiration for Ruwedel. Fontana #20, as with a number of other works in the exhibition, comes from a series of photographs taken in the wake of extreme forest fires that have tourn through LA with more rigour and frequency over the last decade. (A body of work that saw him nominated for Prix Pictet in 2021.) Burnt (2022), Ruwedel's first ten-piece portfolio, records the force of some of these fires on the trees and LA landscapes the photographer has come to know so well. Presented in the exhibition flat on a canvas-lined table, each print is a mass of bare, meandering, trunks and branches, reaching past the boundaries of their compositions. Again, rendered black and white, Ruwedel's attentive focus not only picks out each and every detail wrought in the grains of his sitters but heightens their natural deformity; a quality that endows these organic forms with a semi-human likeness.
What is pictured here is not quick disaster porn – the kind found on newsprint front pages. Neither is it the kind of Romantic sensation arrived at through the out-of-scale incomprehension of something historically sublime. With a level of care, Ruwedel's eye provides a perspective that allows the bodily vibrations innate to his subject matter – the traumas embalmed in their bark – to rise beyond the surface of his prints, to sing and share in a wholly optimistic tone. In other words, rather than relying on the mega and massive for affect these images move me through their mundane magnitude.
With a shift in temperament, the most recent photos included in Inland: Haunted by the Desert, are subtle images of citrus trees fruiting at the fringes of urban sprawls. Pale green with pops of bitter yellow, the sitters in Ruwedel's orchard works whistle quietly in the face of human decay. They live, flower, fruit, despite the disintegrating social world that surrounds. Dancing in the brilliant LA sun, Orchard #28C (2022) depicts a close-cropped orange tree; waxy green leaves cascade out across the top third of the composition, framing a desolate trunk and evidence of human interaction. Getting into the image, a pair of carefully folded blue jeans and corduroy tops not only evidence these traces of humanity but create a metaphorical link between the labour of these tree's lives and the means of survival shared by their human neighbours. One that is facing its own crisis as quick consumerism encroaches across this swathe of land. As other photos in this orchard series makes clear – via the presence of power pylons and dusty warehouses lingering in the background of each image – the rampant expansion of urban production is not only leading to the debasement of more ecologically harmonious ways of life but is eradicating the collectivity between both human and non-human beings in the greater metropolitan area of LA.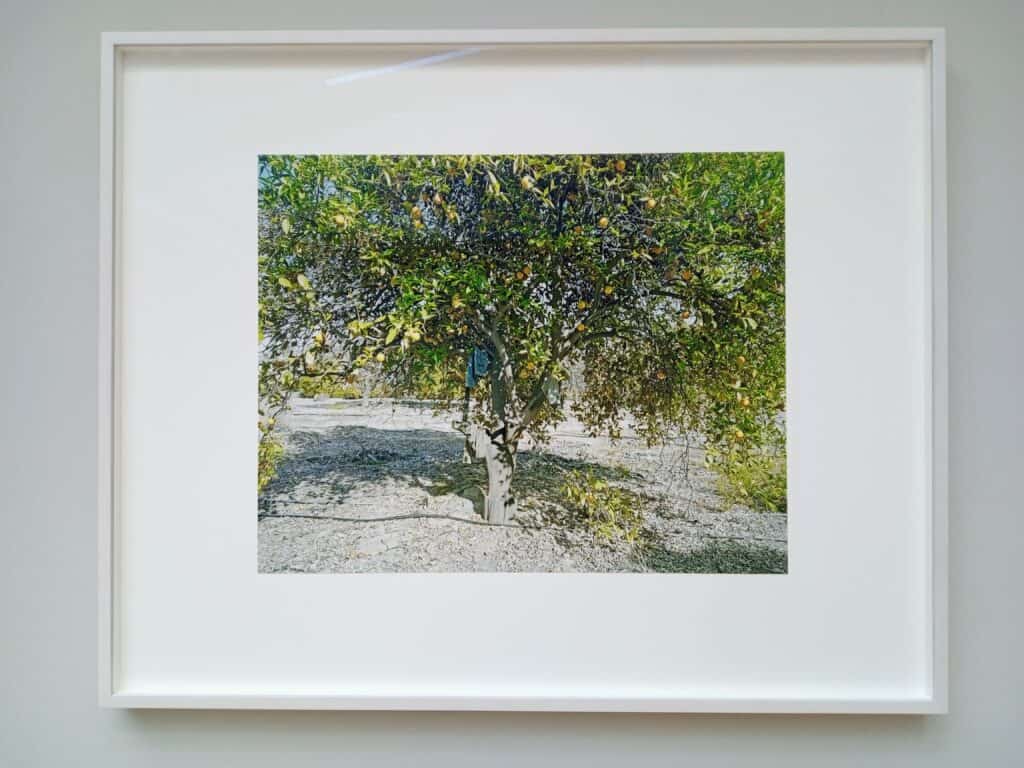 We are facing a new era of inland imperialism. As blasé industries – Amazon and the like – expand their urban footprint, bolstering climate change in turn, our ecological systems are at breaking point. Caught in the carnage of fire and rubble all we can hear are screams. But, as Ruwedel's choir of trees reminds me, it's not all lost. Cared for, and called forth, a "hint of a possible future," is made audible in Inland: Haunted by the Desert. And it is by tuning in, witnessing the quiet optimism caressed in the grain of Ruwedel's images that I feel we are able to catch something of this future.
Inland: Haunted by the Desert  Large Glass, London Until July 9th, 2022
Categories
Tags