Tabish Khan the @LondonArtCritic picks his favourite exhibitions to see in wider Venice to supplement his top 5 pavilions at the Venice Biennale – each one comes with a concise review to help you decide whether it's for you.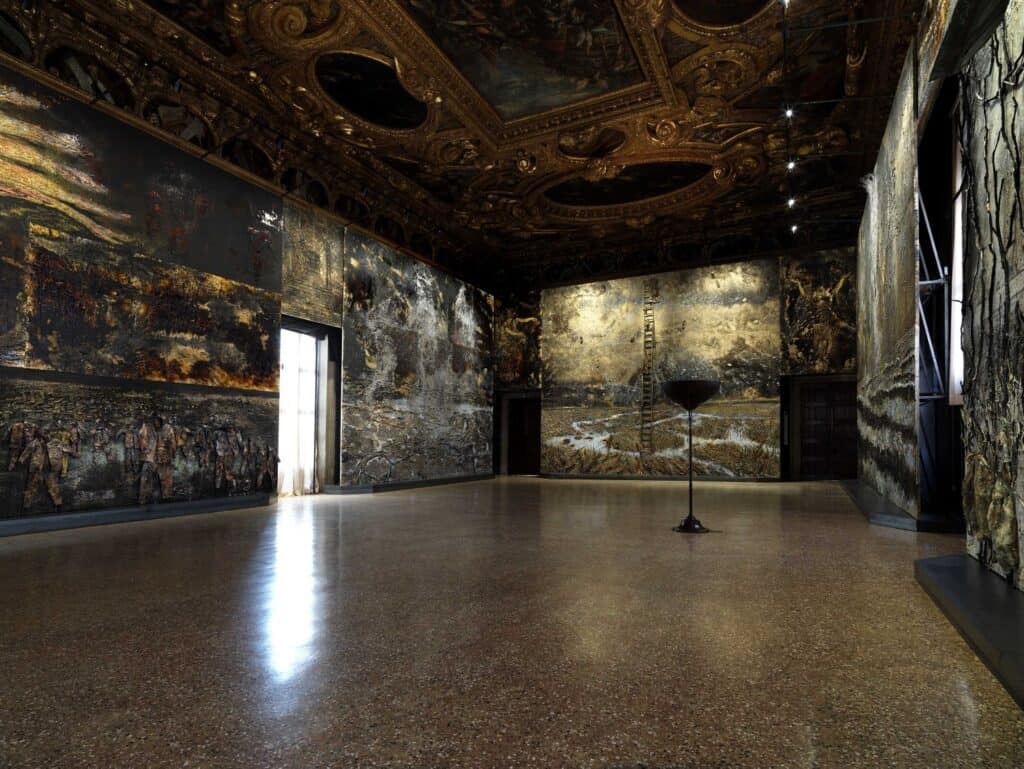 Anselm Kiefer's large scale paintings dwarf visitors and yet even they've met their match in the opulent interior of the stunning Doge's Palace — making it doubly overwhelming. This room was designed to be awe-inspiring and this is only added to with Kiefer's trademark style of embedding objects into these truly massive paintings referencing Venice's history. It's breath-taking. Until 29 October.
A cannon has blasted the walls with chunks of red wax, walls bulge out to throw off our senses and his trademarked Vanta black creates mind-bending optical illusions. It's a best of Kapoor at Gallerie dell'Accademia and he steps it up a gear across town at the Palazzo Manfrin he's purchased. Here his large scale sculptures, a spinning pool of red liquid and distortive mirrors get to play with the fantastic architecture of the palace. Until 9 October.
Nightmarish scenarios, animal human hybrids and distorted visions — this is the very best of Surrealism in an excellent exhibition on the topic that acts as a great companion to the Venice Biennale main exhibition. With masterworks by Salvador Dali, Dorothea Tanning, Max Ernst and Leonora Carrington it's a must-see for all Surrealism fans. Until 29 January 2023.
In his signature style inspired by miniature painting Raqib Shaw has created a collection of superbly detailed works inspired by the Italian masters such as Tintoretto and the level of detail is superb. A real highlight is his 'retrospective' painting that includes his other works recreated within a larger painting, it's the strongest showing of his work that I've seen. Until 25 September.
Filmed in the Carpathian mountains this intimate series of films tells the stories of men who have to leave their families for the intensive process of milking cows and making cheese. Filmed in black and white it feels ritualistic as we observe a rural life that feels far removed from our own. Until 27 November.
Those looking for more Venice content should also check out his interview with Wallace Chan who has an exhibition in Venice.
Kiefer photography Georges Poncet. Kapoor image © Anish Kapoor Photo © David Levene. Surrealism image © Leonora Carrington, by SIAE 2022. Raqib Shaw image courtesy White Cube. Without Women photo: Andrea Rossetti.
Categories
Tags