SUNNY NY is to present "The Mouse Who Saved the World", a solo exhibition of new paintings by Brooklyn-based artist Benjamin Klein. The hypnagogic world that Klein has created in his landscape paintings suggests a parallel dimension, an existence distinct from our own but not quite separate. In many of the paintings, a glowing sky creates a field in which all kinds of astronomical phenomena impossibly co-exist. The brushwork here borders on abstraction, as planets, comets, and nebula dissolve into exuberant mark-making. Stars and clouds, usually ethereal parts of our sky, here become solidly impasto. The artist takes his rightful liberty to create such unlikely combinations as dinosaurs, sharks, and rats along the same shoreline, as in Only the Three of Us.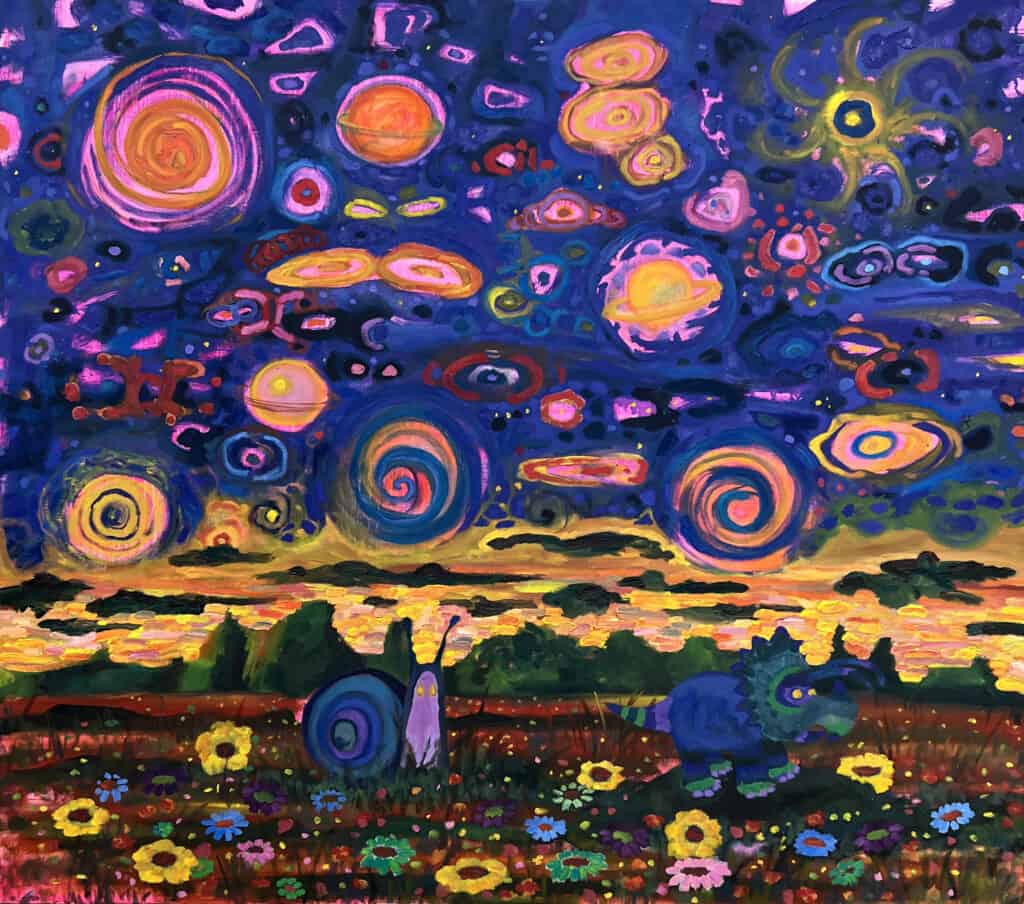 Following in the tradition of Marcel Dzama or Dana Schutz, Klein is a builder of worlds. An anthropomorphized cast of creatures populates this world, shifting in role from painting to painting. How much of their at times confusing or potentially dangerous surroundings these characters perceive is anyone's guess, even the artist's. Together with an oversaturated and unnatural palette, distortions in scale create a sense that all is not right here. The repeated use of certain fauna such as ladybugsor dinosaurs speak of the artist's personal narrative, with these creatures seemingly acting as symbols of some kind. The ecstatic landscapes where Klein's creatures burrow, frolic, and float seems to swaddle them in psychedelia, simultaneously frightening and beautiful.
The title of the show, "The Mouse Who Saved the World" is shared with the smallest painting in the exhibition and is a phrase Klein associates with the practice of making art. In the artists opinion, the nature of art as underdog cannot possibly compete with such lofty human fields as politics, law, business, science, warfare (often represented by supposedly noble animals like lions, horses, eagles, or wolves). Rather than creating a world in which to escape, the artist has brazenly offered hope of a new world to his audience. At least in the eerily effervescent world in which Klein's paintings exist, the artist believes that art could be the mouse who saved the world.
Benjamin Klein "The Mouse Who Saved the World" Art Opening May 4th, 6-8pm, Exhibition May 5th – June 3rd, 2022 at SUNNY NY
You can also see some of Klein's work at Sunny's booth at Nada
About the artist
Benjamin Klein was born in Chicago and grew up in Montreal, Quebec. He holds a BFA from Concordia University in Montreal (2005) and an MFA from the University of Guelph, Ontario(2013). This is his first one-person exhibition in New York City. Previous solo shows include"Nocturne" (2013) at Boardinghouse Gallery in Guelph, "Generator" (2014) at Galerie JoyceYahouda and the McClure Gallery in Montreal, "Shifter Bender Striker" and "Glider ShifterBender"(both 2018) at Pierre-Francois Ouellette Art Contemporain in Montreal and Toronto respectively, and the survey exhibition "Nightlights" (2018-19) at the MUHC (Glen site) in Montreal. Selected recent group exhibitions include "La Banda" (2021) at Tappeto Volante in Brooklyn, "Spillover Love" (2021) at Stewart Hall Gallery in Pointe Claire, Quebec, "Lucky Dip"(2020) at Maison de-la-culture NDG in Montreal, "Fish" (2018) at Family in Montreal, and "GroupShow" (2018) at the Richard Heller Gallery in Los Angeles. Klein lives and works in Brooklyn
Categories
Tags